Ford Australia has announced the complete pricing list for the T6.2 Ranger lineup including the hotly anticipated Ford Ranger Raptor.
The range begins with the 4×2 XL single cab 2.0-litre variant which will start from $35,930 before on-road costs.
Ford has said it has tried to tailor the Ranger for a range of budget and buyers – hence the 24-strong model lineup that spans four powertrains and six trim levels in a lineup that spans $50,000 between base and top-spec models. The range tops out with the recently unveiled Ranger Raptor which will cost $85,490 before on-roads and takes in XL, XLS, XLT, Sport and Wildtrak variants on the way up.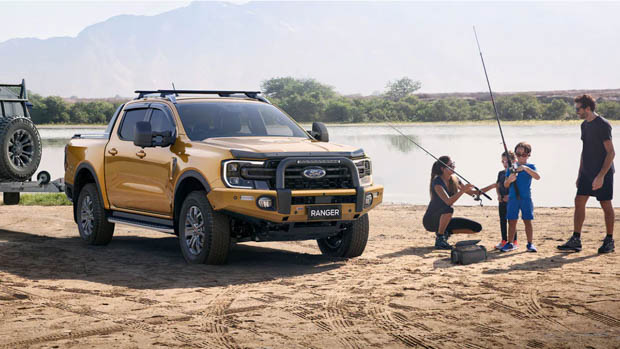 Learn more about the Ranger Raptor here:
As confirmed by Chasing Cars earlier in 2022, two V6 engines will join the lineup while the previous premium-tier 2.0-litre four-cylinder diesel becomes the base engine, in single- and twin-turbo variations. We've detailed the new Ranger engines here.
The 2022 Ford Ranger is open for pre-orders now through the Ford dealership network, with first deliveries to take place from June.
The Ford Ranger will compete with other dual cabs in the popular segment such as the Toyota Hilux, Mitsubishi Triton, Isuzu D-Max and Volkswagen Amarok.
Powertrain and range breakdown
Four engines are available for the new Ranger lineup including a 2.0-litre single turbo-diesel four-cylinder engine, a 2.0-litre twin-turbo diesel four cylinder engine, a 3.0-litre turbo-diesel V6 engine and a 3.0-litre twin-turbocharged petrol V6 exclusive to the Raptor.
The base 2.0-litre single-turbo diesel four cylinder produces 125kW/405Nm, while the 2.0-litre twin-turbo diesel engine makes more power and torque, rated at 154kW/500Nm.
Both V6 engines are new to the range, with the turbo-diesel variant producing an impressive 184kW of power and 600Nm of torque from just 1750rpm.
The petrol twin-turbo V6 will take things a step further with a considerable 292kW/583Nm. This will be mated to a ten-speed automatic transmission that will also be used for the turbo-diesel V6 variant.
The Wildtrak name returns for 2022 and will be available with either the 2.0-litre twin-turbo diesel four-cylinder or new 3.0-litre V6 turbo-diesel. This model will be priced from $67,190 before on-roads for the four-cylinder and $70,190 for the turbo-diesel V6.
A new Sport variant arrives which sits below the Wildtrak models in the range and will also be powered by either the 2.0-litre twin-turbo four or the 3.0-litre turbo-diesel V6. The Sport starts at $63,690 before on-roads for the four-cylinder and $66,690 for the 3.0-litre V6.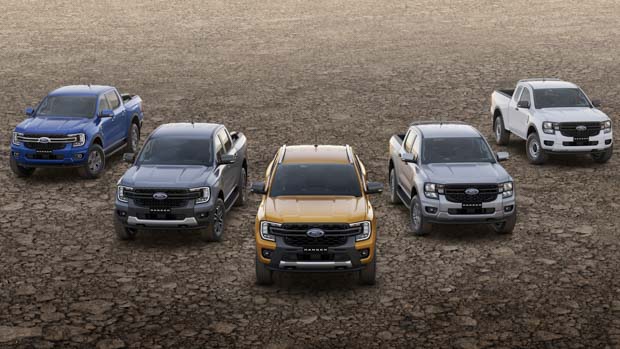 Ford Australia president and CEO Andrew Birkic said that the Ranger offers fantastic value for money for customers.
"Ranger is a world class vehicle, with significant leaps forward in technology, safety and capability across the range.
"The 2022 Ranger line-up offers a vehicle for every customer, for work, family or play," Mr Birkic said.
Ford Ranger specifications and option packages
Standard specifications for the entry level XL include a 10.1-inch touchscreen with wireless Apple Carplay and Android Auto, an 8.0-inch digital drivers display and steel underbody protection.
Standard safety features include adaptive cruise control, AEB and lane-keep assist. Nine airbags are standard, while blind-spot monitoring, a reversing camera and rear parking sensors are included only on the extended-cab and dual-cab models.
To compare, the Wildtrak includes much more standard kit such as roof rails, unique 18-inch alloy wheels, a power roller shutter, tie down points in the tray and puddle lamps.
The range-topping Ranger Raptor features Fox racing suspension, 17-inch wheels wrapped in BF Goodrich all-terrain rubber, a 2.3mm steel front bash plate and an electronic locking rear differential.
The Ford Ranger is also available with a multitude of extra options for 2022 and several off-road and touring packs to suit the needs of buyers.
Available on the XLS 4×4 and 4×2 is the $750 tech pack that includes Sync 4 infotainment, built-in navigation, DAB radio, dual-zone climate control, rear air vents and keyless entry with push button start.
For Wildtrak buyers, there is the option to upgrade to the $1500 premium pack that includes matrix LED headlights, LED tail lamps, auxiliary overhead switches and a premium B&O sound system.
Off-road and touring packs are available for the XL and XLS variants. For the XL and XLS 4×2 off-road package, steel underbody protection, 17-inch all-terrain tyres and locking rear differential are available for $1150.
A tow pack can be added to Rangers that don't come with a tow bar as standard (in this case the XL and XLS). A tow bar and integrated brake controller is an additional $1700.
Ford Ranger 2022: prices in Australia
All prices listed are before on-road costs.
XL 4×2 HR Single CC 2.0L SiT 6AT $35,930 (+$1,040)
XL 4×2 HR Super CC 2.0L SiT 6AT $38,430 (+$1,040)
XL 4×2 HR Double CC 2.0L SiT 6AT $40,430 (+$1,040)
XL 4×2 HR Double PU 2.0L SiT 6AT $42,330 (+$1,540)
XLS 4×2 HR Double PU 2.0L BiT 10AT $46,730 (New model)
XL 4×4 Single CC 2.0L BiT 10AT $47,030 (+$1,740)
XL 4×4 Double CC 2.0L SiT 6AT $48,030 (+$740)
XL 4×4 Super CC 2.0L BiT 10AT $49,530 (+$240)
XL 4×4 Double PU 2.0L SiT 6AT $49,930 (+$1,240)
XL 4×4 Double CC 2.0L BiT 10AT $51,530 (+$240)
XL 4×4 Super PU 2.0L BiT 10AT $51,430 (+$2,240)
XL 4×4 Double PU 2.0L BiT 10AT $53,430 $740
XLT 4×2 HR Double PU 2.0L BiT 10AT $53,990 (+$700)
XLS 4×4 Double PU 2.0L BiT 10AT $54,330 (+$1,840)
XLT 4×4 Super PU 2.0L BiT 10AT $59,190 (No change)
XLT 4×4 Double PU 2.0L BiT 10AT $61,190 (No change)
XLT 4×4 Double CC 3.0L V6 10AT $62,290 (New model)
XLT 4×4 Double PU 3.0L V6 10AT $64,190 (New model)
Sport 4×4 Double PU 2.0L BiT 10AT $63,690 (New permanent model)
Sport 4×4 Double PU 3.0L V6 10AT $66,690 (New permanent model)
Wildtrak 4×4 Double PU 2.0L BiT 10AT $67,190 (+$1,100)
Wildtrak 4×4 Double PU 3.0L V6 10AT $70,190 (New model)
Raptor 4×4 Double PU 3.0L V6 EcoBoost 10AT $85,490 (+$6100)