Due to arrive in the third quarter of 2022, the Citroen C5 X is a large vehicle that – like its C4 sibling – eschews strict vehicle genres in favour of being 'right' for the job.
Speaking with Chasing Cars at the launch of the C4, Citroen Australia's national corporate affairs and public relations manager Chloe Fraser confirmed the C5 X "will be joining us in Q3 2022".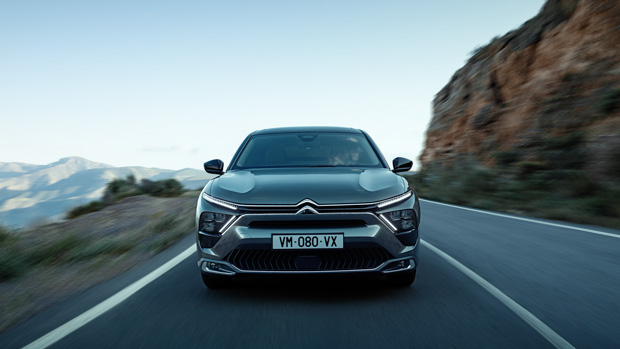 Exact specification, pricing and engine options are yet to be finalised, however following the recent plug-in hybrid addition to the closely related Peugeot 508 range, the Citroen C5 X is expected to arrive here with the option of a plug-in hybrid (PHEV) powertrain.
What is the Citroen C5 X?
Launched last year in Europe, the C5 X is the French marque's new flagship large vehicle based on PSA's EMP2 platform.
Think of it as a more out-there alternative to a Peugeot 508 – typical fare for Citroen – which blends liftback practicality with SUV styling cues, a higher ride height and a focus on comfort. It also fills a long-empty void left by the second-generation C5, which ended European sales in 2017.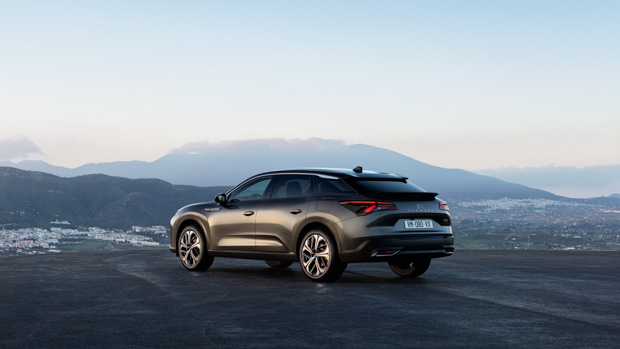 Measuring 4805mm long, 1865mm wide and 1485mm tall, and riding on a 2785mm wheelbase, the reimagined 2022 C5 X will sit squarely in the large-car category, facing off against the Skoda Superb and Volkswagen Passat while providing a more affordable alternative to a premium-brand sedan or wagon.
Speaking excitedly about the C5 X, Citroen Australia general manager Kate Gillis said that it "really does touch a lot of points [that were once hallmarks] of a Citroen classic."
The C5 X's interior is about comfort and relaxation
While the C5 X's sheetmetal is all sultry and French, its high-tech interior features clear links to the smaller Citroen C4, including a similar bezel for the (2.0-inch larger) 12.0-inch centre touchscreen and novel toggle gearshift.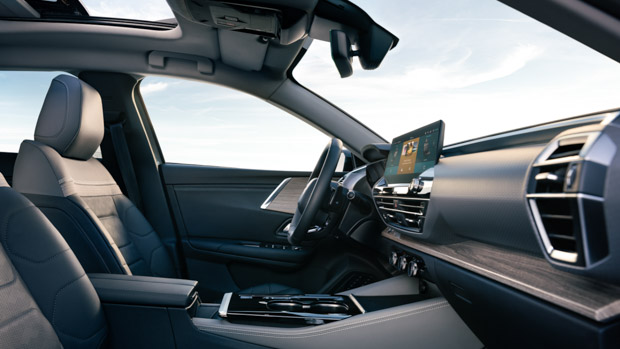 Lashings of wood trim and leather-appointed seats mark the C5 X as a car with luxury intentions, and Citroen is spruiking the lounge-like nature of its interior. According to its French creators, plushness was a priority for the new C5 X, with supportive cushioning for all seats and a focus on maximum room for rear-seat occupants.
To attain maximum cabin comfort, Citroen has adapted its 'progressive hydraulic cushions' (Citroen's name for hydraulic bump stops) for the C5 X's suspension system, along with the inclusion of adaptive dampers.
Will the C5 X offer electrification?
It's likely the Australian C5 X will follow the Peugeot 508 by offering only the most potent 165kW/300Nm tune of PSA's 1.6-litre turbo-petrol four-cylinder, hooked up to an eight-speed automatic transmission driving the front wheels.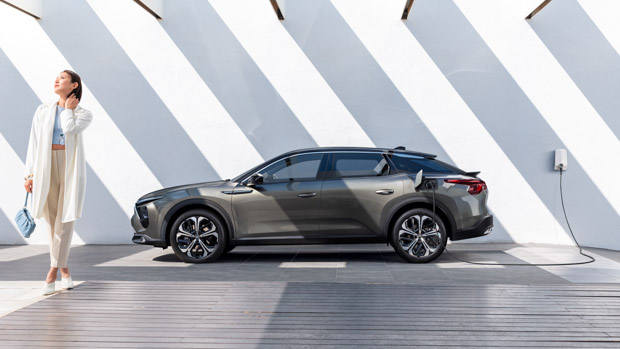 Yet while the C4 small car is launching in Australia without an electrified option (at first), it sounds like Citroen's Australian importer is considering launching the C5 X with a PHEV powertrain.
Speaking on the possibility of a C5 X plug-in hybrid reaching Australia, Ms Gillis said it is "absolutely on the table at the minute for evaluation, but we'll be able to provide some further detail as we get closer to [the C5 X launch].
"We're excited that there's some momentum behind the brand, there's real growth opportunities there so part of that evaluation of a PHEV is ensuring that we have that momentum and the right staging of that momentum as we get into 2022 and beyond."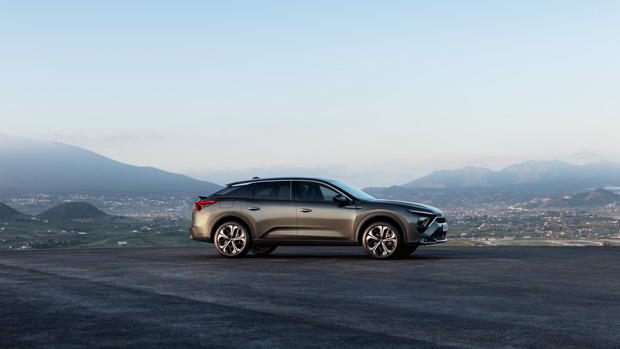 If the PHEV is confirmed, the C5 X will employ the same 165kW/250Nm system comprising a 1.6-litre turbo-petrol four-cylinder and 81kW electric motor powered by a 11.8kWh battery as the 508 plug-in. That would see a zero-emission range in the vicinity of 50-60km, and combined fuel consumption around 1.5-2.0L/100km.
What will the C5 X cost when it comes to Australia?
Pricing has not been revealed for the C5 X in any market, but Peugeot 508 pricing should give an indication of where the new Citroen could start.
The Peugeot 508 is available only in up-spec GT trim in Australia, with the wagon listed at $58,990 (before on-road costs) and the 508 PHEV sedan upping the price of entry to $76,990 (before on-road costs).
Depending on final spec, Citroen's C5 X will likely be priced from $55-$60K if it arrives with the 1.6-litre turbo four, and $75-80K for the PHEV variant.
However, we're still some time away from the C5 X specs being locked in, with Ms Gillis saying "we're very excited about the C5 X that is coming to Australia – we're planning that [launch] at the minute."