Even for a brand that's never sold in great numbers in Australia, 2018 was a particularly tough year for Citroen, that most French of French car manufacturers.
A mere 232 cars left Citroen showrooms last year – Ferrari sold more units – so it's little wonder there's been a mini revolution as part of a brand rebuild for our shores. Offerings have been streamlined to just three cars, the flagship being this all-new 2019 Citroen C5 Aircross mid-size family SUV, joining the C3 Aircross small SUV (reviewed here) and C3 compact hatch (reviewed here) in the line-up. The slow-selling and polarising C4 Cactus is slinking away, much like the now dormant high-end DS brand.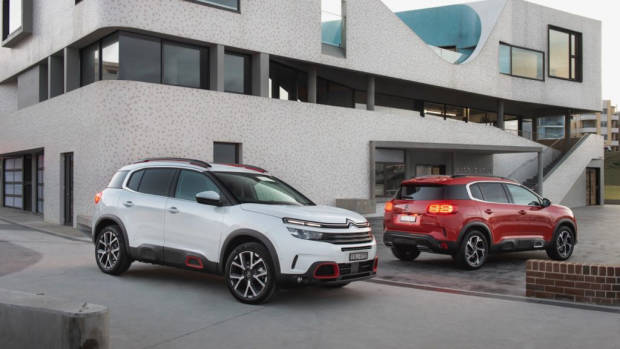 Good news is needed, and alongside the should-have-done-it-sooner launch of combined Peugeot-Citroen showrooms to cut costs (the first's opened in Parramatta, 30 more with special "La Maison" Citroen spaces will follow by 2021), the C5 Aircross offers buyers in the flooded medium SUV segment a markedly less vanilla offering.
It's not cheap and your grades are just the two: Feel for $39,990 and Shine at $43,990, both before on-roads. That immediately omits a chunk of family SUV buyers: a Mazda CX-5 starts from $30,380 and Nissan X-Trail $29,490 before costs, for example. The latter, like some others in this segment, are also available with seven seats.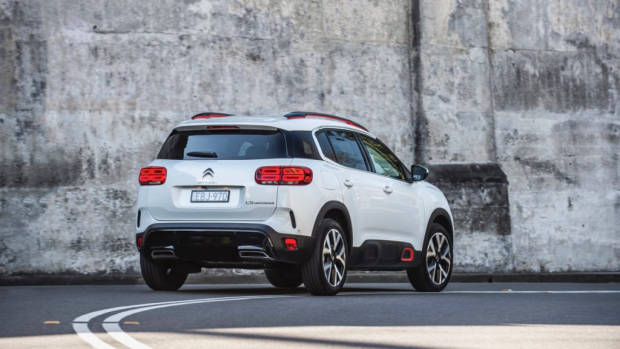 But the five-seat-only C5 Aircross is never going to be hunting massive sales volume. In fact, Australians who do buy Citroens often do so because they adore the exclusivity of it all. Spotting another on the road would be cause to dust off the Dom Perignon.
Citroen loyalists or those ready to flirt with the avant-garde French brand have much to draw them to the C5 Aircross however. Beyond its stylishly fresh design it's impressively comfortable to sit and ride in, has a vast and versatile cabin, decent specification and assuring five-year/unlimited kilometre warranty.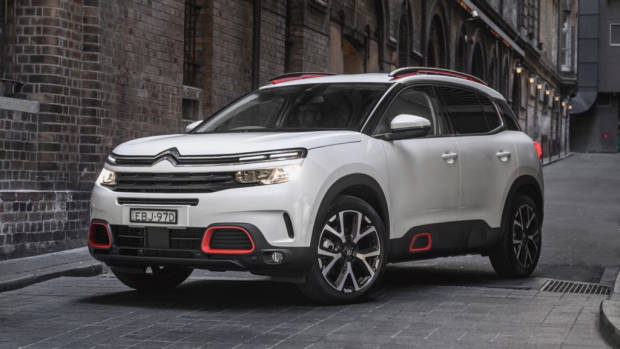 Most aesthetically noteworthy are thin two-tiered LED front lights – something of a Citroen signature now it's distanced itself from any semblance of dull design – plus subtle protective Airbumps at the base of the body, rounded off with coloured inserts. It's fun without looking naff, and the colour palette includes the likes of Volcano Red and Emerald Green, and all can come with contrasting colour pack. A refreshing change from the monochrome often spotted in Australian car parks.
Kate Gillis, Citroen's general manager of marketing, made no excuses for embracing the brand's unconventional design history. "Citroen should be seen as the decadent choice," she said. "We'll rebuild the brand and be slightly non-conformist in our approach – inspired by our customers – and be truly experimental and innovative."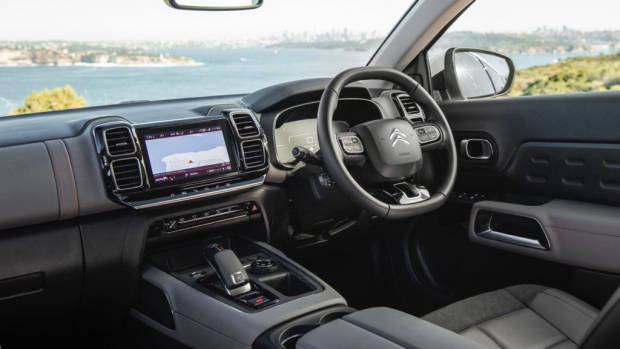 Addressing the C5 Aircross, product planning manager Justin Narayan said: "The SUV's key traits are comfort, character, modularity and practicality. We want to offer the attractiveness of an SUV and the interior features of an MPV. Bring something new to the market to shake up the segment; be a real Citroen."
The challenge may come from close to home there, as Peugeot offers similar with its dare-to-be-different 3008 and 5008 SUVs (reviewed here). Size-wise the C5 Aircross slots between these two, but not much more money buys the brilliantly versatile Peugeot 5008 with its seven-seat layout: ideal for growing families.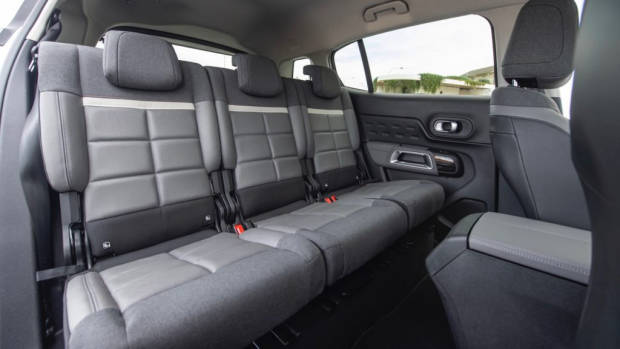 The big Citroen's cabin doesn't quite match the Peugeot's. The C5 Aircross has a classy interior rich with style, but the Peugeot does the European premium bit better in my eyes. A few hard plastics in the C5 Aircross give cause for grumble – as does the climate control only being operated through the touchscreen, rather than easier access knobs.
Otherwise it's well equipped, and in top-spec Shine, fitted with Advance Comfort grained leather seats featuring mattress-like soft pads to truly spoil one's derriere. Seat comfort is truly next level here, while chairs in the entry-level Feel – likely to not sell as well as the range-topper – still do the job well, albeit with cloth and not the same plushness.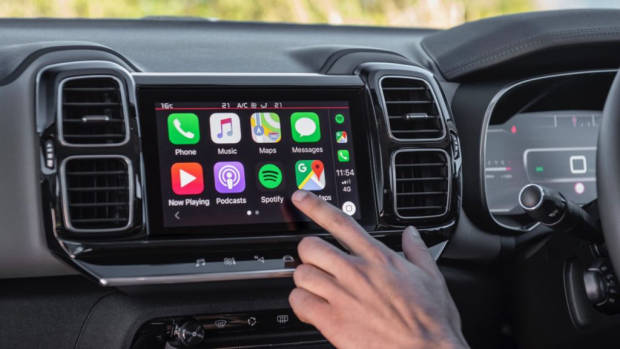 Included on both is a crisp 12.3-inch full digital instrument display, 7-inhc touchscreen with Apple CarPlay and Android Auto, sat nav, 180-degree parking camera, bi-zone climate control, ambient lighting and a hands-free, foot operated electric tailgate. Along with those caressing leather seats (electric for driver) in the Shine, you get 19-inch rather than 18-inch alloys, a wireless phone charging pad and acoustic glass.
Expected safety kit includes auto emergency braking, blind spot monitor and lane departure assist, but radar cruise control is missing and would be expected at this price.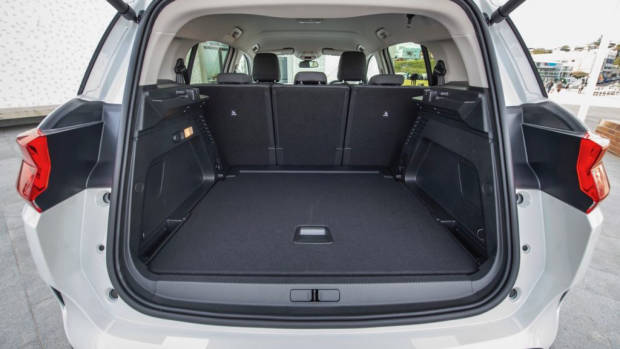 Separating the C5 Aircross from most other SUVs are three independent seats – all of equal width – making up the second row. These offer excellent space for adults – three across the back would be doable – and they slide and tilt independently to suit your journey and occupants. Three kids would be able to happily travel with the seats slid fully forward, and that allows a giant 720-litres of boot space behind.
You won't be shopping in this space if you're targeting performance and a thrilling drive, but the C5 Aircross offers a different type of driving joy: supreme comfort.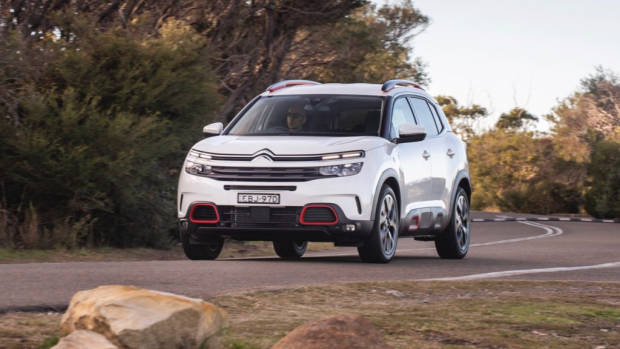 Channelling Citroen's automotive highpoint, the DS of 1955-75 with its hydropneumatic suspension, they've gone big on the magic carpet ride effort. C5 Aircross' suspension features Progressive Hydraulic Cushions to better absorb impacts, introducing two hydraulic stops – one for compression, the other for decompression – to the conventional shock absorber, spring and mechanical stop suspension setup. Basically, it adds extra layers of ride cushioning. It was developed for Citroen's World Rally Championship and Dakar Rally cars – try finding tougher tests than these – to avoid jerks and eliminate bouncing.
Without question the ride is superb on all but the very worst NSW's roads could throw at us, but don't expect a revolution in ride comfort as that DS of the 1950s introduced. It does iron out imperfections with impressive ability, ensuring the ride is soft but not nauseously so. The SUV maintains composure through faster, tight turns without wallowing or rolling, while is at its best at highway speeds, returning limo-like comfort and well insulated too with the Shine's sound-supressing glass.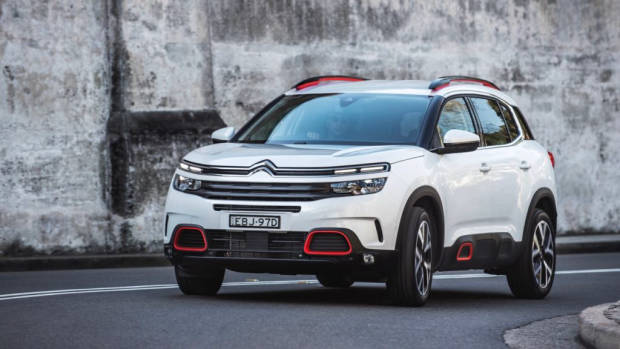 The 1.6-litre turbo-petrol engine is good for just 121kW, and takes a full ten seconds to reach 100kmh. The lack of performance in this front-wheel-driver is rarely felt however, especially as typical journeys will be urban or highway, but it does get a bit breathless on long steep hills. The torque converter six-speed auto sometimes takes a while to waken up when the accelerator's prodded, but using Sport mode or steering wheel paddles holds revs longer to up response times.
In this age of miracle fuel figures, the C5 Aircross' return of 7.9L/100km using 95 RON looks thirsty, but at least our test returned just over this figure.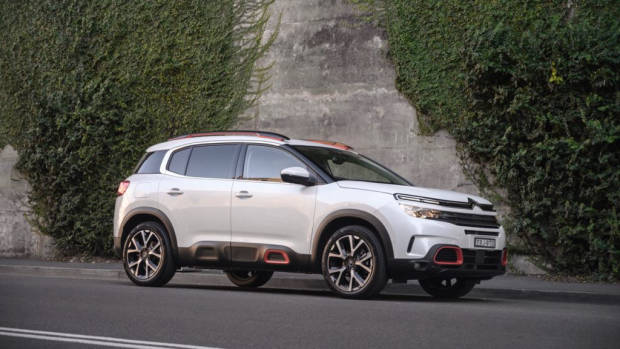 In many ways, it's a paint-by-numbers Citroen. The funky unique looks, supreme comfort, quirky touches and a good dose of innovation. Where it trumps many other recent Citroens is there's no glaring flaw – I'm looking at you, Citroen Cactus and your semi-automatic gearbox – except maybe in not offering a cheaper entry-level model. A diesel, hybrid and all-wheel-drive version would be nice, but with Citroen's sales volume there'd be no point.
It won't be the pick of the budget-buying mid-size SUV shopper, but if you value individualism and brilliant ride comfort execution, the C5 Aircross would be a welcome and colourful addition to the school car park.