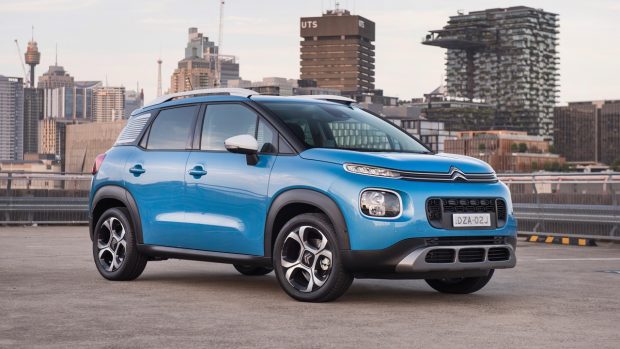 Trust the French to do things differently. Citroen may have accepted that they need to build SUVs in-house these days to compete, but there will be no mistaking the first of these for anything else. Enter the 2019 Citroen C3 Aircross – an urban-sized crossover that looks like nothing else on the road and is all the more charming for it.
The basics here are pretty simple. The C3 Aircross is a roughly Mazda CX-3 sized vehicle which can seat five in relative comfort due to a roomy interior. It's front-wheel-drive only, which is a smart choice – delusions of off-roading grandeur are best kept to Land Cruisers. Under the stubby bonnet is Peugeot-Citroen's award-winning 1.2-litre turbocharged three-cylinder petrol making 81kW/205Nm. In just one specification, it costs $32,990 before on-roads.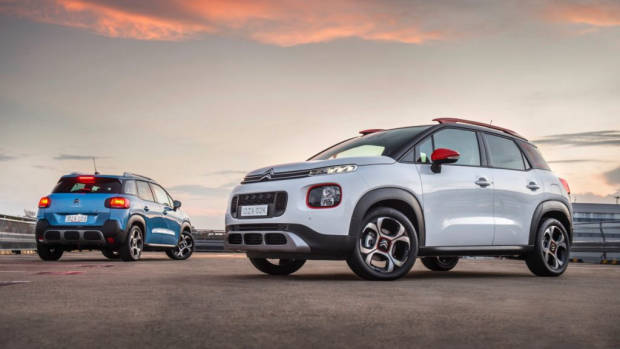 This isn't the first SUV Citroen have marketed: over the last decade, both Peugeot and Citroen – who are managed under one roof – had a tie up with Mitsubishi. Automotive anoraks may have noted the rare-in-Australia C4 Aircross, which was a rebadged Mitsubishi ASX; overseas, another chevronned model called the C-Crosser was a restyled Outlander.
None of that is afoot here: the C3 Aircross is a native effort by the French brand, rolling on a platform that would graciously be called 'tried and tested' – underneath the new Aircross, and the C3 hatch it is based upon, sits the PSA PF1 chassis that dates back to the 1998 Peugeot 206.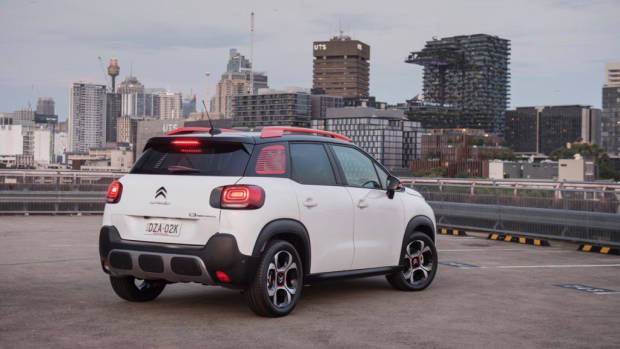 Not that the 'mature' nature of some greasy bits shows great signs of ageing: the C3 Aircross for the most part feels, and looks, thoroughly modern. There are all the modern conveniences you'd expect for a premium city car retailing in the mid-thirties: navigation, DAB digital radio, keyless entry and start, blind spot monitoring, rear cross traffic alert, and a trick 180-degree reversing camera that tries to imitate a surround view monitor… and mostly succeeds.
Only the reliance on a dodgy video-based AEB system that tops out at 30km/h marks the C3 Aircross out as a little inferior to similar rivals like the Skoda Karoq, which can automatically brake the car in an emergency from 210km/h.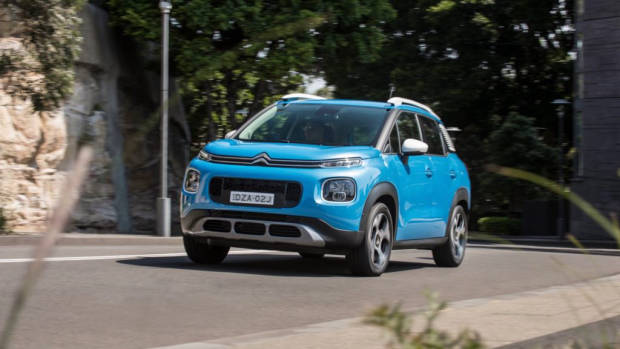 In urban driving, the C3 Aircross is fun, bubbly, and overwhelmingly comfortable for this class. Citroen has, refreshingly, decided that it wants to make comfy cars again, and the Aircross is endowed with a pretty plush suspension and very soft, sofa-like front seats. Combined with the sensible 17-inch wheels, this is one of the most relaxing small SUVs to drive.
Town commuting is also the best environment to showcase the 1.2-litre triple under the bonnet. This is a modest engine, no doubt about it, but the 205Nm of torque is meaty enough and comes on song at just 1,500rpm. You get up to speed quickly enough but with plenty of three-cylinder thrum: you know the engine is there. The six-speed torque converter automatic is inoffensive most of the time except on initial takeoff, where it exhibits a bizarrely dual-clutch like first gear takeup.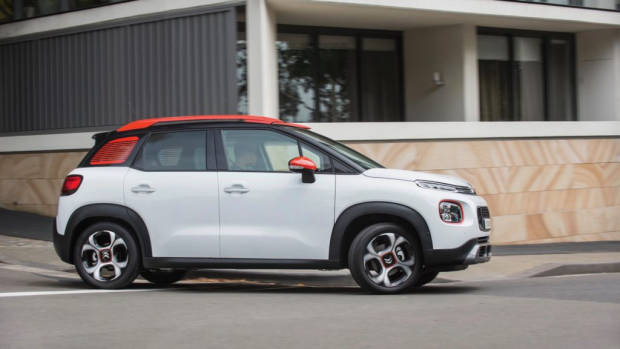 Our test car had only 800km on the odometer so it was still running in, but we were a little disappointed that we could only manage 10L/100km in town driving – surely the Aircross's dimintuive 1,203kg mass isn't that much of a strain?
On country roads, economy quickly settled to around 7L/100km but few C3 Aircross owners will take their cars out here. On the highway, the tall body tends to be buffeted by crosswinds – and then you get to the corners.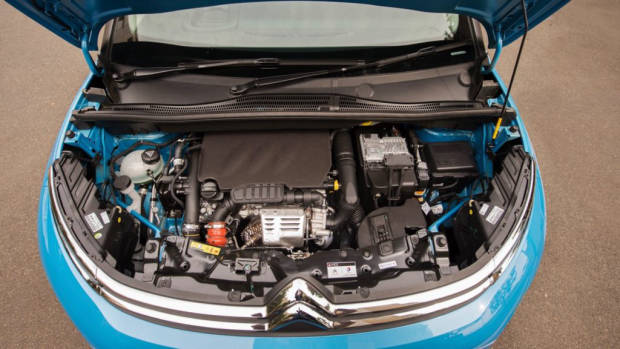 Because of that focus on plush ride quality, and in the absence of the hydropneumatic bushings of the forthcoming C5 Aircross midsizer, the C3 Aircross struggles to keep body motion in check as you approach its modest handling limits.
Find a backroad in the Skoda Karoq and it encourages you to push on and on, rewarding with sporty handling. The C3 Aircross isn't trying to do that, and it gives up much quicker. In fact, the on-limit cornering can be dicey, with the centre of gravity feeling high and a willingness to cock a rear wheel a bit too quickly, combined with lethargic stability control intervention.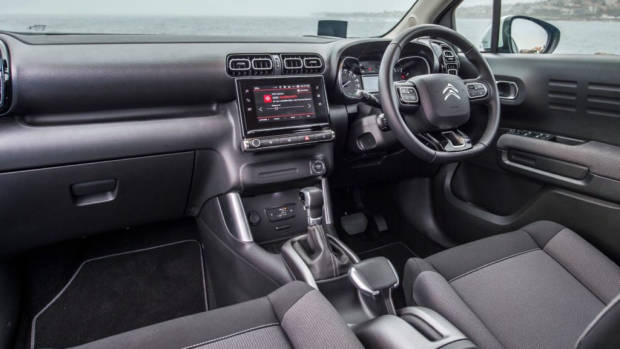 Naturally few who buy this car will explore the limits of grip and by sticking to relaxed driving, and even better within city limits, the Aircross offers up a functional, relaxed drive. It looks good while doing it, with a chunky profile and standard 'colour packs' which see the roof rails and mirrors sporting a feature colour while the roof itself is solid black.
As for the accommodation inside: it's okay. We've already mentioned our appreciation for the great seats, but why do they only come in a drab mix of black and grey, matching the plastics throughout the cabin? Citroen executives said it was to keep choices simple, which is fine, but come on – Citroen is meant to be quirky! Overseas, grey/orange, black/red, tan/grey and black/grey combinations attract only a small price penalty but these are unavailable to Australian customers…
…aside from a lucky twenty people who buy a C3 Aircross Launch Edition. These attract no price premium over the standard car but include a panoramic opening glass sunroof, light grey/red seats, a soft-touch fabric dash, and red paint outside ($32,990, limited to 20 units).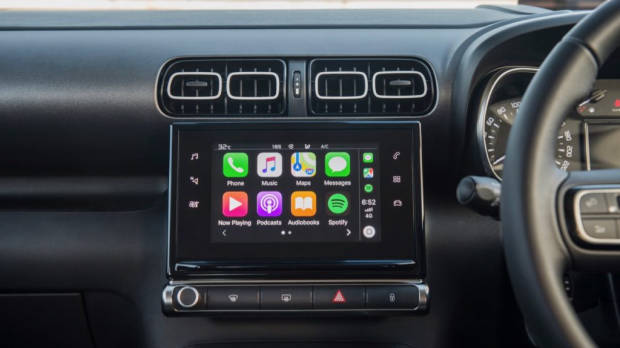 The dashboard layout is functional enough, built around a seven-inch touchscreen that has been inside Peugeot-Citroen cars for five-plus years. The software is a bit laggy and it remains a little silly that climate controls can only be controlled from within the screen, but that line is getting a bit tired now; we've gotten over it. The navigation works and the inclusion of DAB radio is appreciated. Android Auto and Apple CarPlay are also included, gratis, which most drivers will defer to anyway.
A thick-rimmed steering wheel feels good in the hand and while we don't dig the eighties LCD trip computer, the Aircross has a standard colour HUD with a dinky flip-up screen that projects key info into your line of sight, including speed signs. That's good.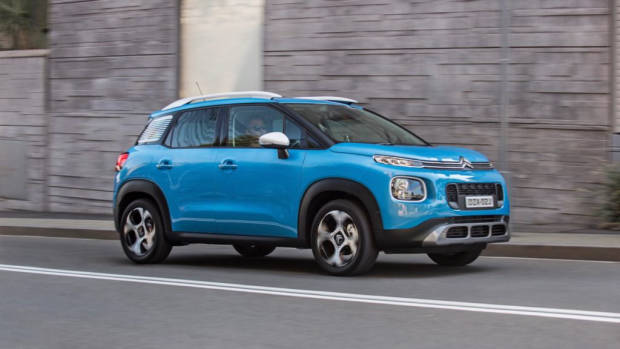 We do take issue with the lack of an armrest at $33k though – come on! Storage is also limited; wireless charging means ditching two small cupholders, leaving just one cupholder of limited utility, located in the rear seating area. At least the door bins are massive.
In Europe the Citroen C3 is pitched as a basic vehicle – think Toyota Yaris in a market with higher standards – and the extensive use of plastic trim inside shouldn't shock you, but the fact there are very few soft touch surfaces at this price point does require a rethink for export markets. The fabric trim used on the dash on the Launch Edition would be a start, for the regular car.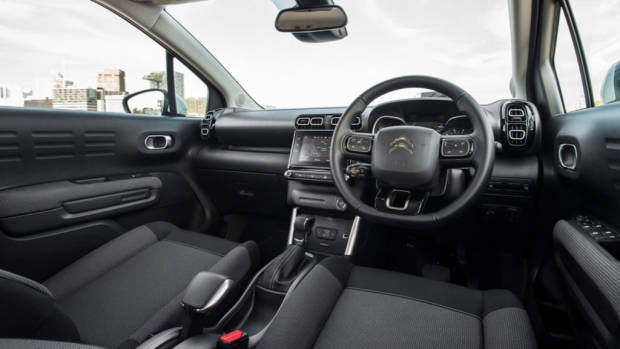 Volkswagen Australia, for example, have committed to reskinning their forthcoming T-Cross and T-Roc SUVs with soft touch plastics for Australia. In Europe, they're as hard inside as the C3 Aircross.
Back seat space is, however, good for this class. There's plenty of head, knee, and toe room for six-footers in the outboard seats and while the middle pew is a perch, you could use it in a pinch. Air vents in the back would have been nice for our climate, but these are missing.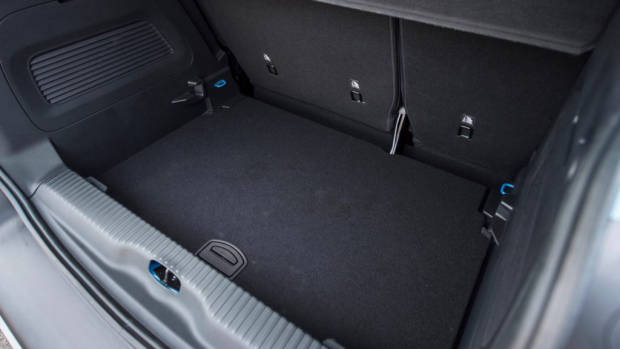 The 410 litre boot offers practicality well beyond the actually-shorter Mazda CX-3, which can only muster up 280 litres back there. Unfortunately, though, Australians skip out on the 40/20/40 seat folding of European-spec cars due to our ancient top-tether standard for child seats.
On the ownership front, the C3 Aircross is covered by a five year warranty in Australia with unlimited mileage. Servicing is annual or every 15,000 kilometres, and the first five annual services can be purchased up front for $2,454 ($490 per service). If you pay at the time of service it'll cost you $2,727 over the five year period ($545 per service), which is on the steep side.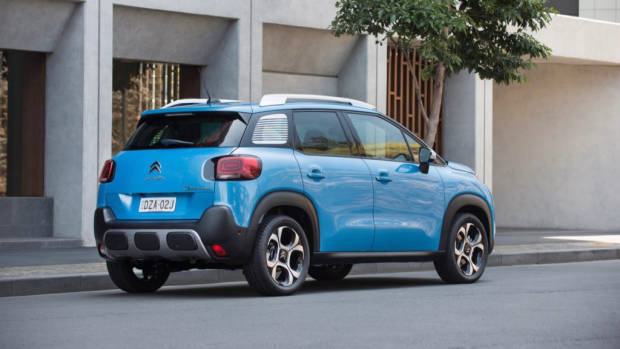 It's hard not to like the Citroen C3 Aircross. It is refreshing to see a brand take a unique approach to SUVs, with a dedicated focus on ride comfort and funky exterior styling. That trend will continue with the larger C5 Aircross later this year, which is arguably priced more sharply, from $39,990, while packing a far more plush interior. That's the car we would wait for.
If, however, you want a smaller SUV to drive in town, with solid practicality and a relaxing demeanour on urban streets, there's a lot to like about the C3 Aircross.
Smart buyers will carefully consider and test drive a range of vehicles in this class. We'd pay particular attention to the Skoda Karoq 110TSI ($35,290 driveaway), and the Mazda CX-3 sTouring FWD ($30,390, $33,915 driveaway), which are similarly priced but ultimately offer a broader range of talent.