The new Skoda Superb Scout isn't inexpensive, per se, at $61,990 driveaway — and yet it feels like something of a bargain. That's a product of the depth of engineering on offer here, combined with a well-judged balance between performance, comfort, and the sheer practicality of this large station wagon that is a very recent addition to the market.
Currently the only trim available to Australian buyers of the largest non-SUV Skoda model, due to supply issues, the Superb Scout is a slightly raised, cladded wagon in the style of a Volvo Cross Country or, more pertinently, a Volkswagen Alltrack. You could think of VW's Passat Alltrack as the Superb Scout's close cousin – but the Passat doesn't get an engine this good.
Powertrain-wise, the 2020 Superb Scout is more closely related to the cult favourite Volkswagen Golf R – if the R was an athlete in its prime, whereas the Scout is the same athlete but middle-aged and with responsibilities. Both cars pack the Volkswagen Group's EA888 two-litre turbo petrol four-cylinder engine in a high state of tune: 213kW/380Nm for the Golf R, and 200kW/350Nm for the Superb Scout. The Golf R wagon completes a 0-100km/h sprint in five seconds; the Scout requires just 0.7sec more for the same sprint.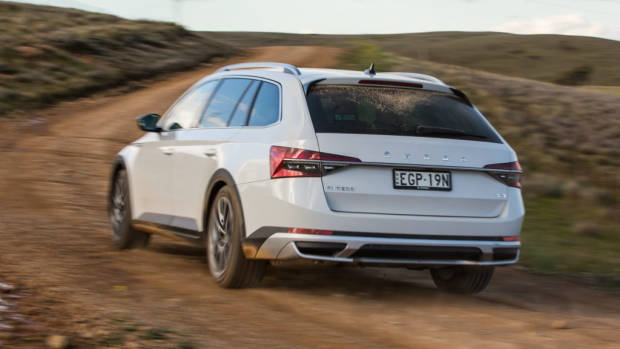 Unlike the higher-powered Golf R, the Superb Scout introduces a petrol particulate filter to the EA888 engine in Australia for the first time. As part of a suite of emissions treatment technologies, the Scout's PPF helps to drive CO2 output down to an official 161g/km, while official fuel consumption of premium-octane petrol is stated to be 7.1L/100km. In the real world, we managed about 10L/100km in town and 8L/100km in cross-country driving, which is pretty good for a large, relatively powerful petrol station wagon.
Where the Golf R and the Superb Scout start to diverge is in their respective purposes: one is the estate version of a hot hatch, and the other is a bona fide family hauler, designed to be comfortable and practical, even if it can turn on an impressive straight-line dash. The Scout is a big, plush, traditional wagon, and will be a great fit for mums or dads who either aren't interested in buying an SUV just because all the other families have one, or because they've tried an SUV and prefer the superior dynamics of a lower-set car.
With a modest suspension lift of 15 mm compared to the standard Skoda Superb wagon, the Scout offers some of the rugged looks of a crossover – note the black bumper and door cladding – while possessing the lower centre of gravity that make non-SUVs much more enjoyable and safe to drive, especially if you like to make brisk progress. Ignore the Scout embroidery of the seats and you'd forget there was any crossover-aping intention to this Skoda: behind the attractively thin-rimmed steering wheel, it feels like a traditional car, because it is a traditional car.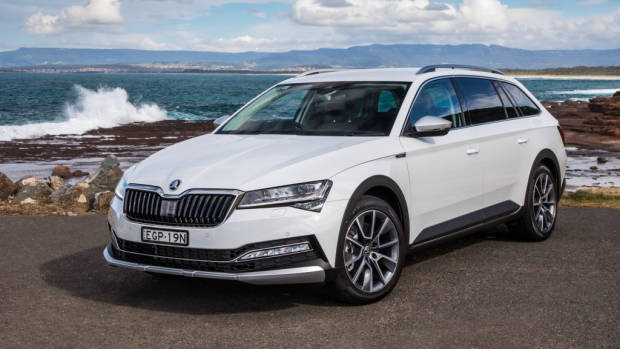 Long, low and relatively light for such a large family car, at 1.6 tonnes, the Superb Scout will blend into the background for the commuter, but at the weekend, it'll entertain a keen driver. Quick, direct and light steering leads a darty front end that turns in crisply, while the well-tuned independent rear suspension works subtly away to tuck the Scout's considerable booty in behind. Forget the long wheelbase: the Superb handles like a stretched hatch, not like a squished-down SUV.
A Haldex-style all-wheel-drive system is standard fit with the 200TSI powertrain, meaning the Scout will be an adept partner for winery touring or for the snow season. However, the AWD system works perceptibly while driving quickly on tarmac, too, helping to kill any hints of torque steer when accelerating hard out of a corner. In fact, while there's no suggestion of power oversteer, the Superb Scout feels totally secure cornering on throttle, with the driver experiencing the feeling of being pushed and pulled more or less simultaneously.
Unlike some iterations of the current third-generation Superb, the facelifted 2020 Scout matches sensibly-sized wheels with revised damping for a more cohesive ride/handling balance. 18-inch wheels in chunky 235/45 Pirelli Cinturato P7 rubber have sufficient sidewall to cop the worst of square-edged imperfections on Australian country roads, while the Superb's dampers no longer allow boat-like wallowing when tipping into corners or traversing speed bumps. In Comfort some vertical motion is allowed, and some will find this overly plush, but in a refreshing turn for the Volkswagen Group, the Scout's selectable Sport damping setting is entirely usable on these 18-inch wheels, substantially cinching in body control while providing greater road feel.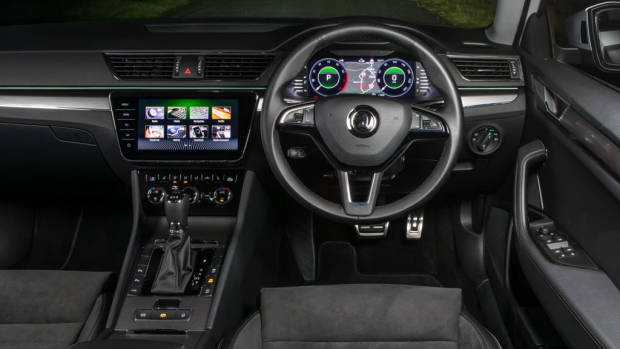 Combined with the readily available torque and crisp shifts from the two-litre and wet clutch seven-speed dual clutch partnership up front, the Superb strikes a fabulous balance between offering up strong cross-country pace with the kind of mile-eating comfort that made large station wagons Australia's favourite family car for decades. SUVs have their positives, but few strike such an ideal balance between softness when you need it and sportiness when you want it.
Design-wise, the refreshed Superb offers up some crisp lines outside, and Skoda-spotters will notice the adoption of the textual brand logo on the tailgate. However, the Scout is a fairly anonymous ride, particularly in the metallic Moon White paint ($770) of our Scout test vehicle. A flat grey is the only standard colour; a variety of metallic monochromes or a blue cost the same as the white, while the hotter colours are more expensive: Velvet Red is $1,100, while the best hue (in our subjective view), Tangerine Orange, is $1,700.
Conservatism is the name of the game inside: the Superb plays a very straight cabin design bat. While the basic layout isn't memorable, the fact there are hard controls for most important functions is helpful. Easy, rotary climate controls are better than options buried in a screen, though the 9.2-inch Columbus touch panel itself is crisply high-res and easy to navigate. We like the fact Skodas have DAB digital radio, unlike most Australian-sold Volkswagen; less so the wired nature of the Apple CarPlay connection, when Vee-Dub have already adopted a wireless system in the Passat wagon.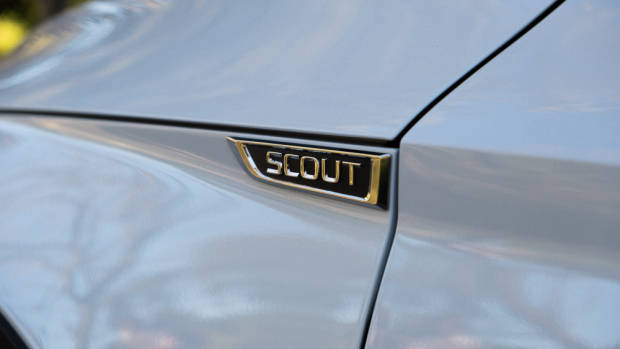 Big, supportive, Alcanatara-trimmed pews mean most drivers will be able to get very comfortable: the range of electric adjustment (with memory) on both front seats is commendable. However, at $62k, we would have hoped the steering wheel would be electrically adjustable, too; and the lack of lateral bolstering on the squab did tire out our longer legs after several hours in the saddle. The multi-stage heating in both front seats, and both outboard rear seats, is hot, and the wheel can warm paws, too.
Speaking of the rear seats – it's huge back there. Three adults will be able to travel abreast: the Superb invokes the old catch-cry of a big car for a big country. Whether that recipe is still necessary today is doubtful, but families will nonetheless appreciate the space on offer: headroom, legroom and toe room is all excellent. Easy, modular accessories for the front headrests can accommodate phones and iPads to create affordable road trip entertainment solutions. A central armrest is large, there are built-in sunshades for the large windows, and a ski pass-through is more than an afterthought in this AWD wagon that we think would make a brilliant snowmobile… ditto the enormous 660-litre boot, which has almost we could ask for: three nets to keep cargo from moving about, along with hooks, remote seatback releases, a 12-volt socket, a magnetic torch, and a (space saver) spare wheel.
Ownership can be an easy proposition: Skoda sells a five-year service pack ($1,700, or $340 per service) at the time of buying, representing better value than paying for services as they happen. In fact, this pack is the only option besides a panoramic opening sunroof ($1,900). We'd negotiate to get the service pack thrown in. The Superb Scout, like all Skodas, is covered by a five-year, unlimited kilometre warranty.
Quite simply, we'd be very happy to own a Superb Scout. These cars make truly excellent family cars, if you don't actually need the three-row capacity of some SUVs, like Skoda's own Kodiaq. With its generously powerful engine, excellent ride/handling balance and tasteful, understated character, the Superb Scout makes a clear case for itself. We commend you to consider it.