The amalgamated Peugeot-Citroën group has developed a real knack for building great cars in the last few years. Almost every release from the French pair in the last few years bobs around the top of their respective class – dynamically and aesthetically, at least. The big problem in Australia has been pricing. The inability of various Australian Peugeot-Citroën distributors to secure assistance from the Paris head office to run competitive price points has inflicted harm on the capacity for these cars to sell in more than niche numbers. Good cars like Peugeot's 308 and 3008 or the Citroën C4 Cactus cannot build proper sales momentum because they're just too expensive in a market that does not strongly associate these French badges with premium pricing. And, unfortunately, so goes the story of the new Citroen C3, which launched locally last week.
Like other recent Citroëns and Peugeots, a short time with the C3 revealed it to be a really good city car – more than good enough to rival the new Volkswagen Polo that launched just a day earlier. The problem is that the Citroen C3 is priced at $23,490 – and $26,990 driveaway. The Volkswagen Polo starts at $17,990 driveaway. That's devastating for the French car. If we wanted a city runabout, were downsizing into a small hatch or were looking to buy a first car for a teenager, a $9,000 difference in starting prices would have an enormous influence.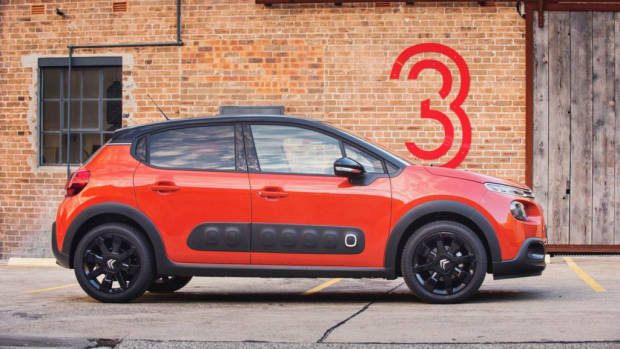 In fairness, a $17,990 Polo Trendline is relatively basic, with a manual gearbox and steel wheels – but a $21,990 Polo Comfortline auto more or less matches the Citroen for a lot less money. The C3 arrives in Australia only as a top-level Shine specification with a six-speed automatic transmission. Citroen call this the "Christmas tree specification": it has lots of desirable feature standard, including 17-inch wheels, a 7-inch touchscreen with Apple CarPlay and Android Auto, a contrast-colour roof, lane departure warning, speed sign recognition, sofa-like seats, and Citroen's signature Airbump cladding to minimise damage to the side profile of the car. At present, there's no autonomous emergency braking.
Further options that we liked, including a fixed panoramic roof ($600), metallic paint ($590), a factory-fitted Connected Cam dash camera system ($600) and a handsome grey/tan interior ($400) can push Citroen's smallest car toward $30,000 on the road quite rapidly. That's especially interesting given this car's bigger brother, the C4 Cactus, starts at just over $30,000 drive away.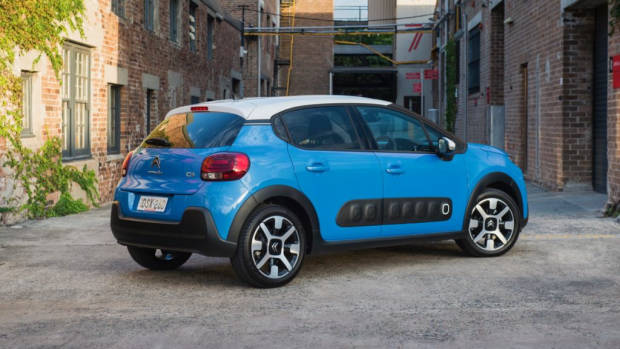 A price point like that will effectively limit C3 sales to well-heeled people who have a special interest driving a car like a Citroen – something left-of-field that stands out. Anouk Poelmann, Peugeot Citroen Australia's managing director, told Chasing Cars that the company is comfortable with this buyer profile. Poelmann sees Citroen as the group's "niche" brand while she hopes Peugeot will be the mainstream offer. But with plenty of volume still in the city car segment, we think the C3 could fare much better if it were positioned to truly compete with cars that are similarly likeable like the Polo and Mazda 2, even if those options have far less personality than the cute, smartly-proportioned C3.
Now that the C3's pricing – the elephant in the room – is out of the way, we can move onto discussing how we liked the car. And we did like it.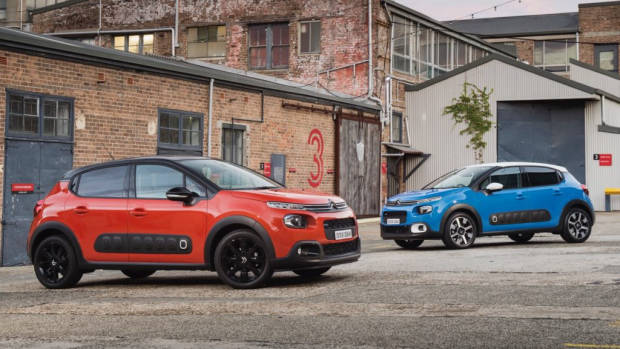 The C3 experience starts with looking at it. Short and squat dimensions carry very unique styling that won't be for everybody, but a straw poll indicated that most people like the way this car looks – and the lines are very cohesive in the flesh. A substantial range of customisation lets buyers create a personalised car: nine exterior colours, four roof colour choices and three interior colour schemes results in more than a few desirable combinations. We liked the flat Almond Green ($290) paired to the no-cost Onyx black roof with the Hype Colorado grey/tan interior ($400). The standard-fit diamond cut 17-inch wheels look slick and expensive and certainly help the C3 to look more premium than most of its rivals. Nobody's going to think you bought a Toyota Yaris.
The small proportions reveal a big-enough interior, especially up the front, where the C3 inherits many design cues from its larger brother, the C4 Cactus. There's a square, slabby dashboard design incorporating a seven-inch slate touchscreen – all of this is made of hard plastic but looks contemporary. The touchscreen incorporates the climate control functions, which continues to be a minor annoyance in most Peugeot-Citroen products, but otherwise, it works well, and you get Apple CarPlay and Android Auto. Don't be fooled by the satellite navigation shortcut button – press it and you receive a depressing 'navigation absent'. Citroen tell us it may arrive on the C3 later on.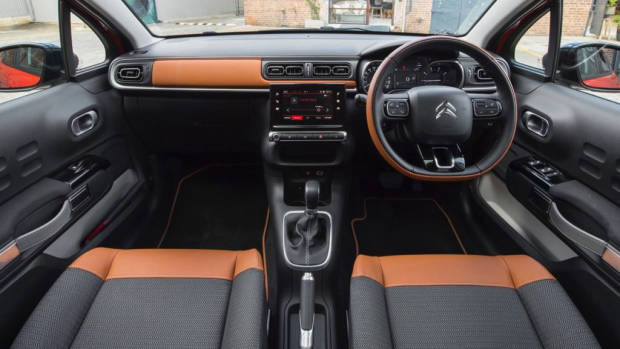 In standard form the dash and wider interior is all a bit grey and dark, but splashing $150 adds red highlights and $400 transforms the space with an attractive grey/tan combination that extends to the seats, which are more like broad sofa chairs. There's almost no lateral bolstering, which means you are thrown about a little in spirited cornering, but for around-town duties, the C3 is seriously comfortable. Being French, there are a few quirky treatments remaining up front, including the luggage-strap like door pulls and Airbump-style indents in the trim. Storage options are just okay. The cupholders are small and when in use, they obscure the Sport button.
Jump into the back and, unsurprisingly, the C3's small size means it's tight for adults. Headroom is no problem, but legroom behind a six-foot driver is tight and using all three seats will be a major challenge – but that is hardly why you buy a city car. Interestingly, quality is a little better in the back of a C3 than a new Polo, thanks to the inclusion of soft pads on the doors where passengers can rest their arms, in contrast to the entirely hard construction of the Volkswagen behind the front seats. The boot is 300 litres and is a deep but featureless space; perfectly adequate for a light car. The back seats fold, but create a lump between the seat back and boot floor so you can't slide long items straight to the front.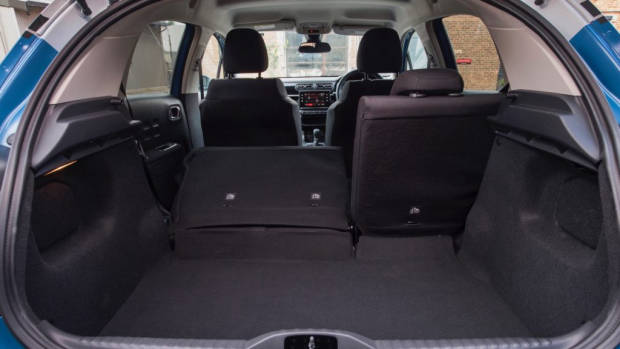 As a car to use for errands around town, then, there's enough space. But what's it like to drive while you're at it?
The answer is very good. There's just one engine offered and it's Peugeot-Citroen's three-cylinder turbo petrol producing 81kW/205Nm. This engine has won global awards for small displacement mills several years in a row and it isn't hard to see why. It's fast enough, with a 10.9 second 0-100km/h sprint and decent urgency at slower speeds in town. The rated fuel economy of 4.9L/100km is low and if it's like other Citroens, you'll be able to achieve close to that figure in the real world. There is a characteristic three-cylinder thrum when you rev it out, which we like. However, the C3's engine is not as quiet or refined as the three-pot Volkswagen puts in the new Polo, it must be said, and it is only equally as efficient.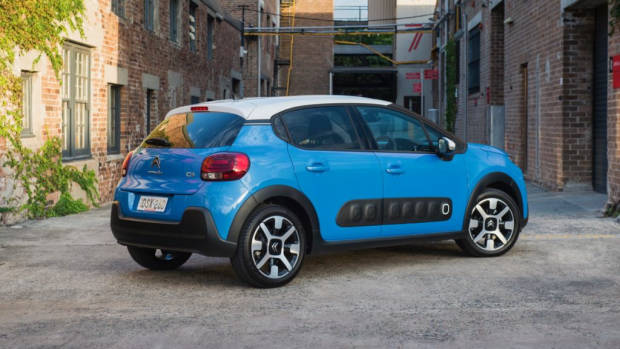 For many years the French brands used really dodgy robotised manuals in place of automatic transmissions, but that is no longer the case. The C3 uses Peugeot-Citroen's now familiar six-speed torque converter auto co-developed with big-name gearbox firm Aisin. This is a quality automatic that does not hunt for gears, makes smart use of the engine's strong peak torque around 1,500rpm, and shifts without lurching. There's also a sport mode that holds gears for longer.
The steering isn't very quick, but it is light and therefore very suitable for driving in town. The tiller is attractive and soft to the touch, and the front end darts around happily, which isn't surprising given the Citroen's bantamweight 1,067kg tare mass. Take the C3 out of the city and show it a country road and you'll have fun – it may not be fast but it loves to be thrashed from corner to corner. There is body roll thanks to the soft suspension, but it's entirely manageable with understeer bleeding in predictably. This is a well sorted car, dynamically. It's quiet, too, even at 100km/h on coarse chip. You can still hear your passengers clearly.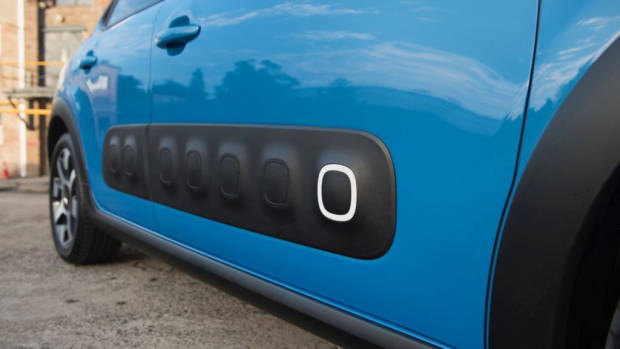 So, what do you get for your $23,490, and how does that compare to other top-shelf city cars? Citroen are pretty generous with equipment on the C3 Shine. Headline standard kit includes automatic lights and wipers, a leather steering wheel and shifter, all-round one-touch electric windows, tyre pressure monitoring, and the seven-inch touchscreen with Apple CarPlay and Android Auto. On the safety front, there are six airbags, lane departure warning, passive coffee break suggestions, and speed limit recognition, climate control, driver armrest
But really, at this price, the C3 really ought to have everything you can get in this segment: LED headlights, integrated navigation, DAB digital radio, autonomous emergency braking, adaptive cruise control, lane keep assist and blind spot monitoring, are a few notable omissions you can find across various specification sheets in this class. In particular, the Mazda 2 Genki hatch ($22,690) offers better value for money.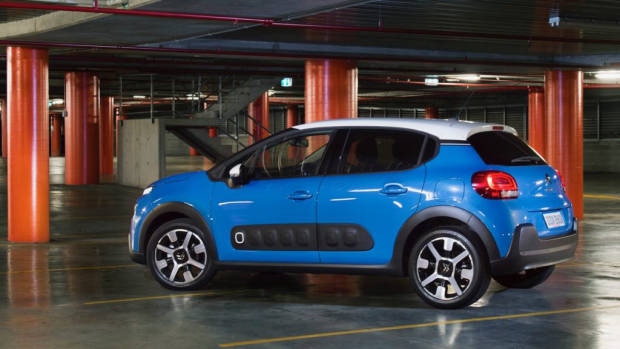 The C3 is like a hurdler that runs an exceptional race but stumbles at a critical juncture, just as the finish line is within reach: pricing. There is no reason why Citroen ought to position the C3 as merely a niche product as their Australian representation suggests it should be. As this car's very broad success in Europe suggests, it isn't just 'quirky' people that can enjoy a French car – especially a French car that is really just as good as a Polo in terms of its driving dynamics and packaging. The C3 has quirky looks, but it offers a very normal driving and ownership experience.
It's a shame that Peugeot Citroen Australia haven't been able to secure a competitive price point for this car because it does deserve to succeed on its other merits. Priced at $19,990 driveaway and accompanied by appropriately broad marketing, we think the C3 would have a good chance at pushing into the market share of the Polo, Mazda 2 and others. But at $23,490 – and on the ugly side of $25,000 on the road – this is a very tall order indeed.