Australia is set to receive an exclusive edition of the Ford Mustang in collaboration with tuning house Herrod Performance. Dubbed the R-Spec, this Mustang features substantial upgrades to suspension, exterior, and powertrain. The R-Spec will set customers back $99,980 (driveaway pricing not confirmed), and is limited to 500 units.
When it arrives, the Mustang R-Spec will sit alongside five-litre V8 GT and 2.3-litre four-cylinder turbo High Performance variants. The R-Spec 'Stang is a niche product, but we can see customers cross shopping with less powerful competitors like the BMW M2 Competition, the fresh-faced Toyota GR Supra GTS, and the Audi TTS. Our money would be on the new 'Stang in a drag race…
In a move that assuages some of the pain of losing Australia's own muscle cars, the Ford-Herrod collaboration sees the Mustang R-Spec packing around 523kW of power and 830Nm of torque, based on North American standards. Ford will confirm power under Australian test conditions closer to arrival.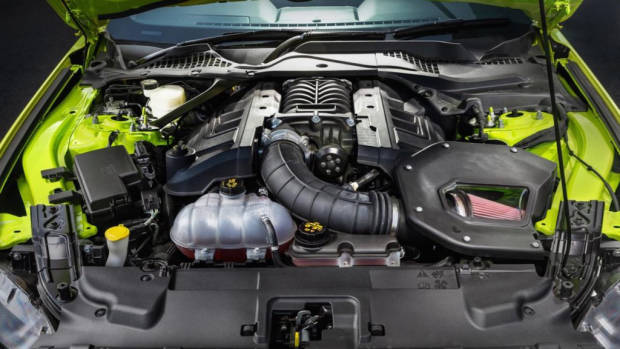 The supercharger is a 2.65-litre Roots-type unit running 12psi of boost, which Ford says should give an excellent blend of throttle response and, clearly, quite a lot of power.
Those outputs represent around a 54% jump in power and a 50% increase in torque over the stock Mustang five-litre, which makes an already tasty 339kW/556Nm in naturally aspirated form.
To accommodate the extra 180kW and 280Nm, the R-Spec sits lower by 20mm and rides on Magneride dampers as standard. The R-Spec also receives thicker anti-roll bars (5mm up front, 3mm in the rear) and sticky Michelin Pilot Sport 4 S tyres mounted to staggered 9.5-inch and 10-inch wide rims. All these little changes should add up to a car that is more than just a one-trick straightline pony.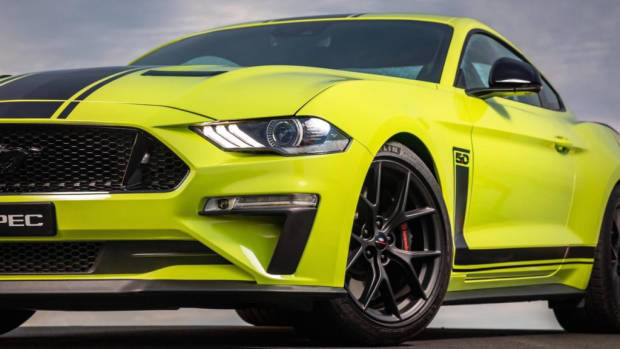 Additional upgrades for the R-Spec include 19-inch Ford Performance alloy wheels painted matte black, a tastefully sized rear wing, more aggressive front lip, the rather obnoxious striping, distinctive colours, and louder exhaust.
The exterior additions make the R-Spec look angry, much angrier than the GT variant. In this dazzling Grabber Lime, the R-Spec is menacing, like it's about ready to rip your face off and throw you in a ditch.
The exhaust maintains all the active settings of the GT, with quiet, normal, sport and race modes. It even includes automatic quiet mode, which can be set for specific times of day.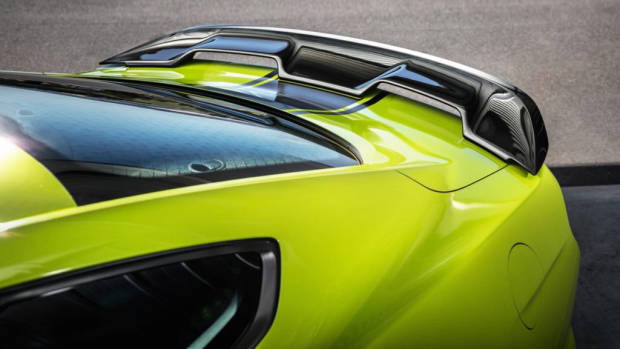 All R-spec mustangs will share the same spec save for colour, no automatic will be available, instead only the six-speed manual. The R-Spec is only available in the stiffer Sportback bodystyle. Only 500 cars will have the R-Spec surgery performed by Herrod Performance, each one will be fitted with a numbered plaque.
Being factory backed, the five year unlimited kilometre warranty remains in tact too. Ford also offer cap-price servicing for the first two years or 40,000km, at a maximum of $299 per visit.
Inside the R-Spec isn't a stripped out racer, so expect to find all the goodies you would in a loaded GT. These include a 12.4-inch digital instrument cluster, eight-inch touchscreen with Apple CarPlay and Android Auto, navigation with voice control, nine-speaker premium audio system, AEB, lane keep assist, and active cruise control.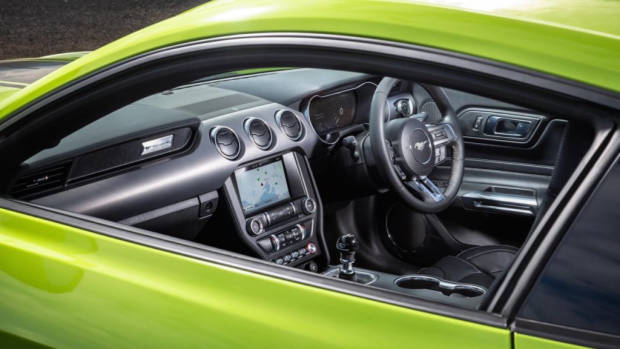 With handling development undertaken at the hallowed You Yangs proving grounds, and exterior design done at Herrod's facility in Broadmeadows the R-Spec adds some Aussie spice to an otherwise American burger. We hope Herrod and Ford Performance have tuned the suspension to deal with our unforgiving back roads, not just smooth race tracks.
If the R-Spec is successful, it will surely be one of the biggest performance car bargains, especially when all that performance is backed by a manufacturer's warranty. All R-Specs are priced at $99,980 (driveaway pricing not confirmed), and will be available for pre-order October 10.