Audi confirmed the technical specifications for the 2022 RS3 hatchback and sedan overnight that will sit atop the brand's small car lineup when it arrives in Australia.
In welcome news for Audi purists, the RS3 has retained its 2.5-litre turbocharged five-cylinder petrol engine for 2022. While it's been subjected to further emissions treatments to remain eligible for sale in Europe, it's faster and packs more torque.
UPDATE 19/7/21: the 2022 Audi RS3 has been fully revealed in Sportback and Sedan body style.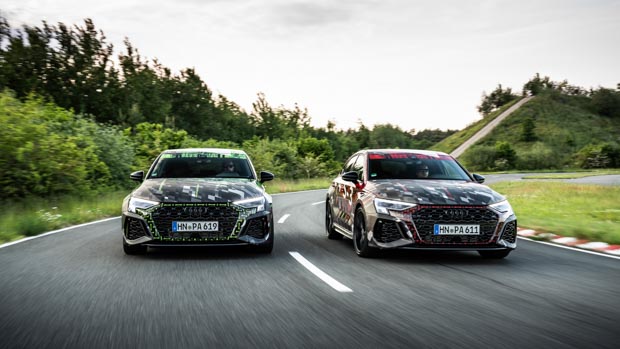 The RS3's 0-100km/h time will fall from 4.1 seconds in outgoing third-generation form to just 3.8 seconds for the 2022 fourth-generation RS3.
Audi claim the RS3 will provide best-in-class performance in a clear shot across the bow of the Mercedes-AMG A45.
Hatchback and sedan body styles will return for the 2022 RS3, with both formats set to come to Australia. The four-door RS3 sedan has proven remarkably popular since its launch and is expected to continue to be the volume selling shape.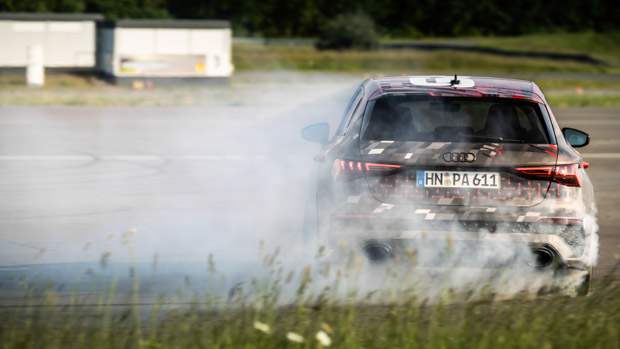 Power for the RS3's five-cylinder engine will remain steady at 294kW for 2022, while torque increases to 500Nm – up 20Nm.
That means the RS3 will still be a substantially more powerful vehicle than the 2022 S3 that it sits above in the broader A3 range. The S3 uses a 2.0-litre four-cylinder turbo to make 215kW/380Nm.
While the RS3 retains the same basic MQB architecture as the outgoing model, there has been a wholesale change for the all wheel drive system.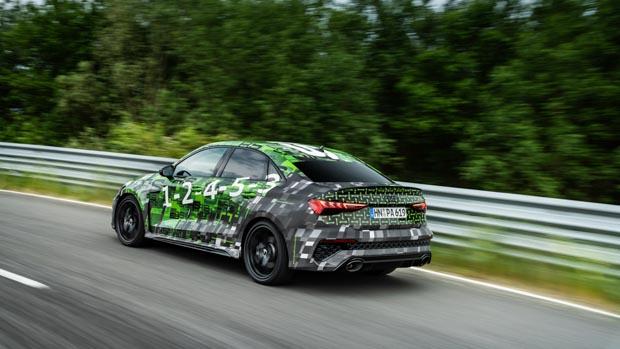 The Haldex system utilised by the previous-generation RS3 has been ditched in favour of a new Torque Splitter all-paw setup. Torque Splitter replaces the rear differential with an electronically-controlled multiple disc clutch on each drive shaft. The centre differential remains.
The new AWD system is partially responsible for the near-ten per cent improvement in the RS3's 0-100km/h time.
Torque Splitter also opens up a new range of features for the AWD system, including a vaunted drift mode that Audi have labelled RS Torque Rear mode.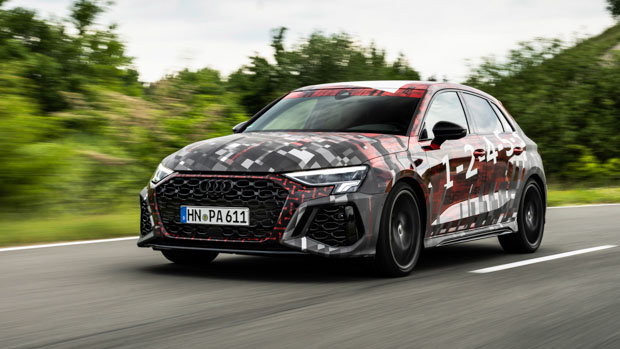 Selecting Torque Rear will direct 50 per cent of engine torque to the rear Torque Splitter – and from there, 100% of that torque can be distributed to either rear wheel.
That will allow constant power oversteer – in closed environments, Audi reminded media – for more balanced handling.
A further new drive mode named RS Performance will also be available, promising totally neutral 50-50 handling without understeer or oversteer.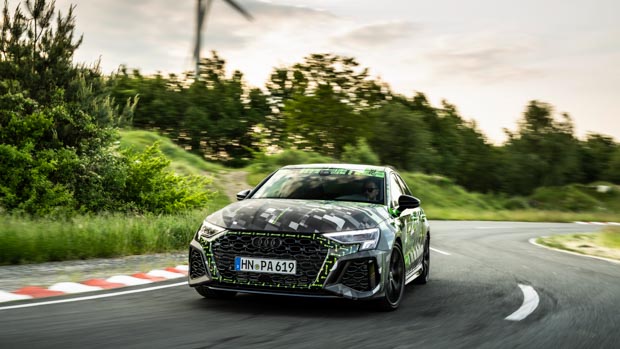 In each drive mode, standard adaptive dampers will allow a choice between stiffer or more relaxed wheel control so that the ride can be customised for the surface, with high-level Audi engineers suggesting comfort damping for road use and sport damping for smooth tracks.
The 2022 RS3 also benefits from new shock absorbers and an RS-specific valve system, plus greater negative wheel camber by around one additional degree for better steering response.
Ceramic brakes will continue to be an option while six-piston steel brakes will be the standard-fit stoppers for the 2022 RS3.
Full details on the new Audi RS3, including release dates for Australia, initial pricing indications, and the exterior and interior design, will be released next month.