Audi has fully detailed the next-generation 2022 RS3 hyper hatch and sedan, which the German brand promises will take the pocket rocket to a new level of performance in almost every aspect.
When it arrives in Australia in early 2022, the Audi RS3 will face off against hot-hatch rivals such as the Mercedes-AMG A45, BMW M135i and even its internal cousin, Volkswagen Golf R. We've written a separate article to see how the RS3 compares to its rivals.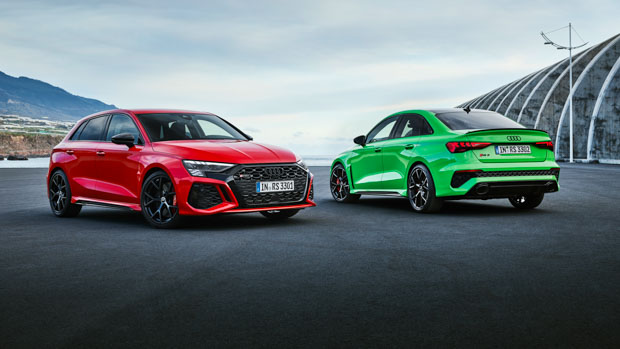 What has changed with the Audi RS3's design?
Previously seen covered in camouflage, the 2022 Audi RS3 cuts a notably more aggressive appearance that evolves the look of its predecessor.
Designers have side stepped the current trend to enlarge the grille but added a new honeycomb pattern, large lower air intakes that spill over into the widened fender flares.
Matrix LED headlights modernise the appearance of the RS3, matched with redesigned LED lights at the tail, where Audi are also very keen to let buyers know that this is an 'RS' model.
The most prominent change to the RS3 in sedan guise is the redesigned bumper with a vent-like insert and contrasting black spoiler, with similar treatment applied to the hatch – that is referred to by Audi as the Sportback.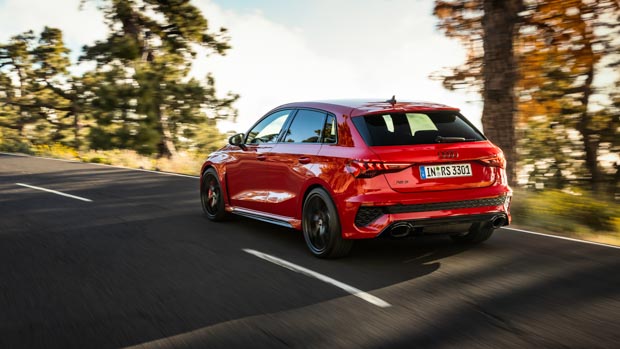 Breaking down the performance of the RS3
Audi has kept the beloved turbocharged 2.5L five-cylinder petrol engine in the RS3 with power holding steady at 294kW but torque has been boosted by 20Nm to 500Nm.
Peak power is now accessible sooner from 5,600 rpm and continues until 7,000 rpm before it switches cogs to stay in the power band via the seven-speed dual clutch automatic transmission.
The boost in power matched with a trick new all wheel drive system has helped cut the RS3's 0-100km/h time from 4.1 seconds to an astonishing 3.8 second time.
Audi's new all wheel drive system is the highlight improvement of this generation, with engineers swapping out the Haldex system for a torque splitter setup th at offers more rear bias to cut down on understeer.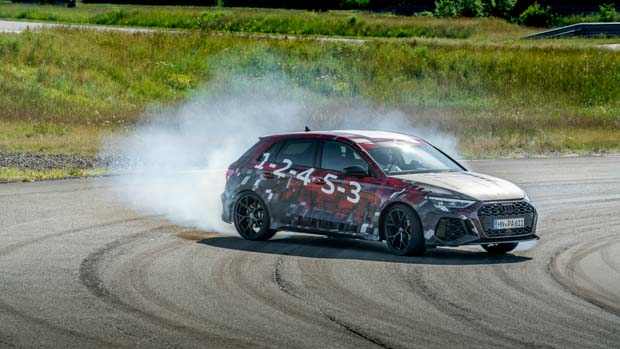 This setup ditches the rear differential in place of an electronically controlled multiple disc clutch mounted on each of the drive shafts.
Like the incoming Volkswagen Golf R, this system is capable of sending 50 per cent of the grunt to the rear and diverting 100 per cent of that power to either the left or right wheel.
This more rear biased behaviour can be locked down via the 'Torque Rear' model that will allow drivers to drift with relative ease, according to Audi.
For those who just care about lap times, the RS Performance mode is said to balance a fine line between understeer and oversteer to keep drivers on the track and going fast.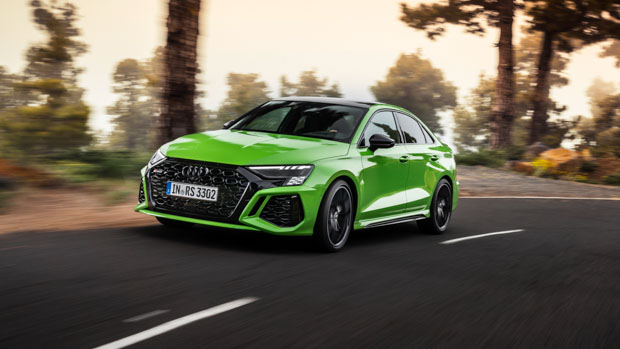 Thankfully, Audi has paired this influx of speed with a powerful set of six-piston steel brakes up front as standard, with larger 375mm front and 310mm rear discs that are both drilled and slotted to help improve cooling by 20 per cent.
Buyers will also be offered a ceramic option, which adds larger 380mm discs at the front and cuts down on 10kg of unsprung weight and to improve general braking performance.
Deeper inside the wheel well, Audi has paired adaptive dampers with shocks that have been re-engineered to respond faster and more accurately to retain control and speed.
While exact specification has not been confirmed for Australia, RS sports suspension plus with adaptive damper control is a global option that constantly monitors the road and ensures the ride is both composed and sporty.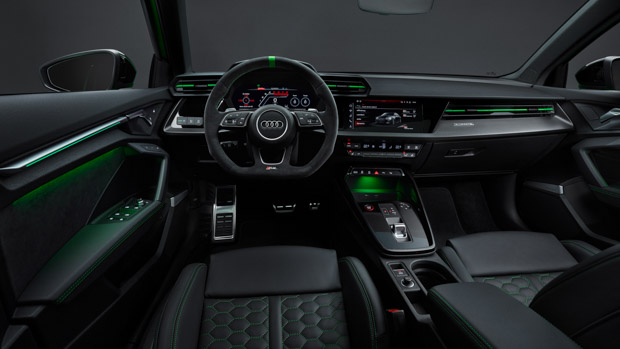 Audi RS3's interior detailed
With all the visual aggression on the outside it's no surprise this menacing look has carried over inside which is immediately apparent by the sports seats and sharper design language.
Buyers can option a Nappa leather seats with a honeycomb pattern using black, red, or now green coloured stitching that can be matched throughout the interior.
Audi has fitted a huge 12.3-inch display in front of the driver that features a wide variety of instrument cluster configurations. A heads-up display is also available with a shift-light function built in.
This is matched with a 10.1-inch centre touchscreen that can be used to monitor important performance aspects such as the transmission oil temperature or tyre pressures.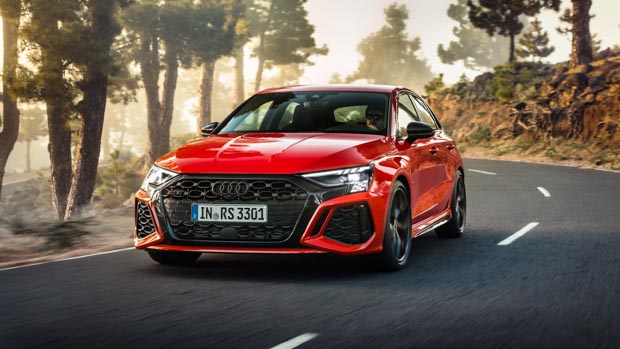 Audi RS3 Australian release date and price?
Audi's Australian arm has yet to give an exact number but the RS3 is expected to receive a decent price bump when it goes on sale in early 2022.
The RS3 has been priced at €60,000 (AUD$95,615) for the Sportback and €62,000 (AUD$98,801) for the sedan in Europe but prices have historically been tweaked for Australia.
Back in 2019, the closely related RSQ3 performance small SUV was priced from €63,500 (AUD$101,192) for the wagon, but once it arrived in Australia it could be had for just $90,977.
Given this precedent, and the fact the first generation RSQ3 wagon rose just under $5,000 for its second generation, the new RS3 Sportback may kick off from just under $90,000, while the sedan body style will cost about $3,000 more.
We'll find out more official details on price and an exact release date when the new RS3 launches early next year.