Mercedes-AMG has detailed Australian pricing and specification for their latest hyper-hatch, the AMG A 45 S 4Matic+ and, for those who prefer more flowing lines, the AMG CLA 45 S.
The pair share an all-new two-litre turbocharged engine with Group B troubling outputs of 310kW and 500Nm. Pricing starts at $93,600 (driveaway pricing TBA) for the A 45, the CLA commands a significant premium at $111,200 (driveaway pricing TBA). Both are available now.
We can't wait to put the pair of Mercedes-AMG hyper hatches against their venerable Audi RS3 and butch BMW M2 Competition. It will be interesting to see if they can provide enough excitement to rival purer sports cars like the Porsche 718.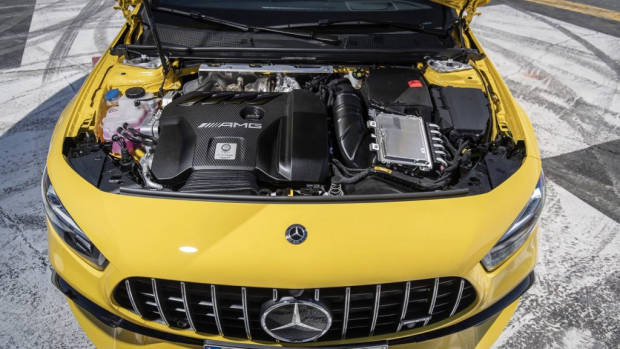 Where the current AMG A 35 and CLA 35 are performance models based on the cooking A250 models – using a modified engine and similar AWD system – the 45 models promise to be more serious bits of kit.
Starting with the aforementioned all-new engine, the A 45 builds on performance credentials with an eight-speed dual-clutch gearbox and more advanced 4Matic+ system.
That more advanced all-wheel drive boasts a 'drift mode' (see what that entails below). When selected the 4Matic system sends power rearwards to initiate slides, it looks like serious fun but, of course, only on the track.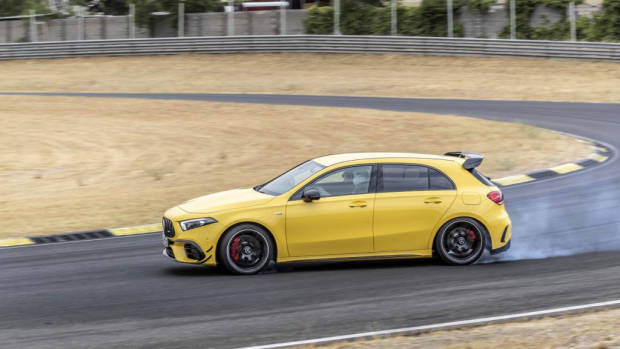 It's not just the 4Matic system though, it's paired with a trick clutch-type rear LSD – Mercedes call this AMG Torque Control – allowing total corner-exit destruction.
Additional aerodynamic aids are found on the A 45 and CLA 45 pair. A brace on canards can be found on each side of the front bumper that has also been opened up further for increased cooling.
Moving around to the rear you can't miss that rude spoiler affixed atop the A 45's boot lid. Sadly, the CLA 45 is more restrained with a mere lip-spoiler, we'd prefer a proper Subaru STI-esque wing.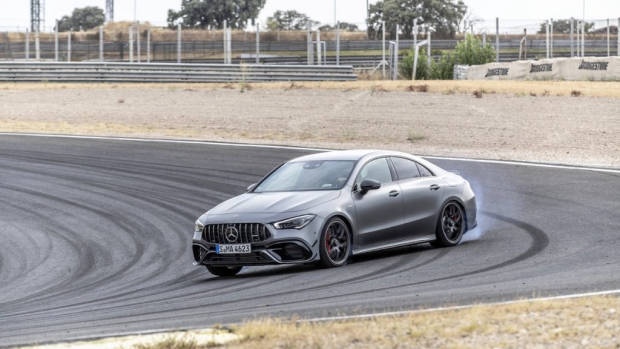 Regardless of wing size, the AMG A 45 and CLA 45 are a properly butch looking pair of compact vehicles.
Together the performance upgrades see the A 45 chop 0.8 of a second from the A 35s standard sprint, with AMG claiming the hyper-hatch will dispatch 100 in just 3.9 seconds.
For context that 0-100 sprint time is identical to the far more exotic, V8 powered Mercedes-Benz SLS AMG supercar. Madness.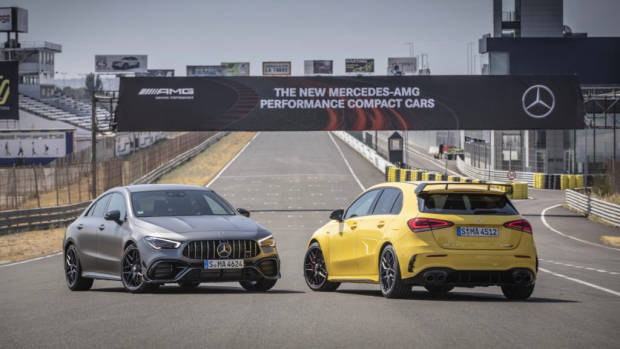 Australian AMG A 45 and CLA 45 models will be fitted with infinitely adjustable adaptive dampers as standard. Drivers will be able to choose between comfort, sport and race modes to prime the system.
Following on from adaptive dampers, Australian vehicles will have a high level of specification. 19-inch alloy wheels, AMG steering wheel with dead-ahead marker, keyless go, switchable ambient lighting, heated electrically adjustable sports seats, leather upholstery and a Burmester premium stereo.
An AMG drivers package can be optioned that increases top speed to 270km/h (good luck doing that in Aus), different alloy wheels and black exterior trims.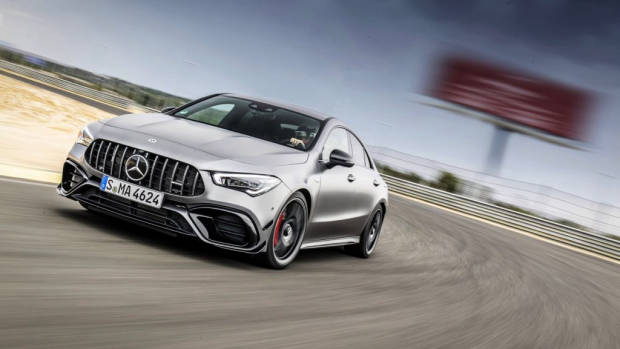 In addition to the A 45, all CLA 45 models feature different front design elements and a set of 9-inch wide wheels – the A 45 makes do with 8.5-inch – going some way to justify the price premium.
Naturally, safety equipment is high with adaptive cruise, high-speed AEB, a 360º camera, front and rear cross-traffic alert and active high-beams.
Mercedes-AMG's pair of A 45 and CLA 45 are shaping up to be seriously bonkers machines that make manic performance more accessible than ever. Both are available to order now.