The 2022 Toyota Land Cruiser 300 Series has this week been awarded five stars for crash and safety protection by testing and ratings body ANCAP.
This five-star safety score applies to the GX, GXL, VX, Sahara and Sahara ZX variants of the new Land Cruiser – but not to the popular GR Sport off-roading trim, which was not rated.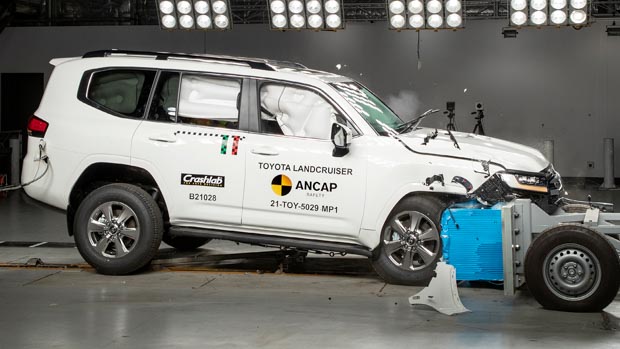 No current ANCAP safety score applies to the Land Cruiser's chief rival, the Nissan Patrol, while the smaller Toyota Land Cruiser Prado was awarded five stars under a less difficult protocol back in 2011.
Becoming the first vehicle to receive a safety score in 2022, the Land Cruiser was awarded a rating of 89 percent for adult occupant protection.
Most vehicles require a centre airbag to pass this part of the test – in order to prevent head-clashes – but the width of the Land Cruiser, which runs without a centre 'bag, meant that "excursions" of the head to the other side of the cabin were prevented anyway.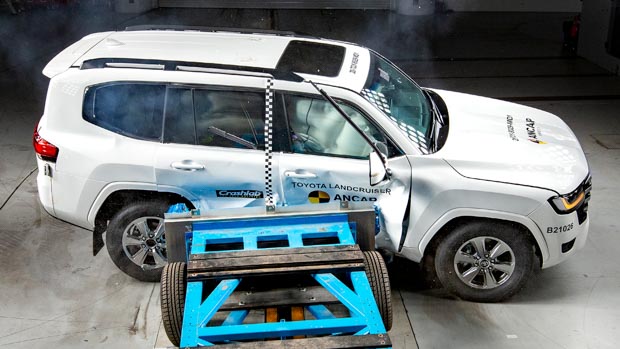 Protection for child occupants was rated at 88 percent, though ANCAP pinged the Land Cruiser for not offering top tether mounting points for child seats in the third row of seating – but only ISOFIX. Both top tether and ISOFIX are offered in the second row.
The safety assist category, which assesses performance of modern systems like autonomous emergency braking (AEB) and lane keeping assist for avoiding crashes with other cars, saw the Land Cruiser receive a rating of 77 percent. ANCAP said that the Land Cruiser offered "good" performance in all forward AEB tests.
In the category of vulnerable road user protection, where a vehicle is scored on its ability to autonomously avoid crashing into pedestrians and cyclists, the Land Cruiser scored 81 percent.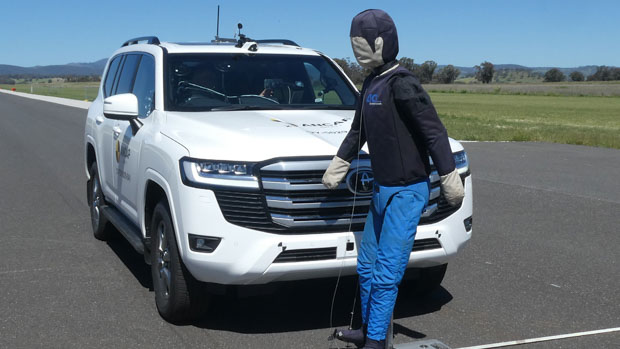 ANCAP noted that the new Land Cruiser was capable of avoiding colliding with pedestrians when turning across the walker's path.
Reversing AEB performance is not factored into ANCAP's testing at the present time, though its future inclusion is under investigation.
Read more: 2022 Toyota Land Cruiser 300 Series review
Toyota Land Cruiser 300 Series 2022: prices in Australia
All prices listed are before on-road costs.
Land Cruiser GX: $89,990
Land Cruiser GXL: $101,790
Land Cruiser VX: $113,990
Land Cruiser Sahara: $131,190
Land Cruiser GR Sport: $137,790
Land Cruiser Sahara ZX: $138,790