Purchasing a vehicle is an expensive and often difficult process that is based primarily on trust between you and the car manufacturer.
And while well-tuned automatic emergency braking may be an absolute deal-breaker for you when purchasing the next family car, as is the ability to round a corner at 150km/h in your next sports sedan – you won't get to test out any of these things at your local dealership.
This, among other reasons, is why Mercedes-Benz decided to set up its Driving Events program which showcases some of the best cars and features that Stuttgart has to offer, and left me with a newfound respect for not only the models on display but for the abundance of modern technology we take for granted.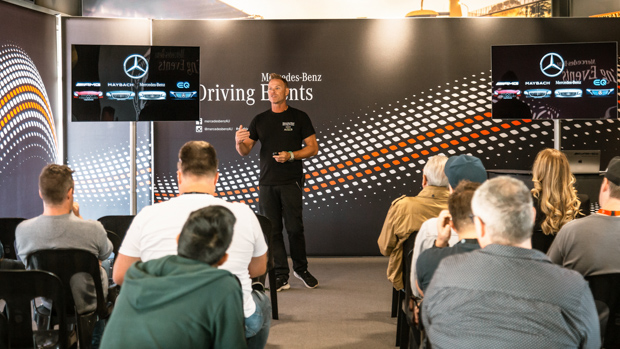 Starting the day:
Just shy of 10 o'clock I found myself seated in a conference room at Sydney Motorsport Park for the morning debriefing that would outline the day ahead.
To my right stood some 15 driving instructors hailing from various motorsport backgrounds such as endurance racing and the one-make TGRA 86 Series giving the 30 of us a "normal ratio" of one professional driver to every two customers according to chief instructor Pete Hackett.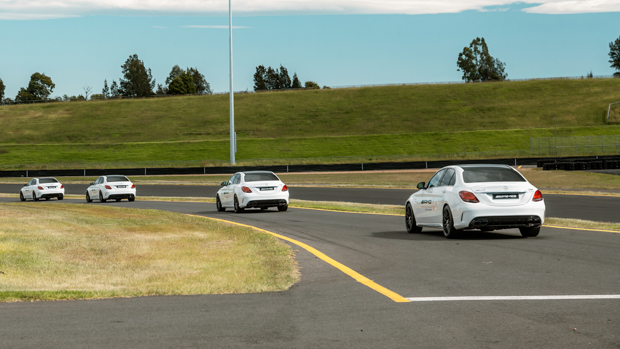 Time to hit the track:
Hacket soon split us up and sent us towards our respective areas with my first appointment in a C63 S sedan armed with 375kW from its twin-turbo V8, making it by far the most powerful car I've ever driven in anger. 
Sitting in such a powerful vehicle on a track known to be unforgiving I was apprehensive, but shaking the hand of a young racer in the passenger seat named Sam was reassuring.
It was only after a few laps that I glanced down at his nametag and saw his last name was Brabham – the grandson of Australian automotive royalty, three-time Formula One World Champion Sir Jack Brabham, and a driver who has carved out an impressive career in his own right.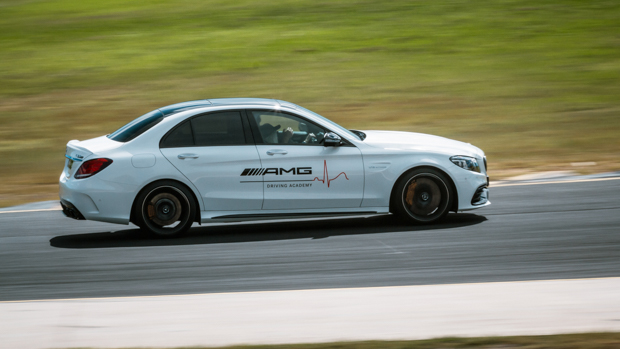 In the space of a few laps, Sam guided me through the track, corrected my driving lines, pedal inputs and even vision that all quickly worked to trim my lap times and fill me with confidence.
I quickly learned the C63 S is an unruly beast that can rocket up the speedo without hesitation at quite literally any point in the rev range, matched with a chassis that is more than capable of wrangling every last kilowatt out of each corner exit.
But once I'd pulled into the pits and swapped seats with another instructor I found myself equally impressed with the finely tuned electronic nannies that allowed the driver to wring the neck out of the V8 lump and get it sideways before reining the tailback in so we could all go home safe.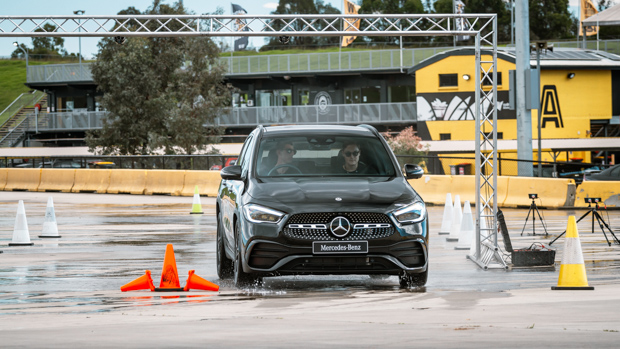 How safe is a Mercedes-Benz?
From there, it was onto some more practical testing which placed me in the driver's seat of a GLA 250 small SUV for some reaction time testing.
Designed to imitate a sudden brake and swerve indent, for example when something or someone steps out onto the road, green lights were set up on either side of a cone and picked one side on random.
The instructor kindly let me have multiple attempts to trim my reaction time down but the truth is the impact I had was nothing compared to how devastatingly effective electronic stability control and ABS is in a modern car.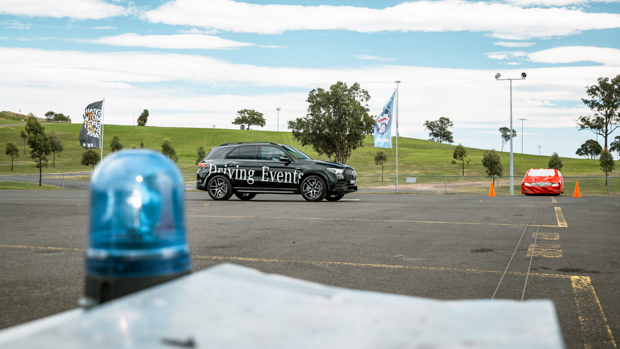 This point was driven home further after hopping into an E 300 large sedan which, when equipped with hard plastic sleeves over the rear tyres, was surprisingly capable of indulging in some drifting around a figure of eight on the skid pan – but quickly shut down all shenanigans when the nannies were turned back on. 
Modern cars are decked out in driver assistance safety technology and for good reason. Keen to show off the effectiveness of these systems, Mercedes put me in the passenger seat of an AMG GLE 53 driven by a mad man that took me through a series of exercises that showed this 2.5-tonne SUV to be borderline uncrashable.
After running through simple brake tests such as driving directly at a pedestrian dummy and a stationary car, we drove towards an adjacent robotic car that was set up to spear into the side of us in an imitation of a red-light runner at an intersection. Needless to say, we lived to tell the tale.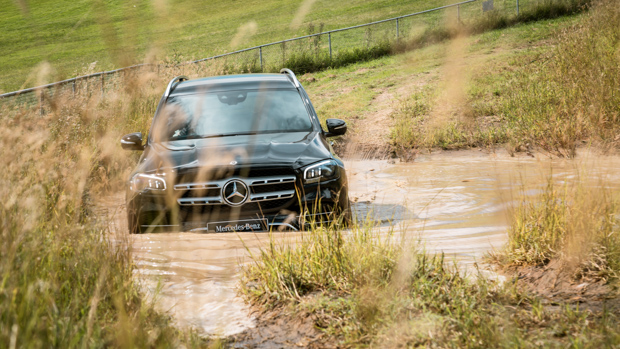 Time to go off road:
The venn diagram between hardcore off roaders and people who own a GLS large SUV is unlikely to show much crossover but that doesn't mean it's not a capable vehicle.
Climbing into the driver's seat of a GLS 400d, I set off to wrangle some truly unforgiving terrain that included some wild sudden dips that would just about throw you into the back seat in many ladder-frame 4X4s but the German-built monster remained consistently calm and composed.
The model I was driving was equipped with the optional off road package which fits the same low-range package as the G-Wagon. The system dials down the speed to a near crawl but effectively triples the GLS' 700Nm to 2100Nm.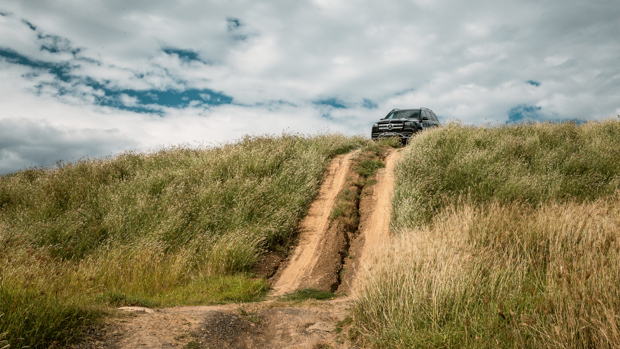 In practice, this meant I was able to drive up slopes at some alarming angles (up to 45 degrees) and in one particuarly unnerving test, I mounted a ramp on one side that was almost 30 degrees. The GLS can apparently reach 40 degrees before it runs out of talent but I'll leave a braver soul to verify that. 
While I can understand the hesitation to take a $155,800 (before on-roads) SUV off the bitumen, it's yet to stop Toyota Land Cruiser buyers who are being slugged up to $189,990 (before on-roads) for a 200-Series Sahara right now.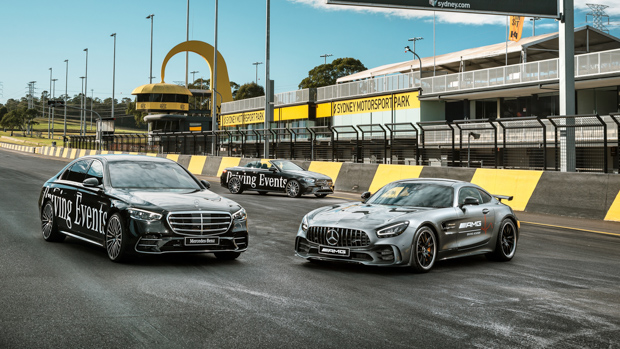 Getting behind the wheel of an AMG GT R
In what was a predictable high point of the day I climbed into the AMG GT R, a car that has slaughtered Nürburgring lap records with limits I couldn't hope to reach.
After a surprisingly graceful entrance into the AMG, I sat snugly in the driver's seat and clicked the supercar into manual mode, feathering the throttle as I pulled out of the pits and onto an empty track.
Threading through a few of the turns I gradually grew confidence and momentument as I rounded corners at speeds that would have terrified me in the C63 S but were laughed off by the GT R with its immense mechanical grip.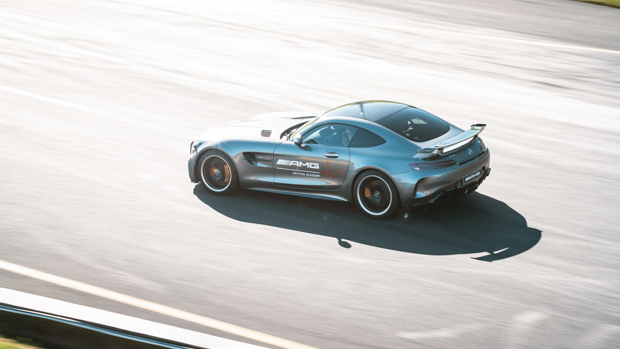 Pulling onto the straight I fired through the gears until I hit the 150km/h speed limit at which point the instructor told me to hold that speed through the formidable fast sweeper that is Turn One of Sydney Motor Sport Park in what was more a test of driver than car.
As I rounded the final corner it was obvious that I would need years of training to reach the limits of this car and yet I didn't care as having the opportunity to ring out all 430kW of power from this hand-built twin-turbo V8 bolted to a rigid carbon chassis was an opportunity few can match as a car enthusiast.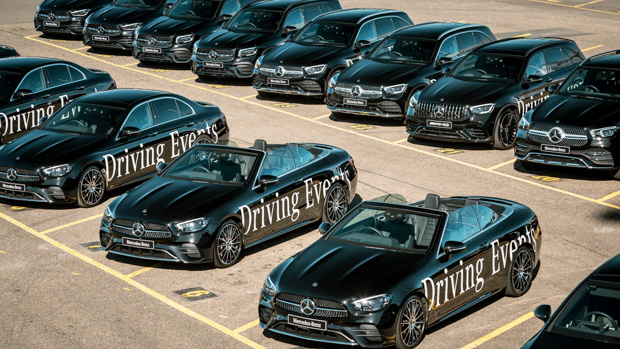 Sampling the rest of the range:
One of the best and most justifiable parts of attending a Mercedes-Benz Driving Events is that you get the ability to sample almost every vehicle in the range.
From the fun-factor of the E350 Cabriolet to the sublime ride of the long-wheelbase S450 you really get a taste of what the range has to offer and even when you jump back into the less expensive cars such as the GLA 250 it's clear that some of their most redeeming features are carried over. 
Participants also get a chance to see what the future of Mercedes-Benz has to offer with the all-electric EQC midsize SUV that presents a quiet and comfortable but familiar experience that doesn't feel like you are driving a science experiment.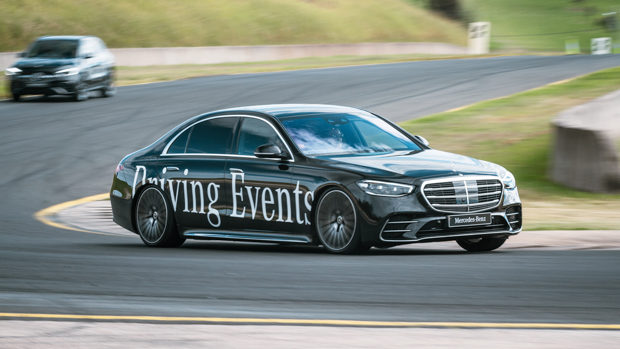 What are Mercedes-Benz Driving Events designed to achieve?
I put this question to chief instructor Pete Hackett who has been a part of this program for the last 20-odd years and has seen it grow significantly in popularity and size.
"This is not an aggressive sales pitch at customers that are coming along. This is an information session that's supposed to be fun and educating," he said.
"Hopefully the customer leaves here at the end going 'wow I really want that (car)' or 'that's the car I'm going to aspire towards' or 'I've just bought this car. I didn't know it could do half of those things'."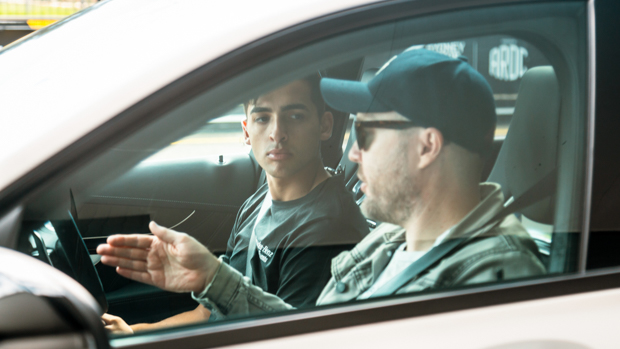 It's a response that is hard to argue with. While not a comprehensive assessment of every car, participants will have the opportunity to push these cars to their limits in a wide range of tests in a controlled and safe environment.
But even if you aren't planning on buying a Mercedes-Benz anytime soon Mr Hacket believes participants will walk away with some valuable experience and a refined set of skills.
Mr Hacket says the program allowed their team professional drivers to help break up the cycle of parent-taught drivers, and help them not only how to nail the basics but also how to utilize the extensive new safety features found in cars today.
"Even just being able to slam on the brakes from 100km/h in a straight line on a dry road is something that most regular people have never tried and have never experienced," he said.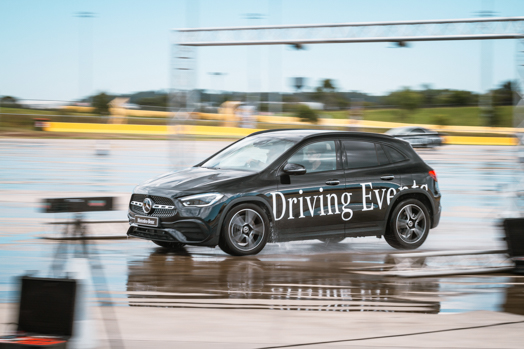 "And when they do it over and over again, I'm almost very certain that if they are faced with a situation on the road where they have to stop they will be in a better position to do it (after the program)."
Having completed the program myself as a relatively experienced driver I absolutely agree.
Being able to push past all fears when weaving between obstacles in an emergency – even in two-tonne SUVs – could be the difference between crashing and not, in a real-life situation.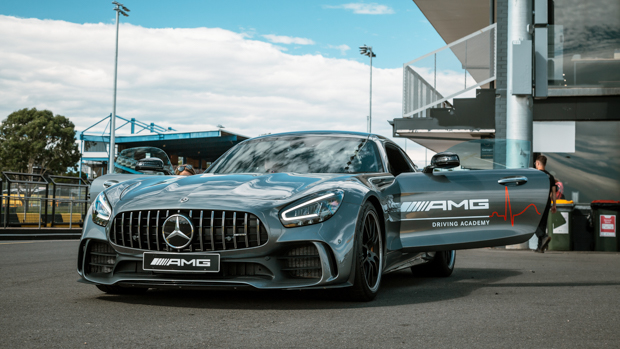 Can anyone sign up for Mercedes-Benz Driving Events?
Yes. Priced at $550 it will set you back slightly more than the cost of an ordinary track day where you have to bring – and risk – your own car and personal driving instructors are usually not included.
Mercedes-Benz moves this event through Victoria, New South Wales, Queensland, Adelaide and Perth throughout the year, but aim to get in quick if you want to try it out for yourself as openings can fill up quickly after the program was forced to take a year off in 2020 thanks to COVID-19.
Overall I'd say this is a very worthwhile experience that gives participants the opportunity to sample some of the rarest metal on the road and push them to their limits in a way that no test drive with a frowning salesman can ever hope to live up to.
Booking can be completed online on the Mercedes-Benz website.