Mercedes-Benz has this week confirmed Australian pricing and arrival for the brand's first battery electric vehicle, the EQC. Debuting the new model is the EQC 400 variant, which will start at $137,900 (driveaway pricing not yet available), available to order from the 9th of December, with customer cars arriving in early 2020.

With the all-electric vehicle comes the first fledglings of the EQ brand, Mercedes-Benz's 'green' arm, which brings with it an online sales model and separate showroom where EVs rule the roost, the brand is likely to add plug-in hybrids to the line-up soon.

The EQC sits in a popular market segment with premium SUVs, for the same money you'll get a well-specced BMW X5, Audi Q7, or Mercedes-Benz GLE. As for electric competitors the Benz will be arriving around the same time as Audi's e-tron range.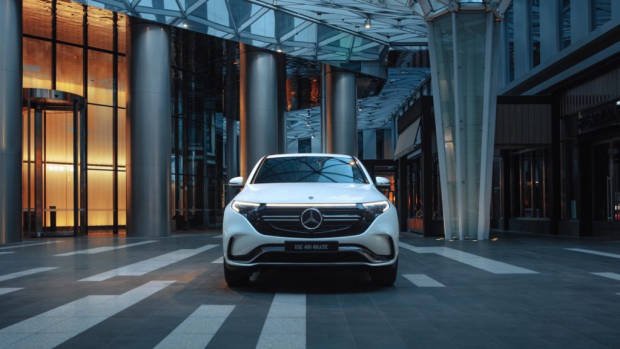 The brand claims that the EQC 400 represents a game changing powertrain while retaining the elevated premium feel of Mercedes-Benz products, providing a complete solution to suit current Benz buyers and EV fans alike.

Powering the EQC 400 will be a pair of dual asynchronous electric motors each producing 150kW, which when combined gives juicy outputs of 300kW and 760Nm to all four wheels, instantly available at any speed.

With a single speed gearbox on each axle, the prodigious grip and instant power delivery should be enough to see the near two-and-half ton SUV reach 100km/h in 5.1 seconds.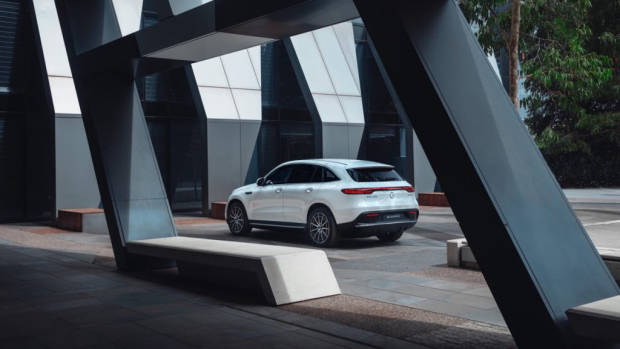 Energy consumption is rated at 21.4kWh/100km, which with 80kWh usable potential of the lithium-ion batteries should mean a range of 434km (ADR). The battery has insurance of eight-years or 160,000km of warranty, with 3 years on all other components.

Fast-charging is possible at a maximum capacity of 110kW, capable of adding 220km of range in 30 minutes. Mercedes-Benz also offer a home charging solution with the Homebox which can charge at 22kW, compared to 6kW home outlet.

To ensure infrastructure growth in Australia, Mercedes-Benz is working with Chargefox to provide more fast-charge stations. When the EQC starts arriving there will be 20 stations across Melbourne, Sydney, Adelaide, and Brisbane, with more to come in 2020.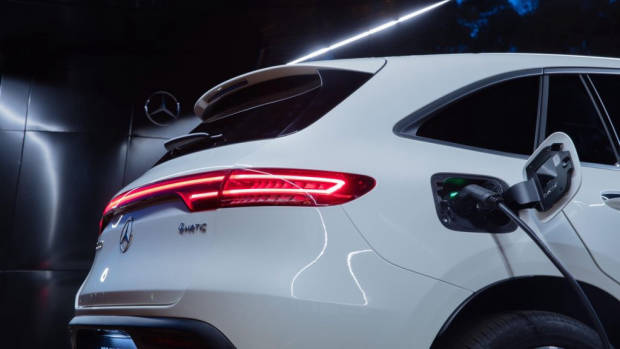 Chargefox fast-charging infrastructure will be available free for the first five years of EQC ownership, which should sweeten the cheap propulsion deal even more.

The EQC looks great, sleeker than other Mercedes-Benz SUVs to our eyes, with strong lines highlighted by the pearl white hue pictured. The classy germanic appearance stays in tact, the EQC doesn't shout its eco credentials with odd-looking wheels or excessive blue badging, we reckon it will be a real looker in the flesh.

As with all modern Mercedes-Benz models, the EQC gets a full digital cockpit courtesy of dual 10.25-inch colour screens to drive the MBUX infotainment system with voice activation which is able to 'learn' habits of the driver.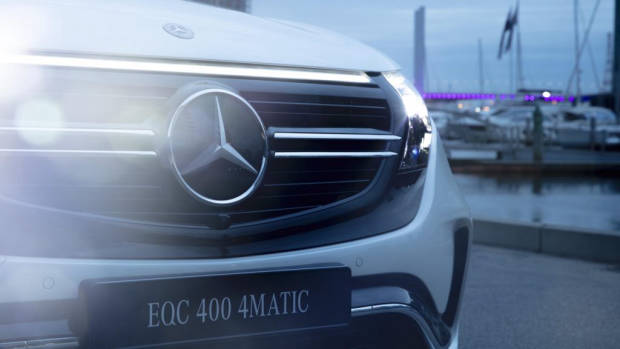 As you might expect at this price, specification is fairly generous. Metallic paint is included in the price – though the optional diamond white pictured here is an additional $1,700 – as is ash wood trim and black, leather appointed seats, though Mercedes-Benz Artico can be optioned, as can softer Nappa leather.

There will be two option packages available at launch with the exclusive Edition 1 package – limited to 25 units – includes larger 21-inch alloy wheels (19-inch items are standard), two-tone Nappa leather interior, heated and cooled front seats, tri-zone climate control, augmented reality functionality, with the option of graphite grey paint for $5,900, or the pictured diamond white for $8,600.

The other option package, dubbed Electric Art Line, sees the addition of rose gold stitching, massage function and adjustable bolsters for the front seats which can be appointed in leather colour of your choice.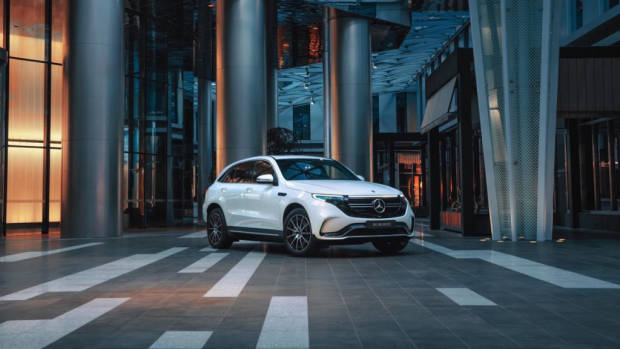 Australia will initially receive a limited lineup of EQC 400 variants, missing out on the progressive and premium, receiving only the advanced line.

It will be interesting to see how the EQC sells, presumably the free charging and investment in infrastructure will make it a more viable option in time, we can't wait to get behind the wheel