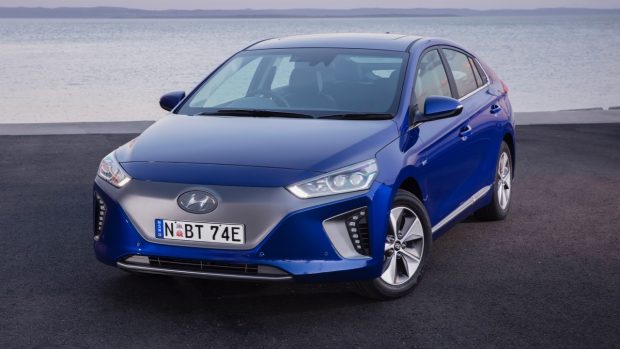 It's been a long time coming, but finally, Australia has a standout affordable electric car. Several manufacturers have tried to crack the Australian electric vehicle market but so far, none have had a smash hit. The problem, Korean brand Hyundai says, has been affordability – everyday EV motoring hasn't been a reality. Not until now, we think – the launch this week of the 2019 Hyundai Ioniq Electric this week could dramatically change the zero-emission landscape, with Hyundai's first full-EV offer priced from a low $44,990 plus on-road costs. And the Hyundai Ioniq – a midsize liftback – isn't just available in pure electric form: from $33,990, there's also a petrol-electric hybrid and plug-in hybrid variants on offer.
In Australia, Hyundai are offering the Ioniq in six variants: choose electric, plug-in or conventional hybrid, and then select either the Elite base model or a Premium high-spec car. By conventional hybrid, we mean a Toyota Prius-like experience, where there is absolutely no need to take specific action: the petrol engine and electric motors work in series with no plug-in charging or driver input. The plug-in hybrid has a petrol engine, plus an electric motor with 63km of range charged by plugging in to a wall socket. Finally, the electric Ioniq has no petrol engine, but instead has a larger battery with 230km of 'real-world' range.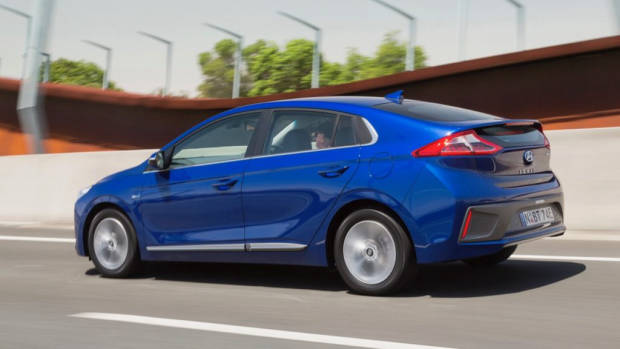 The range opens with the Ioniq Elite hybrid ($33,990 plus on-road costs – all driveaway prices are not yet confirmed), with plug-in capability adding $7,000 while the full electric drivetrain is an $11,000 upcharge on the conventional hybrid. The Premium grade costs between $4,000 and $5,000 more.
But even the base car is well-equipped, no matter how it's powered. Standard across the range is a generous suite of safety tech, including AEB, adaptive cruise control, blind spot monitoring, rear cross-traffic alert, lane keep assist, and driver fatigue detection. All cars get an eight-inch touchscreen with navigation, digital radio, CarPlay and Android Auto; all have rear air vents, auto headlights, and keyless entry and start. The Elite model sports 16-inch alloys; bizarrely, only the Elite electric gains automatic wipers.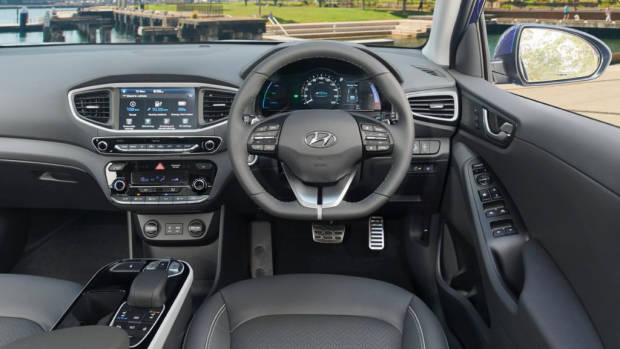 The upgrade up to the Premium spec brings a few notable creature comforts, including leather seats with 10-way electric adjustment and memory for the drivers; heated and cooled front seats, wireless phone charging, an electric sunroof, and better headlights replacing the Elite's halogen units: bi-xenon on the conventional hybrid, LED on plug-in and full electric.
Trainspotters will be able to pick a fully-electric Ioniq by bronze highlighting, while 17-inch wheels exclusively mark out a conventional petrol-electric Ioniq in Premium spec. Details, details. You'll also want to know that the electric and plug-in cars don't get any spare tyre.
Both the conventional hybrid and plug-in hybrid produce 104kW of power and 265Nm of torque, though they get to those figures in slightly different ways. Both hybrids use a 1.6-litre Atkinson Cycle four-cylinder petrol engine that produces 77kW/147Nm matched to a six-speed dual-clutch automatic transmission: this engine and gearbox combination was developed specifically for the Ioniq.
Due to its heavier kerb weight and the ability to travel on electric power, the plug-in's battery pack is almost six times bigger than in the conventional hybrid – 8.9kWh vs 1.52kWh – and its electric motor produces more power, at 44.5kW, versus the hybrid's 32kW. Both variants peg electric torque at 170Nm. Hyundai claims an official fuel consumption rating of just 1.1L/100km for the plug-in hybrid if you made full use of its 63km electric range, but the conventional hybrid is hardly thirsty: it's rated at 3.4L/100km, even though it can only travel up to 1km on electric power alone.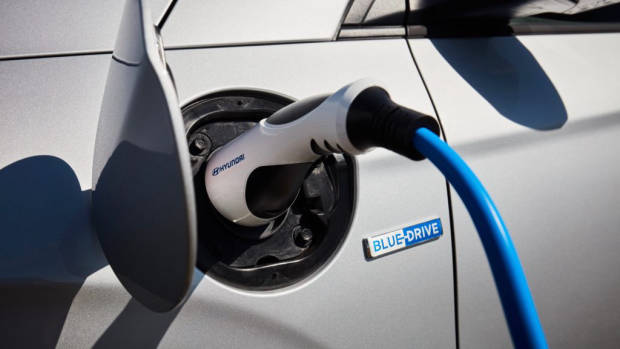 The headline car, the Ioniq electric, uses an altogether different drivetrain. With no combustion engine to be found, the electric Ioniq has has a 29.2kWh battery pack, and an 88kW/295Nm electric motor. In Europe, the Ioniq electric is rated for 280km of range but Hyundai Australia says here, it's more like 230km of real-world driving – a figure we got close to on the car's national launch in Brisbane without trying too hard. Each model offers different driving modes which raise or lower the resistance of the steering, sharpen the throttle response and change the centre dials to a sportier display.
How long does it take to charge an Ioniq? It varies depending on which level of charging is accessed by the buyer, and of course whether you have the full-EV model or the plug-in hybrid. Using an AC charger, the 63km-range plug-in will charge in about 135 minutes; the EV takes double that. Charge the Ioniq electric with a 50kWh DC charger, and an 80% recharge is possible in half an hour. Up the capacity to a 100kWh DC charger and 80% comes up in 23 minutes.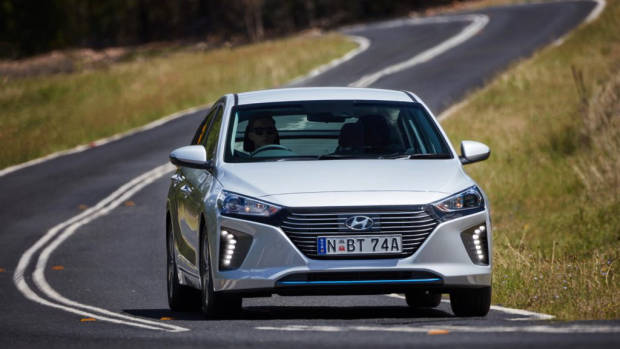 With most of the tech stuff taken care of, it turns out the Ioniq is a satisfying car to drive – especially the electric model. While it's not fast, nor especially dynamic, like the Toyota Prius there is a high level of polish that shades other Hyundais, such as the similarly-sized Elantra. Noise, vibration and harshness levels are clearly lower than in an i30, even where the Ioniq is equipped with a torsion beam rear suspension. Unsurprisingly, the electric Ioniq is definitely one of the quietest Hyundai products we've tested.
Particularly pleasing is the Ioniq's ride and handling balance, regardless of drivetrain. Thanks to an Australian tune, the ride is firm but disciplined with excellent body control, and while the steering is quite light, there is reasonable feel. There are subtle differences in the way the Ioniq trio drive: the plug-in hybrid is the heaviest of the group, and it feels it. At 1495kg, the PHEV is blunted by the 75kg in additional mass it carries over the EV, or 120kg over the conventional hybrid. The electric Ioniq actually feels the most nimble and energetic: it can genuinely induce a grin. As we discovered in our Hyundai Ioniq vs Toyota Prius comparison, the hybrid Ioniq is also very competent to drive, though it does feel heavier than the Toyota.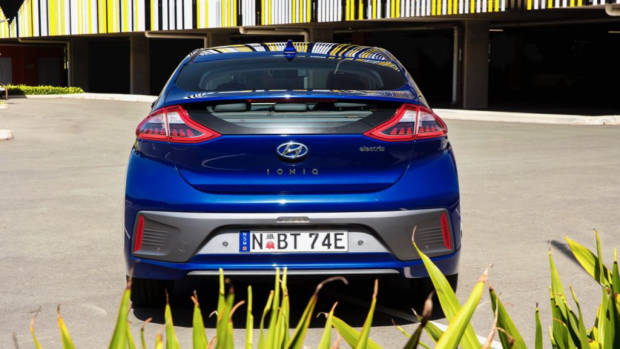 Whichever drivetrain is chosen, there's enough pep for daily driving. None of the trio feel that quick but the total system torque of both hybrids – 265Nm – is available low in the rev range, and thanks to the slick six-speed dual-clutch gearbox, it's easy to ride this wave of torque. In normal driving, the refinement of the drivetrain and quickness of the transmission make the Ioniq feel like a regular car, despite being far more efficient. Even in more spirited driving on the car's launch, we recorded sub-4L/100km in both hybrid models.
Most Ioniqs will spend their life in the city, and professional drivers and families alike will appreciate this Hyundai's well-thought-out cabin. Futuristic centre console on the EV aside, the cabin of the Ioniq is utterly familiar. Quality is reasonable, with soft touch surfaces on the dashboard and doors, and while the Elite's cloth seats look daggy, they feel decent – though the Premium's leather pews add a touch of class. The standard leather steering wheel is a nice inclusion. Unlike the space-age Toyota Prius however, the Ioniq does feel a bit plain – there was an opportunity here to really set it apart from other Hyundais, which hasn't been taken.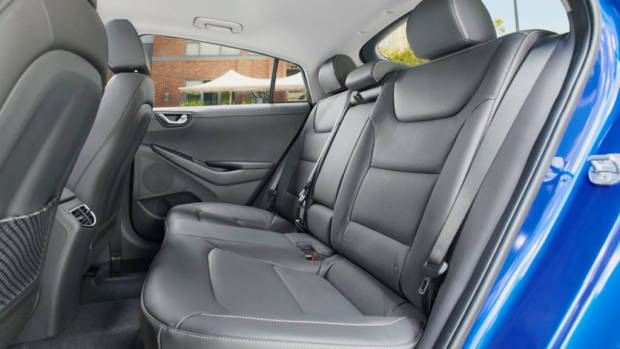 We can't really fault the Ioniq cabin's practicality, however. The central bin is huge, and there are plenty of places to stash keys and phones. Only the short rear door bins marr the car's usability. The Ioniq has plenty of space inside, though: six-footers have no trouble in the rear seat, and room up front is excellent. Helping matters further is the presence of rear air vents along with a centre armrest with cupholders. Boot space varies depending on model chosen, though all feature a square and practical space – the hybrid offers most at 456 litres, while the electric offers 350 litres and the plug-in hybrid 341 litres. At most, 1,518-litres is available with the rear seats folded in the hybrid.
Overall, the 2019 Hyundai Ioniq is a great entrant to the low- and zero-emissions segment. This is a range of cars that offers stellar economy, low running costs, high levels of comfort and strong familiarity: there's no learning curve here. Pricing is also keen, which means the Ioniq is a seriously big deal: in full-EV form, the Hyundai Ioniq is the first truly realistic electric car on the Australian market. Unlike luxury EVs, the average Australian can afford this electric car, and unlike something like a Renault Zoe, it's actually big enough to transport things and people. What's more impressive is that if buyers cannot quit their dependence on oil just yet, Hyundai offers both a hybrid and plug-in hybrid, both for a lower entry price than the electric version. It's a big claim, but we believe the future starts here for Hyundai in Australia, and we cannot wait to see what is coming next – the electric Kona.