The last four years have proven that Australians love hybrid SUVs – just look at the runaway success of the Toyota RAV4 hybrid, a feat many other manufacturers are trying to emulate by introducing modest, RAV4-style series-parallel 'self-charging' hybrid systems or heavier-duty plug-in hybrid SUVs to Australia.
The latest in the latter set is Volkswagen's Barcelona-bred upstart brand Cupra, which unashamedly claims to slot perfectly between the mainstream and premium segments.
The marque's Formentor midsize SUV will be the most popular of three launch models locally, and the Formentor comes packing an important weapon for the crossover conflicts: a hybrid powertrain.
There are three regular turbo petrol engines available, starting with the 'V' 140kW base model ($54,990 driveaway), but the $66,990-driveaway Formentor VZe bundles a proven VW-sourced 1.4-litre turbo engine and a powerful electric motor that is fed by a reasonably compact 10.4kWh (usable) lithium-ion battery.
This is a plug-in hybrid: you can recharge it from a wall plug for 49km of (real-world tested) fully-electric driving range in silence and serenity.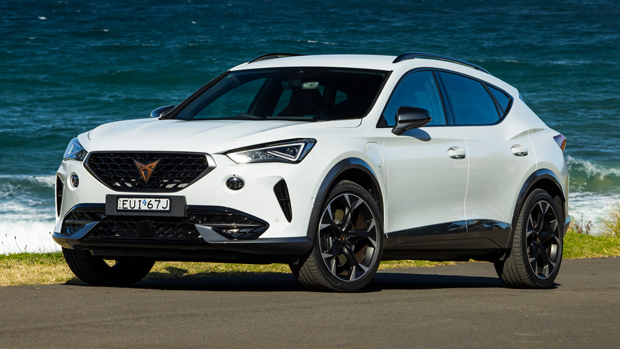 Or, you can simply drive it without thinking, and it still turns out to be pretty frugal, consuming a low 6-7L/100km of premium petrol even if you don't plug the VZe in or bother to learn its sophisticated technology.
To be honest, we're rarely thrilled by plug-in hybrids, which are usually characterised by their janky engine/motor integration, poorly situated batteries and slovenly weight increases compared to the traditional combustion version.
Cupra claimed the Formentor VZe was seamless (they all say that) – but this time, it turns out the marketing is quite truthful.
How does the Formentor drive?
Quite unlike the more compromised, less disciplined plug-in hybrid cars we've reviewed in the past – and much more like the PHEV-benchmark BMW 330e – the Cupra Formentor VZe is incredibly low on compromise. It drives basically as well as the lighter non-hybrid versions but this Formentor saves you a considerable sum at the bowser – read on for our calculations.
Two main problems tend to inflict plug-in hybrid cars in our experience: clunky petrol/electric motor transitions, and heavy batteries located generally around the rear suspension, affecting body control and reducing the ability of the car to remain settled when you hit a bump while also turning a corner – an important capability on a country road.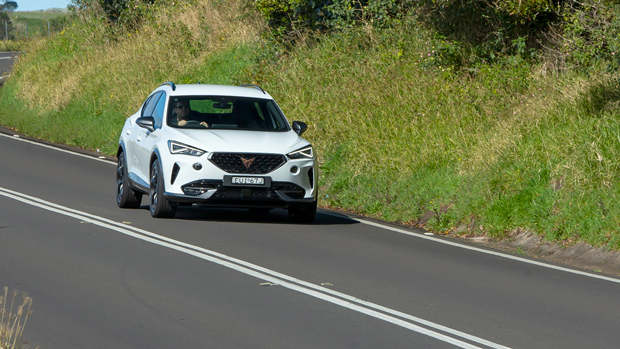 The Formentor has answers to both of these. First, weight: by making the transmission-mounted electric motor relatively efficient, the battery pack itself can be kept to a reasonably small 10.4kWh (usable).
The pack itself weighs 125kg – and the whole car is just 130kg heavier than the similar but petrol-only Formentor VZ 180kW model. Compare this front-drive VZe to the all-wheel drive Formentor VZx 228kW petrol, and this hybrid is just 58kg heavier.
While the battery pack is located at the rear end of the vehicle, significant work has evidently been done to retune the rear suspension to cope with the added load – because the body control is only slightly worse in ordinary driving conditions. The on-limit handling is not quite as settled as a non-hybrid Formentor, but how often are you driving your family SUV at ten-tenths?
Then there's the integration of the two power sources. The petrol bit is highly familiar – we've seen the 1.4-litre Volkswagen Group EA211 turbocharged four-cylinder before, and its outputs of 110kW of power and 250Nm of torque will jump off the page at anyone who has owned a Golf, Audi A3, Skoda Octavia, and so on.
Before the turbo petrol meets the Group's hybrid-specific DQ400e six-speed wet dual-clutch DSG automatic transmission, it meets an 85kW/330Nm three-phase AC electric motor. Because the motor sits before the gearbox, the car 'shifts' even when running in electric-only mode.
Three clutch packs sit on the DQ400e transmission. These can individually open and close to allow the Formentor VZe to be powered by electricity only – as in the selectable 'E-mode' – or by petrol only (if the high-voltage battery is actually dead), or with a combination of electricity and petrol motivation.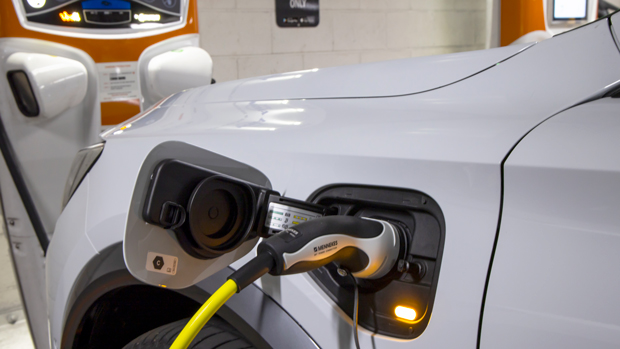 It's the latter mode so many manufacturers routinely get wrong. By contrast, when its driver chooses 'Hybrid' mode, the Formentor slickly dives in and out of combustion and electricity or uses both to hit claimed maximum outputs of 180kW/400Nm under full throttle. Drive around normally in this mode and the system will discharge the hybrid battery, but it tries to retain a minimum state of charge in order to supplement the 1.4-litre petrol when you accelerate.
It also helps that the VZe's small turbo petrol engine is a really quiet, vibration-free unit, in contrast to the often thrashy, loud naturally-aspirated petrol engines that often find their way into hybrid setups: both the Toyota RAV4 hybrid and Mitsubishi Outlander PHEV have smooth electric motors paired with coarse petrol engines that make their presence known under full throttle.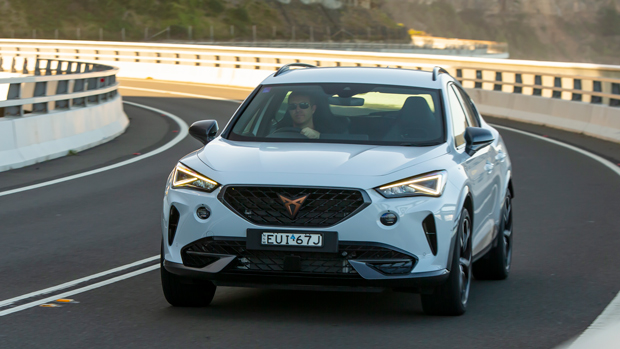 Then there's the quick and responsive steering rack and immediately makes the Formentor feel fun to drive, alive even – and this is a characteristic of all models, from the base V through to the top-end VZx. The chassis is feelsome and chatty.
Brake feel is still a little weird – a quirk of many hybrids, plug-in or otherwise – but you learn to modulate your way around it pretty quickly.
Adaptive safety systems are standard on the Formentor, with adaptive cruise control, lane keep assist and a smart highway Travel Assist function all fitted from factory. Blind spot monitoring indicators are, cutely, integrated into the cabin's wrap-around ambient lighting.
How is the Formentor's interior?
Entering the Formentor is pretty unusual for an SUV, because you actually sit down into it. While it does have slightly raised 170mm ground clearance, the Cupra is not a high-riding SUV. That's a product of it siting on the low-riding Golf/Leon/A3 derivation of the Volkswagen Group's MQB platform, rather than the high-set Tiguan/Ateca/Q3 iteration.
So the driving position is best described as sporty, and that's a good thing. You sit low, with the perforated, sports steering wheel falling elegantly to hand. There is a really pleasant view out over the heavily sculpted bonnet and copper detailing from around the cabin catches your eye.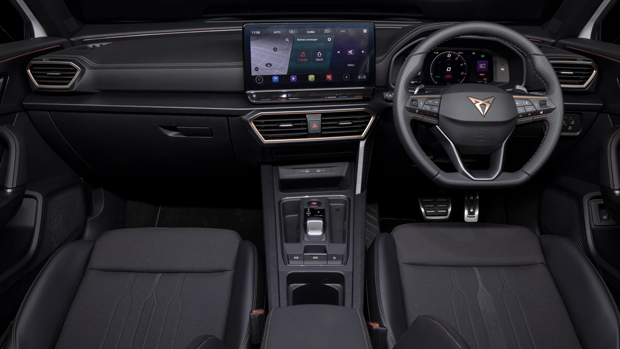 Despite the Formentor being launched in Europe two years ago, it feels up to date in 2022 thanks to its tech-forward interior layout. The 12-inch touchscreen is generously sized and located closer to the driver than most rivals, so the canvas is easy to interact with – but we wish the resolution was a little higher. Apple CarPlay and Android Auto, which are wireless, can look a little fuzzy.
Cupra has its own skin of Volkswagen's software package and it's pretty convincing to use. Climate controls are soft – as in, integrated into the touchscreen – but we found a temperature we were happy with and left it there. Two taps to the heated seats isn't as intuitive as a hard button would be, though.
Speaking of heated seats, you'll need the $2750 leather and power package to make the cabin feel properly lush. At $66,990 driveaway, cloth upholstery and manually-adjustable front seats jar a bit, so the option box is worth ticking to upgrade to leather, heated front seats, a power driver's pew and a power tailgate – all befitting the car's premium-ish price.
But even in manual, cloth form, the seats are shapely and supportive. Ergonomics are a strong point in the cabin and visibility manages to be more than OK despite the curvy body and low-set driving position. Dashboard and door materials are good, and copper-stitched, but lower plastics are scratchier than what you'd find on most Skoda.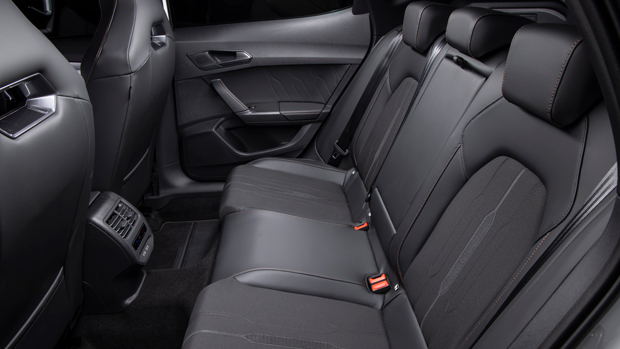 Despite the compact length of the Formentor, the back seat is usable for six-foot adults – amazing trickery of packaging, because the roofline is genuinely coupe-like. There are air vents and USB-C ports in the back, too.
Being on the smallest-possible end of the midsize SUV segment, the compact dimensions have to show up somewhere and they do – in the boot. Non-hybrid Formentors have 420L, which is acceptable, but the plug-in hybrid's batteries steal 18 percent of the luggage space, leaving you with a Golf-like 345L.
What are the Formentor's running costs?
Cupra cars are covered in Australia by a five year warranty with unlimited kilometres – par for the course these days.
A sweetener for the first years of ownership is that a three-year/45,000km service plan is bundled in for free with the purchase of the car – an offer that doesn't have a distinct end date but we imagine will be pulled at some stage as the brand builds traction.
That's equivalent to $600-1200 value from rival manufacturers and worth including in your calculations.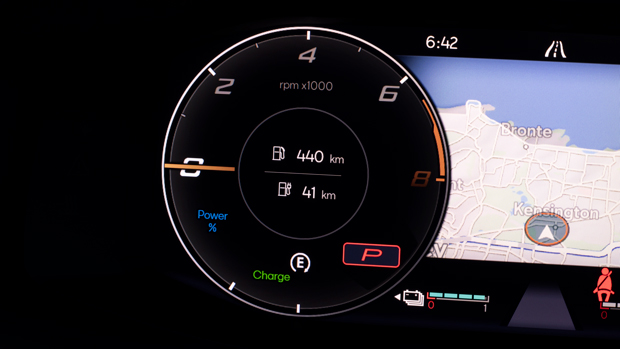 Fuel consumption is a strong point of the Formentor PHEV, even when the high-voltage battery is fully depleted. We managed 6.5-7.5L/100km on a 'dead' battery.
With 10.4kWh of charge in the electric 'tank', though, we managed consumption of 21kWh/100km on electric-only E-mode, giving us a real-world electric range of 49km.
The final verdict
The Cupra Formentor is a highly accomplished and sporty SUV. Even the most sensible Formentor of the bunch – the plug-in hybrid – feels highly resolved and coherent, unlike most plug-in hybrid vehicles on the market.
It's much more expensive than a Toyota RAV4 Hybrid, but the Formentor PHEV offers a distinct package in Australia. Against other PHEVs it's reasonably priced and better to drive, and cheaper series-parallel hybrid crossovers can't drive 49km on electric power alone…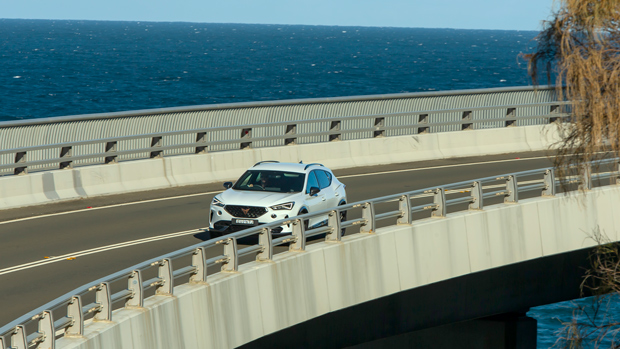 If we weren't too concerned about fuel economy, the 228kW/400Nm Formentor VZx is a more dynamic, even smoother AWD-equipped buy at $66,990 driveaway. Likewise, the. base Formentor with 140kW/320Nm is very good value at $54,990 driveaway.
But only the PHEV combines the intrinsically slick attributes of the Formentor chassis with super-low day-to-day running costs, and in a time of high petrol prices and increasing awareness of personal CO2 footprints, that makes it worth a close look.