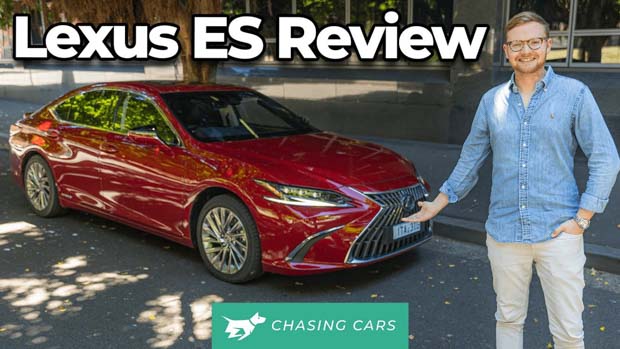 When aggressive updates to the Australian Design Rules cut down the facelifted-for-2021 Lexus IS sedan in arguably the prime of its life, the brand's other midsize sedan – the ES – suddenly meant much more.
Introduced in seventh-generation form in Australia in 2018, the front-drive Lexus ES was previously the sensible, hybrid-only foil to the inherently-sportier rear-drive IS. Typically favoured by more relaxed drivers and fleet buyers alike, the ES had cornered its niche, increasing its sales every year since its introduction to the market.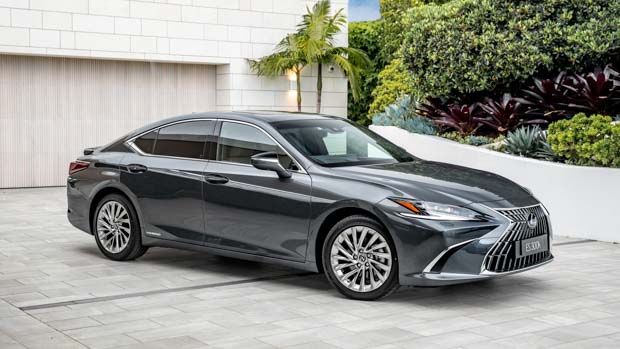 But while we're still mourning the untimely death of the IS, which packed an available 3.5-litre direct-injected atmo' V6, the ES now has a big chance to show off an attribute some initially ignored: its supple, well-balanced ride and handling courtesty of its stiff GA-K chassis.
Shared with the brand's forthcoming second-gen NX midsize SUV – as well as the vastly-improved latest-gen Toyota RAV4 and Camry – GA-K has given the ES far greater rigidity than any previous sedan to wear this badge.
In concert with its torque-rich petrol-electric hybrid powertrain option, the talented ES is – in some ways – wasted crawling between the city and the airport. It's good at that job, but it's remarkably adept at tackling an Australian backroad, too.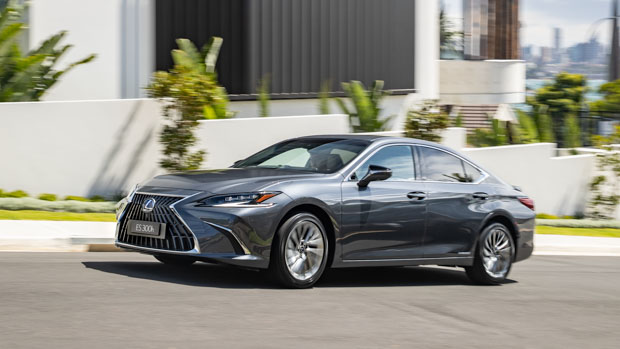 How does the ES 300h drive?
When the seventh-gen ES launched in Australia in 2018, it did so only as a hybrid-powered sedan for the first time.
American buyers could also opt for a 2.5-litre naturally-aspirated petrol four-cylinder, plus a 3.5-litre direct-injected petrol V6. Neither choice came down under as Lexus focussed on the 160kW hybrid – the motor it saw as the ideal compromise between four-cylinder efficiency and six-pot power.
That was arguably the correct choice, given how impressed we've been with the various manifestations of the 2.5-litre petrol-electric hybrid wherever we've reviewed it – from the ES 300h, new RAV4 and the boosted new Kluger Hybrid too.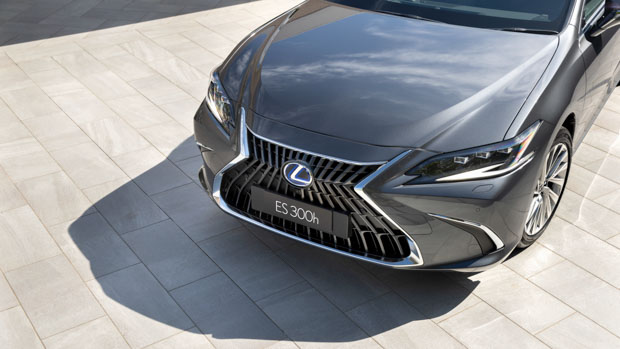 Now, though, the hybrid is the premium engine option. The loss of the IS created room for Lexus to introduce a non-hybrid 2.5-litre 'Dynamic Force' engine as a price-leader badged ES 250. This motor also does service in the Camry and the RAV4 Edge, paired, as it is here, with an eight-speed torque converter automatic.
That conventional auto, along with the 60kg weight advantage compared to the hybrid, could make the ES 250 something of an unexpected purist's choice. But we haven't driven it yet.
Instead, our launch drive of the refreshed 2022 ES was limited to two grades of the hybrid, which remains a great all-rounder.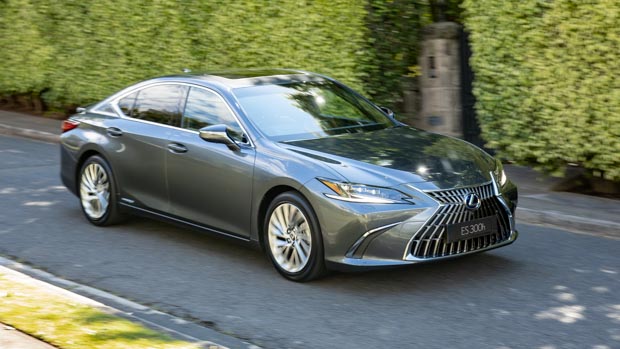 Perhaps most important to readers will be that our mixed drive, which took in congested suburban streets between Vaucluse and the North Shore, plus some motorway driving and a spirited country road route, resulted in fuel consumption of 4.5L/100km.
Striking such heights of efficiency is even more impressive when you note the ES 300h is rated at 4.8L/100km on the optimistic ADR81/02 (NEDC) combined driving cycle. Most rivals see their consumption blow out by 30 cent on this standard. The Lexus did 6 percent better.
But this isn't some hypermiling bore! Instead, the 160kW hybrid system offers real punch, which we used on our circa-120km drive to merge onto freeways, overtake at speed and dive into gaps in traffic, using (or perhaps abusing) the instant electric torque.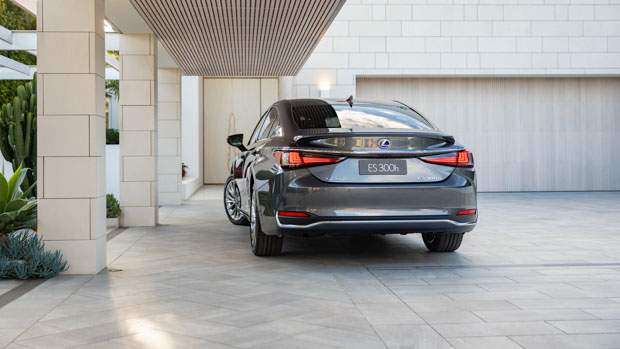 At highway speeds it lopes along, occasionally cutting out entirely while using adaptive cruise control on flat or down-sloping stretches, the system regenerating electricity to the small battery that cuts your emissions and fuel consumption without changing your driving style at all.
If that sounds like a brochure, it isn't – it's just that the Toyota-Lexus hybrid system is so unobtrusive now as to be incredibly easy to recommend. That Lexus has tidied up last year's slightly wooden ES brake pedal feel is appreciated, too.
Speaking of adaptive cruise control, when that feature is engaged the ES is now capable of entering a smarter, higher-logic version of lane trace assistance (LTA). And smarter it is. The slight pogo effect of the previous generation LTA is gone, with the ES 300h now tacking to the centre of the lane with only light supervision inputs from the driver.
AEB – including reversing AEB – is standard on all grades, as is blind-spot monitoring and rear-cross traffic alert.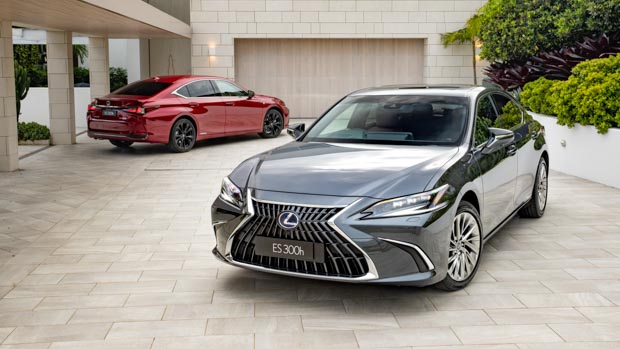 All of this means the ES is a relaxing – and quiet – car to drive in town and on the highway – environs where private and professional drivers alike will appreciate the serenity. Shame the low-res reversing camera means parking is slightly more stressful than it needs to be.
Find a backroad, though, and the stiff, sophisticated GA-K platform's benefits come to the fore, in concert with a steering ratio the brand says is tuned to "faithfully" recreate the driver's intentions. Well, it's mid-weighted and accurate, and while the soft small-diameter steering wheel may not be fizzing with feel, the sedan is easy to pilot rapidly…
All bar the hybrid F Sport have fixed dampers but the setup is what we'd want – erring on the side of suppleness, even softness, but with good body control mixed in. Only a slight lateral sway across deeper urban imperfections marrs the suspension, which we felt was more settled than the last ES 300h we drove.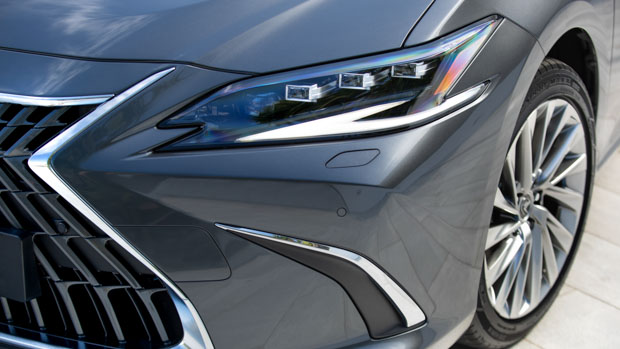 An adaptive variable suspension on the ES 300h F Sport, which rides on 19-inch wheels, uses one damper profile across all the regular drive modes, switching into a quite noticeably stiffer setting in that model's exclusive Sport Plus toggle.
Any ES 300h grade can comfortably be left in the default mode while delivering good throttle response (particularly at low speeds where the impact of the electric torque is more pronounced), plus supple and controlled suspension and light-to-moderate steering weight.
All ride well, but there is a payoff for opting for the Luxury, which rides on 17-inch wheels by default or still-sensible 18s when equipped with the desirable Enhancement Pack.
If there's anything we feel is missing from the dynamics of the car, perhaps it's the ES 350 engine choice available in America. Sure, the ES 300h performs admirably as a hybrid, but with the 3.5-litre IS 350 struck from the menu, a creamy six-pot ES could have provided another option for the older-school.
How is the ES 300h's interior?
Lexus executives say that the ES offers a luxe cabin fit-out beyond what any rival vehicle offers between $60,000 and $80,000.
Bold, but the claim rings true when you climb into the refreshed ES. The cabin is hit with lashings of leather, plus real wood, aluminium or bamboo. Soft-touch plastics abound beneath the beltline where some rivals get lazy – no bashing a knee on a hard centre console, and no keys scratching about: the cubbies are all flock-lined.
While the entry-level Luxury grade ($61,260 petrol, 63,550 hybrid) is well-equipped by default, hybrid buyers with an eye for detail will want to drop $8260 more on the Enhancement Pack option, which brings a number of features normally reserved for the flagship Sports Luxury to the base car.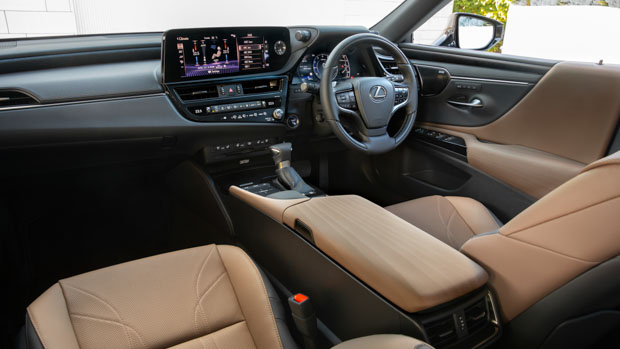 A Goldilocks spec? Quite possibly. Ticking the Enhancement Pack for the base model adds attractive (but not oversized) 18-inch wheels, real-wood trim for the steering wheel, doors and dash, real leather, cooling for the front seats and memory for the driver (who also picks up four-way lumbar), a powered rear glass shade and manual shades for the rear side glass, a power boot-lid and reversing AEB.
We'd take ours in Deep Blue over Hazel tan leather, which comes accompanied by black open-pore wood. Old-school cool.
On the other side of the ledger is the well-executed F Sport, which looks menacing outside thanks to shadow chrome and dark gloss 19-inch wheels, while the white/black/red palettes inside come accompanied by a fatter, perforated steering wheel and real aluminium. Despite only varying the tinsel, the F Sport feels remarkably different to the luxo-spec variants.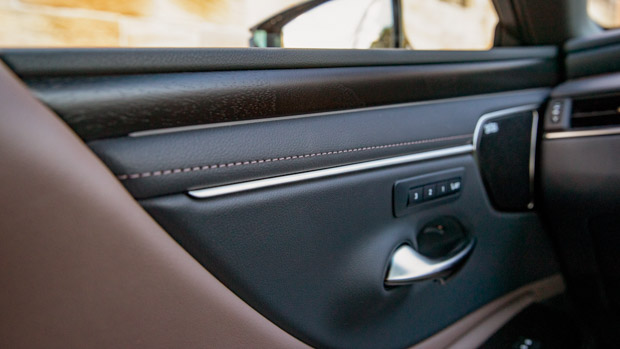 A small detail important for taller drivers: the F Sport has slightly different seats that have appreciably more under-thigh support, making the most athletic ES is the most comfortable for some – though we eventually settled into the less aggressive pews of the base Luxury. The trade-off is that the F Sport pews have only two-way lumbar for the driver.
Minutiae, as the ES cabin is polished, well-made and attractive, particularly if you opt for one of the many contrasting colour schemes.
Those with an interest in cabin tech will notice the enlarged 12.3-inch screen which has been pulled towards the occupants. While the touchpad remains between the seats, the screen now has touch capacity, making it easier to operate quickly, while there is also a wired Apple CarPlay and Android Auto connection.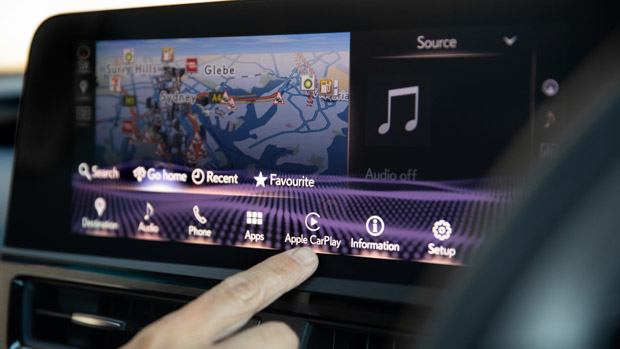 The standard 10-speaker audio system sounds crisp, but audiophiles will absolutely benefit from selecting a grade that includes the truly premium 17-speaker Mark Levinson stereo, which is loud but always clear, rendering deep bass and individual instruments with superb clarity.
This excellent Mark Levinson system is only included on the ES 300h F Sport with Enhancement Pack ($76,350) and the flagship ES 300h Sports Luxury ($78,180).
When developing the seventh-generation ES, Lexus clearly placed a high priority on rear seat comfort. While Lexus reports that the majority of ES sales are to private buyers, sales to small business also make up a significant cohort. For both groups, high quality and a comfortable rear seat matter.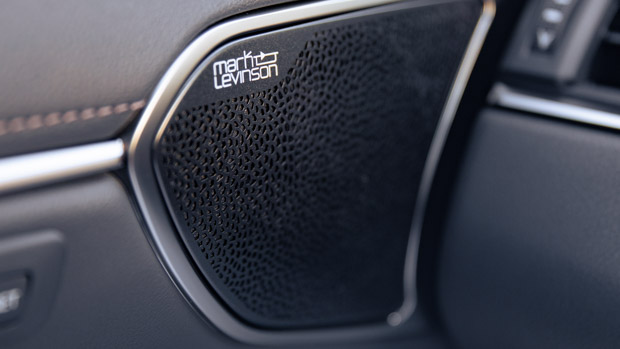 This car's front-drive GA-K architecture liberates more second-row room for passengers than longitudinally-engined rivals like the BMW 5 Series and Mercedes-Benz E-Class – and it really shows.
Limousine-like legroom and good headroom (despite the flowing roofline) mean six-foot adults fit easily back here. Some models – including the goldilocks ES 300h Luxury with Enhancement Pack ($71,810) include a sophisticated centre console offering temperature and media controls – and controls to electrically recline the rear seats on the Sports Luxury. Boot space measures 473 litres in the ES.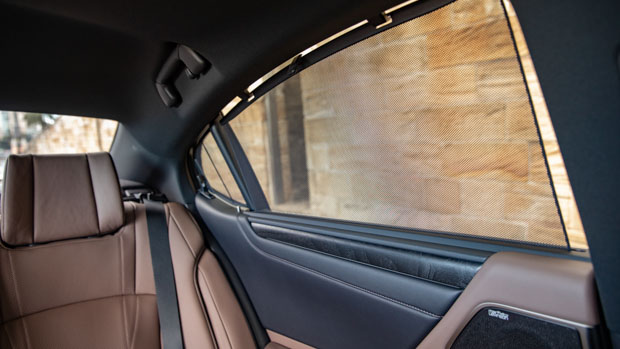 What are the ES 300h's running costs?
The main saving on running costs with the Lexus ES is by way of the car's staggeringly good fuel economy. As we related in our driving impressions above, we managed to best the ES 300h's official 4.8L/100km claim with a result of 4.5L/100km on a 120km mixed driving loop of suburban, highway, and country roads.
The ES 300h does require premium 95-octane petrol at a minimum, but that's entirely normal in the luxury segment.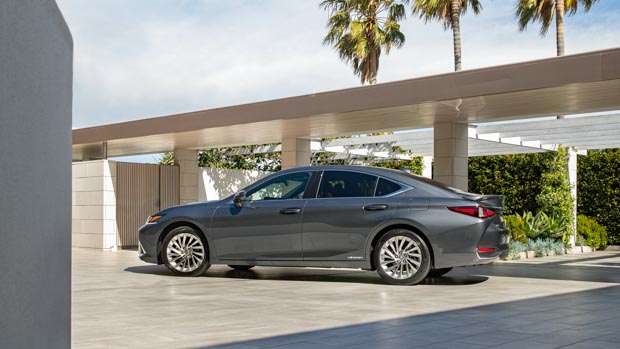 On the servicing front, Lexus caps the cost of the first three services as part of the Encore membership programme that all ES buyers are enrolled in for three years.
Covering 45,000km of driving, these services are capped at $495 apiece for a three-year cost of $1,485 – after that, it's uncapped.
Other benefits of the Encore ownership programme include the provision of service loan cars (dropped off at your home and collected later), plus corporate rates at some hotels and invitations to dinners and other exclusive events.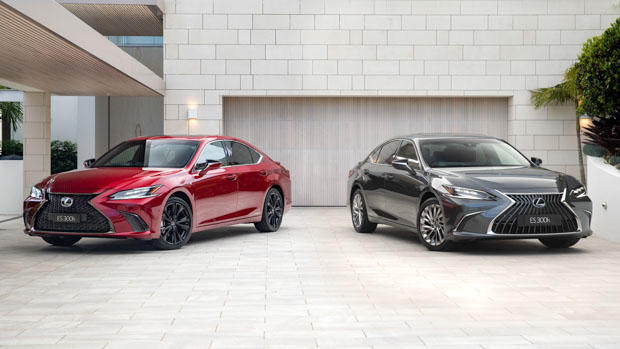 There is a higher tier of the programme called Encore Platinum, which we've covered extensively. This top-tier membership, which grants access to Lexus On Demand vehicles and valet parking vouchers, may be extended to the ES in a future special edition. It can also be added as a perk by dealers to loyal customers.
Finally, there is the Lexus warranty on the ES. At four years/100,000km, it's a little more generous on time than Audi and BMW, but both the distance and the year limit sit beneath Mercedes-Benz, Genesis, Volvo and Jaguar Land Rover, who all offer a five year/unlimited kilometre warranty.
The final verdict
Few cars feel as well-balanced as the Lexus ES 300h does. Here is a luxurious midsize sedan that doesn't cost the earth, yet it offers a powerful hybrid powertrain that delivers stunning fuel efficiency, it sports a resolved chassis and it offers a high-quality finish on all grades.
Those after sportier styling and a slightly more focussed suspension can opt for an F Sport; buyers wanting max lushness can go in the Sports Luxury direction, while the base Luxury (when optioned with the Enhancement Pack) is especially good value.
Sure, a rear-drive BMW 3 Series or all-paw Audi A4 are more dynamic – but they can't deliver 4.5L/100km efficiency, nor are they priced in league with the ES!
We will soon sample the ES 250 non-hybrid to see how it compares.