It's a big week for Volkswagen Australia's Commercial Vehicles division. At this week's launch of the new full-size Crafter van, it was announced that the 2018 Volkswagen Caddy Beach will arrive in Australia in the fourth quarter of this year – i.e., between October and Christmas. The Caddy Beach will be pitched as an affordable camper solution with a fold-out bed and integrated tent included in the $44,990 price. The new Caddy variant will join the new Amarok V6 580TDI ute in rounding off new VW Commercial Vehicles product in 2018.
At the Crafter van intro in Auckland, New Zealand, we were able to inspect a left-hand-drive example of the Caddy Beach that had only minor differences in specification to the vehicle that will reach Australia in a few months' time.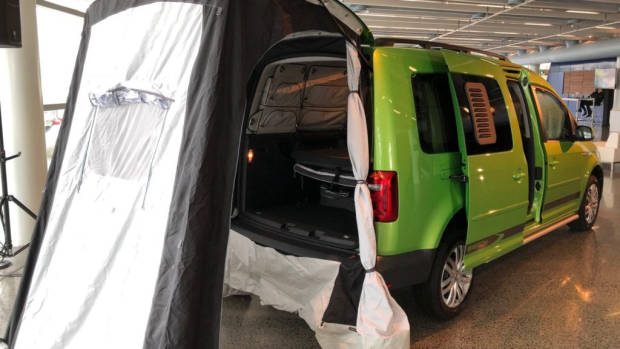 Nicholas Reid, Volkswagen's marketing manager of commercial vehicles in Australia, told Chasing Cars that the Beach's arrival will "continue the tradition" of the "iconic and ubiquitous Kombi van". The Beach "marks our return to the campervan market in Australia," Mr Reid said.
For its mid-forties price point, the Caddy Beach has a decent level of specification. Based on the existing Caddy Maxi Trendline model ($36,090), the Beach shares the Trendline's TSI220 turbocharged 1.4-litre petrol four-cylinder engine that produces 92kW of power and 220Nm of torque. The sole gearbox is a seven-speed DSG dual-clutch automatic.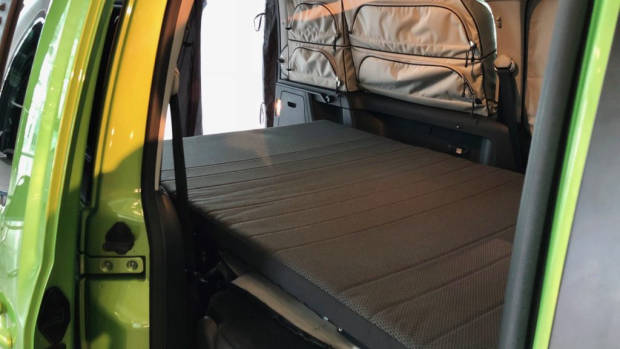 Aside from the convertible bed, integrated tent and additional camper storage, the Caddy Beach adds city-speed autonomous emergency braking and lane departure warning over the Maxi Trendline's standard forward collision warning safety package.
Inside, the five-seat Beach cabin expands into a walk-through tent hitched at the tailgate. There is a fold-out bed and tray tables found in the rear compartment, while blockout curtains keep things private. The vehicle also includes two folding camp chairs, a table, and a rechargeable torch.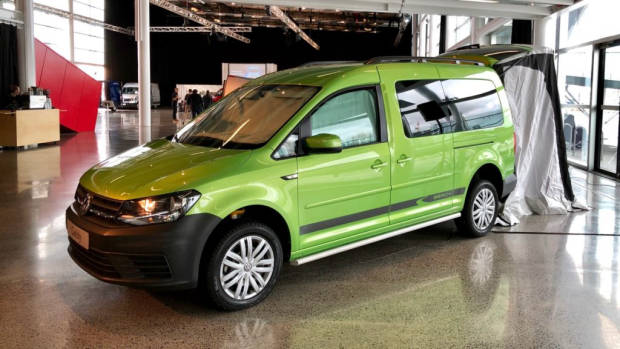 Externally, you'll be able to tell a Caddy Beach apart from its camper-less siblings by 17-inch alloys – a size up on the Trendline – plus the bi-xenon headlights and Beach decals.
We'll be driving the Caddy Beach toward the end of 2018.