Ever since the Citroen Berlingo (and its Peugeot Partner sister vehicle, followed quickly by Renault's Kangoo) kick-started the modern trend towards 1.5-box vans instead of small cars with an unrelated shape jammed onto the back, Europeans have flocked to this default form of passenger/cargo transport like a pop star to a media op.
Volkswagen took a bit longer to dump its Polo/Seat Ibiza-derived Caddy car/van crossover in lieu of a dedicated cargo van, but once the legit Caddy arrived in 2003 (along with a multi-seat Caddy Life version), things started to look up for this doyen of practicality … though up until now, the Caddy has certainly favoured practical leanings over polished dynamics.
The point of this fifth-generation model – dubbed 'Caddy 5' by VW, even though the fourth-gen model was just a facelift – is all about incorporating some passenger-car (read Golf-esque) sophistication alongside the Caddy's supreme utility.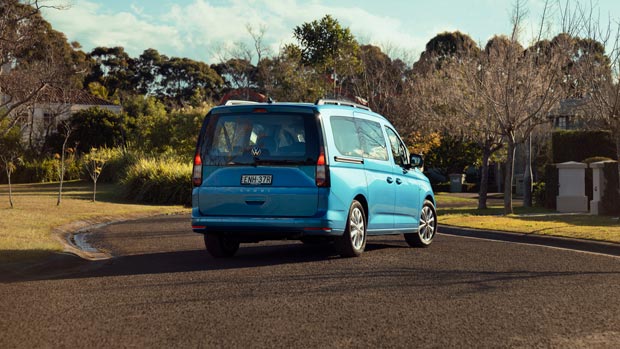 Caddy number five arrives sporting contemporary MQB underpinnings, which means a brand new (for a Caddy) platform with improved refinement and electronic/safety architecture combined with a fresh rear suspension design aimed at making Caddy more comfy, as well as more capable.
Available in a multitude of guises – from the Caddy Cargo, Cargo Maxi and five-seat Cargo Maxi Crewvan to the seven-seat people-mover range (Caddy Maxi, Caddy Life Maxi) and lifestyle-flavoured Caddy California (due early 2022) – the line-up spans 16 variants in both petrol and diesel, manual and dual-clutch automatic.
For our launch drive, we tested a Caddy Maxi Crewvan and seven-seat Caddy Life Maxi, both with a 2.0-litre turbo-diesel four and seven-speed dual-clutch transmission.
How does the Volkswagen Caddy drive?
Where the previous Caddy was a competent, if rather stiff-legged and slightly disjointed driving experience – feeling very much like a car at the front and a van at the back – the all-new Caddy 5 is a much more cohesive design.
Underpinned by the Golf's MQB architecture and a brand new beam-axle rear suspension located by trailing arms, a Panhard rod, new coil springs (instead of antiquated leaf units) and inclined dampers, the difference is immediately apparent the moment you turn the Caddy's steering wheel.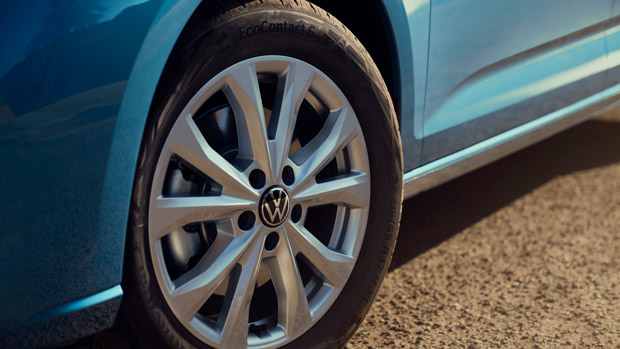 A faster-geared steering rack requires less steering angle to point the Caddy into a corner, which combines neatly with the cohesive new suspension set-up to make the long-wheelbase Caddy Maxi feel fluent and balanced.
Despite being over 1.8 metres tall, there's a planted, polished feel to this van's dynamics that inspires confidence, and it rides well too (on 215/55R17 Continental Eco Contact 6 tyres) – proving more than capable of being pounded over punishing surfaces without coming undone.
Engine-wise, Australia gets either a new 1.5-litre turbo-petrol four with 84kW/220Nm and six-speed manual or seven-speed 'DSG' dual-clutch transmissions, or a 2.0-litre turbo-diesel four also with manual and DSG 'boxes. Unlike the petrol, however, the diesel manual has lower engine outputs (75kW/280Nm) than the dual-clutch version (90kW/320Nm), though both share a 4.9L/100km combined fuel consumption number.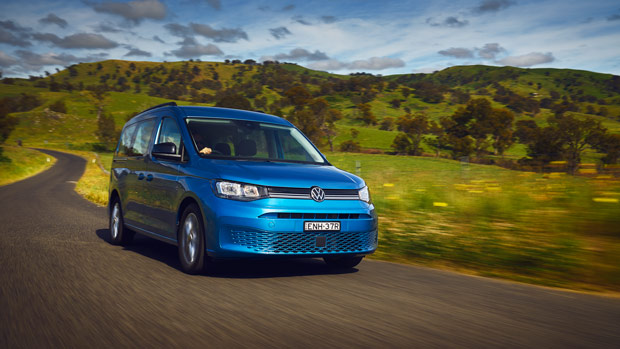 In both our test Caddys, the TDI320 engine proved impressively strong up to a point – demonstrating the benefits of spreading its maximum torque across a broad 1500-2500rpm range before reaching maximum power at 4250rpm. As you might expect, Volkswagen's 2.0-litre TDI feels reasonably elastic, though pushing such a tall van through the air at highway speeds – even with a class-best drag coefficient of 0.30 – is more about casually gathering pace when there's only 90kW to work with.
At three-figure speeds you also notice some wind rustle around the big mirrors and more road noise than a quiet passenger vehicle, though the new Caddy is closer to car standards than its commercial bent might indicate.
As for active-safety kit, one of the main benefits in switching to the VW Group's MQB platform is access to modern safety aids. In that regard, even the cheapest Caddy Cargo gets seven airbags, post-collision braking, forward AEB, driver fatigue detection and rear parking sensors with a rear-view camera.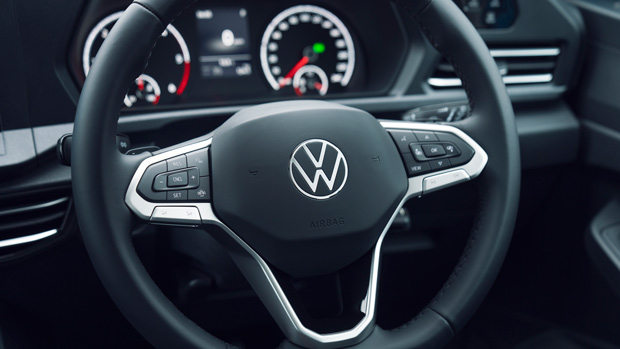 The new Caddy's available safety suite extends to adaptive cruise control with stop and go, rear cross traffic alert, AEB with pedestrian and cyclist detection, a lane-change system with side assist and blind-spot monitoring, lane-holding assistance with steering assist, and junction AEB.
Seven-seat Caddys also score curtain airbags for third-row passengers, taking the airbag total to nine.
How is the Volkswagen Caddy's interior?
The greatest asset of any van-type vehicle such as this is packaging space. For all its newfound body bumps and styling creases, the Caddy's box-like shape isn't the sexy bit – it's what the Caddy does with it that counts.
The short-wheelbase Caddy Cargo rides on a 73mm-longer wheelbase (2755mm), measures 93mm longer overall (4500mm), 62mm wider and stands 5mm lower than before. The result is an 18mm-longer cargo area, 28mm of extra cargo height, 51mm of additional rear opening width and cargo volume increased by 0.1 square metres, with the ability to now fit a Euro-sized pallet between the rear wheelarches.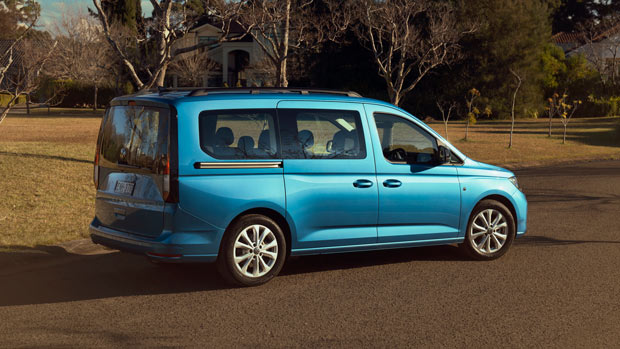 The long-wheelbase Caddy Maxi is actually 24mm shorter (at 4853mm), 16mm lower (at 1820mm) and rides on a 36mm-shorter wheelbase (2970mm) than before, though none of that affects its interior space or utility. With sliding side doors offering 846mm of opening width (the widest in its class), it can swallow a second Euro pallet sideways
Our test Caddy Maxi Crewvan and Life both featured VW's 'ErgoComfort' front seats with crank-handle height adjustment and electric lumbar, each with pleasant cloth trim (diamond-stitched in the Life) and quality seat support.
The second row in both Crewvan and people-mover Caddys is also shared, with similarly sound comfort in the outer positions and slightly better support (and vision!) in the centre spot. But what the second row doesn't enjoy is a heap of legroom – relying more on the height of its seating positions to achieve decent leg space – and the built-in tray tables are a little too flimsy to act as a sturdy laptop bench for long periods.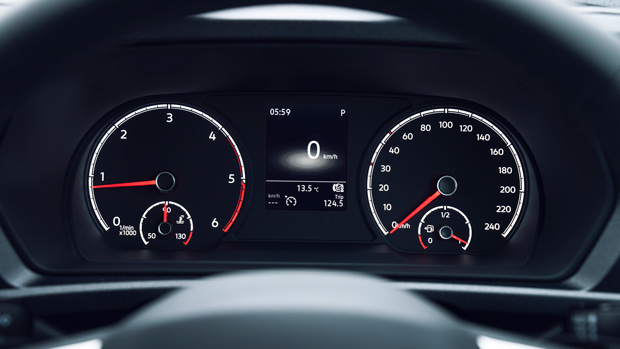 The Caddy's seat-flip set-up is also configured for left-hand drive (the single seat-fold is on the roadside, not kerbside), though doing so isn't difficult (via a pair of tabs) and once the seat is flipped forward, access to the surprisingly useable third row is excellent.
The outer middle seats feature Isofix child-seat mountings while all five rear positions offer top-tether anchorages. You can also easily remove both rear seating rows for true van versatility.
While the third row isn't the last word in seating comfort, it's more than acceptable for moderate journeys, even for adults. Vision back there is brilliant – as it is in all seating positions in the new Caddy – with each row mounted higher than the one in front. And let's not forget the Caddy's vast luggage space, even with seven seats in use, though the five-seat Crewvan (with even more cargo room!) retains the seven-seater's compact luggage cover, which means it covers almost nothing.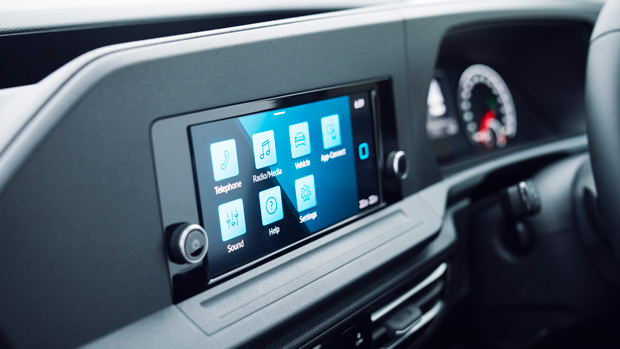 Storage is a highlight, from the roof-mounted shelf up front to the tray spanning the entire dash top, vast front door bins and various cubbies in the rear, though the second row doesn't get grab handles of any kind – roof or door – and air vents don't extend to the third row (though cabin air flow is strong).
The new Caddy's dash arrangement is very much inspired by the Mk8 Golf, which means a pint-sized gearlever, USB-C ports (rather than older USBs), VW's new-generation steering wheel with a leather rim (though thankfully without the capacitive switches) and the digital virtual cockpit display on models like the Life Maxi.
Indeed, the Caddy Life Maxi is reasonably well-equipped for a van with front parking sensors, keyless start, auto-folding mirrors and a decent six-speaker stereo, though its commercial-vehicle focus is very much evident in its rock-hard plastics and general stripped-out feel. There's plenty of tech in the new Caddy's cabin but it's also dark-coloured, sparsely designed and lacking in warmth.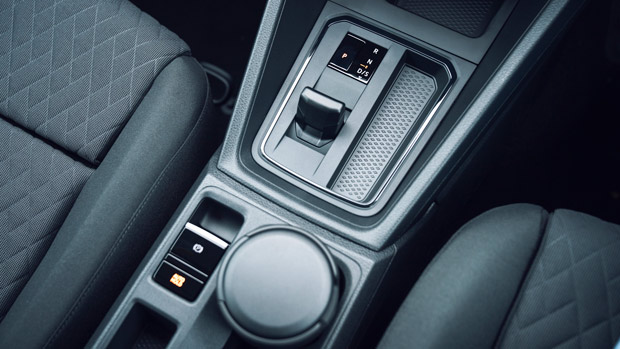 The main issue, though, is its combined multimedia/touchscreen control interface – a system inherited from the Mk8 Golf. There are some separate short-cut buttons for climate and vehicle functions which does help, but generally it takes longer to get used to than it should, or to complete simple tasks, and overcomplicates the user-interface to a considerable degree.
When a system such as this makes even Peugeot–Citroen's set-up seem relatively easy and intuitive, then you know something isn't quite right!
What are the Volkswagen Caddy's running costs?
The official ADR81/02 government combined fuel consumption figure for the Caddy Maxi TDI320 DSG is 4.9L/100km, though we averaged 6.9L/100km in the seven-seat Caddy Life Maxi.
Recommended servicing for the Caddy Maxi diesel is every 12 months or 15,000km, with the five-year capped-price service amount totalling $2731. However, Volkswagen is including two years' free servicing until December 31, meaning its five-year servicing total for a limited time is currently $1300.
Volkswagen's commercial-vehicle warranty is the same as for its passenger cars – five years/unlimited kilometres.
The final verdict
There's no doubt that the fifth-generation Volkswagen Caddy is a very intelligent van.
As a pure cargo hauler, it's both supremely useful and more capable than it's ever been, and yet as a seven-seater, its box-like shape, terrific flexibility and tremendous vision make it a fantastic family car.
The new Caddy is also pleasantly satisfying to drive, with a charm that creeps up on you over time, though its overall appeal is very much based around your degree of pragmatism. If you're into soft-feel plastics and interior warmth then a Caddy 5 cabin is not for you.
Yet for all its hard-wearing functionality, the Caddy Maxi's multimedia/control interface is about as pragmatic as gardening in stilettos – it disappointingly prioritises screen-obsessed minimalism over actual functionality – and there's an austerity to its interior that fails to reflect the $50K pricing.
In terms of fulfilling an intended purpose, the Caddy 5 is brilliant. But what glitters here is most certainly not gold – it's probably wet mud or shell fragments peeping out from sand.