Toyota has now made the second generation of Mirai available for lease in Australia giving buyers the smooth experience of an EV with the filling up times of a traditional petrol car.
The Mirai is the second hydrogen-powered car in Australia, alongside the Hyundai Nexo midsize SUV, and like its rival is only offering 20 units at launch that are largely expected to be leased out by businesses.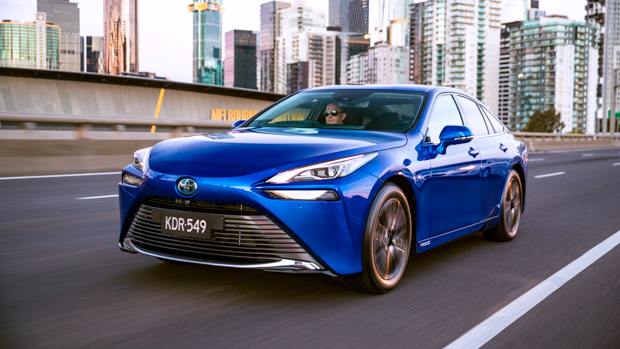 Those businesses will need to operate out of Melbourne so they can will refuel their Mirais at Toyota's newly constructed Centre of Excellence in Altona, however, another public hydrogen refuelling site does exist in Canberra if buyers wanted to make the trip.
The refuelling station is currently the only one in Victoria, though a second is slated for construction at its Clayton campus.
Using condensed hydrogen to generate power for the electric motors, the Mirai is capable of 650km of range (WLTP, but unlike an EV the Mirai can be fully refuelled in just a few minutes.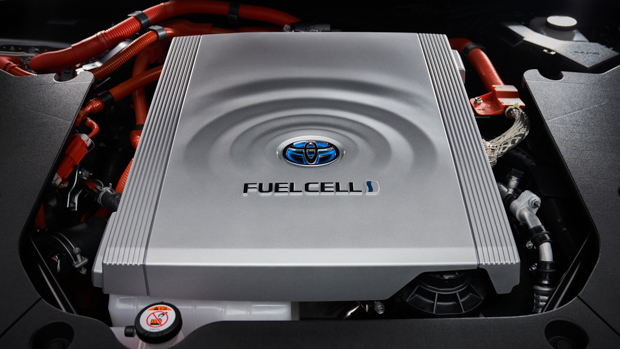 What's more, that range figure is only matched by very few EVs that often command a heft price such as the Tesla Model 3 Long Range. 
The Mirai stores 5.6kg of hydrogen stored in three carbon fibre reinforced plastic tanks mounted at the rear, which feeds to an electric motor developing 134kW of power and 300Nm of torque.
With rear wheel drive dynamics and multi link suspension at the front and rear, Toyota says the Mirai strikes a good balance of being fun to drive without compromising on ride comfort.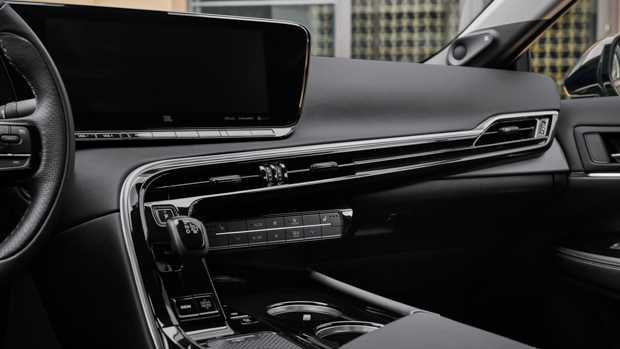 A key benefit of the second-generation Mirai over the first is the increased space thanks to packaging efficiency and the physical dimensions of the hydrogen sedan expanding to be slightly longer, wider and taller than a Toyota Camry sedan.
Toyota has also modernised the interior with a larger 12.3-inch touchscreen sitting in the centre with satellite navigation, Apple CarPlay and Android Auto all built-in.
Sitting in front of the driver is an eight-inch digital instrument cluster that builds on other niceties such as a 14-speaker JBL audio system, adaptive cruise control and dual-zone climate control.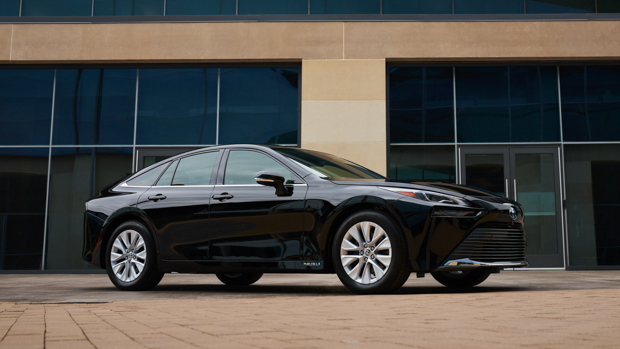 Additionally, the seats and dash are trimmed in synthetic leather with power adjustability for the driver and the front passenger.
Toyota has equipped a slew of safety systems including AEB with pedestrian and cyclist detection, lane-keep assist, blind-spot monitoring, rear-cross traffic alert and a 360-degree camera to help with parking.
Those looking to snap up a Mirai will pay $1,750 per month for three years across a 36 month/60,000km lease – though keep in mind that cost includes fuel.