Toyota Australia this week confirmed that their second-generation Mirai hydrogen fuel cell vehicle will come to Australia "when the time is right, and the necessary infrastructure is in place," according to Toyota vice president of sales and marketing Sean Hanley. 
Revealed at last month's Tokyo Motor Show, the gen-two Mirai marked a dramatic shift in the styling of Toyota's most prominent hydrogen car, which utilises an electric drivetrain powered by a hydrogen fuel cell. A small sample of first-generation Mirais are in government use in Australia.
"We have first-gen Mirais running around with councils in Victoria right now, and they're working very well," Mr Hanley said. However, with only Melbourne-based mobile refuelling currently possible, the use cases have been limited.
Mr Hanley says that the introduction of the second-generation Mirai to Australia will follow the installation of a permanent refuelling site at Toyota's Altona Centre of Excellence in the Melbourne suburbs.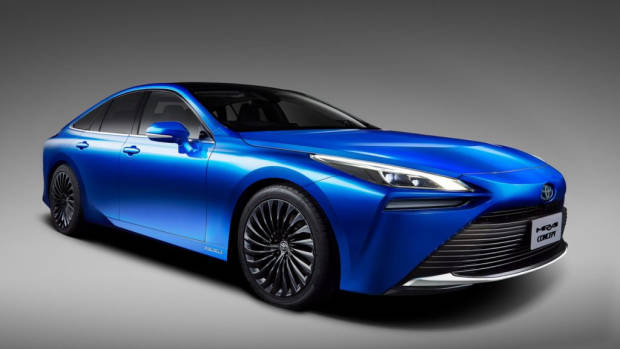 "I think that [after] we get our own refueller, maybe in 2021, there will be an opportunity for us to expand and look at the second-generation Mirai," Hanley said. "It is a car we will bring to Australia."
While the first-generation Mirai was a slightly awkward looking hatchback, the new version amps up the exterior and interior design to a significant degree with a long, flowing body and a sumptuous cabin. Underneath, the Mirai borrows Toyota's high-end TNGA-L chassis, a rear-wheel-drive platform normally reserved for Lexus.
With competitor Hyundai also doubling down on hydrogen fuel cell development in Australia with the release of their Nexo SUV, the future for hydrogen in this country is looking brighter. Hyundai have a permanent refueller at their headquarters in Sydney.
As a quick-refuelling long-range fuel source, hydrogen has natural benefits for a country with substantial driving distances, but issues around the stability of the fuel continue to require heavy and complicated fuel tanks both within the vehicles and at refuelling stations.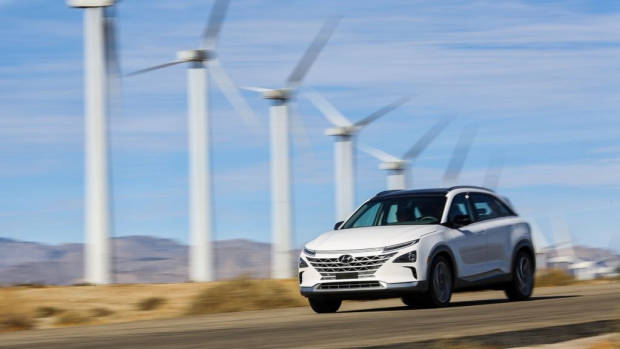 A hydrogen fuel cell provides about 650km of range in the new Mirai, up about 30% on the outgoing shape. The fuel cell powers a conventional electric drivetrain feeding at least one motor on the rear axle, which should give the second-gen Mirai a sports sedan feel.
In Europe, where hydrogen is more developed as an automotive fuel source, it is found at selected service stations in bowsers alongside conventional petrol and diesel fuels.
Mr Hanley is bullish about the future of hydrogen fuel as a power source for electric vehicles, citing its particular utility for long-distance driving in Australia. He happily agrees that he is a big fan of hydrogen.
"It is very workable for a country like Australia. For [all the reasons that] full electrification is difficult for Australia, hydrogen is absolutely positive for Australia."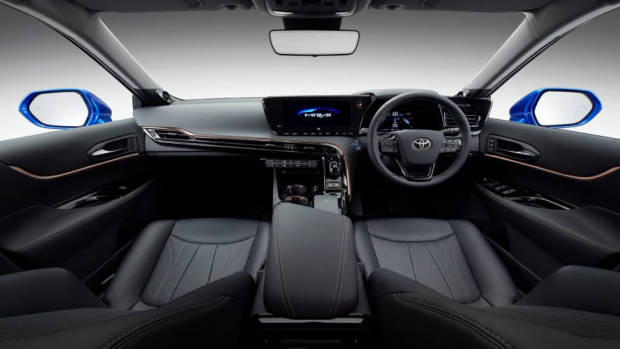 Mr Hanley, who managed the introduction of Toyota's petrol-electric hybrids into Australia in 2021, predicts that growth in hydrogen uptake will be much faster than the growth of hybrid sales, which have grown to about 20% of sales over 18 years.
Although Hanley would not confirm whether the second-generation Mirai would be brought to Australia on a trial basis or whether it would be available to purchase privately, we see the general confirmation as good news.
Should infrastructure become more plentiful, private Australian customers could be jumping into a Mirai in the next five years.