Toyota has broken the world record for the longest distance driven by a hydrogen fuel-cell electric vehicle without refuelling. 
On a round trip throughout Southern California, the 2022 Toyota Mirai travelled a total distance of 1360km (845 miles), which is the equivalent of driving from Sydney to Adelaide on a single tank of fuel. 
Filling the car with hydrogen took just five minutes for the two day trip, with professional hypermiler Wayne Gerdes behind the wheel.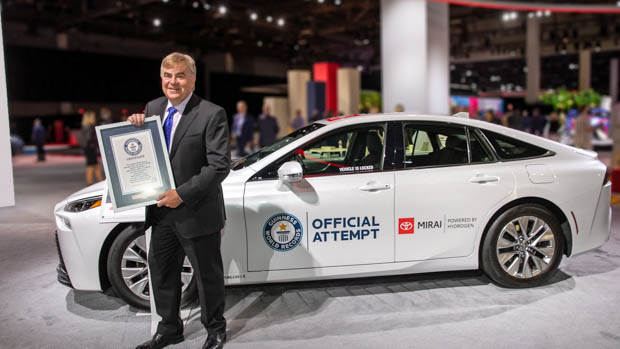 The Mirai used a full tank (5.65kg) of hydrogen over the entire journey – a route that passed a total of 12 hydrogen filling stations, none of which were needed.
The Mirai emitted zero CO2 whereas a standard internal combustion engine would've emitted around 664 pounds of CO2 over the same distance.
Michael Empric, a Guinness World Record judge, was present for the Mirai's return and awarded the team with an official certificate.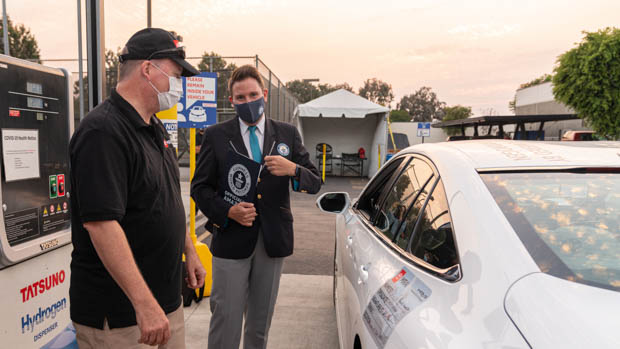 "As a Guinness World Records adjudicator for 10 years, I've had the opportunity to witness incredible attempts, including several distance-related feats.
"The Toyota Mirai's journey without the need to refuel showcases the power of fuel-cell electric technology. This technology and the design ingenuity by the team at Toyota led to a history-making moment," Mr Empric said.
For those sceptical about the environment in which the car was driven – for example, highway-only driving – the Mirai spent most of its time in peak-hour traffic at temperatures between 65 and 83 degrees fahrenheit (18.3 to 28 degrees celsius).