The 2021 Toyota HiLux has come in for some running equipment tweaks including the addition of connected services.
Along with some extra equipment, there are price fluctuations across the board with the range-topping Rogue's price up $1,210 to $70,200 before on-road costs.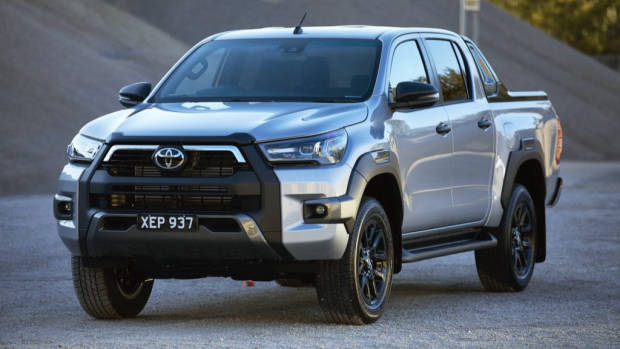 The Toyota HiLux is already one of the more expensive light commercial vehicles with rivals like the Mitsubishi Triton and GWM Cannon offering much lower prices. That said, Toyota's brand recognition is certainly working for the HiLux in the sales charts.
At the opposite end of the HiLux spectrum, the Workmate 4×2 Cab Chassis with the 2.4-litre diesel is now priced from $29,465 (plus ORCs), a more workable increase of $635.
That $635 jump is consistent across most of the range, a full price list appears at the end of this article.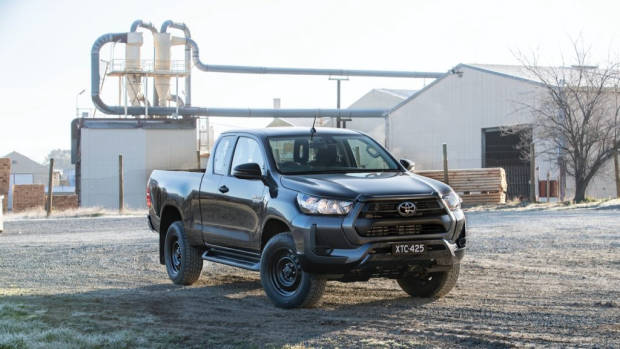 To justify the extra asking price, Toyota has added connected services across the HiLux range. In the event of a collision or airbag deployment, the HiLux will send an alert to Toyota.
The connected services can also be used to track a vehicle reported as stolen. Additionally, Toyota has added a manual SOS button inside the cabin for emergencies.
Toyota has ditched the extendable aerial on lower grade HiLux models and replaced it with a lower profile 'sharkfin' antenna.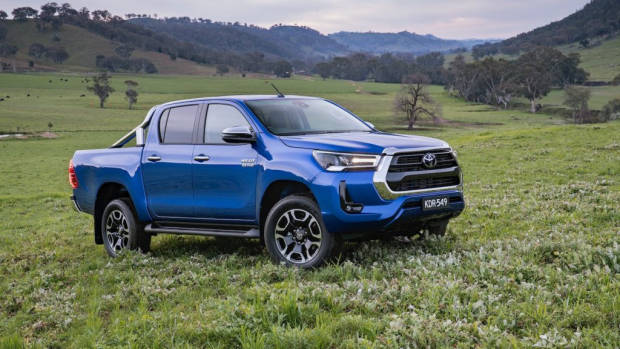 Meanwhile, all HiLux SR5 models get dual-zone climate control as standard to justify the larger $760 price jump. Finally, the upmarket HiLux Rogue now gets a 360-degree terrain view monitor.
Toyota continues to offer HiLuxes with three engine choices. The most common is the 2.8L turbo-diesel four-cylinder engine with 150kW/500Nm.
There's also a 2.4L diesel available on certain SR and Workmate grades with 110kW/400Nm and a 2.7L 122kW/245Nm petrol engine on the base model.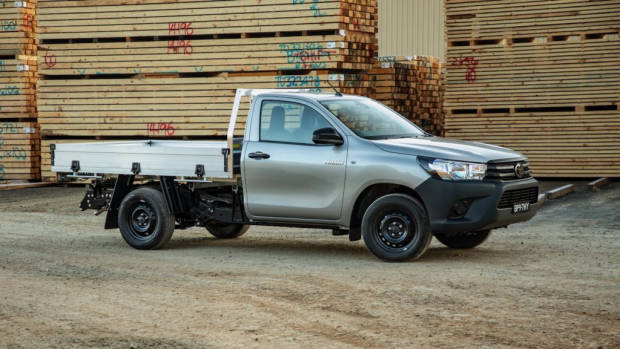 Buyers are also able to choose between manual or automatic transmissions as well as 4×2 or 4×4 across most models. The updated Toyota HiLux range is available now.
Toyota HiLux Ute 2021: pricing in Australia
Prices listed are before on-road costs.
Dual Cab 4×4
Rugged X AT – $70,750 (up $760)
Rogue AT – $70,200 (up $1,210)
SR5 AT – $60,680 (up $760)
SR5 MT – $58,680 (up $760)
SR AT – $52,795 (up $635)
SR MT – $59,645 (up $635)
Workmate AT – $49,925 (up $635)
Workmate MT – $47,425 (up $635)
Dual Cab 4×2
SR5 Hi-Rider AT – $54,450 (up $760)
SR Hi-Rider AT– $45,865 (up $635)
SR Hi-Rider MT– $43,865 (up $635)
Workmate Hi-Rider AT – $42,795 (up $635)
Workmate Hi-Rider MT – $40,795 (up $635)
Workmate AT – $35,705 (up $635)
Workmate AT – $33,705 (up $635)
Extra Cab 4×4
SR5 AT – $59,160 (up $760)
Extra Cab 4×2
SR Hi-Rider MT– $44,845 (up $635)
Single Cab 4×4
SR AT – $45,225 (up $635)
SR MT – $43,225 (up $635)
Workmate MT – $40,155 (up $635)
Single Cab 4×2
Workmate Hi-Rider AT – $29,465 (up $635)
Workmate AT – $26,225 (up $635)
Workmate MT – $24,225 (up $635)