Ready to play at being Lewis Hamilton on your local streets? Mercedes-AMG has finally revealed a road-ready version of its aptly named 'One' hypercar, five years after it was first seen in prototype form at the 2017 Frankfurt Motor Show. Eight are slated to end up in Australian buyers' hands, despite a price tag of around AUD$5million.
The plug-in hybrid two-seater promises to bring Formula 1 hybrid drive tech to the road using a 1.6-litre turbo-petrol V6 hybrid engine (with up to 3.5 bar boost pressure) and four electric motors for a combined 782kW (1063hp). Yes, really.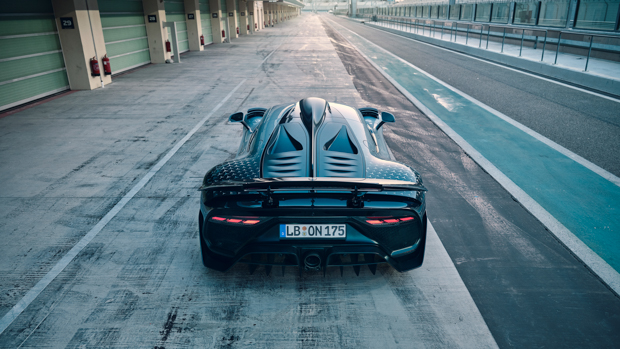 The mid-mounted engine spins to a ludicrous 11,000rpm and launches the One from standstill to 100km/h in 2.9 seconds; to 200km/h in 7.0 seconds and 300km/h in 15.6 seconds. Top speed is a healthy 352km/h. And thanks to all the clever hybrid tech, official fuel economy is quoted at 8.7L/100km – less than your garden variety Mercedes GLE450 family SUV.
Recent speculation had suggested the Mercedes-AMG One would never see the light of day after such a lengthy gestation period, but a production version has made its world premiere and will be seen in action for the first time at the UK's Festival of Speed at Goodwood later this month.
Can I buy a Mercedes-AMG One, for real life?
All 275 Mercedes-AMG Ones planned for production have sold out for the princely sum of 2.75 million Euros (plus taxes), or $4.1 million in our money. That's before Luxury Car Tax of course, but it's not known if the eight Aussie-based customers will bring their hypercars to our sunburnt country. Being left-hand-drive only, they'd be ineligible for road use – making it a very expensive track or show car. Personally, we'd keep ours at the villa in the South of France.
Customers for the One include ex-F1 stars David Coulthard and Nico Rosberg, while we'd imagine Lewis Hamilton will be offered a decent employee discount on one. Judging by the hypercar's specifications, these drivers' otherworldly talents will get the best from a Mercedes-AMG One – more so than a hedge fund manager.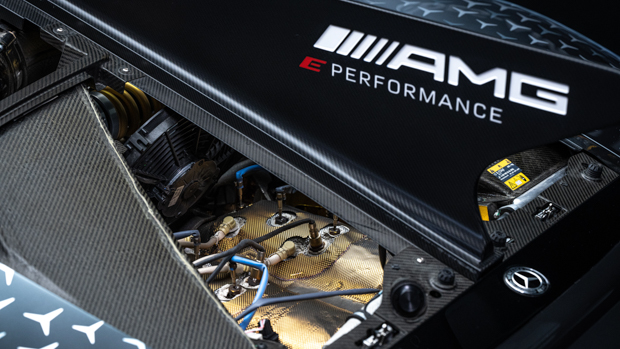 Tell me about the Formula 1 stuff
F1 tech is seen with the carbon-fibre monocoque, carbon-fibre body, load-bearing engine/transmission, active aero and push-rod suspension. Unlike an F1 car, it has fully variable all-wheel drive with hybrid-driven rear axle and an electrically driven front axle with torque vectoring.
An all-new seven-speed transmission features a four-plate carbon-fibre clutch, with gears selected through the carbon steering wheel's paddles.
Wheels are exclusive to the car – 10-spoke forged aluminium rims with centre lock plus a radial carbon-fibre partial cover. Not for you? Nine-spoke magnesium forged wheels are available as an option.
Tyres have been designed exclusively for the hypercar: 285/35ZR19 Michelin Pilot Sport Cup 2R M01 jobs for the 10×19-inch front wheels and 335/30ZR20s for the 12×20-inch rears.
Anchors are carbon-fibre ceramic – 398mm up front with six-piston calipers and 380mm rears with four-piston calipers.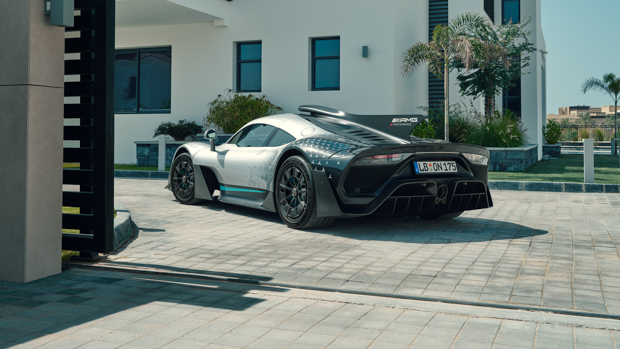 Oh, and what F1 car can drive purely on electricity? The Mercedes-AMG One has an all-electric range of 18.1km thanks to an 8.4kWh battery. It is charged by plugging into an AC charger, or via energy recuperation from the combustion engine.
"Over the duration of the development period, many may have thought that the project would be impossible to implement," said Philipp Schiemer, Chairman of the Board of Management of Mercedes-AMG. "To put such a hypercar on wheels is certainly unique."
Mr Schiemer added the challenge to have the car certified for road use "undoubtedly pushed us to our limits" and that its "loyal customers have gone through ups but also downs in the course of development." See, even the ultra-rich endure frustrating delays to get their new cars delivered.
Making an F1 car street legal can't be easy?
Little wonder development's been a bit of a head-scratcher. The hybrid drive of the Mercedes-AMG One "comes directly" from Formula 1. Of the four electric motors, a 90kW one has been integrated into the turbocharger on the hybrid combustion engine, a 120kW one installed directly on the V6 with a link to the crankcase, while two 120kW motors drive the front wheels exclusively.
While the engine can rev to 11,000rpm, Mercedes-AMG says for longer durability and to be able to use commercial super-plus petrol (98 octane), it deliberately stays below the F1 rev limit. Spoilsports.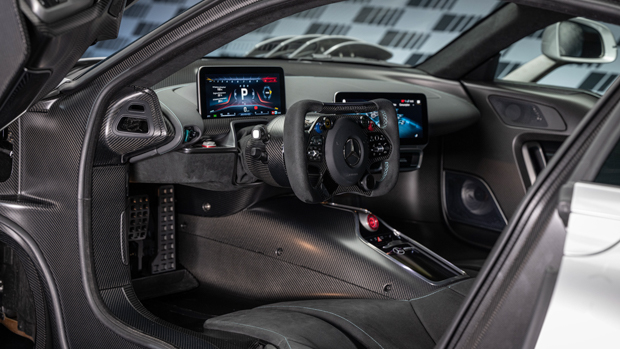 More fun-sounding are the six drive programs. There's an EV setting for all-electric driving; Race Safe which is your standard hybrid driving mode; Race for hybrid driving where the V6 charges the battery, and Individual for your personal preferences.
The two remaining programs are for the track only. Race Plus gives you active aero, the chassis lowers by 37mm/30mm, there's firmer chassis tuning and "special performance management."
Up to 11, Sir? Try Strat 2, which firms the suspension further and gives full power from all motors "as in Formula 1 qualifying." Best to maybe leave that one alone unless you're Lewis.
Lots of carbon-fibre and active aerodynamics
On the styling front, you're not about to be missed in a One. Doors open diagonally forwards and upwards; the cockpit is positioned far forward as is typical of a race car; wheelarches are ludicrously fat and the front end, sides and rear end are a festival of carbon slats, intakes, deflectors, wings, active flaps and active air vents.
The roof, meanwhile, is dominated by an air intake derived from F1. As you'd suspect, much complex cooling is required to make this One function as a road car such as the intake, which transitions into a Le Mans prototype-esque vertical shark fin.
You can even choose from three active aerodynamics settings. There's Highway where the louvres are closed; the front diffuser active flaps are extended and the rear wing retracted. Track mode sees the wing and wing flap extend fully, louvres open and front diffuser flaps fold up, offering up to five times the total downforce of the road drive settings.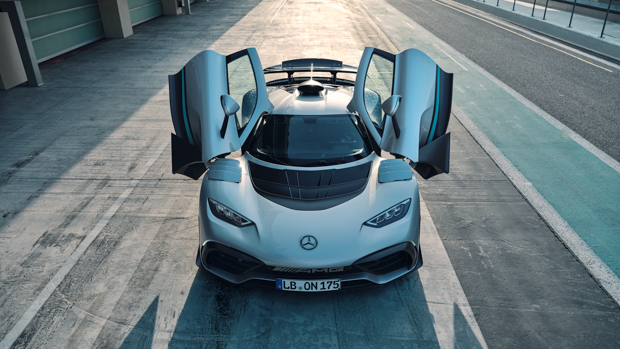 In a race program you can select Race DRS (Drag Reduction System) – the rear wing flap retracts completely and the louvres are closed, making the One travel faster but reducing downforce by around 20 percent. Again, this sounds like a leave-it-to-Lewis mode.
The two-seat monocoque's cabin is, Mercedes-AMG says, one of 'bold minimalism.' There's plenty of exposed carbon-fibre, an adjustable pedal box, slim instrument panel, two free-standing 10-inch displays and an F1-style flattened top and bottom steering wheel with shift light display. Creature comforts haven't been completely ignored as there's air conditioning, electric windows and USB ports.
Production is set to begin later in 2022, but for now the lucky folk attending the Goodwood Festival of Speed can enjoy the first public outing of this hugely ambitious road car project. But, as mentioned, you've sadly missed the boat if you wanted to order one.