Mercedes-AMG have lately been turning out a bunch of talented small performance cars. We're big fans of the A35 hot hatch around here – in fact, when the A35 squared up against the Audi S3 and BMW M135i in a Chasing Cars comparison, it took out class honours.
But while hot hatches still make the hearts of performance car enthusiasts sing, Mercedes-AMG knows where the market is going: SUVs. Fast, small SUVs are stealing some market share from hot hatch buyers as well as assembling a whole new demographic of performance car drivers.
How does the GLA 35 drive?
Enter the 2021 Mercedes-AMG GLA 35. The first AMG iteration of the new Mercedes-Benz GLA to arrive in Australia, the 35-series borrows most of the A35's running gear – including that car's AWD system and centrepiece two-litre turbo four-cylinder engine that produces 225kW of power and 400Nm of torque.
The 'M260' engine is not a bespoke AMG motor – that honour is reserved for the hi-po, 310kW GLA 45 that will arrive just as 2020 is shown the door – but Affalterbach's best substitute in a number of unique parts to this engine that does service in the GLA 250 with an 165kW tune. The AMG GLA 35 gets its own turbocharger, air cooler and intake manifold, all designed for freer responses – and the software is all new too.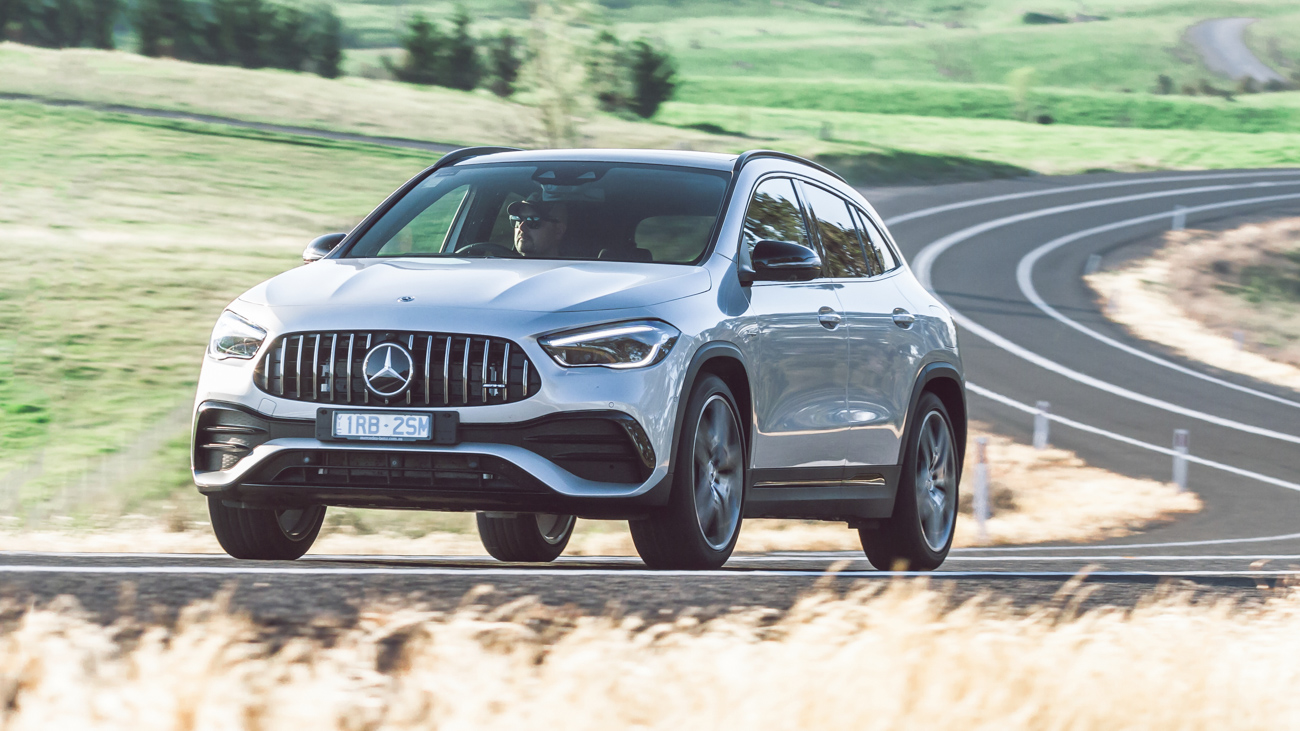 The shifting sands of the car market in Australia that has seen crossovers take over as the dominant shape means the business case for the GLA 35 – at $82,935 plus on-road costs, this is AMG's most affordable SUV ever. But does the magic of the brilliant, Golf R-hunting A35 transfer across unscathed?
Well … we wouldn't say unscathed. While the GLA 35 is a disciplined, highly capable small performance SUV, this car isn't as fun to drive as the low-set, highly agile A35 hatchback and sedan. Blame the damage on the GLA's additional 165kg of weight, and especially on the increased ride height: buyers told Benz the previous GLA wasn't tall enough, so the brand made this one almost 10cm higher.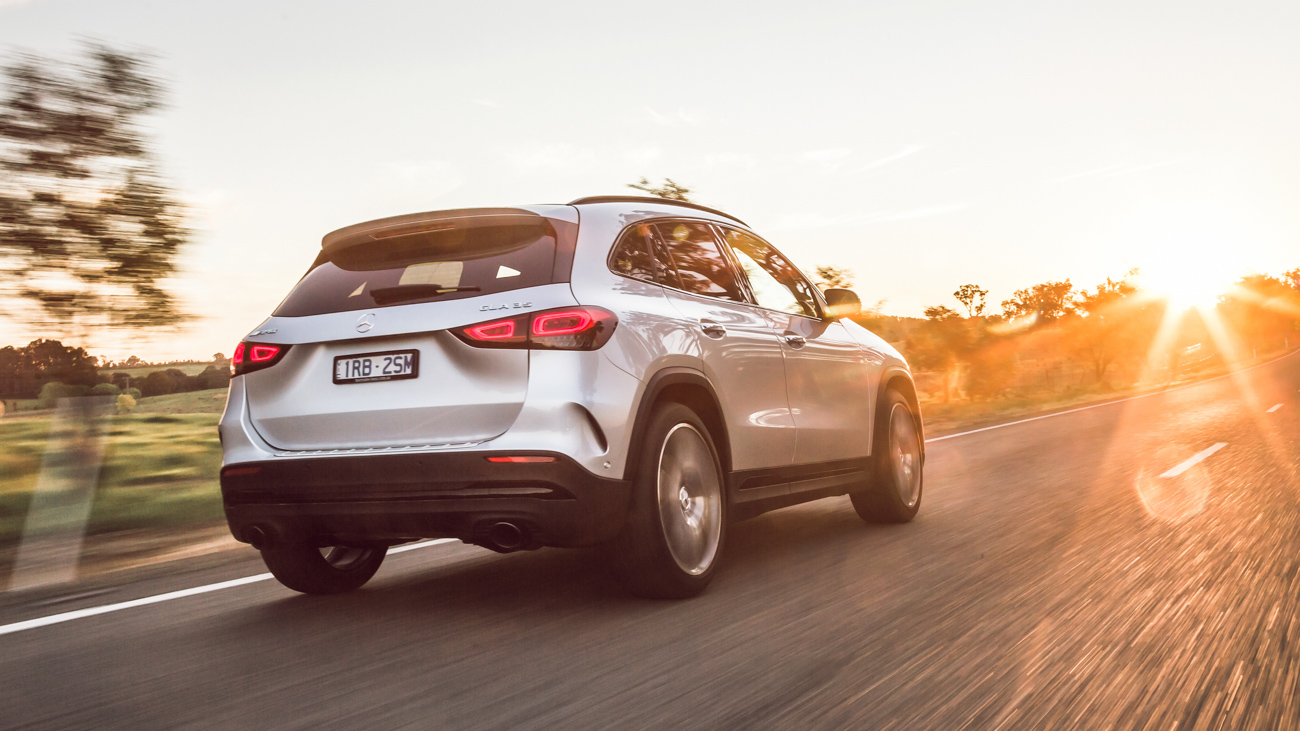 Physics is a thing and the mass and height disadvantages have the effect of comparatively isolating the driver from the experience – but keep in mind this is when you compare the GLA 35 to the A35 hot hatch. And that's something we think few AMG GLA buyers will do: you're reading this because you want a small performance SUV, not a hatch or sedan.
When you consider the GLA 35 in light of its actual rivals, this SUV makes much more sense. For starters, the AMG is considerably more at home attacking Australian backroads than its chief rival. The BMW X2 M35i ($69,900 plus on-roads) is more affordable and produces the same 225kW/400Nm outputs from its own two-litre turbo four-cylinder, but it is hobbled by skittish dynamics and a super-firm ride.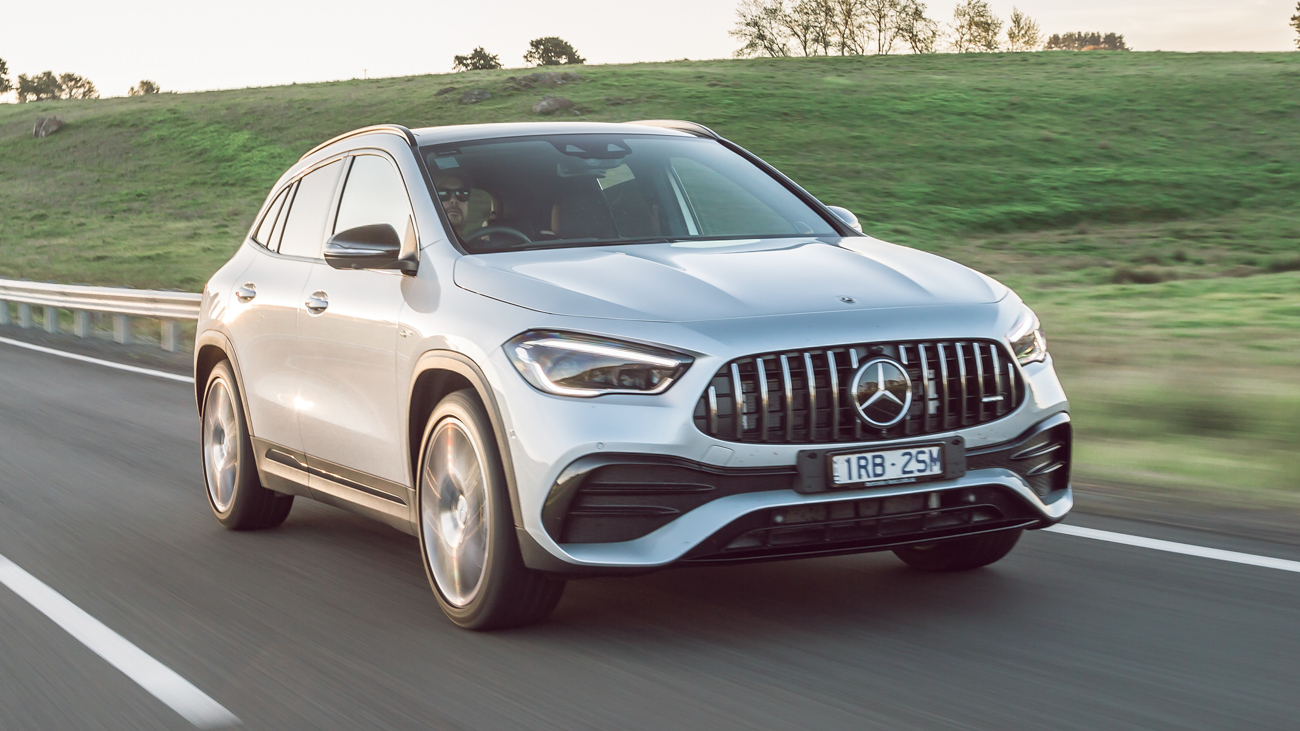 Compared to the nervous, skinnily-tyred BMW (which runs 225/40 R20 rubber at each corner), the 255/40 R20-equipped GLA 35 feels foursquare on the road and totally secure being tossed down a tight country lane littered with mid-corner bumps, with the 4MATIC all-wheel-drive system shooting torque rearward proactively.
In this small, fast SUV space, the GLA 35 is only really matched by the Audi RS Q3 for outright security. The five-cylinder RS Q3 is also a much consider: at $89,900 (plus on-roads) it is a touch more expensive, but produces much more power and torque at 294kW/480Nm.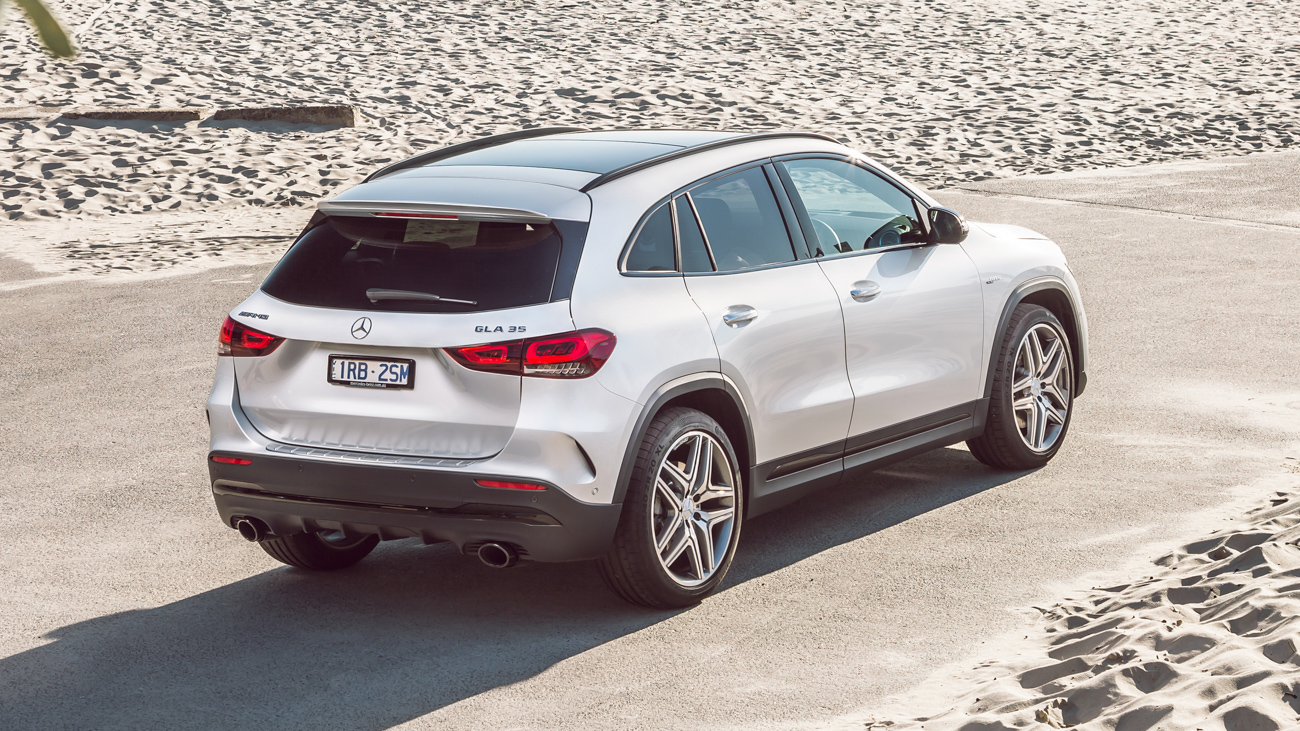 The AMG GLA 35 is so secure at this discipline, unflappable almost, that we find ourselves missing some sense of theatre. We hesitate to compare it to the A35 again, but that car is more keen to move about under throttle with bouts of lift-off (and even power) oversteer. The GLA 35 never strayed into that territory.
That's not really a problem for most drivers, though, who will appreciate the GLA's well-rounded abilities and warm-to-hot levels of performance. For those committed to this body style but after more spice, AMG have the considerably faster GLA 45 super-SUV arriving in Australia soon.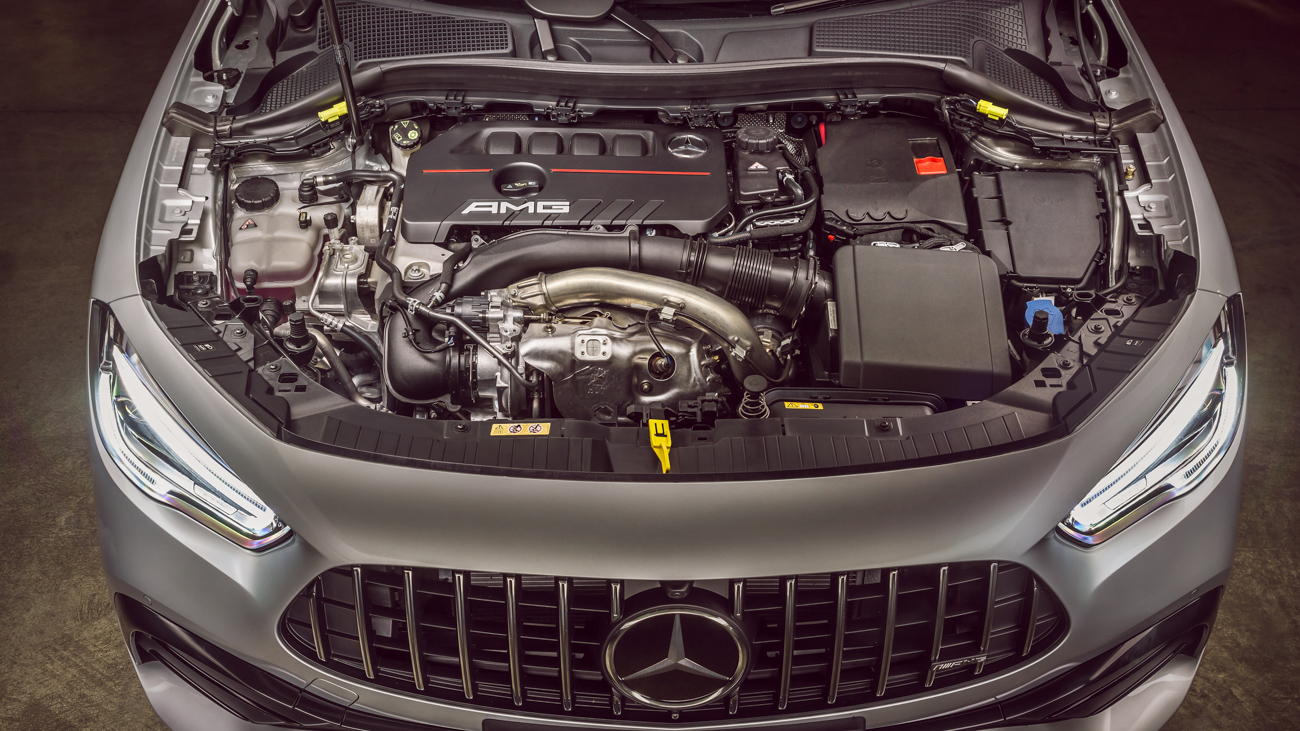 Much more expensive at $107,035 (before on-roads), the GLA 45 produces a very stout 310kW of power and 500Nm of torque. Interestingly, the GLA 45 uses a totally different AWD system with twin rear clutches that can distribute the entire serve of torque to the rear axle and then to each rear wheel. That should allow more serious shenanigans.
But back to the GLA 35 at hand. Twenty-five grand cheaper than the 45, the GLA 35 makes for a pleasantly rapid commuter and country tourer. The ride on the 20-inch wheels and Continental ContiSportContact 6 tyres is firm, but it's totally liveable and never crashy. Refinement levels are pretty good, though there is some drone when travelling at the national speed limit on coarse chip roads.
The steering doesn't feel as immediate as in the A35 hatch or sedan but the ratio here is still pretty quick – we just wish AMG's steering wheels weren't so massive. Compared to Audi Sport or BMW M wheels, the AMG dinnerplate-sized contraption seems to de-amplify your inputs, giving the false impression of slower steering.
How is the GLA 35's interior?
It's an overly-large wheel that sits in a cabin that is otherwise difficult to fault. While the glitzy design won't be for everybody, the AMG GLA 35's interior will impress its driver and wow passengers with the amount of technology that is present – but also with the quality of materials used here.
Mercedes-Benz are on a quality upswing and you can tell from the hewn-from-granite feel of this cabin, which replaces the underwhelming interior of the first-gen GLA that cut corners in various places. The GLA 35 is an expensive vehicle but the interior lives up to the circa-$80k price point, with soft leathers, real metal accents, and yielding plastics where they are expected.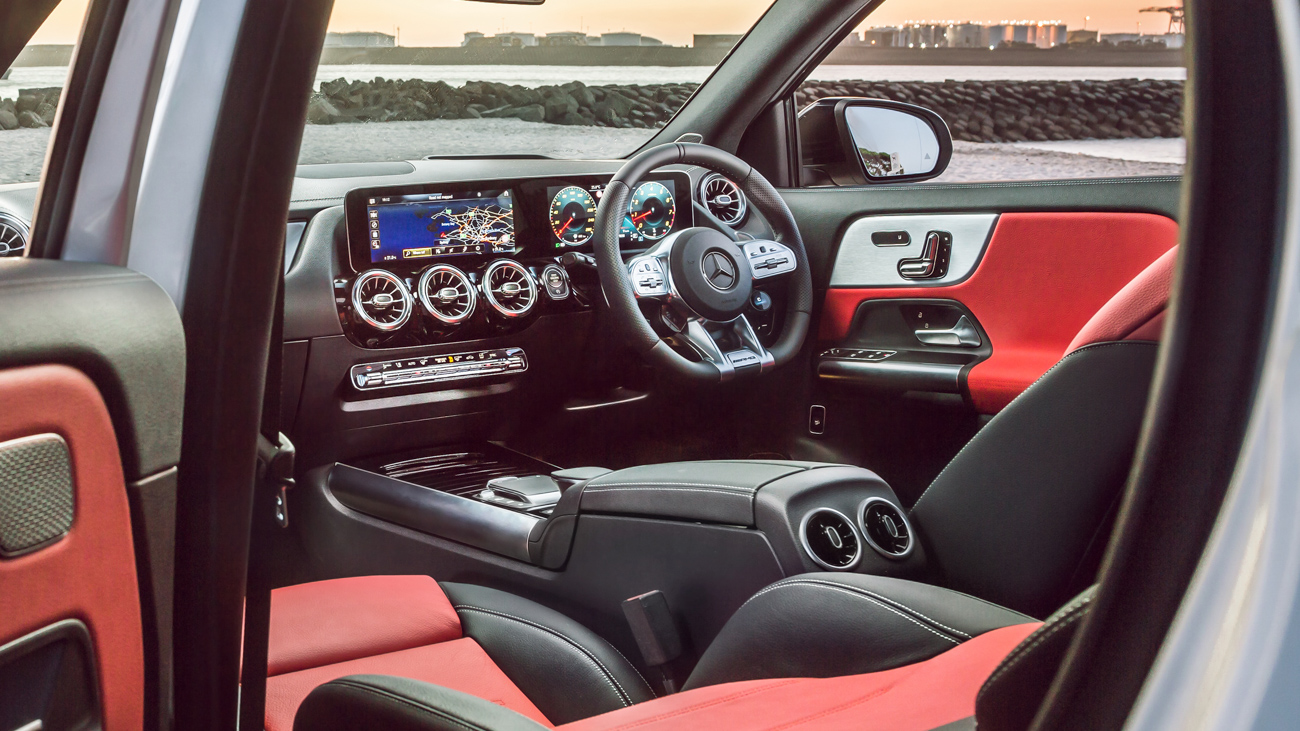 The dual 10.25-inch displays do require some time to master – driven either by touch or central trackpad (for the central display) or dual, smaller trackpads on the steering wheel for either screen – but the breadth of capability in the software goes above and beyond some rivals. If you're coming out of a mainstream brand, the amount of tech here will be quite astonishing. All of that's true, though, of the less expensive GLA 250 4MATIC that is softer and more comfortable.
And yet, Mercedes-Benz still have no publicly-acknowledged plan to integrate wireless Apple CarPlay and Android Auto to its cars. Perhaps that is a measure of their confidence in the built-in MBUX software – but the fact is many phone-driven apps are superior (including Google Maps and Waze navigation solutions), and we perceive wireless CarPlay to be a safety feature as it removes a barrier to getting people off their phones while driving.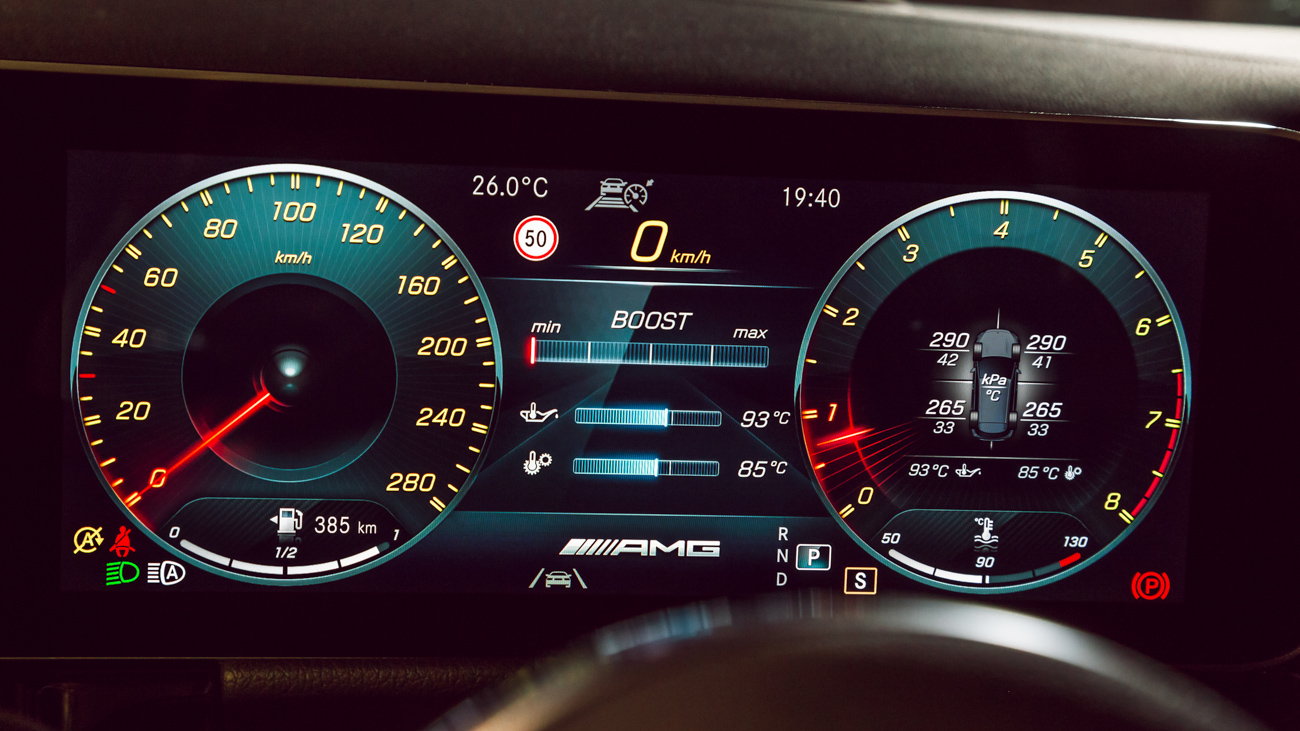 The new GLA is a bigger car than the previous generation, and you see the benefits of this in cabin space and storage. Notably, the new car is 45mm wider and 87mm taller – but those with tight parking spaces will appreciate it's only 7mm longer. There's more height and lateral room, and boot space now measures 435 litres – up 14L.
Honestly, the GLA 35 is usefully sized for the city: big enough to fit adults in the second row without too much grumbling, but still very parkable. The main impact of the dimension changes is that to our eye, the new version looks a little awkward – quite tall, yet curvy.
Those seeking an larger alternative will appreciate that Mercedes-AMG have introduced a new model called the GLB 35: also running a 225kW turbo four, the GLB is longer than the GLA and even fits a dinky third row of seating in, though that is a kid-only zone.
What are the GLA 35's running costs?
Running a premium performance car is rarely inexpensive, but the Mercedes-AMG is a little more frugal in terms of fuel consumption than most.
In our testing, which involved driving in a balance of city, suburban and country road environs, the GLA 35 consumed 10L/100km quite reliably. 95 RON premium petrol is required in this vehicle.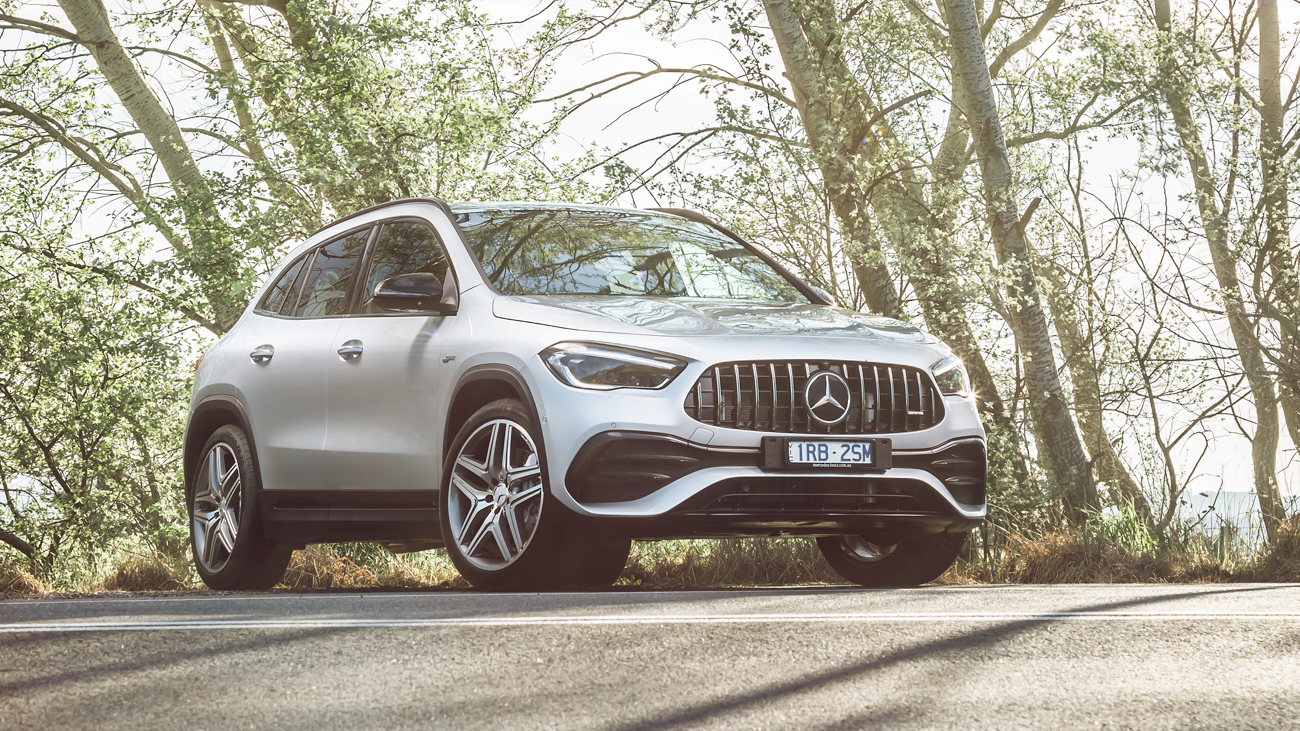 Mercedes-AMG stipulate annual service intervals, though the car can travel up to 25,000km in that time – more than most rivals that tend to cap mileage between maintenance at 15,000km.
You're able to save money on scheduled services by purchasing a service pack up-front when you buy the GLA 35. A three year plan of services costs $2,150, averaging $716 per service.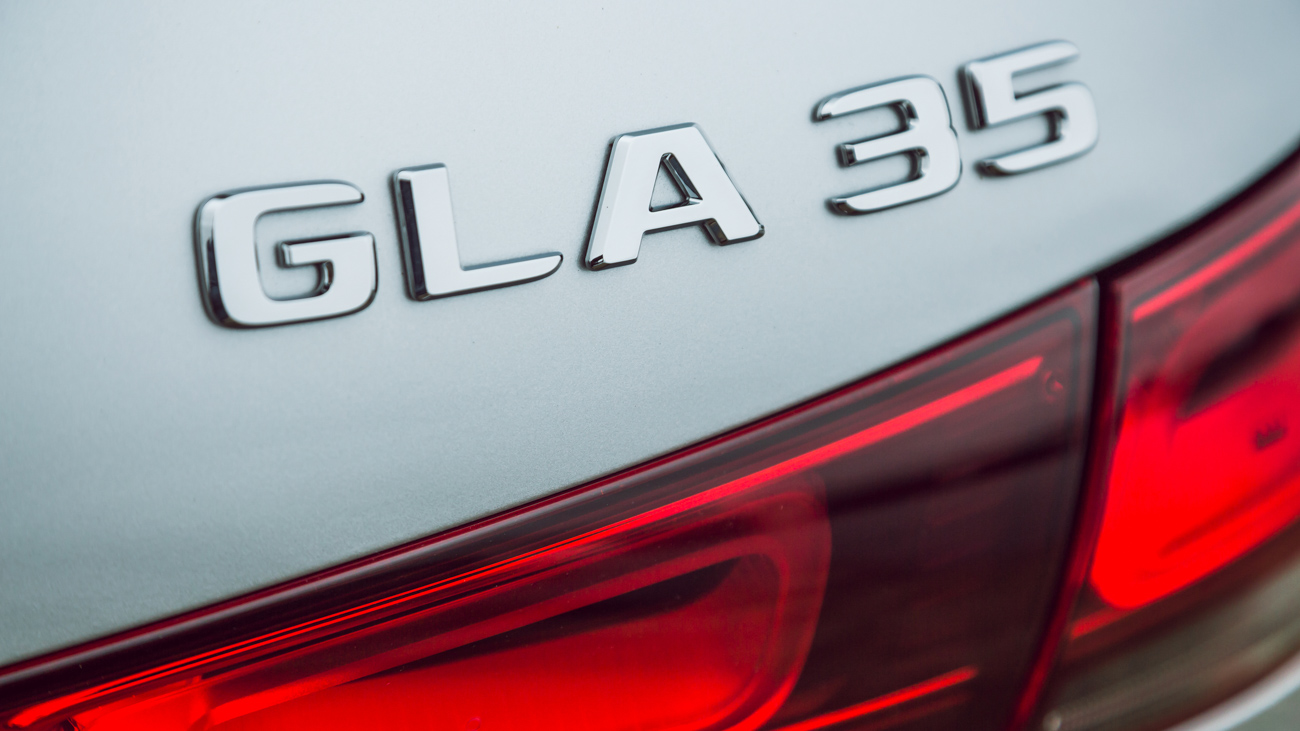 The brand says this is a discount of $500. Meanwhile, a four-year plan costs $2,950 (averaging $737), while five years costs $4,000 (averaging $800 per service).
But it's on the warranty front where the GLA 35 really stands out. We continue to be impressed by Mercedes-Benz's decision to introduce a five-year warranty for Australia – coverage that applies to the GLA 35. Neither BMW nor Audi have followed suit in any permanent way: both the Audi RS Q3 and BMW X2 M35i are sold with three-year warranties.
The final verdict
The Mercedes-AMG GLA 35 makes sense if you want one of AMG's warm-to-hot '35' series vehicles in an SUV form factor. It's intelligently-sized, able to cope with the cut and thrust of city traffic, happy to cut up country lanes, and more than capable of holding its own on the highway.
On the other hand, if you aren't tied to driving a high-riding crossover, this company's own A35 hatchback does largely the same job but with so much more enjoyment for the driver. For us, in a performance car, driver engagement is absolutely decisive.