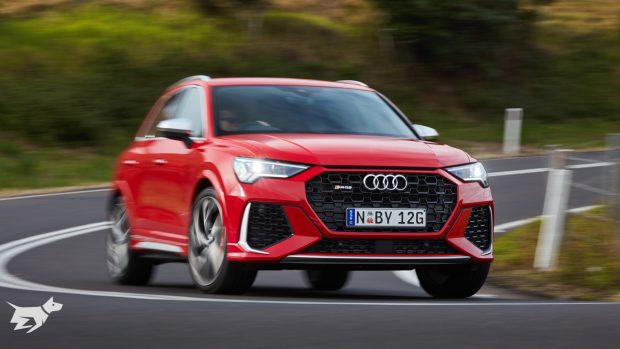 If every SUV were as fun to drive as the new Audi RS Q3 – car journalists wouldn't ever complain about Australians preferring them to traditional cars!
Still packing Audi's hallmark 2.5-litre five-cylinder engine under the bonnet, the latest RS Q3 has arrived in Australia hot on the heels of the more modest versions of the second-generation Q3, which launched locally with the 1.4-litre, 110kW Q3 35 TFSI model nine months ago. In recent months, the Q3 lineup was expanded with a two-litre Q3 40 TFSI model producing 140kW.
How does the new Audi RS Q3 drive?
The new RS Q3 more than doubles the four-cylinder Q3's peak power. Starting up the thrumming, sonorous five-cylinder turbo engine via push-button start reveals this smallest RQ crossover's V8-chasing outputs of 294kW of power and 480Nm of torque.
That is impressive enough on paper, but on the road, the RS Q3 jumps out the blocks with alacrity, with a 0-100km/h time of just 4.5 seconds. What the standing start time doesn't communicate is just how relentless this five-cylinder engine is, with peak torque extending in an incredibly broad wave from 1,900rpm through to 5,850rpm.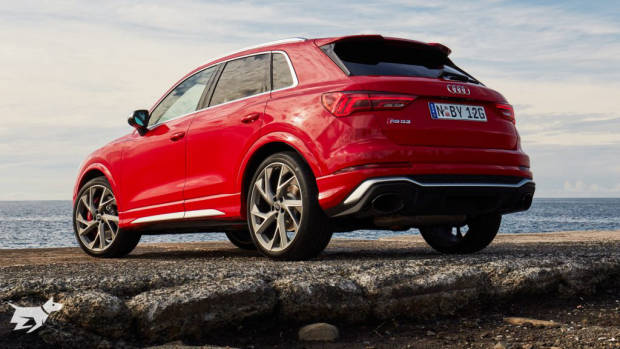 Where four-cylinder performance cars like the Volkswagen Golf R differ – despite being related to the new Q3 under the skin – is that at high revs, they run out of puff. No such trouble here, with the RS Q3 charging toward the horizon with authority that belies its relatively compact dimensions.
The previous-shape RS Q3, last sold here in 2018, never got beyond outputs of 270kW/465Nm – but it was about 60kg lighter than the new generation's 1,790kg – meaning the new car is actually a tenth slower to triple figures than the previous version, which used an older platform.
Then there is the addition of a petrol particulate filter (PPF) on the new RS Q3 – an innovation that reduces harmful tailpipe emissions. The filter doesn't seem to have affected performance, but it has robbed one of the best aspects of Audi's five-pot engine: the characterful pops-and-crackles this motor used to produce on the overrun. Good thing the RS Q3 still packs a great intake noise, a classic odd cylinder count thrum when revving, and 'farts' when the snappy seven-speed dual-clutch wet clutch automatic transmission upshifts.
While the new RS Q3 is heavier than the old car, it's better to drive in every way. Like the underlying Q3, the new shape sits on the wider Volkswagen Group MQB platform, which lends the RS Q3 an innately stiffer basis on which Audi Sport have tuned a remarkably engaging, sporty crossover that actually communicates with its driver.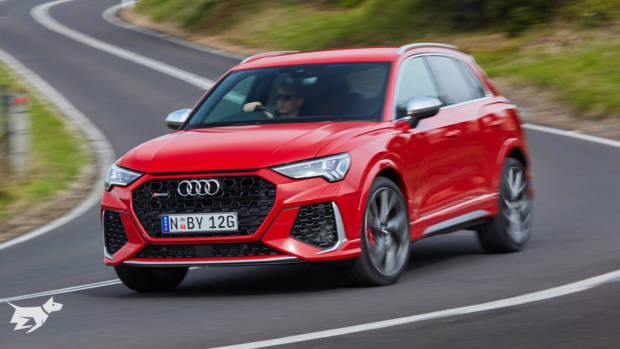 The RS Q3 combines fast and direct steering with voracious front end grip and handling that isn't afraid to exploit the beautiful balance of this chassis. On corner entry, this 1.6m-tall SUV briefly rolls onto its outside tyres before settling, allowing the independent rear suspension to gracefully bring the tail around. Bouts of lift-off oversteer are easily accessible, but the RS Q3's quattro all-wheel-drive system is too conservative to induce powerslides, at least with stability control remaining on, which was enforced on this launch drive.
While the RS Q3 is certainly stiff enough to allow the front end to demonstrate remarkable agility when diving toward a corner apex, Audi's suspension engineers have worked some voodoo to ensure that this sub-$90,000 performance SUV also rides like a luxury vehicle should do. The urban ride is firm, but not at all crashy – this is entirely liveable as a daily driver.
What standard equipment does the Audi RS Q3 have?
Audi Australia have opted to bring in the new RS Q3 with most available features already ticked, meaning this vehicle presents with a high specification and few opportunities for extensive customisation. This decision was based on ordering data from the previous generation.
Almost all of the high-performance kit you'd want is already included: 21-inch wheels are included, with a choice of two designs (plus a black-painted style for $400 more on the separate RS Q3 Sportback shape). Many items that are optional overseas are standard here, including the RS sports suspension with adaptive dampers, and an RS sports exhaust. Matrix LED headlights and an electric tailgate are also standard, and all eight colours can be had for no extra charge.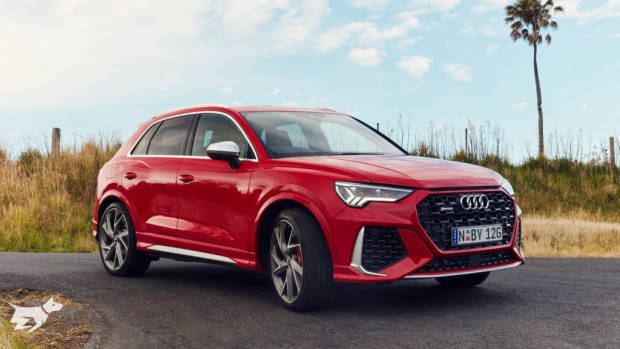 Inside, you get honeycomb-pattern fine Nappa leather upholstery, with the front seats sporting heating and electric adjustment, while the secondary trims are decked out in a classy mix of aluminium and alcantara – black as standard, though very bold blue and red alcantara packages are available for $2,500. These packages also deck out the steering wheel and shifter in (grey) alcantara – the tiller is trimmed in leather by default.
Audi's new MMI Touch technology interface is present in the easier-to-use 10.1" single screen format, while Audi Connect Plus provides a three-year 4G data SIM for satellite mapping, Google search, fuel prices, and other services – and the driver also enjoys a 12.3" configurable Virtual Cockpit digital display. There is wireless Apple CarPlay and wired Android Auto, plus a 16-speaker Bang and Olufsen 3D stereo. On the safety front, the RS Q3 is fitted with an extensive suite of technologies, including high-speed AEB, adaptive cruise control, lane keep assist, and a 360-degree parking camera.
What is the price of the new Audi RS Q3?
Given how sophisticated the new RS Q3 is to drive, and how extensive the list of standard features are It's clear that Audi Australia drove a very hard bargain with the factory, given the RS Q3 is priced at $89,900 (about $101,000 driveaway in NSW). We think this represents relatively good value for money for such a complete vehicle.
There are only a few options on the RS Q3 that cost extra. These include the coloured alcantara trim packages mentioned above, plus 19-inch carbon fibre-reinforced ceramic brakes ($10,600), carbon fibre trim for the door mirrors ($1,300), engine cover ($1,200), and interior surfaces ($850), a panoramic sunroof ($2,900), and black paint for the Audi rings ($700).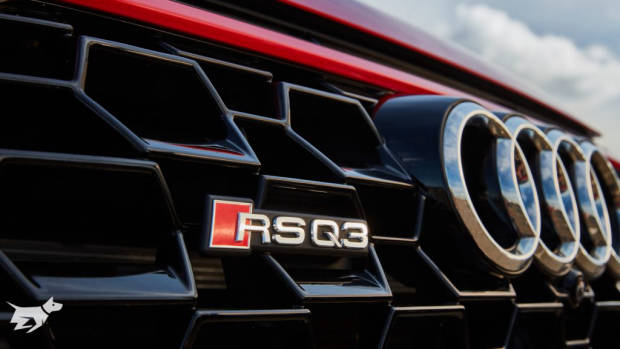 You can also replace the standard exterior 'black pack' with elegant 'matte silver' trims as a no-cost option, which was fitted to the 'Tango Red' car pictured here. We'd do that.
What is the RS Q3's interior like?
We think the new RS Q3 has the best interior in the small performance SUV segment – though, to be fair, this isn't a very large class, and the forthcoming second-generation Mercedes-AMG GLA 45 will continue to challenge Audi's best efforts.
However, in a clear counterpoint to Mercedes-Benz' rather glamorous interiors, Audi have stuck by their guns of designing more conservative cabins that employ high-quality materials and functional layouts. Given the RS Q3 is designed to be driven quickly over pockmarked Australian B-roads, we think a more restrained cabin makes sense.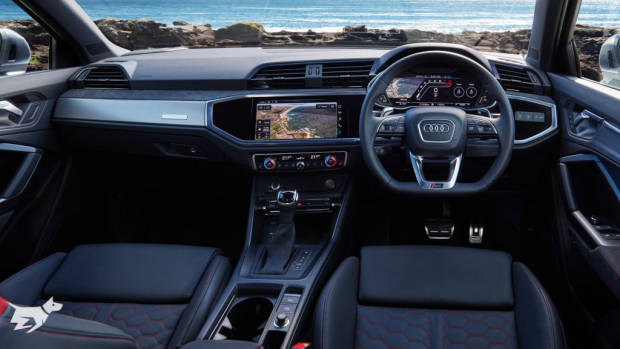 Unlike more expensive new Audis, the Q3 range utilises a more affordable single-screen version of this brand's new MMI Touch technology concept. Honestly, this is a good thing, leaving hard controls for the air conditioning, while the bright and crisp screen uses large touch points for navigation, media, and smartphone mirroring. Most functions can also be driven through the small-diameter flat-bottomed steering wheel.
There is a strong perception of quality in the new RS Q3's cabin. The doors close so solidly that sometimes we underestimated how much force was necessary. Various trim elements fit together with thin panel gaps, and because the Q3 does not have extensive plastic piano black pieces on the dash – unlike the new Q7 SUV, for example – there was no audible rattling across very poor road surfaces.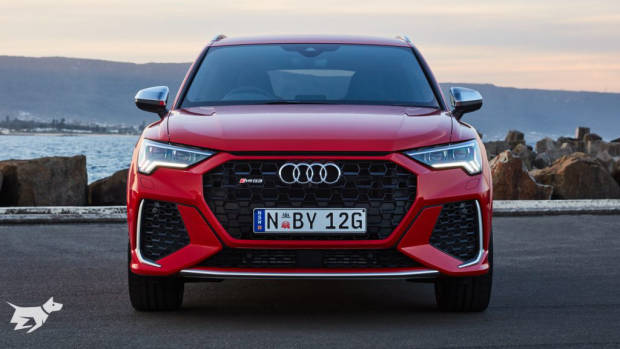 The RS Q3's seats are firm and supportive, in a European way, while the Nappa-grade leather is plush to the touch. Only black-coloured leather is available, though the optional coloured alcantara packages do add contrast stitching in either red or blue. While the driving position is raised, given the RS Q3's SUV status, it's not ridiculous, and you still feel connected to the road.
If you're going to be transporting people in the back seat with regularity, you'll want to opt for this wagon-bodied RS Q3, rather than the $3,000-dearer, slinkier Sportback shape that is mechanically identical. The standard RS Q3 offers excellent headroom for six-footers, while knee room and toe room is also acceptable. The rear bench slides fore and aft to prioritise legroom or boot space, and there are standard rear air vents and a flip-down armrest for those seated in the second row.
How big is the boot on an Audi RS Q3?
The RS Q3 has a large boot relative to the small SUV segment. Behind the standard electric tailgate, the RS Q3 packs 530 litres of space. While this figure is identical to the Sportback variant, which has a cutaway roofline, the standard RS Q3 actually offers more vertical space, and overall room with the rear seats lying flat is better in the conventional RS Q3 – which offers 1,525 litres in two-seat configuration.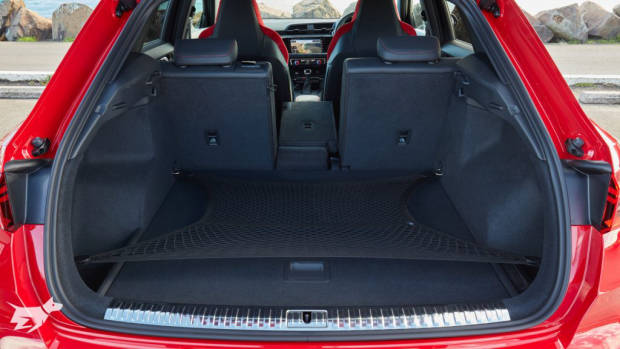 The back seats fold in a 40/20/40 configuration, meaning you are able to transport long items while still retaining four usable seats. Such items could include skis and snowboards – and the new RS Q3 would make a pretty rad companion for a trip to the snow via Australia's alpine roads.
What are the Audi RS Q3's running costs?
While running costs are variable, we can give you an idea of what it will cost to operate the Audi RS Q3 as a daily driver.
Our drive took in town and country roads, and we observed a real-world fuel use of 12L/100km in the RS Q3, which requires premium-octane fuels. If you drive 14,000 kilometres annually, and the price of premium petrol averages $1.50, you'd spend about $2,520 fuelling this 2.5-litre SUV each year.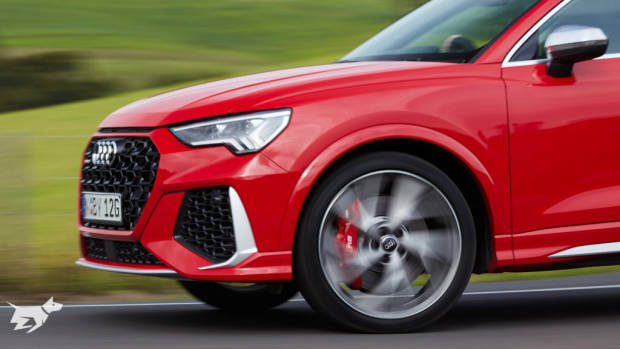 A three-year warranty applies for the RS Q3, which is shorter than Mercedes-Benz, who offer five years. Servicing plans for the RS Q3 can be purchased up front, at a cost of $2,320 for three years (averaging $773 per year), or $3,420 for five years (averaging $684 per year). These plans, which are transferable to subsequent owners, are a good way to control regular maintenance costs.
Which RS Q3 rivals should I consider?
It's always a good idea to test drive a number of cars to ensure you're buying a vehicle that you really love. In the case of the RS Q3, there actually aren't many direct competitors – but there are plenty of vehicles that offer similar thrills in a practical body.
You might prefer the racier RS Q3 Sportback variant (which costs $3,000 more), or alternatively, a last-of-the-line Audi RS3 sedan or hatch (from $83,436, or about $94,000 driveaway). The RS3 shares the RS Q3's 294kW/480Nm turbo five-cylinder engine, but with a much lower centre of gravity and Audi's previous interior that some people prefer.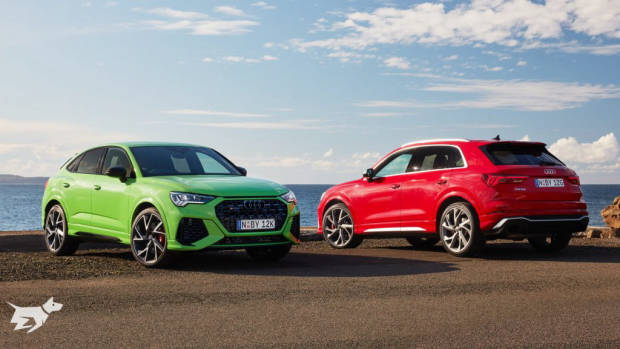 Mercedes-Benz will release their new GLA-Class small SUV later in 2020, which will include an AMG 45 variant that will produce 310kW/500Nm from its bespoke two-litre four-cylinder engine – or, Mercedes-AMG in Australia can already offer you a boxy, seven-seat small SUV called the GLB 35 ($88,535, or about $96,000 driveaway), though this vehicle produces 'just' 225kW/400Nm from its two-litre four.
BMW's fast small SUV is the X2 M35i, which produces 225kW/450Nm from its two-litre four-cylinder. The X2 isn't as resolved to drive as the new Q3, but the go-fast version is offered from a much lower price point in the M35i Pure trim that, at $64,900 (about $70,000 driveaway), handily sneaks in under the Luxury Car Tax threshold.
Or, you could consider a fast station wagon, like Audi's three-litre V6 S4 Avant ($102,900, about $113,000 driveaway), or the rather affordable Volkswagen Golf R wagon ($57,990, about $63,000 driveaway).
Should I buy an Audi RS Q3?
If what you want is a taller, broader hot hatch with a truly classic engine – yes, definitely. The 2020 Audi RS Q3 is a real accomplishment by this German luxury brand. For a reasonably attainable price, you get a handsome and well-appointed SUV with a characterful motor, serious straight-line performance, and great agility in the corners.