Our favourite British two-seater is now a fair bit more accessible: the addition of a standard manual transmission to the range means the Jaguar F-Type will list from under $120,000 for the 2015 model year.
$119,470 before costs and taxes will buy you a 'base' F-Type V6 coupe, its three-litre six putting out 250kW and 450Nm, channeled through the transmission that God intended: the six-speed manual.
Three models still make up a range that spans $142,000 from the base V6, through the V6 S mid-range models, to the quintessential V8 F-Type Rs.
While the stick shift makes the F-Type less expensive overall, it has the effect of pushing up the cost of most automatics in the range. The manual transmission is now standard on all rear-wheel-drive V6 and V6 S models, and on those cars, the formerly-standard eight-speed automatic, with paddle shifters, becomes a $5,000 option.
We specify rear-wheel-drive cars in the previous paragraph, because all-wheel-drive is now available on select F-Types: specifically, the ultra-potent 280kW V6 S that many believe is the sweet spot of the range, and the maniacal, supercharged 404kW V8 R.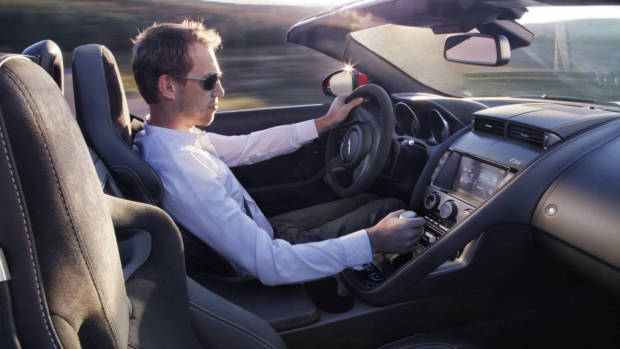 The 'Intelligent All-Wheel-Drive' system brings slight performance improvements – the V8 R coupe falls to a 4.1 second 0-100 sprint, from 4.2 seconds for the rear-driver – and in normal driving conditions, 100% of power is sent to the rear anyway, with a seamless transition of power to the front axles if conditions call for it.
That traction doesn't come cheap, though, with the all-paw set up an eye-watering $15,700 option.
Other additions to the sports car include louder Switchable Active Sports Exhaust becoming standard on all F-Types – the same goes for Torque Vectoring, which brakes the inside wheel when cornering to allow for quicker direction changes. Plus, a new electric power steering system steps in to reduce the car's emissions slightly.
Manual F-Types will hit our roads in July; the all-wheel-drive will be in time for those icy Australian winters, with deliveries starting April.
2015 Jaguar F-Type range: pricing
All prices are RRP list prices, before on-road costs or options.
V6 manual coupe: $119,470
V6 manual convertible: $138,170
V6 automatic coupe: $124,470
V6 automatic convertible: $143,170
V6 S manual coupe: $151,770
V6 S automatic coupe: $156,770
V6 S automatic coupe AWD: $172,470
V6 S automatic convertible: $175,470
R automatic coupe: $226,970
R automatic convertible: $245,670
R automatic coupe AWD: $242,670
R automatic convertible AWD: $261,370