For 2016, buyers of the BMW M3 will enjoy a more generous feature set with a lower price. BMW are pitching the M3 aggressively at $139,900—a ten percent price drop—to compete with the fiery Mercedes-AMG C63 AMG S, which is now nearly $15,000 more expensive than the BMW.
Similar updates and price drops also apply to the M4 coupe and convertible: read our BMW M4 2016 price and specs article here.
What's under the bonnet in the business end of the BMW M3 changes little. BMW ruffled enthusiast's feathers when it switched back to six-cylinder power for the M3, and it's doubling-down. The three-litre turbocharged straight six remains, with outputs steady. Power is 317kW at 7300rpm, while 550Nm of torque is available broadly, from 1850rpm right through to 5500rpm.
Those numbers remain good for 4.1 second sprints to 100. However, for performance buyers seeking outright grunt, the C63 AMG's 375kW and 700Nm are even more appealing.
BMW Australia's head of product and market planning, Shawn Ticehurst, points to the M3's numbers as proof of its competitiveness. '[BMW M division has] already surpassed our total sales result for 2014', Ticehurst told Chasing Cars.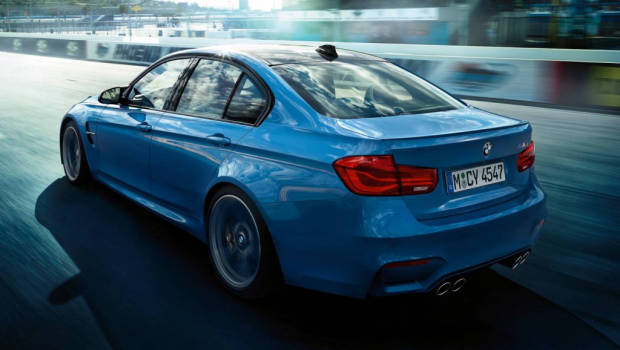 Slight appearance changes to the M3's exterior and interior are similar to those on the revised BMW 3 Series line.
Outside, BMW are emphasising a move towards full LED lighting. The M3 gains full-LED tail lights, and round LED daytime running lights. Adaptive LED headlights, previously an option, are now standard fit.
Inside, minor changes to the appearance are complimented by more generous features. Full Merino leather is now included and rolls across the dash, instrument panel, door sills and glovebox as well as the seats. There are also new chrome accents.
A number of advanced safety technologies are now thrown in as standard. The BMW Driving Assistant package was previously a cost option: the 'light' autonomous emergency city braking, forward collision warning, lane departure warning, and head-up display are now included.
The infotainment system also gains BMW's ConnectedDrive Freedom and Remote Services apps out of the box. That includes handy features like remote unlocking and locking for your M3; Google's send-to-car GPS directions; the ability to find your car with your smartphone through a BMW app' and real-time traffic updates on the go.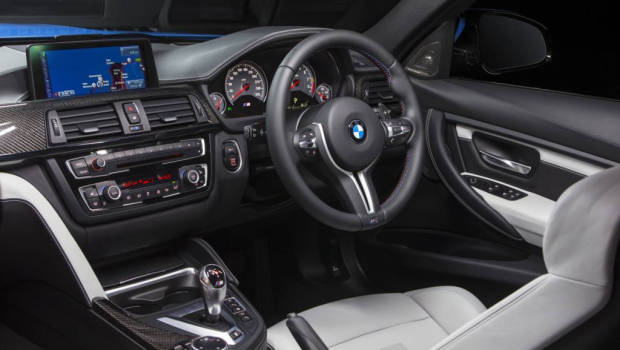 Maintenance is simplified with BMW now offering the ability to prepay servicing costs with a programme called BMW Service Inclusive. BSI is available in both Basic (scheduled services only), and Plus (scheduled visits plus some extra maintenance). The packages start at 3 years / 60,000 kilometres, but BSI is both extendable and transferrable to a new owner.
New standard features of the 2016 BMW M3
Tyre pressure monitor
Head-up display
Lane change warning
Driving Assistant (advanced safety technology)
Adaptive LED headlights
ConnectedDrive Freedom apps
Internet
Full Leather Merino leather
2016 BMW M3: Australian price