Mazda's mid-size CX-5 SUV remains extremely popular with Australian families, and for 2015 it receives a facelift outside and in, aimed at staving off newer competitors – including the increasingly successful Jeep Cherokee.
In addition to receiving new equipment, prices across the range fall – with the cost of a base CX-5 falling by over $600 since the car was introduced in 2012.
The Japanese brand have moved nearly 60,000 CX-5s in about three years – and while an all-new model should arrive within the next three, Mazda have issued much-needed cabin updates – including a larger seven-inch touchscreen infotainment system, plus some subtle exterior changes – to keep the model fresh.
Under the skin, the CX-5's safety credentials are significantly bolstered with the addition of new i-Activsense safety technologies, which are branded as 'Safety' trims – but are standard in flagship CX-5 Akera models. This suite of technologies includes active lane-keeping assistance, driver alertness monitoring, autonomous emergency braking (including for reversing movements), and active cruise control.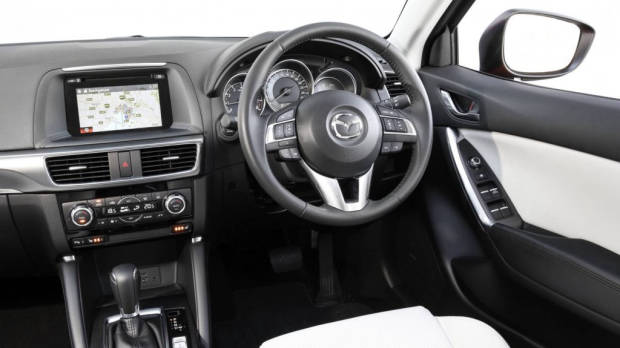 The suspension – already among the best in class – receives minor updates to flatten cornering further, while the three Skyactiv engines carry over: two petrols (a 2.0-litre front-driver and an all-paw 2.5-litre), and one 2.2-litre turbodiesel.
Two new colours also set the refreshed CX-5 apart: Sonic Silver and Titanium Flash. However, the attractive Soul Red hue remains as a $200 option.
2015 Mazda CX-5 range: pricing
All prices are RRP list prices, before on-road costs or options.
2.0-litre petrol, front wheel drive
Maxx manual: $27,190
Maxx Safety manual: $28,420
Maxx automatic: $29,190
Maxx Safety automatic: $30,420
Maxx Sport automatic: $32,790
Maxx Sport Safety automatic: $34,020
2.5-litre petrol, all-wheel-drive
Maxx automatic: $32,190
Maxx Safety automatic: $33,420
Maxx Sport automatic: $35,790
Maxx Sport Safety automatic: $37,020
GT automatic: $43,390
GT Safety automatic: $44,450
Akera automatic: $47,410
2.2-litre diesel, all-wheel-drive
Maxx Sport automatic: $38,990
Maxx Sport Safety automatic: $40,220
GT automatic: $46,590
GT Safety automatic: $47,650
Akera automatic: $50,610