The all-new Volkswagen Amarok – twinned in its development with the Ford Ranger – is edging closer to its expected 2023 unveiling.
Russian render specialist Kolesa.Ru imagined what Volkswagen's incoming ute will look like using information from concept sketches released by the carmaker over the past 18 months.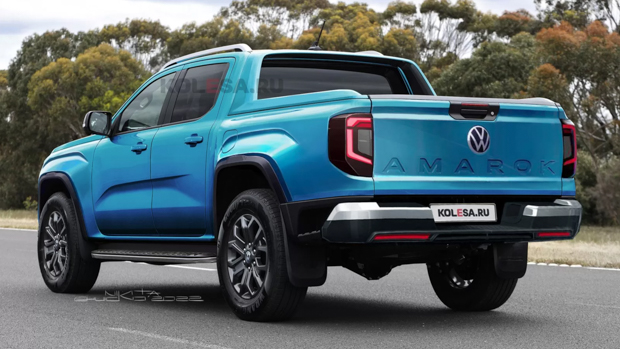 This Amarok imagination anchors itself back to the original with its angular wheelarch flares, though they now flow better into the beefy bodywork.
There is also clear inspiration from the Ranger at the rear where the 'AMAROK' lettering has been set into the tailgate with a prominent VW logo above.
Moving to the front the nose is slicker than before. There is a clear reference to the outgoing Amarok's grille, but it's been toughened up for a face closer to the American-built Chevrolet Silverado.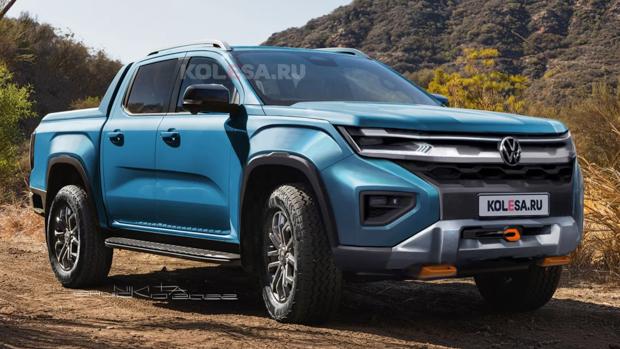 The Amarok's blue paintwork is set off by orange recovery points and what appears to be an integrated winch – these are features lifted from Volkswagen's design sketches showing an Amarok sliding through the snow.
That snowy sketch with Amarok's fat all-terrain tyres and extra off-roading addenda suggesting Volkswagen could be considering a super ute to rival the Ranger Raptor in the future.
The render here may be merely an imagination of what the Amarok will look like, but with solid details of the new Ford Ranger we can make educated guesses about what the Amarok will offer.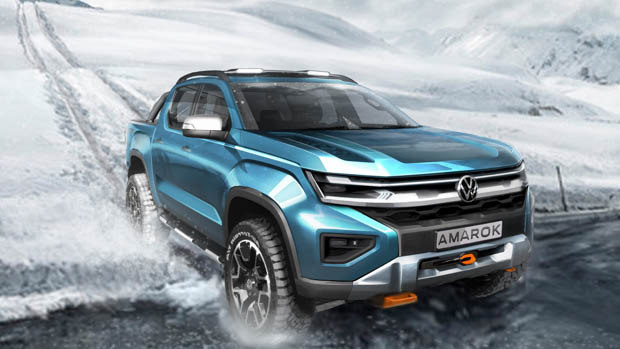 Firstly, the new Ranger can fit a pallet in the tray – something that made the previous Amarok stand out in its class. The new Ranger also rides on a 50mm longer 3270mm wheelbase which is expected to carry over to the Amarok.
Under the bonnet the Amarok has always offered a 3.0-litre turbo-diesel V6 but for the first time Ford's Ranger will score a 190kW/600Nm V6 sourced from the North American F-150.
It is yet to be confirmed whether the Amarok will use the same engine as the Ranger, or instead use a Volkswagen Group engine (as it does currently), perhaps with a bump in its 180kW/580Nm outputs to match the Ford product.