If you've always wanted to drive to the North Pole and want to travel there in complete comfort, a Toyota Land Cruiser 300 Series is probably the best vehicle for the job.
Already developed to conquer any challenging terrain that it encounters, the new 300 Series is a perfect starting point, however Arctic Trucks intend to take things to the next level.
While exact Arctic Truck specifications for the 2022 Land Cruiser have not yet been released, we can speculate that the 300 Series would gain a serious set of off-road tyres to help navigate tricky conditions such as the deep snow of the Arctic.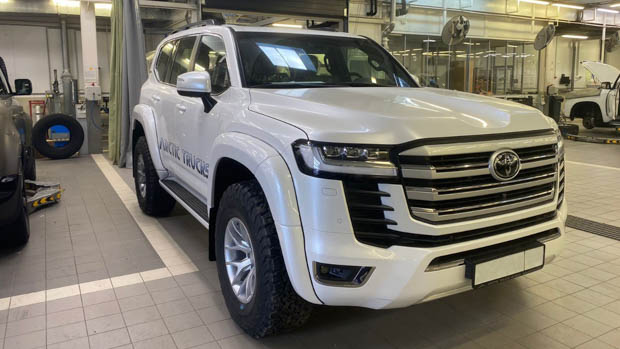 Pictures from the Middle East show that 35-inch tyres are fitted, matched with ride height that appears to be almost standard.
The Hilux version, which was made famous in the TopGear Polar Special, used massive 38-inch tyres on smaller 15-inch rims.
Tyre pressures are dropped to just 5psi when on soft snow which helps to spread the contact patch. For other surfaces, 10psi is used, however that is still alarmingly low!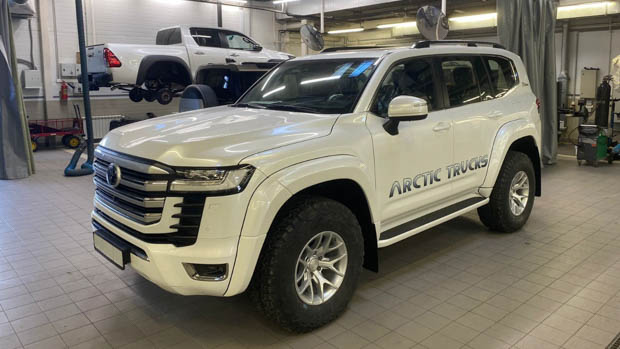 Other modifications needed for the Arctic Truck conversion on the Hilux included a suspension lift, wheelbase extension and heavy modification to the bodywork, although it's unknown whether this has been done to the new Land Cruiser 300 Series.
In order to fit such large tyres, the team at Arctic Trucks have to cut new wheel arch flares to accommodate the expanded size.
Arctic Trucks usually keep the engine specification 'stock' but there is plenty of grunt already from the new Land Cruiser's twin-turbo diesel V6 engine – ample amounts to traverse tricky terrain. The 3.3-litre unit makes 227kW of power and 700Nm of torque (from 1600-2600rpm).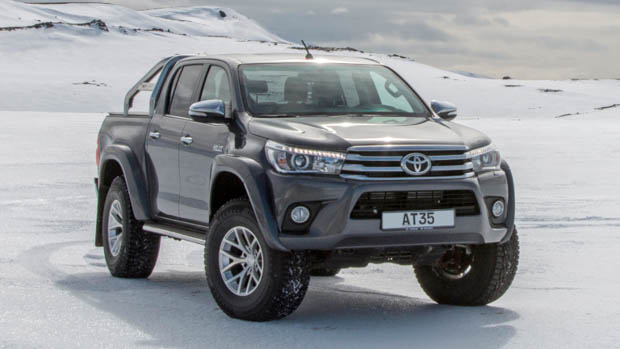 The 10-speed automatic gearbox also lends itself to smooth operation and ease of control in low speed situations – perfect for snowy conditions.
Back in 2011, the Hilux 38-inch conversion would set you back around US$30,000 on top of the price of the stock-standard ute. Prices are likely to have skyrocketed since then, so if you're interested, make sure you have deep pockets … and that's just for the Land Cruiser 300 itself!