A battery electric Toyota Hilux, using today's technology, simply wouldn't have the range, towing capacity or off-road abilities to rival our current diesel dual-cabs.
However, hydrogen fuel cell technology could be the answer, so the importance of this British-built, hydrogen-fuelled Hilux prototype pick-up can't be understated.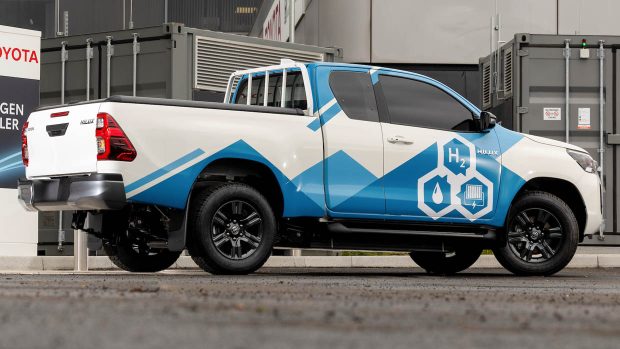 Pictures of the first example have now been shown, and ten are intended to be built before the end of the year.
And, ultimately, a full production hydrogen Hilux is the plan.
Toyota says these ten prototypes will "undergo rigorous testing around the world to ensure safety, dynamic performance, functionality and durability meet the high standards required of a production model."
It has an expected driving range of more than 590 kilometres, which is "significantly further than might be achieved with a battery electric system," the Japanese giant said.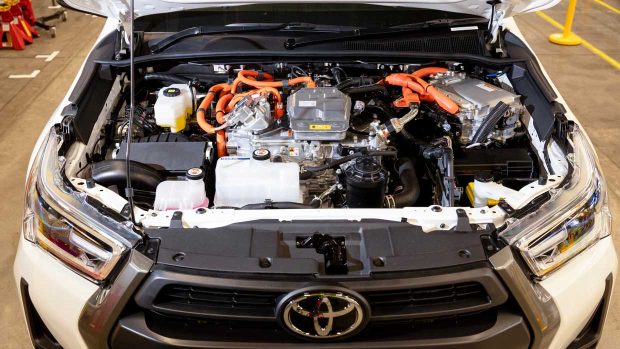 Toyota has long preached the benefits of a "multi-technology strategy" for achieving its global aim of being carbon neutral by 2050.
Its powertrain solutions include hybrid electric, plug-in hybrid electric, battery electric and fuel cell electric, with each targeting different user needs and operating environments worldwide.
What do we know about the hydrogen Hilux?
The UK-built Hilux Extra Cab has ditched the diesel and taken the core elements from Toyota's Mirai hydrogen fuel cell electric sedan. 
The rear-wheel-drive vehicle uses three high-pressure fuel tanks, mounted low in the chassis, beneath the Hilux's floor. An on-board battery, which stores the electricity produced on-board by the fuel cell, is mounted in the rear load deck.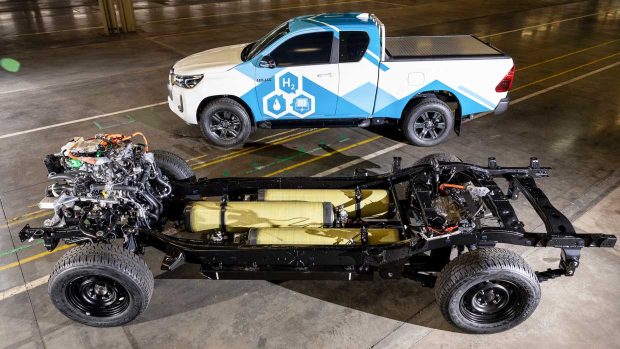 Toyota hasn't said as much, but while this doesn't compromise cabin space, it could mean sacrificing tub room. Its images (conveniently) shows the Hilux with a roller canopy over the tub, concealing what's inside.
While performance figures haven't been revealed, the second generation Mirai offers 134kW/300Nm, powered by three hydrogen tanks which take around three to five minutes to refill using a commercial refueller. Tailpipe emissions are only pure water.
The official range for the Mirai is quoted at 650km but Toyota staff have travelled up to 1360km on a single 'tank' in a previous record attempt. 
The hydrogen Hilux has been produced by a consortium led by Toyota Manufacturing UK at its vehicle plant in Derby, England. It received UK Government funding via the Advanced Propulsion Centre (APC).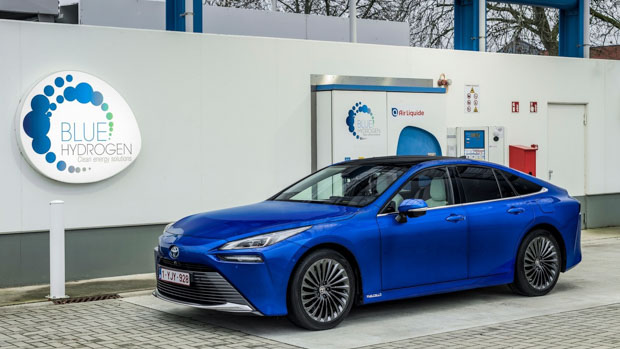 Toyota Australia wants a capable zero-emission Hilux
A Toyota Australia showcase event earlier this month showed the brand's Hilux Revo BEV Concept. 
This Thailand-built concept is a full electric two-wheel-drive single-cab ute that is "short range and city-focused," said Toyota Australia's vice president of sales and marketing, Sean Hanley.
While this vehicle has been evaluated by Toyota's local engineers, it's a ute aimed squarely at the South East Asian market, although an Australia launch wasn't ruled out.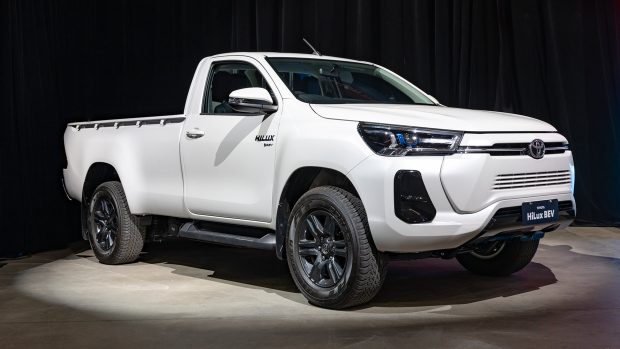 Our market really demands an electric Hilux that would closely match the abilities of the diesel version.
"What I'm really hanging out for is exactly the same thing everyone's asking the question about," Hanley said. "A load-carrying, trailer-towing, remote area, off-road Hilux 4×4 with zero tailpipe emissions. What a vehicle that would be."
Stoking the fire of expectation, Hanely said such a vehicle was possible, and the UK's hydrogen Hilux was a more realistic zero emissions solution than battery electric.
"Hydrogen provides great range, it's totally carbon neutral and it can tow," he said. "And it can handle big and heavy stuff."
Toyota has long championed hydrogen as an alternative fuel, evidenced by the Mirai now in its second generation. Holding the technology back, for now, is the required infrastructure.
"The hydrogen horizon I think is around 2030 [or] 2035," Hanley said. "Only because of infrastructure, not necessarily because of technology."
With Australia being a major Hilux market – and the model our best-selling vehicle nationally – it would seem likely one of the UK's hydrogen Hilux prototypes will come to Australia for the aforementioned worldwide testing.