The Toyota HiAce is one of the most respected workhorses on Australian roads and despite the dominance of the dual-cab ute, it's still a popular favourite with tradies who need all their gear, all the time.
A big part of this popularity is down to two factors: reliability and practicality. But with the rise of Toyota's Gazoo Racing sub-brand, there seems to be no reason why this appeal can't be broadened.
The GR HiAce shown here is the latest in a series of renders that our designers have created with other examples including the GR RAV4 midsize SUV, GR Corolla hatch and GR HiLux dual-cab ute.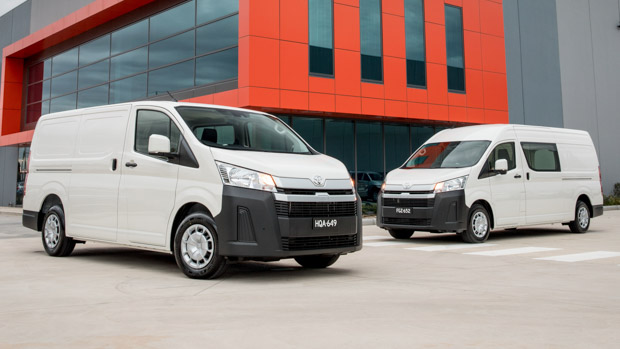 Breaking down the design of the GR HiAce:
Our render and suggestions for the GR HiAce adopts features we've seen on existing go-fast models such as the GR Yaris and design components from the styling-focused GR Sport models.
Taking inspiration from the GR Sport version of the Toyota Voxy people mover sold in Japan and the HiAce sold here, we wanted to create a van that is stylish, functional and fun.
Starting at the front, we've removed the huge halogen lights and inserted a set of sleek, split LED headlights with a honeycomb grille nestled in between.
The badge has been removed, because the GR HiAce shouldn't need to introduce itself, and the lower bumper has been revised to be far more aggressive.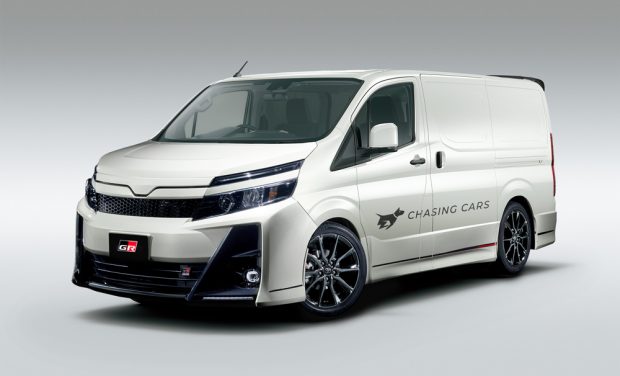 With aggressive design lines in the bumper borrowed from the C-HR small SUV with the GR Sport package, the side pods house LED foglights and provide cooling channels for the front brakes.
Down the side, our designers have enhanced the body kid to make it look less like a box with some subtle body lines, we've also kept the sliding doors so it won't be confused with a minivan.
Placed at all four corners are the 18-inch wheels wrapped in thicker 235mm tyres and a small rear spoiler to complete the more aggressive look.
We've also kept the big antenna, because a work vehicle that isn't able to blast 'Back in Black' on Triple M at all times shouldn't even be road legal.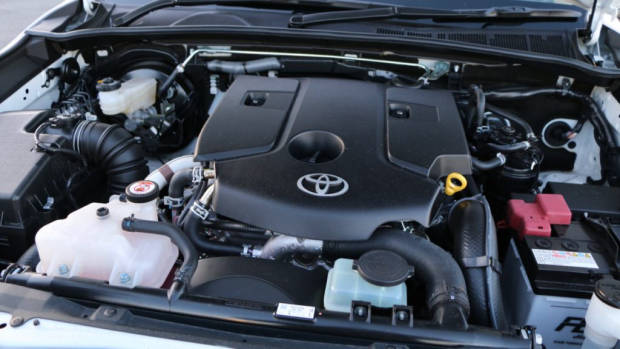 What's under the bonnet?
The question of what powers the GR HiAce depends entirely on what it's used for and while it may not be popular among some folks we think that answer is electric – but I'll start with some more traditional options first.
The HiAce is currently available in Australia with a sole engine choice in the 2.8L turbodiesel making 130kW of power and 450Nm of torque but the larger 3.5L petrol V6 developing 207kW/351 Nm has now been discontinued.
Both send power to the rear wheels and are available with a six-speed manual or torque converter automatic transmissions.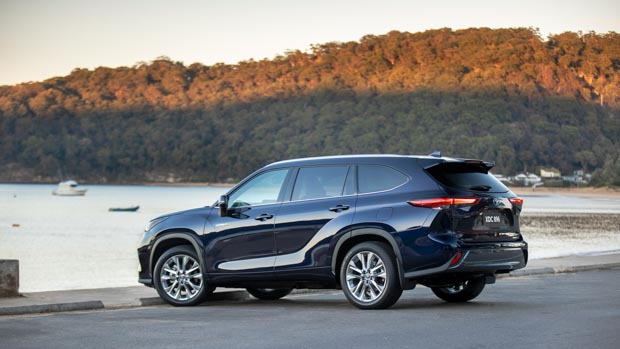 The petrol V6 is the most sporting of the two, and enjoys a higher 218kW state of tune in the Kluger large SUV, which suggests there is plenty of potential left for more power.
Lotus runs a highly modified version of this engine in the Exige and with the addition of a supercharger turns these outputs up to 321kW/440Nm.
With the numbers turned down to around 300kW/420Nm to help preserve some reliability, engineers could match this engine with the Kluger's all wheel drive system to make it a seriously rapid beast.
The second option is the new 3.5L twin-turbo V6 found in the recently-unveiled 300 Series Land Cruiser which has significantly more torque at 305kW/650Nm.
While these options are likely the most realistic and pretty darn quick, they wouldn't be the best on fuel and while that may be fine for private buyers when you're driving all day, every day that's an expense that's hard to look past.
For this reason, we think Toyota should opt for a more potent version of the hybrid powertrain found in the Kluger, which pairs a 2.5L four-cylinder engine coupled with three electric motors – with two in the front and one in the back.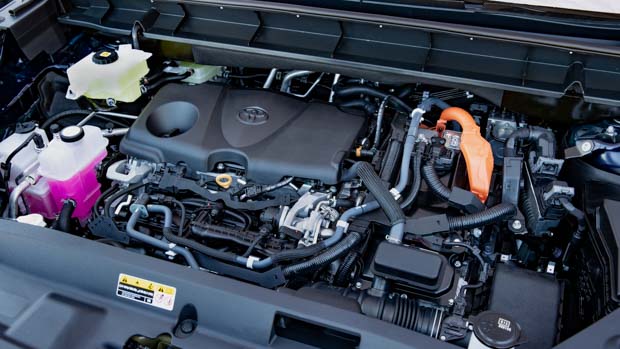 Power tops out at 184kW in the all wheel drive model, but this will need to be bumped up to at least 250kW to make it a viable performance option, which could be done through the use of stronger electric motors and a tune for the petrol engine.
Toyota announced recently that it would launch at least seven new battery-electric cars before 2025 and we think the HiAce should be one of them.
Alongside a more pedestrian version for the sensible folk, a fully-electric GR HiAce equipped with all wheel drive pushing 270kW/550Nm would be a fast and relatively affordable van to run.
It will need to have at least 500km in range and the underfloor batteries will take up some storage space – but don't underestimate the packaging ability of Toyota's engineers.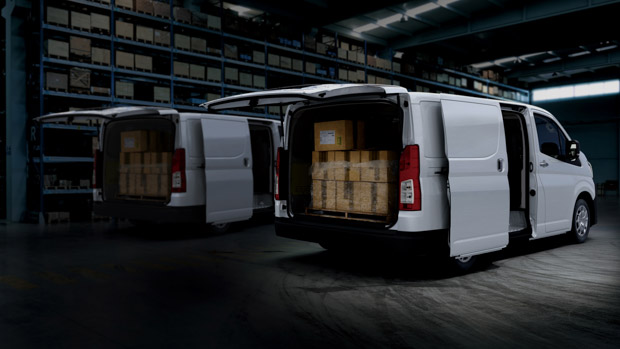 Will Toyota actually make a GR HiAce?
It's hard to tell if an angrier version of the HiAce will come to fruition and if it did it would likely follow the development of SUVs like a GR RAV4 which would sell far more widely.
As far as we can see no one has yet put the question to Toyota if a GR HiAce would be built but in a recent interview Bob Carter, the executive vice president of sales for Toyota North America told US publication Motor Trend they were focusing on cars for now.
"The importance is exhilarating driving. When you go to SUVs you have higher centre of gravities and it's just not conducive," said Mr Carter.
"Nothing is off the table, but initially you can expect it to be a car-based vehicle. There's still a market for that."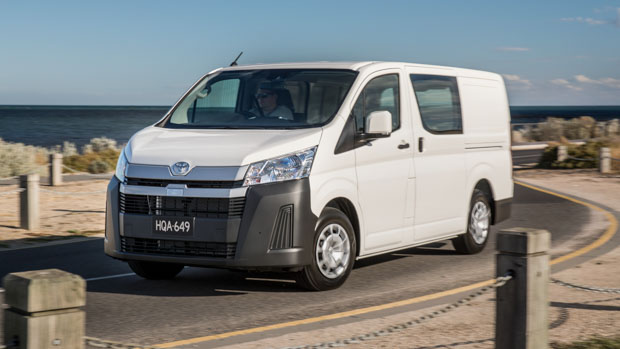 If a GR HiAce was to eventuate it likely wouldn't be running on electric power, after Toyota Australia's vice president of sales and marketing Sean Hanley gave strong indication the company was sticking with combustion power in the GR range.
"Our approach reiterates Toyota Australia's absolute commitment to reducing its CO2 footprint and the adoption of new technologies across our extensive range of vehicles, whilst recognising the different practical needs of Australian customers and geographies."
Regardless, if a sporting version of the HiAce was to eventuate it would be in a class of its own and may even draw back some fans from the 4×4 and SUV-loving crowd.