Set for an Australian arrival in December 2017, the veils have been lifted on the 2018 Range Rover Velar overnight ahead of a public debut at the 2017 Geneva Motor Show. The five-seat Velar is priced and sized to fit between the more compact Range Rover Evoque, and larger, seven-seat Range Rover Sport.
Based on the Jaguar F-Pace's rear-wheel-drive iQ-Al platform, the Velar blends a slick interpretation of traditional Range Rover design cues with dynamic links to the Velar's Jaguar cousin. Underneath the contemporary look, which borrows the Jaguar F-Type's deploying door handles, sits a shared rear-biased layout from the F-Pace, and a variety of engines from the Jaguar and Land Rover pool.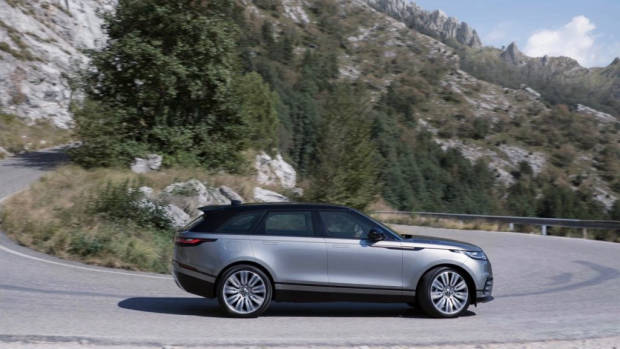 Australian pricing has been announced well ahead of expectations. A base model Velar will set buyers back $70,300 at launch, while a supercharged V6 will command $135,400, all before on-road costs and option selection. As is traditional for new Jaguar and Land Rover models, a well-optioned Velar First Edition will be offered at launch, carrying a premium $167,600 price.
At 4.8 metres in length and 1.93 metres in width, the Velar isn't far off the dimensions of a Range Rover Sport – but with a thoroughly modernised aesthetic and more athletic profile, the Velar represents a coordinated assault on a range of sports-focussed European SUVs. The Porsche Macan, BMW X4 and X6, and Mercedes-Benz GLC and GLE Coupés are all firmly in the Velar's sights.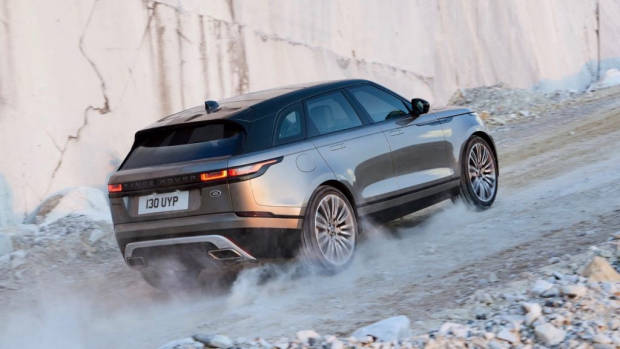 Six engines will be available, including two flagship six-cylinders. At the top end, the Velar will be offered with two very familiar JLR sixes: a twin-turbo 221kW, 700Nm diesel, or a supercharged 280kW, 450Nm petrol.
However, it's likely the bulk of sales will fall into the four-cylinder camp. Two 2.0-litre diesels will be available – the 132kW, 430Nm tune from the Jaguar XE, and the 177kW, 500Nm version recently added to the Range Rover Sport lineup. A 184kW, 365Nm two-litre turbo petrol will be available at launch, with a quicker 221kW, 400Nm edition arriving early in Australia in 2018.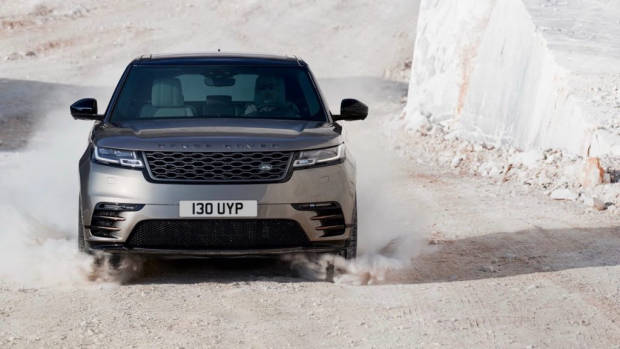 The quickest Range Rover Velar – the supercharged V6 petrol – will sprint to 100km/h in 5.7 seconds but those wanting more scintillating performance will have to hold out for a future Velar SVR model. There's strong potential for such a car, which might feature a V8 engine.
Unlike the F-Pace, which is available with either rear-wheel-drive or all-wheel-drive, the Velar will be exclusively fitted with all-paw grip to reinforce the Range Rover off-roading image, though the Velar will not be able to match the trail capability of its more expensive sibling, the Range Rover Sport. However, Land Rover's Terrain Management AWD control system and hill descent control will both be fitted to the Velar.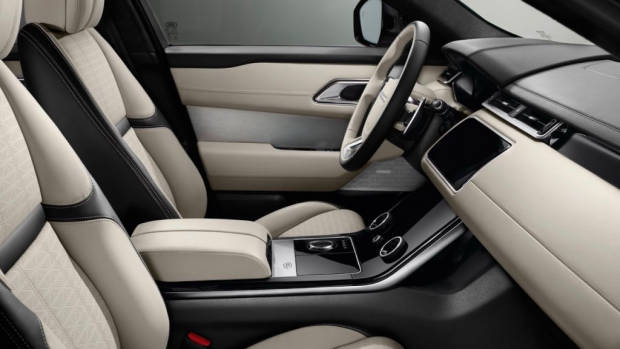 Inside, the Velar moves Range Rover's interior design game forward with a vastly modernised centre stack. A new version of Jaguar Land Rover's infotainment will be offered for the first time on the Velar. It's called Touch Pro Duo, and it pairs two 10-inch screens stacked vertically. The top screen manages navigation, media and telephone connectivity while the lower allows control of the climate functions and Terrain Response. Physical knobs are integrated into the lower touchscreen for easier use while on the move – and there is a real volume knob, too.
A 12.3-inch digital driver display will be available – likely paired with the Touch Pro Duo option – while a 23-speaker, 1,600 watt Meridian Reference stereo – likely priced above $10,000 – will be available for audiophiles. Three other stereo setups will also feature.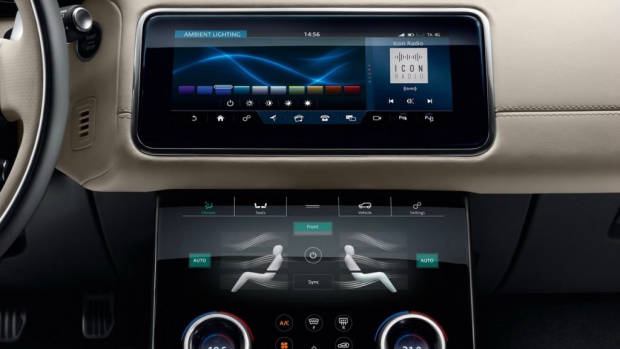 Matrix-Laser LED headlights make their Land Rover debut on the Velar, with a beam that can stretch 550 metres, while a full suite of advanced safety features can be fitted. It remains to be seen how much of it JLR Australia will make standard, but the global palette of safety technology includes autonomous emergency braking, adaptive cruise control, lane keep assist, attention assist, rear cross traffic alert, an around-view camera, automated parking, and towing assistance.
Room for five is said to be generous, as is cargo capacity. The boot measures in at over 600 litres with the back seats in place, or over 1,700 litres with those seats folded.
We'll have more information on the 2018 Range Rover Velar as the vehicle approaches its international and local launches later this year.