Mazda will launch its first ever plug-in hybrid model – the CX-60 e-Skyactiv PHEV – in 2022, along with two other all-new powertrains.
In-line six-cylinder engines will debut in the CX-60 for the first time in the company's history, which Mazda claims will be as efficient as its existing four-cylinder engines.
ALL OUR MAZDA CX-60 REVEAL CONTENT: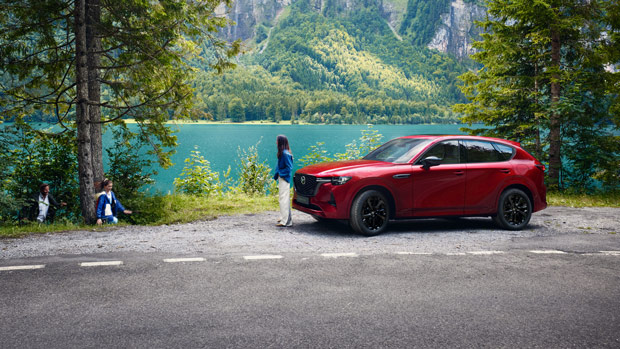 Mazda's first plug-in hybrid
Starting with a modified version of Mazda's existing 2.5-litre four-cylinder petrol engine, the plug-in hybrid (PHEV) pairs a 100kW electric motor with a 17.8kWh lithium-ion battery.
On its own, the 2.5-litre petrol engine develops maximum outputs of 141kW at 6000rpm and 261Nm of torque. When paired to the electric motor, total system output is an impressive 241kW/500Nm – making it the most powerful production Mazda ever produced.
The CX-60 PHEV will be able to sprint from 0-100km/h in 5.8 seconds, which is 0.5sec quicker than an Audi Q5 45TFSI quattro.
Combined fuel consumption for this powertrain is an impressive, WLTP-measured 1.5-1.6L/100km. The electric motor can provide up to 60km of electric only range when driven at speeds below 100km/h, and when charged with normal 240-volt AC means, the CX-60's battery can go from zero to full in just four hours.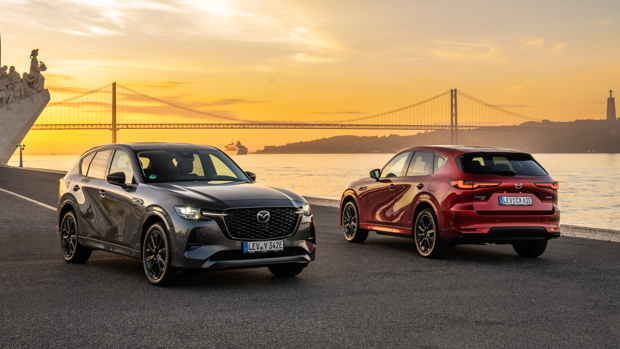 All-new six-cylinder engines
While detailed technical details are yet to be revealed, Mazda will also offer both petrol and diesel straight-six, longitudinally mounted engines in the CX-60.
The diesel will be 3.3 litres in capacity and will feature several new technologies while almost certainly being turbocharged Mazda has implemented egg-shaped combustion chambers that result in a greater lean burn area with minimal unburnt residue, and the engine's simple design structure results in an overall weight similar to a conventional four-cylinder diesel.
A 3.0-litre petrol straight-six – called 'e-Skyactiv-X' – will also be available. Like its four-cylinder namesake, this engine will be naturally aspirated and feature compression ignition. Mazda says that the larger swept capacity has removed the need for turbocharging, and that the petrol straight-six achieves the same fuel efficiency as the four-cylinder Skyactiv-X.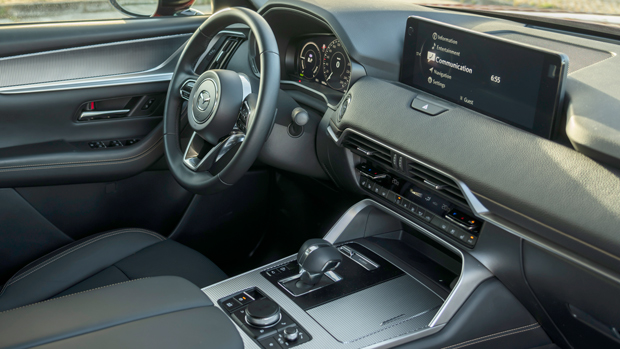 Both petrol and diesel six-cylinder engines will feature mild-hybrid assistance in the form of a 48-volt system.
Power and torque figures for these straight-six engines have not been revealed, however it is expected they will follow closely after the initial launch of the CX-60, which is roughly a month away.
Chasing Cars estimates that the 3.3-litre diesel six will produce around 200kW/600Nm, and that the petrol six is likely to produce around 230kW/350Nm.
Mazda will introduce an eight-speed dual-clutch automatic transmission that "offers drivers smooth and responsive gear shifting with clear, smooth gear steps" for these powertrains.
Mazda says that the new dual-clutch shifts like a torque converter automatic (via planetary gears and multi-plate clutches) but has a multi-plate clutch (instead of an hydraulic converter) as an input clutch, as well as an integrated electric motor/generator.