Ensuring that no niche goes unfilled, Mercedes-Benz is bringing a premium touch to the small wagon market. The CLA Shooting Brake, which sits on the same platform as the A-Class hatch and CLA sedan, drops in Australia this June. It's significantly smaller than the C-Class wagon, but demonstrates the attractive lines of the CLS Shooting Brake upon which it is modelled.
Each Shooting Brake represents an additional $1,500 cost over the sedan, and the range does top out with a Shooting Brake version of the CLA45 AMG hero.
That's a cost we'd bear, though, as the Shooting Brake's flowing lines improve significantly on the awkward four-door CLA. There is some additional practicality, too, though not too much – as the sloping roof cuts away boot space.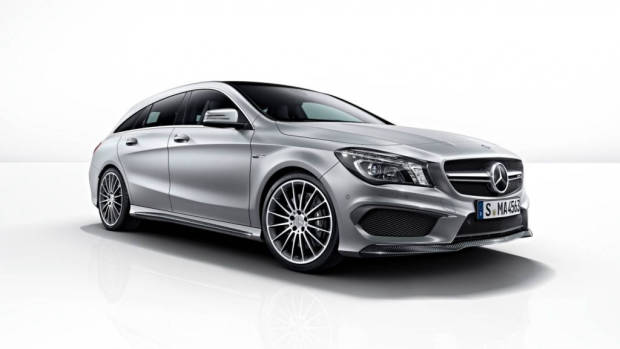 The range is split across the four engines shared with the CLA sedan, with equipment levels increasing as you dial up the displacement. The range kicks off at just over $52,000 before costs with the turbo-petrol CLA200 (115kW and 250Nm). The base diesel, the CLA200 CDI, adds $500 but kicks combined fuel economy down to an ultra-low 4.3L/100km while pushing out a grunty 300Nm.
The CLA250 4MATIC appears to be something of a sweet spot. Producing 155kW and 350Nm, the higher-output petrol will set you back $66,400, but you're getting the sweeter, punchier engine. Plus, the AMG line is bundled in, including an AMG-tuned suspension, larger wheels, and the AMG line body kit.
If what you need from your small premium wagon is devastating performance, there is a ninety-grand CLA45 AMG. The two-litre petrol was the most powerful four-cylinder production engine when it was created and it remains a monster: 265kW will do that, paired to 450Nm of torque. 100 comes up in just 4.7 seconds before the speed limiter kicks in at 270km/h.
2015 Mercedes-Benz CLA-Class Shooting Brake range: pricing
All prices are RRP list prices, before on-road costs or options.
CLA200: $52,400
CLA200 CDI: $52,900
CLA250 Sport 4MATIC: $66,400
CLA45 AMG: $89,900