The Tesla Model 3 had a strong European sales year in 2021, climbing the charts to become the 17th best-selling vehicle overall ahead of popular nameplates such as the BMW 3 Series and Volkswagen Tiguan midsize SUV. 
According to JATO dynamics, 141,429 Tesla Model 3s were sold across Europe in 2021, representing a huge 64 percent increase over 2020, with the electric sedan finishing just behind the Skoda Octavia in the sales charts.
This also means the Model 3 is the most popular battery-electric vehicle in Europe, though the second-place Peugeot 208 small hatch and eighth-place Opel Astra are two notable models that offer EV variants alongside combustion-engined models. 
It would be great if we could compare Tesla sales in Europe to its performance in Australia, however the American electric carmaker does not report its sales numbers to our Federal Chamber of Automobile Industries (FCAI) because it isn't mandatory. 
Instead, we only have an estimate from Tesla's shipping and tracking partner, VedaPrime, that placed Model 3 Australian arrivals at around 10,000 units between January and November 2021.
The Tesla Model 3 is now the best-selling EV-only vehicle in Europe, and finishing in 17th place overall for a car that is considered premium (priced in Australia from $59,900 before on-road costs) is a strong result in a market typically dominated by small cars and small-ish SUVs. 
In first place for 2021 was the evergreen Volkswagen Golf, shifting 205,408 units and contributing to Volkswagen's continued dominance – the German marque sold 1,273,892 cars in 2021, whereas the next biggest brand, Peugeot, managed 727,973 sales.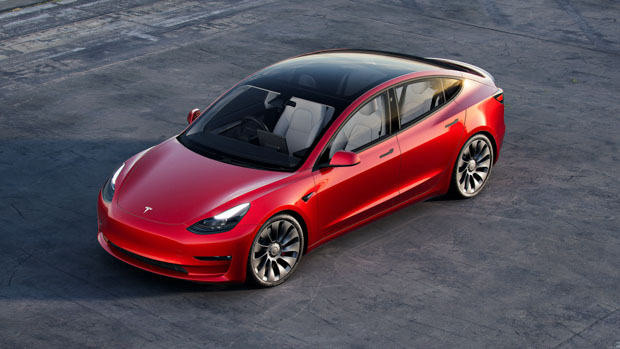 With only the Model 3 and Model Y as true volume-sellers in Europe, Tesla was never going to trouble Volkswagen's overall success – managing a total of 167,969 units. 
But in its respective segment, the Tesla Model 3 performed strongly – outselling the BMW 3 Series (116,250 sales), which makes the Tesla not only the best-selling EV but also the most popular premium midsize car in Europe.
The Model 3's 2021 result represents a significant 64 percent increase on 2020 sales, though compared to 2019 the increase reduces to 48.8 percent, likely due to supply shortages and lockdowns that have affected most manufacturers throughout the Covid-19 pandemic. 
Why do we not know how many Teslas were sold in Australia?
It is up to Tesla to report its Australian sales to the FCAI to be included in the official end-of-month report, however doing so is not mandatory.
According to Canberra Times journalist Peter Brewer, Tesla retains lobbying power as a member of the FCAI, though unlike every other carmaker in Australia, the American EV specialist does not pay the additional charges to be included in the monthly VFACTS sales report.
That means total electric vehicle sales reported by the FCAI are skewed. With only 5149 EVs reported in the 2021 annual sales figures, electric cars account for 0.5 percent of total new sales. With Tesla sales included, that number would triple, and sit at around 1.6 percent share.
Speaking to the media in November 2021, FCAI CEO Tony Weber claimed that Tesla "don't contribute to the VFACTS data, as they do not right around the world", yet in New Zealand Tesla sales data is available as the country records total make-and-model registrations, rather than relying on carmakers reporting the numbers autonomously.
In Europe, manufacturers are required to report sales figures so that total fleet CO₂ emissions per kilometre can be monitored (and fines handed out accordingly). As such, Tesla sales data is available from that region.
Tesla Model 3 2022: prices in Australia
All prices listed are before on-road costs.
Standard Range Plus: $59,900
Long Range AWD: $73,400
Performance AWD: $86,742