Since the 1950s, the Toyota Land Cruiser has progressively worked its way into the fabric of Aussie life. It's gradually become tougher, more accomplished and more refined, yet it wasn't until Toyota's Japanese engineers tackled a 'five-continents drive' back in 2014 – covering 20,000km in 72 days – that they realised two important things: Australians love Land Cruisers, and that the 200 Series proved a lot more tiring to drive than they expected.
So began the seven-year development program that resulted in the 300 Series Land Cruiser – a vehicle that "started from zero" according to chief engineer Keita Moritsu, when developing its all-new GA-F chassis, all-new electric architecture and all-new powertrain … with more Australian input than ever before.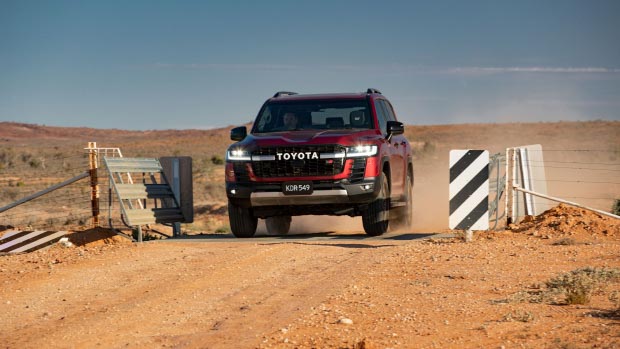 What role did Australia play in developing the new 300 Series?
The new Land Cruiser's development team had two main goals – to take its reliability, durability and off-road performance to new levels; and to ensure it could handle any surface with ease and comfort.
Speaking to Australian motoring media via weblink, Toyota Australia's general manager product planning and development Rod Ferguson said that local engineers and technicians played a huge role in developing "the most Australian Land Cruiser ever." 
"They had primary responsibility for tuning and calibrating the newly developed suspension, powertrain, and multiple driver-assistance technologies, not just for Australia, but for global markets," he said.
"In the view of our parent company, if it's tough enough for Australia, it's tough enough for the world."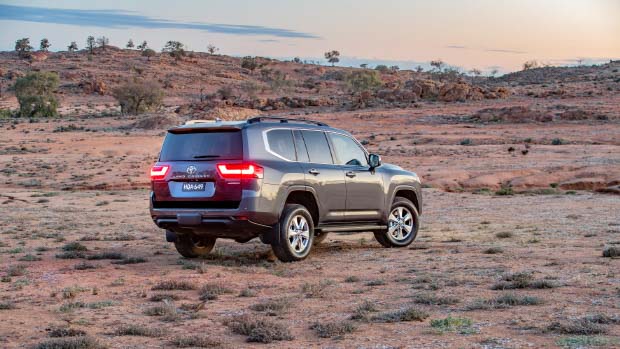 Yet it wasn't just the development team that had a hand in moulding what the new 300 Series would be. It was also the owners.
Vehicle Evaluation Manager Ray Munday said the Land Cruiser's Aussie fan base wanted the 300 Series to maintain the quality, durability, reliability and off-road savvy of older models, while offering diesel power, 3.5-tonne towing capacity, and the ability to fit accessories such as bullbars and winches.
But they also wanted improved engine performance, better fuel efficiency, more agile on-road steering and handling, and greater comfort – especially for long-distance driving. Other demands included expanded safety, more intuitive switchgear, better dust resistance and greater payload.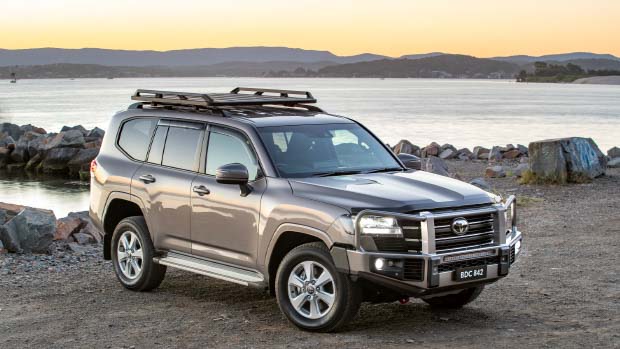 So just a couple of improvements.
But what they didn't want was a bigger 4WD. The dimensions of the new 300 Series are almost identical to its predecessor – prompting (incorrect) online debate that it's simply a rebodied 200 Series – though the new model rides on wider tracks for improved stability, and most variants feature a lower roof height.
The Australian team also handled the development of LC300 accessories such as new winch-compatible bullbars in polished alloy, black steel or body-coloured steel with integrated air venting and purpose-designed light bars.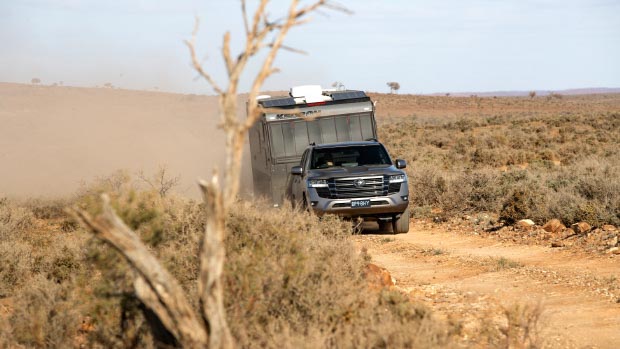 What makes the 300 Series so much better than the 200 Series?
From top to bottom and nose to tail, the 300 Series is a dramatically new Land Cruiser. Its styling might be influenced by its rugged past but don't let its bluff front and stocky sides fool you – there's plenty of cutting-edge tech going on underneath.
Aided by an aluminium bonnet, roof, doors and tailgate, the 300 Series weighs 135-180kg less than its predecessor, model for model, yet offers 20 percent greater body rigidity.
While its towing capacity remains at 3500kg, payload capacity has increased by 40-90kg. Toyota says that the towing limit needed to be balanced with off-road performance and comfort, hence why the suspension isn't rock hard to buff up the towing number.
The powertrain has been moved rearward by 70mm and down by 28mm to lower the Land Cruiser's centre of gravity (by 6mm) while improving its weight distribution (53.5 percent front, 46.5 percent rear).
And the GR Sport version with its KDSS suspension system and adaptive anti-roll bars provides 715mm of wheel articulation, a gain of 46mm.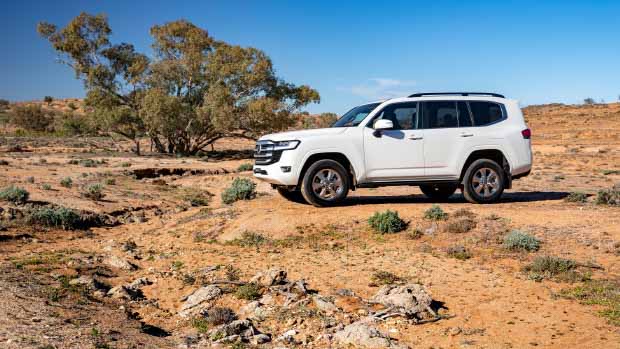 Technology that's tough

It's all well and good to have all this terrific new tech but what happens when it doesn't work? According to the ethos laid down by chief engineer Moritsu-san, that isn't going to happen.
"Land Cruiser must always be tough, it must look after its customers for more than 10 or 20 years, and it must be able to be fixed easily."
If it drives as well as it looks, and proves as tough as it sounds, the Land Cruiser 300 Series might easily be the greatest of them all.
We'll let you know at 7.30pm on Thursday 14 October with our first drive impressions.