Hero car. It's a term correctly applied to just a few models through history, but the Nissan GT-R perhaps suits it above all else.
Ground-breaking racer, a weapon for the street, tech innovator and popular culture icon through Gran Turismo and 2 Fast 2 Furious, "Godzilla" has even enjoyed a bit of controversy – just ask Jim Richards – for being so damn quick.
And while Nissan in Australia seems focused on ridding its showroom of everything bar SUVs, we can praise the supercar gods the two-door GT-R still exists amongst them.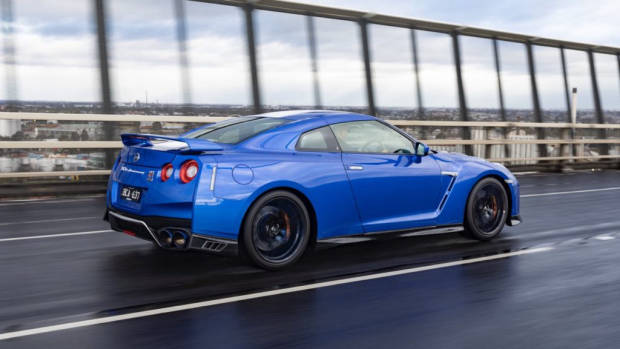 It's 50 years since the Skyline model first gained a red GT-R badge, and original "Hakosuka" GT-Rs are now hugely desirable and valuable. The 118kW/177Nm from their DOHC inline six-cylinder engine may seem paltry by today's GT-R NISMO standards, but 52 career race victories in Japanese touring cars show quite how advanced these were in period.
Cause for half-century celebrations then – so Nissan's dropped a GT-R 50th Anniversary special edition as part of range-wide revisions for the 2020 model year of the R35-generation car.
This global GT-R 50th Anniversary isn't a limited edition model, and extras are cosmetic rather than performance parts. It means you're still "stuck" with 419kW and 632Nm from its 3.8-litre twin-turbo V6, the same powering the range line-up of GT-R Premium ($193,800), Premium Luxury ($199,800), Track Edition ($235,000) and Track Edition with NISMO interior ($247,000). You can, of course, spend $299,000 before charges on the full-fat GT-R NISMO with its 441kW and 652Nm.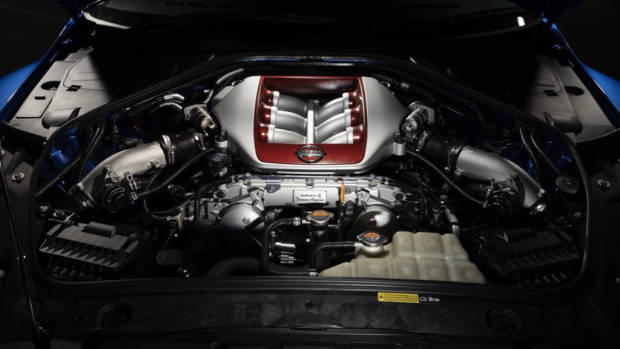 While the GT-R NISMO will unofficially take you to 100kmh in 2.7-seconds, the slightly less bonkers versions achieve triple digits in the low-three-seconds. Nissan don't release official acceleration figures, adding to their mystique.
The 50th Anniversary is based on the GT-R Premium Luxury grade and is priced at a $9,500 premium of $209,300. It's the sort of bump in cost that shouldn't bother collectors or enthusiasts keen on buying into a GT-R with a dash more exclusivity.
Paying homage to its past, three 50th Anniversary exterior colours are offered in heritage-era two-tone combinations, representing GT-R liveries from the Japan GP series dominated by those early Skylines. There's Ivory Pearl white with red stripes and Super Silver with white stripes, but it's Bayside Blue – in retirement since the Wangan Blue GT-R R34 (1999-2002) – that stands out with its white stripes.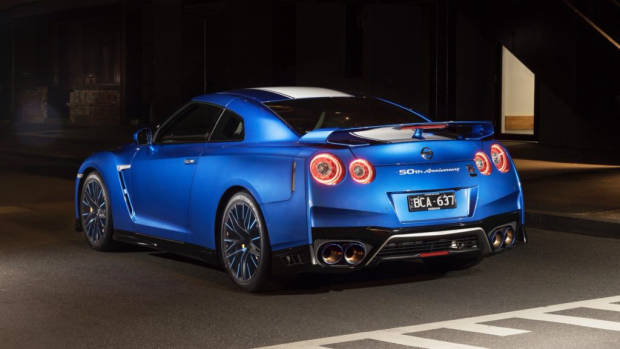 It's a vivid body – a hero colour for a hero car – and is matched to blue accents on the wheel spokes and blue finish to the quad titanium exhaust tips, the latter a standard feature across all MY20 GT-Rs.
The 50th Anniversary's racing stripes are decals across the bonnet, roof and boot lid, and there's a classy metal boot-lid badge below the GT-R logo. For some reason, though, there's an extra "50th Anniversary" white sticker across the rear. It may differentiate the special edition from other GT-Rs, but it looks as though it's been knocked up at the local printers for a couple of bucks. I'd peel it off if I owned one, but there is little doubt that this is the sort of thing collectors will insist upon when one of these pops up at auction in 30 years' time.
Inside there's a medium cool grey colour tone called Twilight Grey for the semi-aniline two-tone leather, seen on the doors, seats, front fascia, dash panels, steering wheel and shift knob. 50th Anniversary badges end up on the seats, centre console, tachometer and kick plates.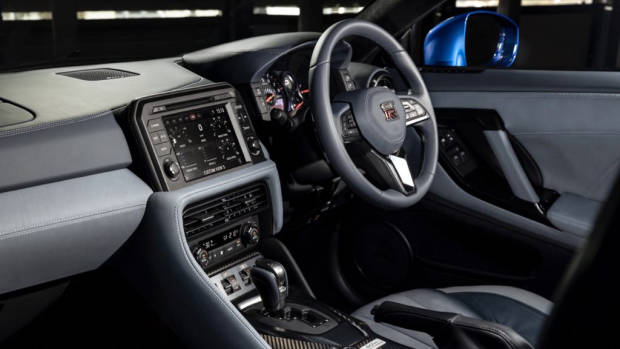 Highlighting the R35 GT-R's longevity, this sixth-generation first arrived in 2007, and its last update occurred for MY17 cars. For the entire MY20 GT-R range – 50th Anniversary included – there are some choice updates.
Aesthetically there are redesigned front fog lamps and new wheel design that are lighter yet more rigid, but of more interest to the way these things actually perform are engineering changes. Nissan's calling it "the adoption of NISMO technology for 'GT-like' acceleration/braking/handling performance." Sounds good.
New turbochargers are based off the GT3 race car, helping low RPM response to make corner exit even sharper. Excluding the NISMO and Track versions, the six-speed dual-clutch transmission has a revised 'R' mode including downshift rev matching. This racy mode gives more aggressive downshifts when ABS is engaged, again to the benefit of swifter cornering exit.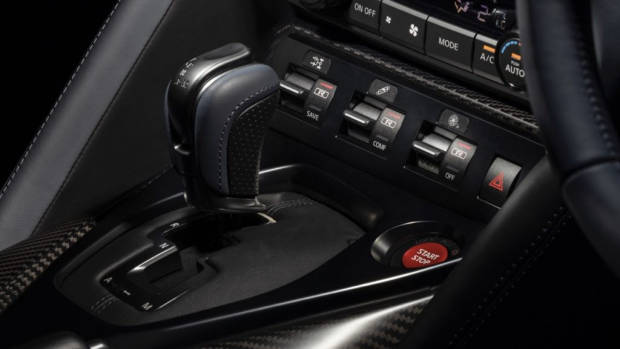 The electronically-controlled suspension's been tuned for better cornering stability and a smoother ride, yaw-rate and G sensors adjust the toque bias with an updated yaw-rate feedback control, while brake pedal feel is enhanced due to a new brake booster and updated steel brakes.
Let's be honest. The R35 GT-R has never been anything but a ballistic tool with handling to almost defy physics. The above changes would be hard to detect unless really stretching the Nissan's legs on a relevant race track, and our short suburbia then back-road blast could only reveal so much.
What may surprise is how usable a 'normal' GT-R is on public roads. I've tested the Track Edition and NISMO (the latter at Mt Panorama at full gas…not the worst day of work) and these with their race-tuned suspension are the ones that send you to chiropractors. Only the truly committed could live with one as a road car.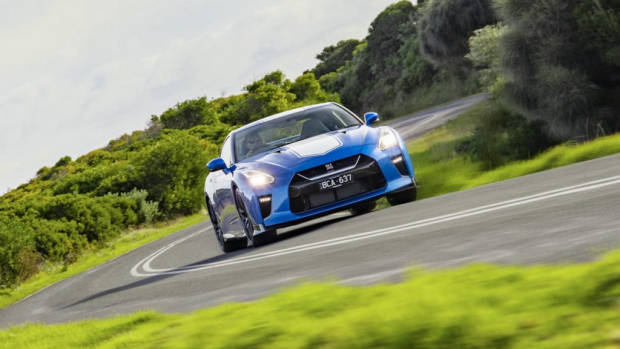 The less mad dog versions – 50th Anniversary included – are for buyers keener on the 'grand touring' element of a GT-R. This is no Merc S-Class, but the Nissan is genuinely easy to live with around town. The suspension's DampTronic setup has a Comfort setting for maximum compliance, and works impressively to absorb road imperfections.
You need to be mindful of road edges and bigger bumps with those low bumper splitters and side skirts, but it's all quite docile with light steering and the engine and transmission understanding in unison that this isn't the right time to go nuclear.
While some supercars have gone down the stripped "suffer for your art" cabin, GT-Rs are instead heavy on comfort, and are well insulated. Don't expect on-trend design and digital-everything, though; these Nissans display their 2007 origins with pride. There's grey hand-stitched Nappa leather on nearly every surface of the 50th Anniversary; the seats are well-bolstered and even a bit sink-in. Perhaps with these all-wheel-drive GT-Rs already being heavy for a supercar – 1765kg – a bit more mass for life's little luxuries barely registers.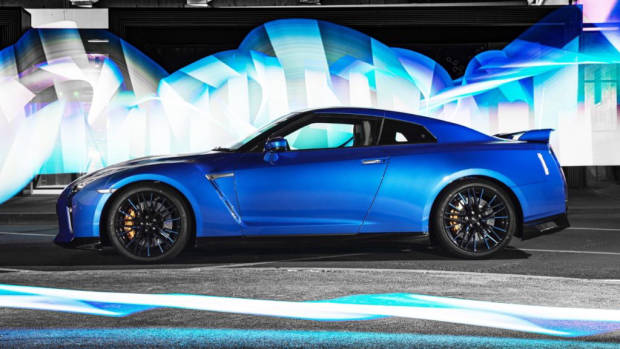 There's an 8-inch screen with navigation, front and rear sensors, dual-zone climate control, heated seats, carbon fibre centre cluster and Bose audio with a pair of subwoofers. No carbon fibre seat backs and radio delete to shave the kilos, then. Rather wonderfully, there are also two Isofix child seat anchor points for rear passengers. Back seats are large enough, but are merely token: leg room doesn't exist without the front seats fully forward.
And the drive? Simply put, it's a car that can cost you your license with one enthusiastic squeeze of the loud pedal. That's the problem. Our on-road route was blessed with only a few opportunities to open the GT-R's box of fireworks or fling in through a set of rapid turns. Having driven a NISMO version at Bathurst, that's the place to appreciate this weapon, and that day opened my eyes to how the GT-R's performance and grip could be both mega and surprisingly user-friendly.
You can get some on-road thrills, but only briefly. With 'R' mode optioned the car stiffens and ups the responsiveness. There's a fraction of lag as the turbos come on song, but that gives you a split-second to hold your breath and hold on for the big push. It builds speed relentlessly and surges tsunami-like to wherever you point it. Peak power is at 6800rpm, and up here near the redline is where's best to play. The screaming sound from the titanium exhaust, the digital speedo blurs and you're at warp speed.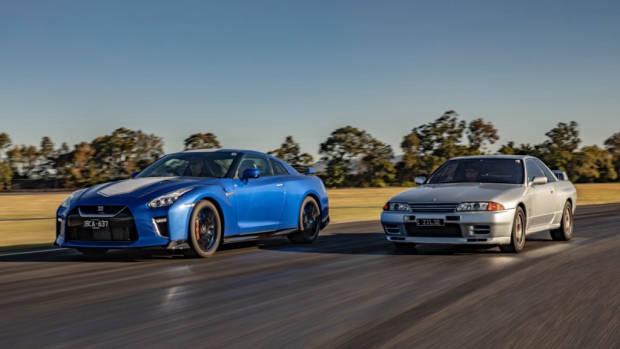 Not being a NISMO or Track version it corners less like a twitchy race car and with a dash more give. Probably a good thing on a backroad. It still turns in with alarming speed, grips superbly and compels you to get on the throttle super early on corner exit.
It feels a big car and can't hide its weightiness as you throw it around, but such is the pull from the engine and the sheer speed you really don't care. Brembo six-pots up front and four-pots at rear also show little concern for the GT-R's weight. Flow through some corners at speed while making tiny inputs to the steering wheel and you need some convincing you're not in a video game.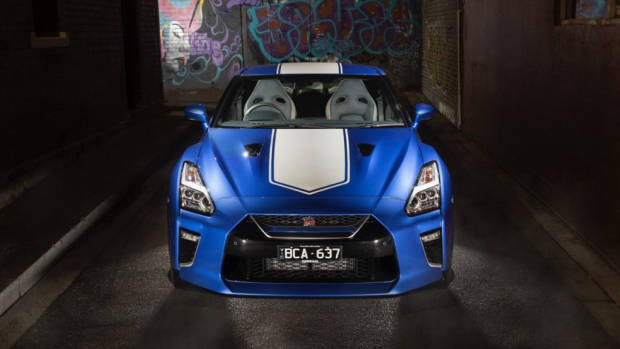 Nissan may have sold only 43 GT-Rs in Australia last year, but there's really nothing else at this price to match its performance, at least until the right-hand-drive Chevrolet Corvette lands. Nissan's remaining tight-lipped on a next-generation GT-R, and on the likelihood it'll need electric or hybrid assistance.
For now, this 12-year-old model still has the power to take your breath away. From its signature round rear lights to the street racer styling and, of course, the otherworldly performance. It's a car that deserves a proper half-century celebration, and the 50th Anniversary edition adds that dash of exclusivity craved by enthusiasts of this very special supercar. I'll have the blue one please.