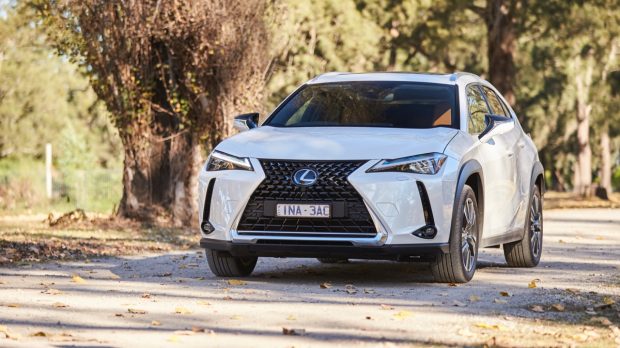 The Lexus UX is a premium urban runabout that makes good sense for couples or downsizers, pairing compact dimensions with a luxurious interior.
Amidst an Australian new car market that has shrunk by ten per cent over the past year, small luxury SUVs are a rare segment that is growing. It's not hard to understand why: baby crossovers with a premium spin are pulling buyers in from both ends of the spectrum, with aspirational thirty-somethings and later-in-life downsizers finding much to like.
The problem is that few pint-sized luxury SUVs are that great. Some feel built strictly to a price – like the outgoing first-gen Mercedes-Benz GLA, and the Jaguar E-Pace, and some have grown dowdy, like the latest BMW X1. Some are better than others, though: we like the sprightly Audi Q2 and the funky Volvo XC40.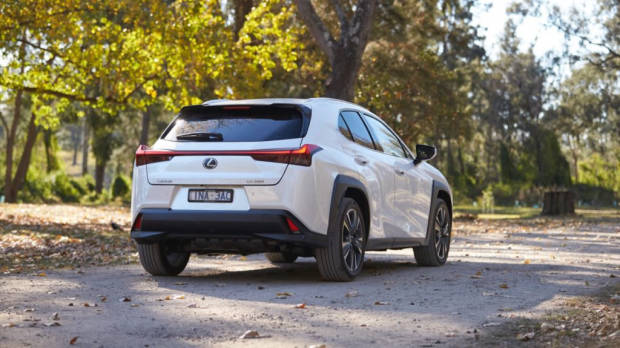 The Lexus UX is the new player in town – so, does it end up with the forgettable lot, or does it cut through?
On paper, the smallest Lexus crossover gets off to a good start. The entry price is low – $44,450 for a UX 200 Luxury ($49,428 driveaway). That's similar to the GLA180 Benz and Volvo's XC40 T4 Momentum, but as is often the case with Lexus products, the standard specification is very generous.
At sub-$50,000 driveaway, Lexus throw the kitchen sink at the UX 200 Luxury grade, which sports leather upholstery with power adjustment and heating up front, a power adjustable steering column, a 10-inch screen with navigation and digital radio, full keyless entry and start, LED headlights, and a comprehensive safety suite that bundles AEB with pedestrian and cyclist detection, adaptive cruise control, active lane keeping, blind spot monitoring, rear cross traffic alert, and speed sign recognition.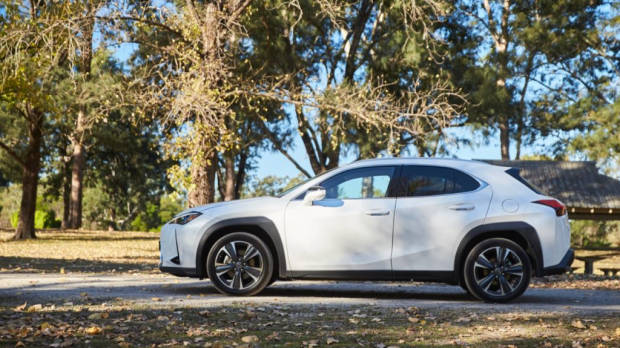 In Volvo land, that money only buys fabric seats, and there's no keyless entry, adaptive cruise control, or lane keep assist. The Audi Q2 is a little cheaper to buy but it looks scant, with a more basic rear suspension setup, a smaller 7-inch screen, no keyless entry or start at all, and a total lack of adaptive safety features aside from AEB with pedestrian detection.
Those European cars still have the Lexus beat on modern connectivity, with Apple CarPlay and Android Auto featuring on almost every car in this segment apart from the Lexus. For an SUV aimed at millenials, any failure to embrace this modern tech is disappointing.
There are eight versions of the Lexus UX. You divide them up in three steps. First, choose a powertrain: petrol, or a petrol-electric hybrid, which costs a reasonable $3,500 more. All-wheel-drive is optional on the hybrid only, but you're looking at a minimum price of $61,000 for an all-paw UX, so we'd skip out on that. Finally, you choose between three grades: Luxury at the base level, the obliquely dynamic F Sport, or the plush Sports Luxury.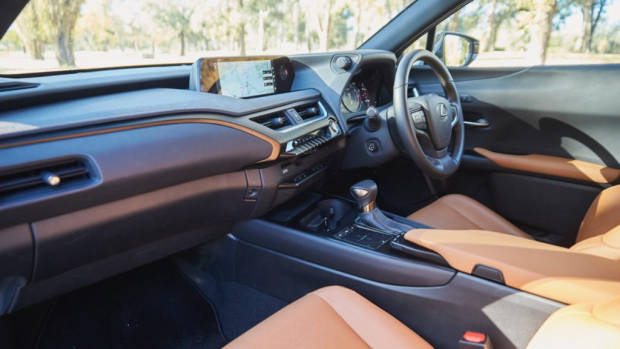 The UX 200 petrol borrows the Toyota Corolla's two-litre naturally aspirated petrol engine, which sets it apart from its low-blow turbocharged rivals. In the Lexus, it makes 126kW/205Nm. The hybrid bolts on an electric motor to produce 131kW of power and considerably more torque, though Lexus doesn't put a number on twist.
We spent most of our time in the UX 200 Sports Luxury, a highly-appointed front-drive petrol that cost $53,000 ($58,403 driveaway). Going north to the Sports Luxury is a near nine-grand upgrade, though you do end up with a very complete car: you get extra-plush comfort seats, with ventilation and memory up front, a Mark Levinson stereo, wireless phone charging, and a power tailgate. It's an easy car to downsize into.
We'll get our chief criticism out of the way early: the petrol engine, while willing, is not really refined enough to sit aft of a Lexus badge.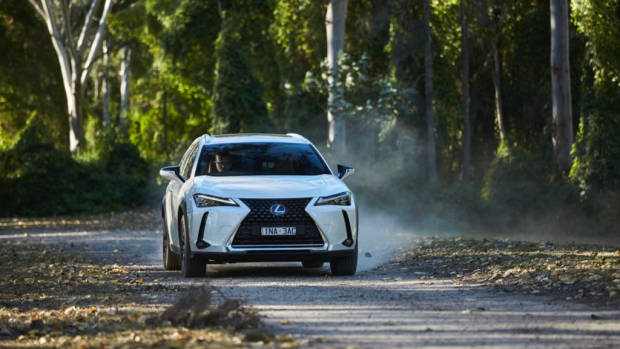 Without a turbocharger, the two-litre has to work hard to produce its modest torque figure, and revving hard just isn't a Lexus-like experience. The CVT automatic (which has a trick conventional first gear for smoother launches) does its best but ultimately, it's just a little loud and coarse to satisfy at this price point. The Audi Q2's 1.4-litre turbo, which makes 110kW/250Nm but at lower revs, is a masterclass in engines within this segment.
The UX 250h hybrid is better, though it's still not perfect. The Lexus two-litre petrol-electric hybrid is potent enough – quite quick off the line and torquey in the mid-range – though the transition between petrol and electric power is a little clunky. The 2.5-litre hybrid system used in some other Lexus cars (and in the cheaper Toyota RAV4 SUV) is more refined again.
Thankfully, almost everything else about the way the Lexus UX drives is excellent. That starts with the ride quality: this car's rivals tend to obsessively focus on 'sporty' dynamics. The UX, on the other hand, effortlessly blends a comfortable ride with impressive body control, delightful steering, and an engaging chassis.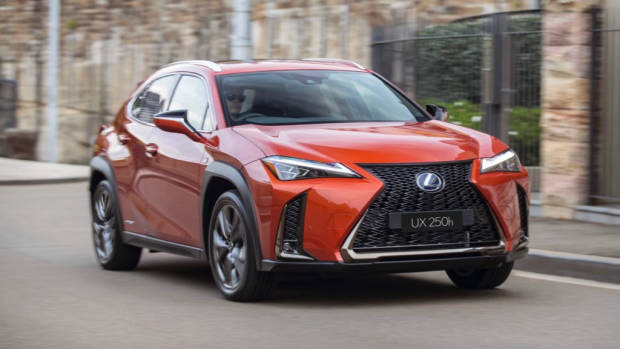 We preferred the Sports Luxury to the F Sport (above).
The F Sport grade (which actually costs slightly more than a Sports Luxury) is unnecessarily firm, so we'd avoid that, but the Sports Luxury's comfort-oriented suspension is just great, absorbing urban potholes with aplomb and building into an appropriately Lexus-like waft at higher speeds.
The steering is sweet, with a very natural ratio that isn't too fast or slow. Grip levels from the Bridgestone rubber is good and body motions are impressively well controlled. Toyota – and Lexus – spent a lot of money developing the recent TNGA platform that underpins the UX (and the related Toyota C-HR, Corolla, Camry and RAV4), and you can feel the fruits of that investment. Truly, this is a world-class chassis.
Inside, Lexus have worked their magic in the UX interior, which sports a modern and fresh aesthetic but doesn't forget that luxury cars are meant to be comfortable and cosseting, not sporty for the sake of it. Deeply plush seats, with both heating and ventilation on the Sports Luxury, felt like a relief to sink into at the end of the day.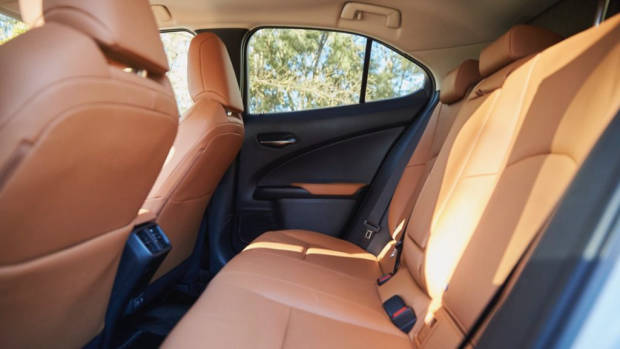 Our test vehicle's attractive tan leather elevated it beyond a monotonous black interior on an F Sport UX 250h hybrid we drove earlier. The Sports Luxury is uniquely fitted with etched Japanese trim on the dash, too. Other upholstery colours include white, sand, and red, so there's something for everyone.
In-cabin tech is just okay, though: we complained above that Apple CarPlay and Android Auto are missing, and this problem is compounded by the fact that Lexus infotainment is still frustrating to use. The 10-inch screen is high-mounted and crisp (good) but the touchpad to control it is counterintuitive and locks you out in motion (bad).
No problem with storage, though, with the cabin including cubbies for your phone (with wireless charging), decent-sized cup holders, and a trick central storage bin that can swings open from clever side-mounted hinges.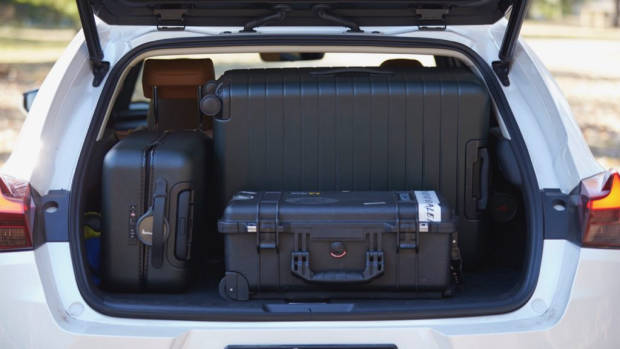 In the back, space is a little tight, though Lexus are marketing the UX more towards individuals and couples than families. Space is adequate for six-footers, both in headroom and legroom, though there isn't much room to spare. Air vents, fast-charging USB ports and a flip-down armrest mean back seat passengers feel catered to. We did note that the soft plastics from up front turn hard in the second row, though.
While the boot capacity reports as 371 litres on paper, in reality, the high-set boot floor makes it seem like there's less. Tip up that boot floor, though, and you'll see heaps of additional storage where a spare wheel would normally be: there isn't one, in this car. Only the Luxury grade gets a space-saver spare. At least the back seats fold flat and the boot lip is totally flush, allowing heavy objects to be lifted in a bit more easily.
Servicing the UX is done annually, or every 15,000km – but Lexus doesn't publish service pricing. What they will do, though, is provide a service loan car and they can even pick up and drop off the UX on maintenance day. The UX might be at the bottom of the Lexus pile but you get the same treatment as an owner of a more expensive model.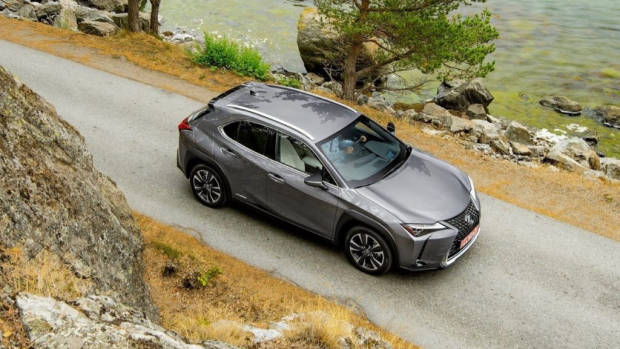 There's a four year or 100,000km warranty on every Lexus – a year longer than most German luxury marques, but the premium brands are all starting to trail mainstream automakers who almost uniformly offer five years of coverage now.
Overall, there's a lot to like about the Lexus UX. The hybrid option offers an easy way to make your driving more frugal without adjusting your lifestyle, but even the base petrol is enjoyable to drive, even if it can get a bit uncouth at times. The plush interior is a class act, but we'd give the overly firm F Sport a wide berth and aim right for a Sports Luxury, which provides the kind of luxury a Lexus should.