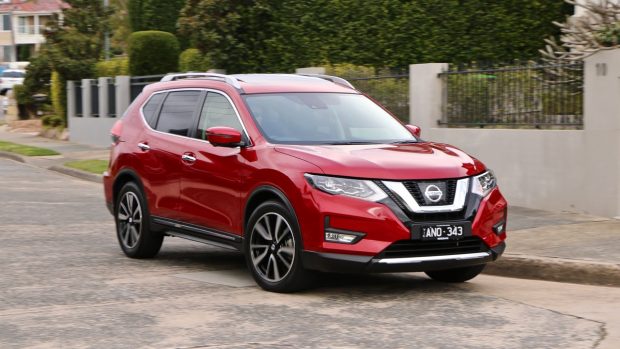 Almost every Australian has heard of the Nissan X-Trail, and for good reason. The formerly blocky, utilitarian off-roader was one of the very first medium SUVs, arriving in the very early 2000s – and it was a hit with buyers. Like its big brother, the Pathfinder, the X-Trail shook off its square lines a few years ago, taking on a stylish, mainstream shape for its third generation. This changed the X-Trail's character quite a bit – no more hosing out the boot – but what didn't change was its popularity. In 2017, the X-Trail was the fourth-best selling medium SUV, behind the Mazda CX-5, Hyundai Tucson, and Toyota RAV4. So, why does Nissan's midsizer sell as well as it does? We borrowed an X-Trail Ti 4WD 2.5-litre model to find out.
Well, with an astounding 17 rivals to contend with in the medium SUV class, one thing the X-Trail has to do well is look good – and in Ti specification, it's got real kerb appeal. A recent facelift has given the X-Trail a more handsome front end, and smoked tailights have had a similar effect around back – but the X-Trail's Euro-esque silhouette and reasonably athletic design are ageing well.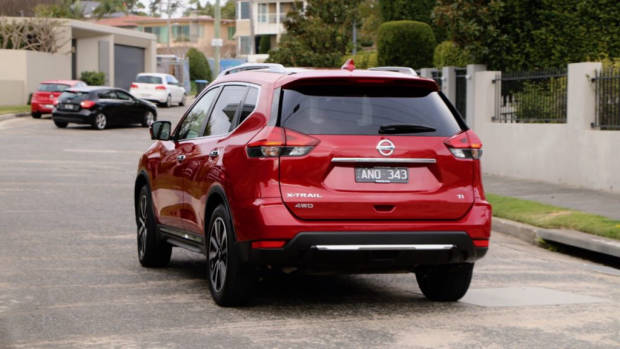 Climb inside and the first impressions – aesthetically at least – continue to be positive. While the cabin places function ahead of form, there is a perception of solid build quality and the broad use of soft touch materials impresses. The Ti, in particular, puts its best foot forward with soft leather seats that are available in an attractive tan colour, or black. The recent facelift also gave the X-Trail a downright sexy steering wheel that partially replicates that in Nissan's GT-R supercar.
So the X-Trail is a good-looking SUV. However, it's inside where the X-Trail's age starts coming to the fore – a pattern that is repeated when you take it for a drive. The seven-inch touchscreen looks small and runs very dated software: crisp eight-speaker Bose stereo aside, the Nissan's technology offer just doesn't cut it, especially compared to the Mazda CX-5 or the Volkswagen Tiguan. While there is integrated navigation that is fairly easy to use, the graphics are old-school to the max, and there is no Apple CarPlay or Android Auto to cure these problems.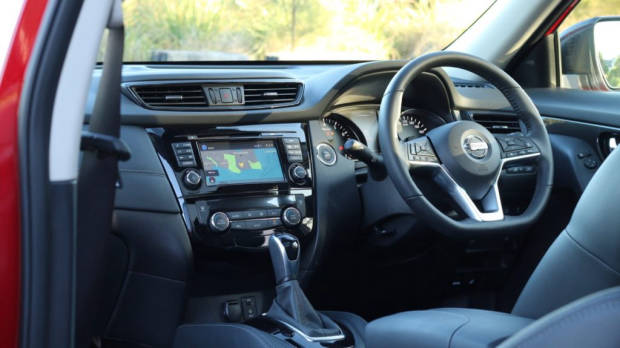 What is no problem inside the X-Trail, though, is space. Both the front row and the back seats are very roomy: parents and kids all travel in comfort. The back row in particular is great for long-distance cruising, with lots of legroom and headroom, plus air vents to keep little ones from feeling carsick. Up front drivers of all sizes are well taken care of. The leather seats are nice and soft, but the driving position is mounted too high and the seat is more of a perch than an armchair – you don't really sink into this car like you do in a Skoda Kodiaq. However, there is plenty of light in here thanks to the Ti's large panoramic sunroof.
Plenty of cargo space is important in an SUV, and the X-Trail has one of the biggest boots in its class. With 565 litres behind the rear seats, the Nissan trails only the 605-litre Volkswagen Tiguan for outright room: this is a big, practical space with a flat opening, so you can slide heavy items right in without fuss. Plus, the Ti grade comes with an electric tailgate that features kick-to-open: walk up to the car with your hands full, wave your foot under the bumper and the boot opens right up, although it can be a bit fiddly getting it to work. The boot's 'Divide and Hide' feature is clever. Hide mode lets you hide sensitive items under the floor, while Divide stops fragile things from sliding about.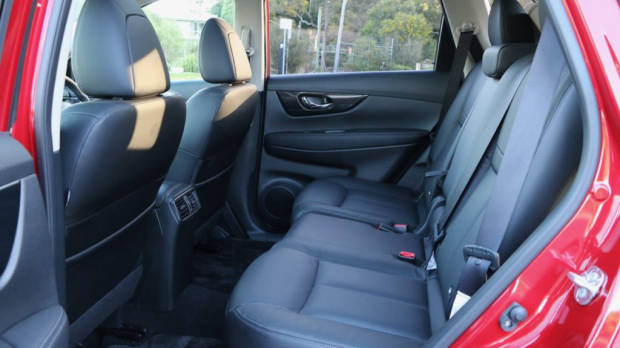 Infotainment aside, then, the X-Trail ticks plenty of boxes when it comes to cabin space, amenities, and practicality. Out on the road, the Nissan doesn't aim to be one of the most dynamic medium SUVs and you get a sense of that. This isn't a bad SUV to drive, nor is it particularly impressive behind the wheel, but for most people, the way the X-Trail gets along with the 2.5-litre petrol engine will be entirely sufficient.
The 2.5-litre X-Trail is the most popular choice. It's cheap to buy – even this fully-loaded Ti is only $44,790, which is miles less expensive than a top-shelf CX-5 or Tiguan – and the 2.5-litre is the only petrol X-Trail with an automatic gearbox. The smaller 2.0-litre is offered with a six-speed manual only. The 2.5-litre makes modest outputs: 126kW of power at 6,600rpm, and 226Nm at 4,400rpm – those rev figures show you that you do need to work this engine hard to make progress, and our urban economy of 12L/100km reflects this.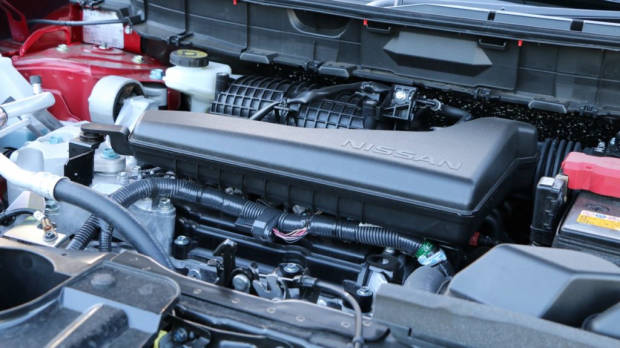 Nissan's CVT automatic transmission is good as CVTs go, but the slick six-speed ordinary automatic in the Mazda CX-5 is a lot more engaging to drive. In the Nissan, the CVT makes itself scarce most of the time, but if you need to overtake or fly off the line – as we all sometimes need to do – the experience is noisy and a bit sluggish. The optional 130kW 2.0-litre turbo diesel is quicker: the TL diesel also has the CVT, but it performs better as it has much more torque – 380Nm, or 70% more pulling power. The problem is that the diesel is a $3,000 option and that is quite a stretch.
The X-Trail's handling is fine for around town duties or road trips, but push it on a fast road and this SUV becomes ponderous. The chassis itself feels solid, but Nissan have equipped the X-Trail with steering that is far too light. It never weights up appropriately, including above 100km/h – so, on the highway you are having to make lots of little corrections. The right behaviour for steering is to be light in town, and heavy on the highway. The right balance has not been found for the X-Trail.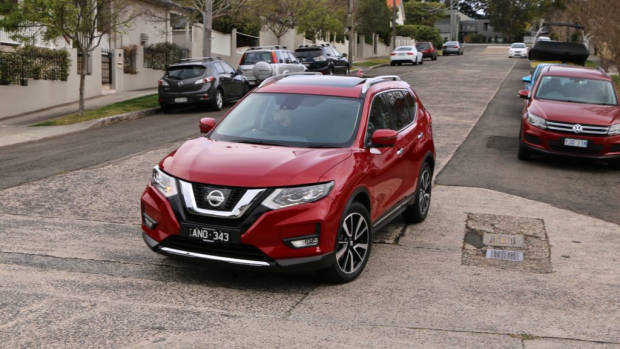 In any car, how comfortably the vehicle rides down the road tends to degrade if you choose big alloy wheels. That is true of the Nissan X-Trail, which is pretty supple on the small-ish 17-inch wheels on the ST-L model, but more choppy and uncomfortable on the Ti's 19-inch wheels. The big wheels are very stylish, so whether this tradeoff makes sense is a decision for you. Refinement is, however, okay, with limited road and wind noise.
Choosing an X-Trail means involves making a few key choices. There are ten models in the X-Trail range; two with diesel engines, two with seven seats instead of five, four with AWD, and one with a manual gearbox. The lineup starts with the $28,490 ST manual five-seater, and stretches to the $47,490 TL diesel AWD five-seater.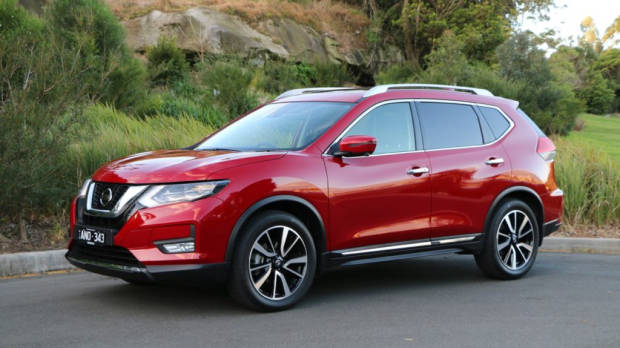 There are three basic specification levels. The entry level, called ST (petrol) or TS (diesel) introduces range-wide features like autonomous emergency braking, alloy wheels, a reversing camera, push-button start, and practical 40/20/40 folding rear seats. The ST and TS are fitted with a basic 5-inch infotainment screen. An automatic gearbox is a $2,000 option; AWD is a further $2,000; diesel is a further $3,000 again. A front-wheel-drive seven-seater costs $31,990.
From there, it is a step up to the petrol-only mid-grade X-Trail, called ST-L ($37,090). The ST-L adds very worthwhile features like a leather steering wheel, heated and powered leather seats, dual-zone climate control, a larger 7-inch touchscreen with navigation and live traffic, DAB+ digital radio, blind spot monitoring, rear cross-traffic alert, and a 360-degree parking camera. AWD is a $2,000 option on the five-seater, while seven seats are $1,500.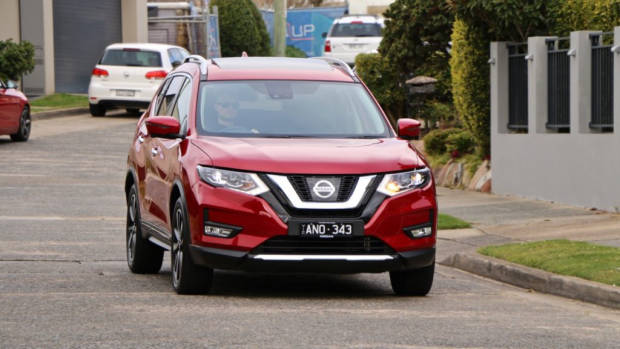 Finally, the flagship X-Trail, called Ti with the petrol ($44,790) or TL with the diesel ($47,490), adds luxe items like an eight-speaker Bose stereo, an electric tailgate, heated rear seats, a panoramic sunroof and 19-inch wheels. The Ti and TL also score extra safety kit in the form of lane departure warning and pedestrian detection, though it is the cheaper Ti alone that receives adaptive cruise control and lane keep assist.
Of the set of ten X-Trails, it is hard to go past the $37,090 ST-L front-drive petrol, which offers a generous set of equipment at a pretty low price for this class. Those seeking a seven-seater will be happier with the Honda CR-V VTi-L ($38,990), particularly because the Honda extends airbags right to the third row passengers. However, we do recommend test driving key competitors like the Mazda CX-5 and the more expensive Skoda Kodiaq before buying.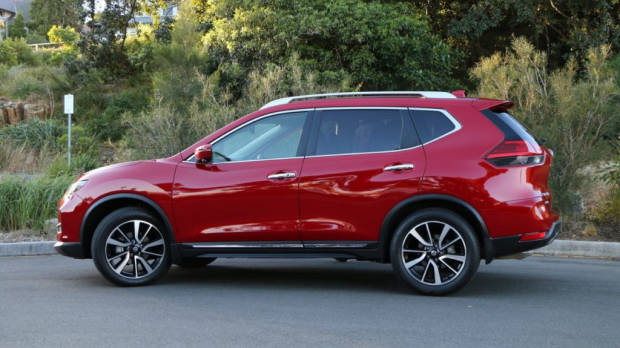 Maintaining the X-Trail is a simple and fairly affordable affair because Nissan has a six-year capped price servicing programme. The service intervals of a year or 10,000 kilometres are more convenient than Mazda's twice-yearly visits, although the mileage limit is a bit low. The average cost for the first three years of servicing a 2.5-litre X-Trail is $416, which falls around the middle of the class.
Overall, the Nissan X-Trail remains a middling competitor within the medium SUV pool. However, durable build quality, an unfussy attitude and very reasonable pricing means it retains a good level of appeal and will continue to sell well with Australian buyers. However, with rivalries really heating up in this segment, Nissan will have to step up the game in the next generation of X-Trail if it wants to stay near the top of the class.