2017 Holden Cascada Review
Pros
Great value for money
Stylish and luxurious-feeling
Decent room for four
cons
Dated dashboard
Lacks autonomous safety tech
Thirsty for 95 petrol
There was a time when reasonably priced and reasonably practical convertibles were everywhere – but now, there's just one: the 2017 Holden Cascada. A spiritual successor to cabriolets like the Peugeot 306, Saab 9-3, and naturally Holden's own Astra, the Cascada now offers a really unique package. This is a stylish drop-top with a premium European feel, it will seat four people pretty easily, and it's just over $40,000 – immediately, that sounds like good value. Couple all those benefits to the fact that convertibles are just feel-good cars, the Holden Cascada is easy for us to recommend if you're looking for a fun summer car that surprisingly, demands very few compromises.
The 2017 Holden Cascada in brief:
With sexy European lines, a luxurious interior and solid build quality, the Holden Cascada feels much more premium than its price tag suggests. Unlike most affordable convertibles, the Cascada has four usable seats, and a decent-sized boot. Though some parts of the interior are dated, the Cascada is, overall, a very attractive and likeable car. The Cascada has a peppy 1.6-litre turbo petrol engine which sounds good. Fuel economy is only average. The Cascada is front-wheel-drive and, as convertibles often are, is relatively heavy. However, the handling is sportier than expected. In particular, the Cascada corners well and is fun to drive. There is just one model for $42,990, but it comes with plenty of luxurious features, including heated leather seats and a heated steering wheel, navigation, and digital radio. The only option is metallic paint for $550.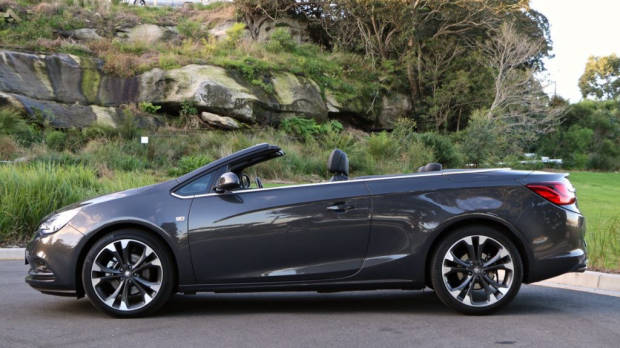 DRIVE
The sole engine available in the Cascada is a turbocharged 1.6-litre petrol, making 125kW of power and 260Nm of torque. Most convertibles are quite heavy, including this Holden, so an engine of this size is adequate, rather than fast.
That said, the 1.6-litre is a very willing engine. It is relatively smooth and is well-paired to the standard six-speed automatic transmission. If you push it hard, the Cascada can get moving quickly and the motor has a surprisingly sweet sound to it. However, the Holden prefers to be driven in a relaxed way around town.
Despite being a bit portly, the Cascada is quite fun to drive because it handles well. The steering, in particular, has a natural feel and it is easy to place the Holden confidently through a series of corners. The steering wheel is also quite small, which actually makes quite a difference in making a car feel smaller and more nimble.
At lower speeds, the Cascada is agile in town, but with any convertible comes a number of struggles with parking. If you have the roof up, visibility is very tight. A reversing camera is standard, but the screen it is displayed on is quite small. Of course, if the roof is down, you can simply turn around and see everything!
Another common niggle in convertibles (at least convertibles that are not astronomically expensive) is a shaking sensation when driving over bumps. This is one of the effects of chopping the roof off, which significantly affects how rigid a car can possibly be. The Holden does exhibit this shaking phenomenon, but it's not as bad as in cabriolets of days gone by and you quickly get used to it.
The ride quality is a bit sharper than we'd like. That is an effect of the standard 20-inch wheels, which are very large for a car of this size. They look beautiful, but the larger the wheel, the harder it is for the tyres to provide a supple ride.
Despite that, the Cascada is not particularly noisy with the roof up, despite the fabric roof, and with the roof down, the stereo system has been tuned so that your music still sounds great – and that really works.
You do get blown around a bit, so remember a hat. The Cascada's windscreen is at such a sharp angle – it looks really hot – but that means taller drivers will have their hair exposed to the passing wind. Back seat passengers do tend to get buffeted, but it's all part of the convertible charm.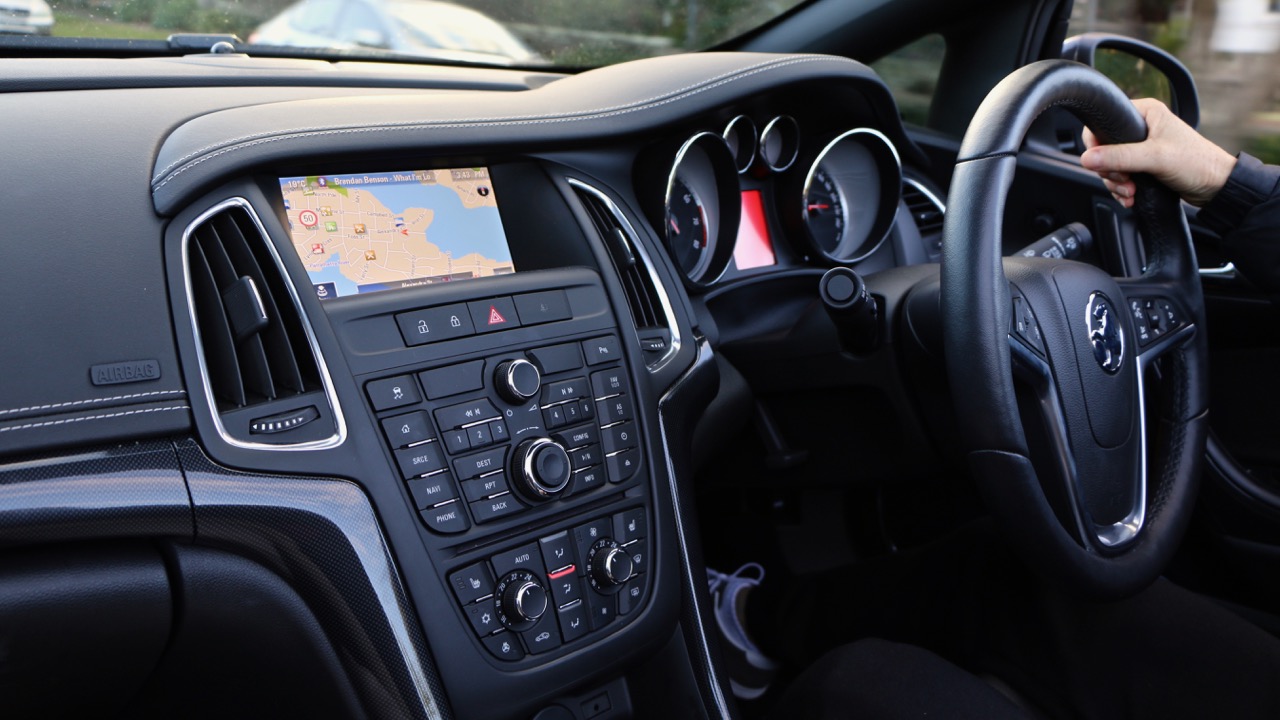 COMFORT
There's no mistaking the Cascada for anything but a European car when you hop inside. The leather-lined cabin feels luxurious and upmarket. The seats are very comfortable and supportive, and the black, patterned leather looks great.
Those seats are also well-heated – after all, they're designed for German winters. The standard seat heaters have three levels and it's so effective that in Australia, you'll never need the top setting. The steering wheel is also heated. At first, I thought this was probably a gimmick, but by the end of the week, I loved that feature for cold mornings.
The driving position is excellent. The seat goes nice and low, providing a good view out. The bolstering has enough support, particularly in the back, to keep you comfortable even on longer drives.
With all those positives, we were willing to forgive the Cascada's dashboard and centre stack, which are starting to look and feel dated – there are just so many buttons. That's because the Cascada is based on the last-generation Astra.
The navigation and audio system uses Holden's MyLink system – the same as what you find on the VF Commodore. However, unlike the VF, it's not a touchscreen – instead, you select things on the screen with a rotary dial on the dash. It's not the easiest system.
Thankfully, once you set up the Bluetooth connection to your phone, the connection is crisp and the stereo sounds good, even with the roof down.
Getting people into the back isn't too hard. The front seats have a grab handle to slide them quickly out of the way manually, creating enough room to climb behind them into either of the back seats.
The back two seats are best for kids, but even average-sized adults can fit back there. It's not hugely comfortable, with a very upright seat back, but on a warm summer's day, nobody will care about that. The back seats make the Cascada pretty practical and great to get you and three friends to the beach with the top down, wind in your hair.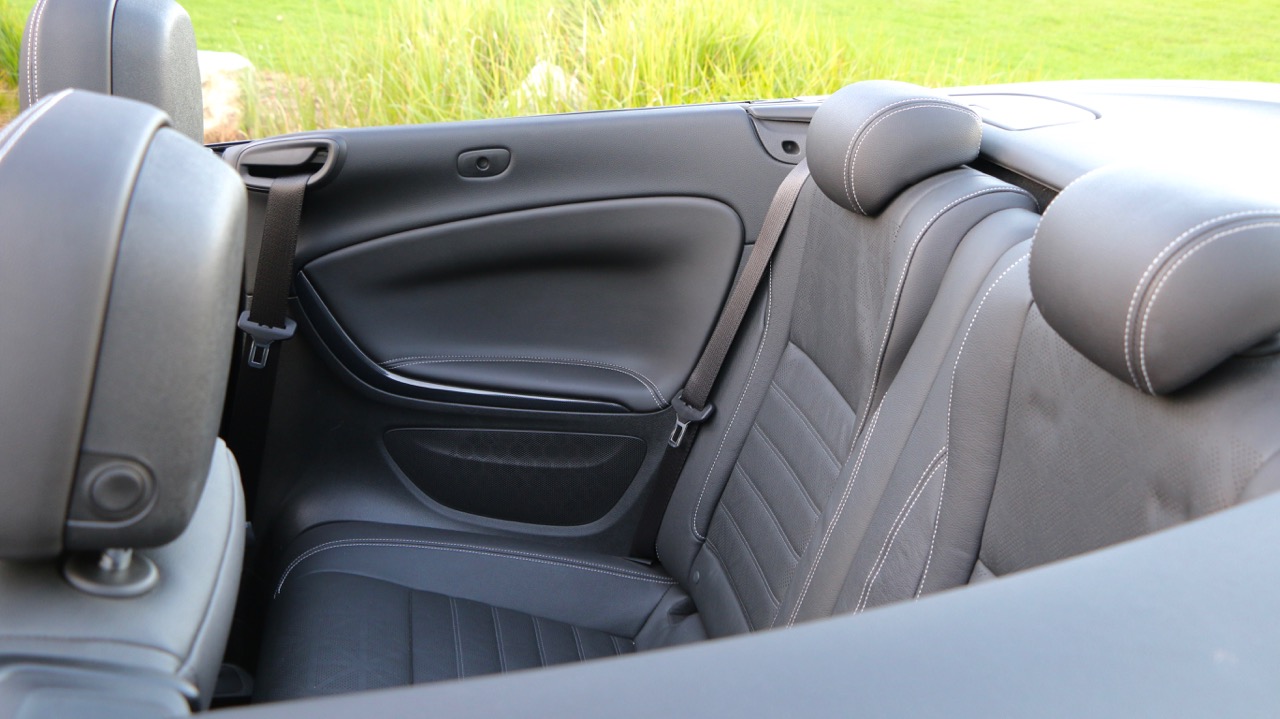 PRACTICALITY
When we talk about practicality, we mean practicality relative to similar cars – and in that light, the Holden Cascada is pretty impressive. I've already talked about the back seats, which are offer decent room even with the roof up. If you want a roomier four-seat convertible, you'll have to spend much more on a Mercedes-Benz C-Class or BMW 4 Series.
Compared to convertibles closer in price, such as the MINI cabriolet or the Audi A3, the Holden is bigger, roomier, and more practical – let alone better value for money.
The boot changes in size depending on whether the roof is up, or down. Convertibles are hardly designed to be load-luggers, but the Holden offers a decent amount of space. If you really need to take as much stuff as possible, with the roof up, the boot is 380 litres in size – about the same as a Volkswagen Golf. But in this configuration, you can't lower the roof at all.
To lower the roof you have to fold down an opening in the boot which reduces the size to 280 litres – or the equivalent of a Toyota Yaris. It's actually not too bad though, and canvas overnight bags can slide around the roof obstruction pretty easily.
The cabin offers a few storage spaces. There are good-size cupholders up front – and the back passengers get their own cupholders between those seats, too. There is also a central cubby box and door bins for the front passengers. There is one USB port.
The Cascada certainly isn't for towing but if you had to, it can tow 1,300kg of braked trailer, or 750kg of unbraked.
All Cascada models have a sharp standard reversing camera – though it isn't the largest – making for safer backing up.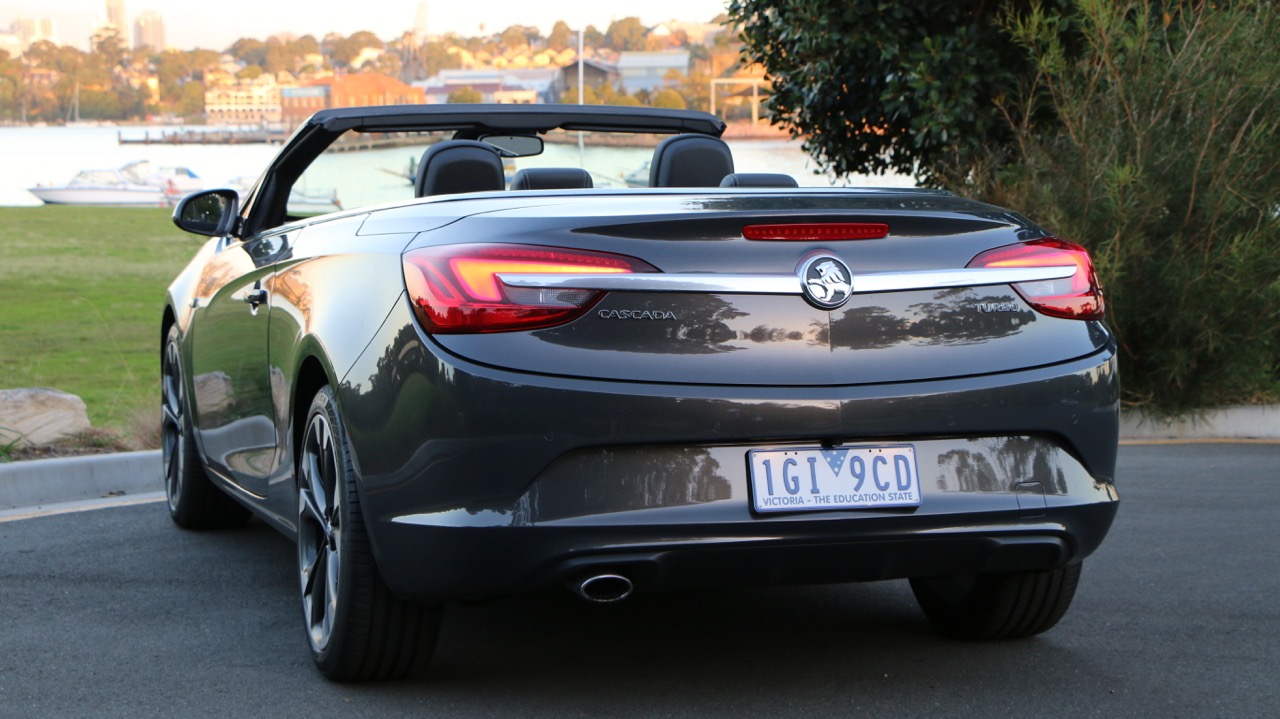 RELIABILITY & RUNNING COSTS
Rating the reliability of Holden as a brand is pretty tough – and that's because there are Holden models built in Australia, and a mix of imported European and Asian models.
The Cascada is European, being built by General Motors in Poland. That's the same plant that built the previous Astra and the brand-new Astra just launched by Holden. Owner reviews of the Astras built in Poland tend to be more positive than negative, and there haven't been sustained problems with the Astras imported to Australia.
However, convertibles can be complex, due to their folding roof and the changes to the structure of the car to make it all work. Because of that, Cascada reliability seems to be more of a mixed bag. JD Power rates the Cascada as just average for predicted reliability, and online forums seem to reflect this.
Holden offers some peace of mind with a three year, 100,000 kilometre warranty – but the warranty offered by competing brands can be better. Hyundai, for example, offers a five year, unlimited kilometre warranty.
Maintenance isn't expensive, however. The Cascada is covered by Holden's lifetime capped price servicing programme, and the first three years of servicing come to $916. The car has to be served either every nine months or 15,000 kilometres – whichever comes first.
The Holden can get thirsty if you drive it exclusively in town. The claimed consumption is 7.5L/100km, but we saw closer to 10L/100km over our week. It demands at least 95 RON premium petrol.
Predicted Cascada depreciation is impressively restrained. After three years and 42,000km—the average—Glass's Guide indicates that the Cascada will retain 66.1% of its value. That's significantly better than the 56% predicted for the Audi A3 cabriolet, or the 55% for the MINI Cooper cabrio.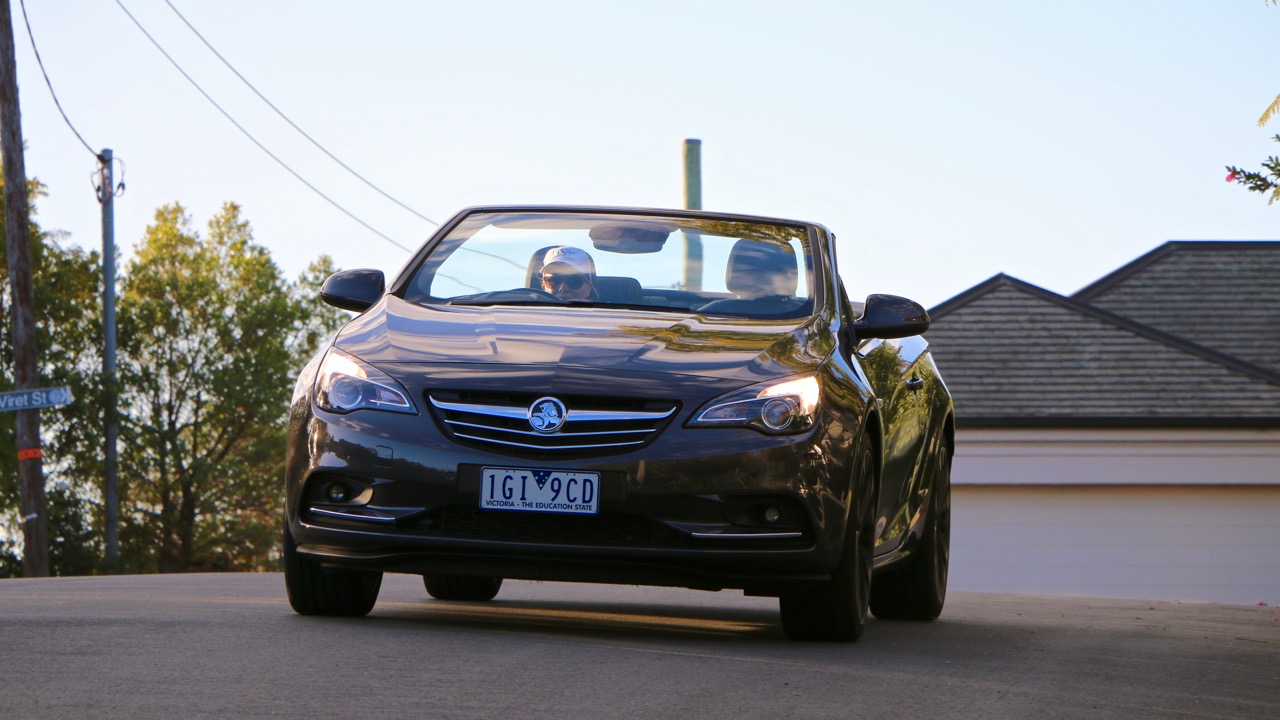 VALUE FOR MONEY
There's just one Cascada model. It costs $42,990, and it comes loaded up with standard features.
All included in the price are twenty-inch wheels, LED taillights, the perforated and heated leather seats, the heated steering wheel, navigation, and front seat belts that are electrically brought forward to the occupants so that you don't need to stretch. As well as a reversing camera, there are also front and rear parking sensors.
Our car was fitted with Phantom Grey metallic paint. The premium paints are the Cascada's only option at $550. White is the only standard colour.
The Cascada is built on an ageing platform now, which is why there are some features that are simply not available. These include Apple CarPlay and Android Auto, but more importantly, the Cascada can't be fitted with advanced, autonomous safety features like active cruise control or even blind spot monitoring.
Our Holden Cascada recommendation: which Cascada should I buy?
Well, there's just one! The standard car with one of the sleek metallic paints. This will cost $43,450 before on-road costs.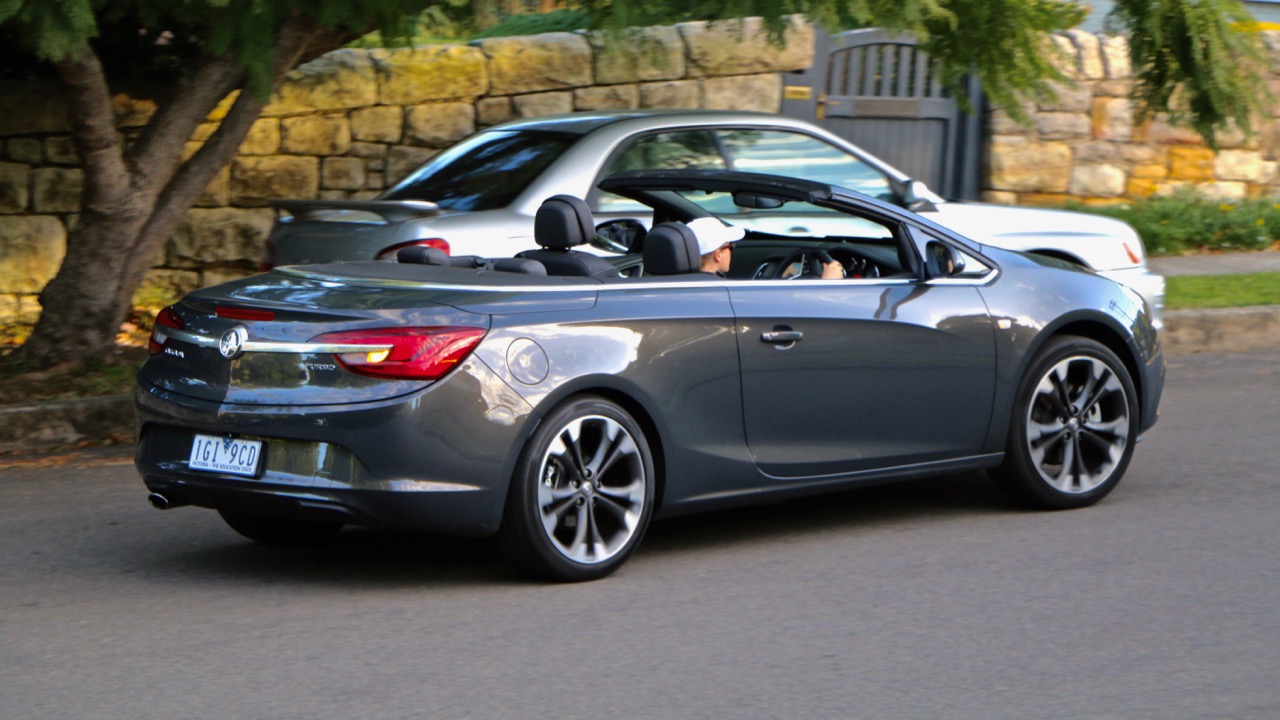 COMPETITORS
The Holden Cascada doesn't have any direct competitors. Ten years ago, it had three or four – but these days, it's only Holden offering a cabrio with four decent-sized seats for little more than $40,000.
If you're thinking of buying a convertible in this sort of price range, you have three general alternatives that you should consider.
The first option is to scrap the back seats. If you don't need them, you should get a Mazda MX-5 GT. That car is $39,990 for the manual, or $41,550 for the automatic.
The second option is to accept smaller back seats. The Audi A3 Attraction is $48,600 but is very premium. The MINI Cooper convertible starts from $37,990 and is genuinely tiny, but full of charm.

The third option would be to consider a pre-owned car. Four-year-old BMW 3 Series convertibles in good condition are now about $40,000 – or the same price as a Cascada.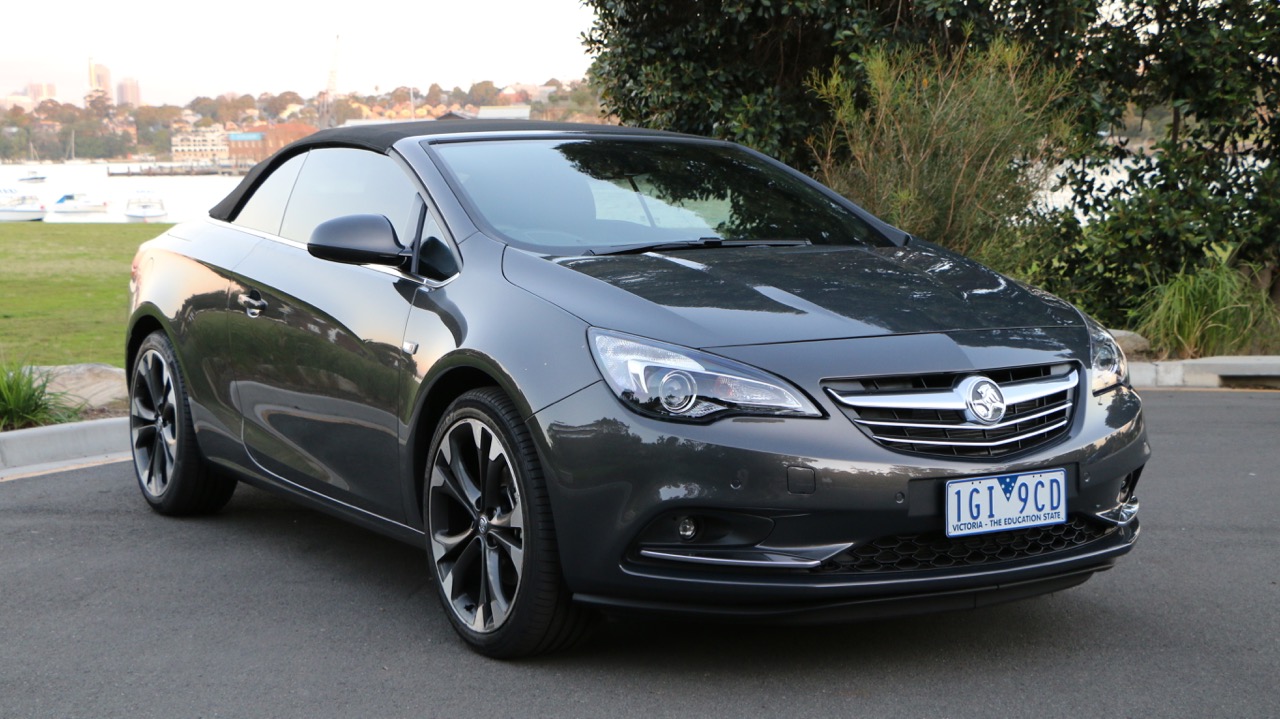 Engine
| | |
| --- | --- |
| Capacity | 1.6L |
| Fueltype | Petrol |
| Cylinders | 4 |
| Configuration | In-line |
| Induction | Single turbocharger |
| Power | 125kW at 6,000rpm |
| Torque | 260Nm between 1,650–4,500rpm |
| Power to weight ratio | 73kW / tonne |
| Fuel consumption (combined) | 7.5L/100km |
| Fuel capacity | 56 litres |
| Average range | 747 kilometres |
Transmission and Drivetrain
| | |
| --- | --- |
| Transmission | Automatic |
| Configuration | Torque convertor |
| Gears | 6 |
| Drivetrain | Front wheel drive |
Dimensions and Weights
| | |
| --- | --- |
| Length | 4.70 metres |
| Width | 2.02 metres |
| Height | 1.44 metres |
| Unoccupied weight | 1711 kilograms |
| Cargo space (seats up) | 280 litres (roof down) |
| Cargo space (seats down) | 380 litres (roof up) |