Mitsubishi has consolidated the Triton ute range in Australia for 2022, with the brand reporting that a flood of new stock has now hit our shores.
Hardly a small range despite the trim, a total of 19 variants of Triton are available locally – down from 23 in 2021. The change came after Mitsubishi standardised safety equipment on the GLX 4×4 pickup that was previously set aside for separate GLX ADAS grades.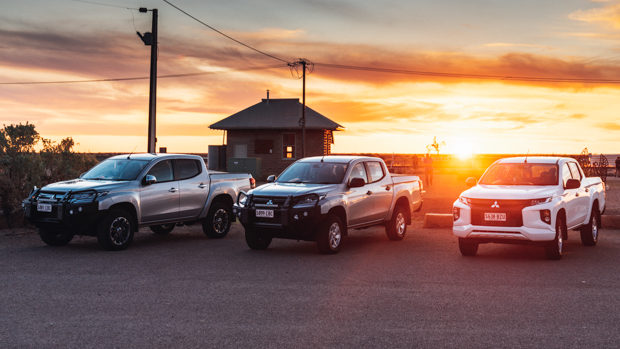 The reshuffle of grades and body styles has seen a greater focus on the most expensive and highly equipped grades that are attracting an increased amount of attention from Australian buyers.
Healthy Triton stock levels in Australia
A spokesperson from Mitsubishi Australia told Chasing Cars stock levels of the Triton were ample in Australia after a large shipment of utes topped up its national dealerships with enough supply to sustain them for at least a month.
A further three months' worth of stock is currently sitting on ports being processed, meaning Australian buyers will have steady access to Triton utes for the foreseeable future.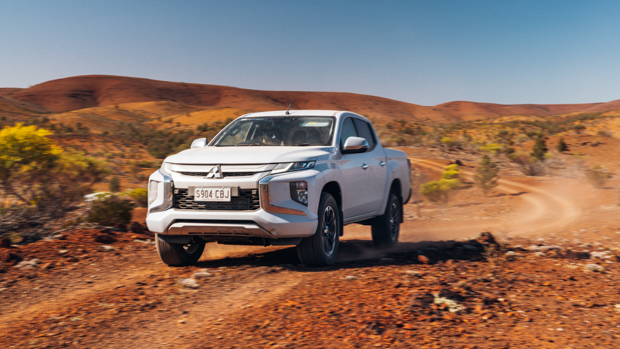 2022 Mitsubishi Triton grade by grade
Mitsubishi's consolidated Triton range still consists of the entry-level GLX, GLX+, GLX-R, GLS and the top-spec GSR grades with single cab chassis, dual-cab chassis, cub cab chassis, cub cab pick up and the chassis dual-cab pickup body styles all on offer.
While the Triton is available with a six-speed manual and automatic transmission throughout the majority of the range, Mitsubishi has removed the three-pedal option from both the GLX-R and GLX 4×4 dual-cab grades.
As is common for utes in Australia, the Triton's range kicks off with a price-leader variant – in Mitsubishi's case, it is a 2.4-litre naturally-aspirated petrol four-cylinder that produces 94kW of power and 194Nm of torque, paired with a five-speed manual that sends power to the rear wheels only.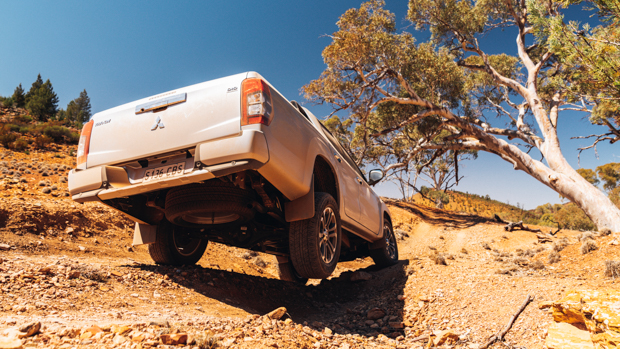 Equipped in entry-level GLX guise, this variant is priced at just $23,740 before on-road costs.
The remainder of the Triton range is powered by 2.4-litre turbo-diesel four-cylinder producing 133kW/430Nm which can be paired to a six-speed automatic or manual transmission in either 4×2 or 4×4 configuration.
The Triton GLX grades include hardy amenities like vinyl-covered floors and fabric seats along with a 6.1-inch touchscreen which can be used to play music through a two- or four-speaker audio system – depending on it you opt for a single or dual cab.
Mitsubishi's GLX cab chassis option does come with some safety features such as dual front, curtain, side and knee airbags but AEB with pedestrian detection, lane keep assist plus reversing parking sensors and camera are only found on the 4×4 pick up.
Stepping up to the Triton GLX+ nets features like a larger 7.0-inch touchscreen with DAB radio along with wired Apple CarPlay and Android Auto.
Mitsubishi also includes a locking rear differential, side steps, halogen fog lights, leather material on the handbrake plus a roof-mounted air circulator and 16-inch alloy wheels.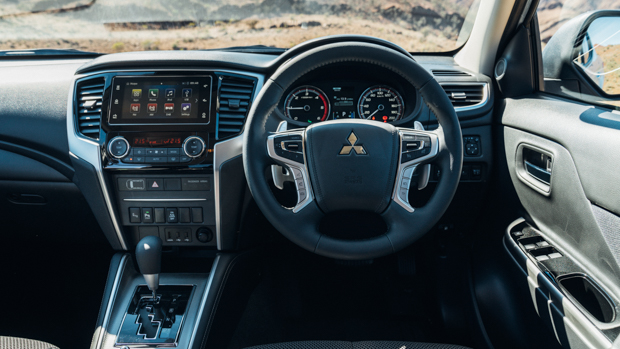 Adding some sporting flair to this knock-about-ute is the GLX-R grade which adds black 18-inch alloy wheels with a alloy spare under the tray, carpet flooring and heated door mirrors.
The Triton GLS focuses on ramping up the off-road credentials by adding hill descent control along with Super Select II 4WD which provides the ability to vary its power output during challenging conditions and adds selectable models for gravel, mud/snow, sand and rock.
Mitsubishi has also equipped the GLS grade with nicer fabric seats, LED headlights, a leather steering wheel and shifter along a six-speaker audio system. The safety suite is expanded with blind-spot monitoring, rear cross-traffic alert and front parking sensors.
The range-topping Triton GSR grade adds a new style of black 18-inch alloy wheels with a matching black grille, roof, side steps, sports bar, tub liner and tonneau cover.
Designed as a ute more likely to be used on the daily commute, the Triton GSR includes niceties such as the leather interior, heated front seats with power adjustment for the driver.
Mitsubishi Triton 2022: prices in Australia
All prices listed are before on-road costs.
GLX – cab chassis – 4×2 (5sp man): $23,740
GLX – cab chassis – 4×2 (Manual): $28,240
GLX – cab chassis – 4×2 (Auto): $30,490
GLX – dual-cab ute – 4×2 (Auto): $37,940
GLX – cab chassis – 4×4 (Auto): $37,240
GLX – cab chassis – 4×4 (Manual): $34,990
GLX – club cab chassis – 4×4 (Auto) $40,440
GLX – club cab chassis – 4×4 (Manual): $37,440
GLX – dual-cab chassis – 4×4 (Auto): $41,190
GLX– dual-cab chassis – 4×4 (Manual): $38,940
GLX – dual-cab ute – 4×4 (Auto): $42,140
GLX+ – club cab ute – 4×4 (Auto): $43,190
GLX+ – dual-cab ute – 4×4 (Auto): $44,940
GLX+ – dual-cab ute – 4×4 (Manual): $42,690
GLX-R – dual-cab ute – 4×2 (Auto): $41,740
GLX-R – dual-cab ute – 4×4 (Auto): $45,940
GLS – dual-cab ute – 4×4 (Auto): $49,540
GLS – dual-cab ute – 4×4 (manual): $47,290
GSR – dual-cab ute – 4×4 (Auto): $53,240