Six years into its run the Volvo XC60 is one of the older medium SUVs—however, continual adjustment to its engines and equipment packages have kept the XC60 tremendously popular.
In fact, in recent years the XC60 has been Volvo Australia's best seller, and the 2016 updates to the car are designed to boost the model's desirability even further. The headline is a price drop of more than $4,000 on the base and mid-range models.
The six-cylinder XC60 T6 has been lopped, leaving a range of four- and five-cylinder petrols and diesels.
The range now kicks off in diesel form with the D4 Kinetic ($55,765). The D4 switches from a two-litre four-cylinder that we liked—to a slightly older, but punchier five-cylinder. The five-pot sounds meatier and makes 140kW and 420Nm paired to a six-speed automatic. The D4 also gains standard all-wheel-drive.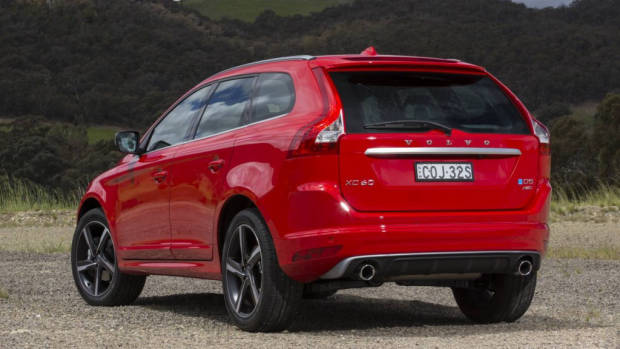 Despite the D4's price falling more than $4,000, the base car is now better equipped. Volvo has added an electrically-adjusted passenger seat to match the driver's, plus front parking sensors.
Advanced safety technology can now also be optioned to the base model (previously, it was limited to more expensive grades). For $4,000, the Driver Support Package brings adaptive cruise control, blind spot monitoring, and rear cross-traffic alert. So, for less than the price of the old XC60, you can now get a better-equipped, faster version with additional life-saving tech.
The T5 Luxury ($58,765) is the only petrol model in the range, and the only front-driver. It's also the fastest, keeping a sweet 180kW two-litre shared with the Volvo V40 T5.
However, it's top-end D5 diesel that will make up the bulk of sales—and its prices haven't changed. The D5 is available in two states of tune. A comfort-focussed D5 Luxury remains $69,990 and develops 162kW and 440Nm. The sportier R-Design ($71,990) is boosted to 169kW and 470Nm while both sip 6.3L/100km. Naturally, it's all-wheel-drive.
The Luxury and R-Design grades build on the Kinetic's offering mainly through their inclusion of satellite navigation and bi-xenon headlights. The R-Design is also slightly more sporting, thanks to its performance upgrades and additional visual appeal.
2016 Volvo XC60: Australian price
XC60 D4 Kinetic: $55,765
XC60 T5 Luxury: $58,765
XC60 D4 Luxury: $60,765
XC60 D5 Luxury: $69,990
XC60 D5 R-Design: $71,990