The next step in Citroen's worldwide product onslaught has finally been revealed, with the Citroen C5 Aircross due on sale in European markets in the second half of this year. Still officially under study for Australia, the C5 Aircross initially launched in China in 2017 and is based on the same EMP2 platform as the Peugeot 3008 and 5008.
The Citroen C5 Aircross, like Citroens of the past, takes a different path to other medium SUVs with a more luxurious and comfortable attitude to motoring. Instead of a sportier aim like its 3008 cousin, the C5 Aircross has been tuned with comfort in mind. If Australian sales do eventuate, expect the C5 Aircross in local showrooms in the second half of 2019.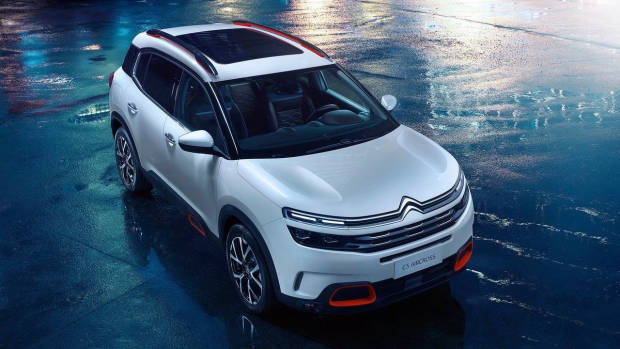 To compete with other medium SUVs such as its Peugeot 3008 cousin, as well as the Mazda CX-5 and Volkswagen Tiguan to name just a few, the Citroen C5 Aircross will have its work cut out for it when it launches. Having been largely successful in the Chinese market where it was first launched, Citroen has deemed it to be polished enough to launch in western markets with Europe's launch happening first. Aside from the C3 Aircross and C4 Cactus, Citroen hasn't had an SUV since the Mitsubishi Outlander-based C-Crosser (2007-2012).
Whilst in China two turbocharged petrol engines are available, European markets will get a range of turbocharged petrol and diesel units, with 96kW petrol and diesel units available with six-speed manual transmissions, and 96kW and 134kW petrol and diesel units available with a new eight-speed automatic. These are all front-wheel drive and like the 3008 and 5008, an all-wheel drive plug-in hybrid will join the lineup within the next year.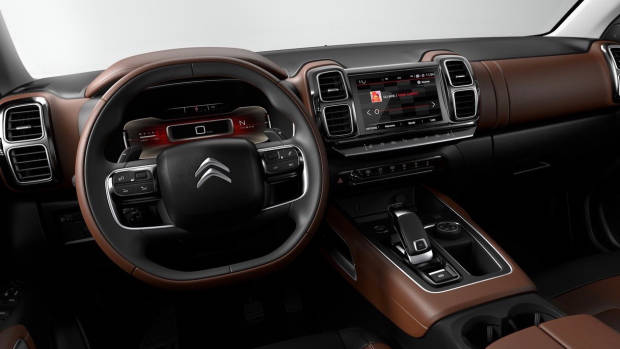 Whilst the C5 Aircross may not be a traditional Citroen – it is an SUV and not a luxurious sedan after all – it does take the company back to its comfortable driving roots with the debut of the company's new Progressive Hydraulic Cushions suspension, which supposedly ensures 'magic carpet' ride quality. Proven from the company's motorsport experience (the current C3 WRC car uses the system), Progressive Hydraulic Cushions is fitted to all C5 Aircross models, regardless of market, and will likely spread to future Citroen models.
Enhancing the Citroen C5 Aircross' luxurious aim is the interior, which is covered in leather and uses a very funky layout that appears to be high quality, much like its 3008 and 5008 cousins. The C5 Aircross uses the company's Advanced Comfort rear seats, which are claimed to reduce discomfort when travelling over bumps. Using the same 40/20/40-split rear seating as the Peugeot 5008, the C5 Aircross' rear seats can slide, recline and fold independently which enables 'best in class' bootspace, according to the brand. For reference, the C5 Aircross' boot expands from 580 to 720-litres with the rear seats moved forward. Fold them down, and you get 1,630-litres.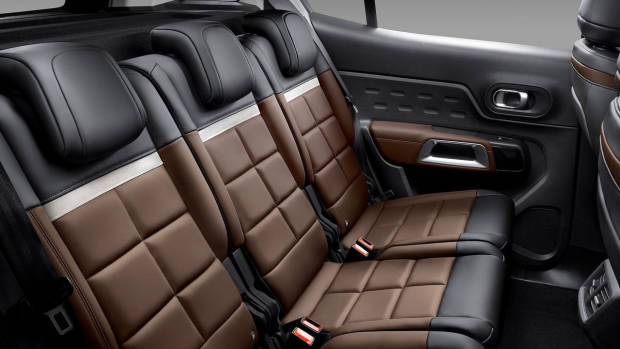 With such technological inclusions, the brand is claiming that the Citroen C5 Aircross is the most advanced Citroen ever sold. Taking pieces from the DS brand such as a 12.3-inch digital driver's display and an 8.0-inch touchscreen infotainment system, the C5 Aircross will certainly look like one of the more advanced cars in the segment. Measuring 4,500mm long, 1,840mm wide and 1,670mm tall, the C5 Aircross' dimensions appear to be modelled on and are slightly larger than the Volkswagen Tiguan.
Active safety equipment is well taken care of by the Citroen C5 Aircross as well, with radar cruise control with stop&go functionality, active LED headlights with automatic high beam, extended traffic sign recognition, autonomous emergency braking, blind spot monitoring with rear traffic alert, a 360-degree parking camera, roll over alert, coffee break alert, driver attention alert, lane keep assist, lane departure warning and a system called highway driver assist, which combines radar cruise control and lane keep assist to provide semi-autonomous ability.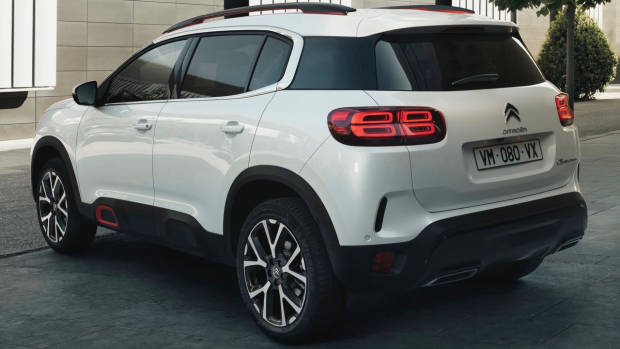 The Citroen C5 Aircross goes on sale in European markets in the second half of 2018, with Australian sales expected in more than a year from now. If you asked us, we'd tell you that Citroen would be crazy not to sell the C5 Aircross here – the brand needs all the help it can get, and product (especially SUVs) is a great start.
Stay tuned to Chasing Cars for Citroen news and reviews and read our review of the C3 here.