BMW Australia has confirmed pricing and specification for the new 128ti which is set to arrive on our shores early in 2021 with a starting price of $56,900 before on-road costs.
The latest and newest 1 Series moniker will sit between the entry-level 118i and high-performance M135i xDrive without any of the usual premium foes to deal with.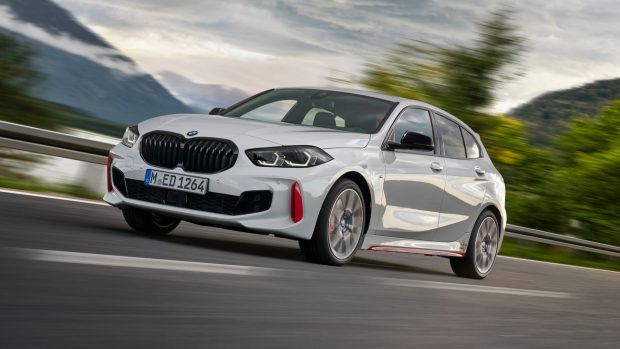 Instead, BMW has aimed the 128ti at the famous Golf GTI, Renaultsport Megane slice of the hot hatch market, keeping the car exclusively front-wheel drive. To awaken a more adjustable character, the Bavarians have had to carry out some significant chassis tweaks.
What's under the bonnet?
At least the 'B48' two-litre inline four-cylinder engine is up to the task, with outputs of 180kW and 380Nm. Down 25kW on the French Megane, the 128ti matches the 180kW of the Mk8 Golf GTI.
Every 128ti will be equipped with an Aisin-sourced eight-speed automatic as in the M135i, not the seven-speed dual-clutch of the 118i.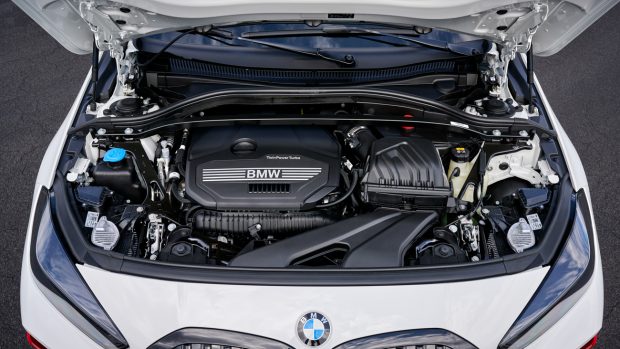 Why has BMW brought back the ti badge?
It was a moniker that had some real swagger in the 60s and 70s, it stands for 'Turismo Internazionale" which is decidedly not German, and adorned the back of the sportiest 2002 Coupes.
From there, it iterated into a wholly more humble badge, stuck on the rear of 3 Series Compacts in the 90s and 00s. Most of these were powered by small 1.8 or 1.9-litre four-cylinder engines, but a few got treated to a signature BMW' six.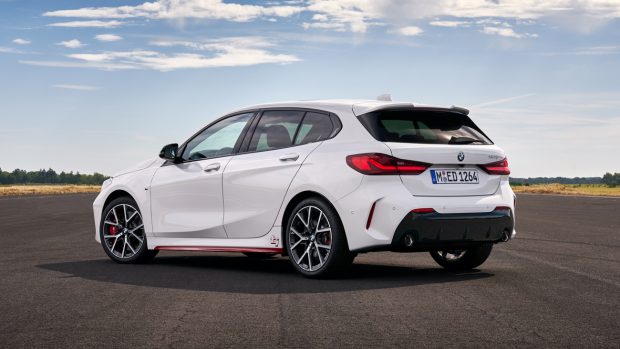 What does 'ti' mean now?
BMW's recycling of the moniker isn't far off the money; this 128ti is a compact, sporty vehicle that's more affordable than you might expect from the Bavarians.
Outside you'll notice the extended side air ducts, pictured here in red. There is also a black Kidney Grille and 18-inch alloy wheels, and M Sport body kit. BMW doesn't let you forget this is a 'ti' either, with badges absolutely everywhere.
Including inside, where the 'ti' moniker is stitched into the armrests and door panels, with sports trimmed in Alcantara and red fabric, and a 10.25-inch touchscreen running BMW's latest software.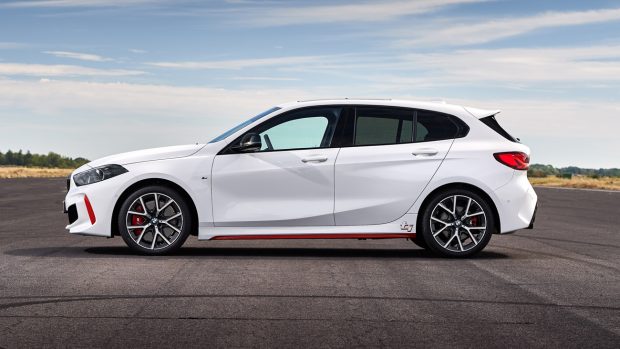 Is this just a retro styling package?
Thankfully not, dropping the all-wheel-drive system saves 80kg over the M135i xDrive, and BMW has tweaked the chassis to account for this. 
It sits 10mm lower than the 118i and runs bespoke dampers and spring rates, along with stiffer anti-roll bars designed to give more driver involvement than even the M135i. A limited-slip differential is mounted up front, which in tandem with BMW's new anti-slip traction control is said to quell understeer.
Up front, four-piston calipers grab 360mm discs and utilise M Sport pad material for more bite than the standard equipment pads.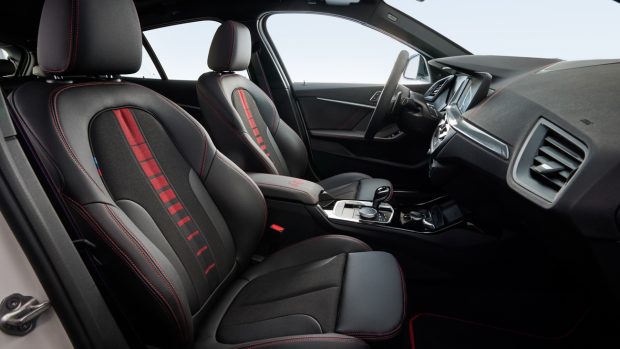 Is the price right?
BMW's hot hatch will sit right at the apex of this segment, at $56,900 it's above even the honed Civic Type R, though it's modus operandi is more all-day explorer than racetrack annihilator. 
Naturally, BMW offers several option packs – the comfort pack adds heating and lumbar support to the front seats for $1,023, while the $1,300 convenience pack adds a power tailgate and luggage niceties.
Metallic paint is bundled in with a panoramic sunroof and adaptive cruise for $3,000, while BMW Individual Storm Bay Metallic adds another $700 on top of that package. Sales of the 128ti will commence in early 2021.