With the whole world embracing SUVs, it only makes sense for the Brits at Aston Martin to do the same: the result is the opulent DBX, a crossover that shares clear design cues with this brand's coupes and convertibles and packs in a twin-turbo petrol V8 engine. 
This isn't the British answer to the Porsche Cayenne, or even a like-for-like alternative to a Range Rover. Instead, the DBX is altogether more bespoke.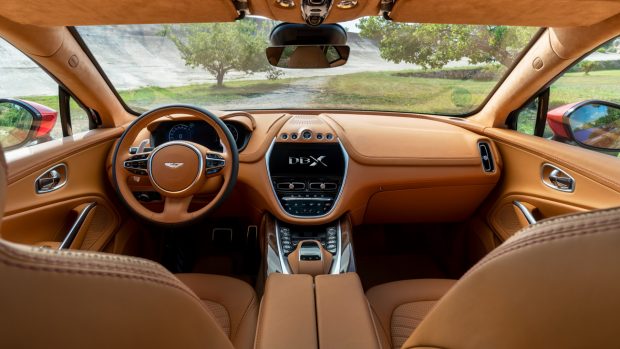 Unveiled in Beijing, the DBX is a most unique vehicle that plays on the very things that make Aston Martins special – a perfectly proportioned exterior, incredible details, a monstrous engine and immensely cosseting interior.
Aston Martin Executive Vice President and Chief Creative Officer Marek Reichmann was thrilled when DBXs started rolling off the production line, found at St Athan, Wales.
Mr Reichmann said that although the DBX "is our first SUV, (it) is as much a sports car as any of our other cars". Further, Mr Reichmann was clear the DBX would drive "Aston Martin into a new era".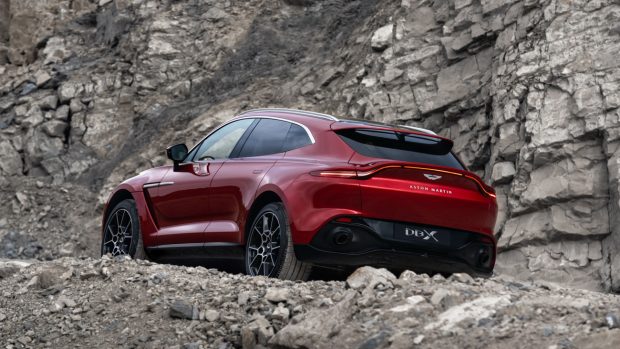 At the Australian price, though, it needs to be unique. The base price is $357,000 ($386,115 driveaway), but don't expect many to head out the showroom for that. Like other Astons, the DBX offers immense amounts of personalisation starting with an extensive colour palate – there are 64 options in total.
Ostensibly, if you pay Aston Martin even more than the most expensive 'prestige' hue – a $31,160 option for those wondering – they'll paint it any colour you want. For those who want to save a little bit, magnetic silver or lunar white are the only no-cost options.
Make no mistake, though, this is an exceptionally attractive package, no matter the colour specified. Aston Martin's design language has carried over so much better than Bentley's signature lines did (or didn't) on the Bentayga – while in our eyes, it also bests the Rolls-Royce Cullinan for effort.The slinky appearance and low-roofline compliment the classic Aston face near perfectly.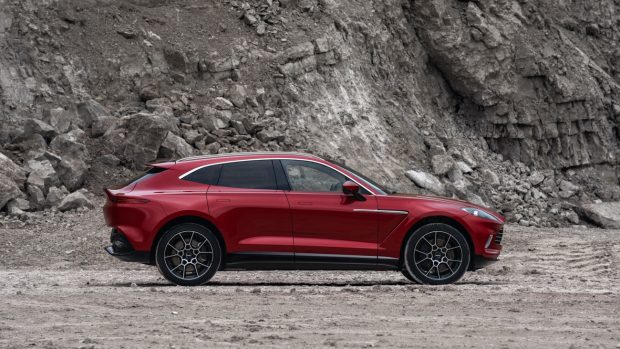 Accentuating the athletic heritage of the Aston DBX is perhaps the most well-executed detail in this class – that rear ducktail spoiler with that integrated LED light strip. It could have gone so wrong, but typical British restraint makes for the best looking SUV money can buy.
Beneath the DBX is a bespoke platform – a rarity among this class, we're looking at you, Lamborghini Urus. The platform supports a 48-volt mild-hybrid system which allows a high-tech active-roll stabilisation system and super-fast adaptive damper adjustments.
A kerb weight of 2,245kg makes the DBX far from featherweight, but Aston hasn't been about ultimate lightweight for a long time. Luckily a twin-turbo four-litre V8 (shared in part with AMG's GLS 63 SUV) is nestled under the long bonnet of the DBX, so the kerb weight doesn't stunt its sprint to 100km/h too much, returning a 4.5sec 0-100km/h time. It's the same power unit found in the DB11 and produces 404kW of power and a whopping 700Nm of torque.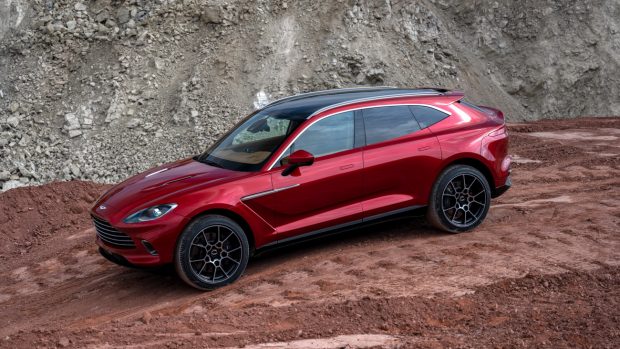 In typical SUV fare, the DBX drives all-four wheels with an active centre-differential and limited-slip rear for putting the power down. All shifting is taken care of by a nine-speed torque converter automatic gearbox.
Frameless doors are a luxury not often seen on a vehicle of the Aston's size and design but are a beautiful touch all the same. Inside there is a typical smothering of every surface in some kind of cow-hide or woodgrain. A 10.25-inch centre screen is well integrated, though it seems a little at odds with the gentleman's club aesthetic.
Those in the know will be able to pick out some of the Benz-borrowed switchgear, but everything has been Aston-ed up just right in our book.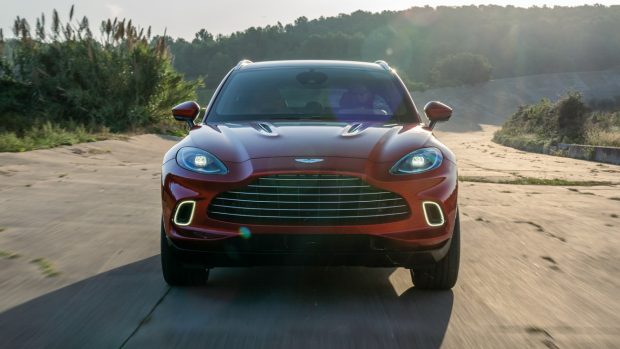 There is only one DBX grade, which nets you a power boot, electrically adjustable heated seats, heated second row, LED lighting, Apple CarPlay, premium 14-speaker stereo and full leather upholstery.
As mentioned above, buyers will be able to go nuts with the specification list, and Aston Martin helps to curtail bewilderment with some helpful suggestions on the Australian website. This is probably the most desirable SUV on sale today, and the high price reflects that. The DBX is on sale in Australia now.
Aston Martin DBX 2021: price in Australia
DBX: $357,000 (about $380,000 driveaway)