Aston Martin has unveiled the 2021 Vantage F1 Edition which serves as the production version of the official safety car in the iconic racing series that will be available for Australian's to buy towards the end of 2021.
The official Vantage safety car will make its debut at the Bahrain Grand Prix 2021 this month alongside the DBX large SUV with both wearing a few more accessories necessary for the role.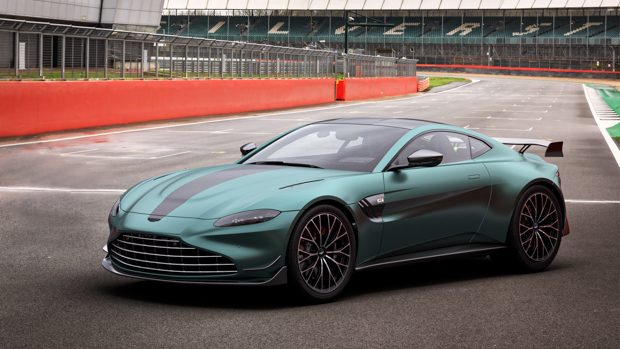 Aston Martin says it has enhanced all areas of the Vantage in both coupe and convertible form to make it a quicker car but without compromising its on-road manners or fitting aggressively track-optimised tyres.
The changes start with the appearance that is fittingly dressed up like a race car with the Vantage F1 Edition wearing a full body kit that adds an additional 200 kilograms of downforce when travelling at its 314km/h top speed in the coupe form.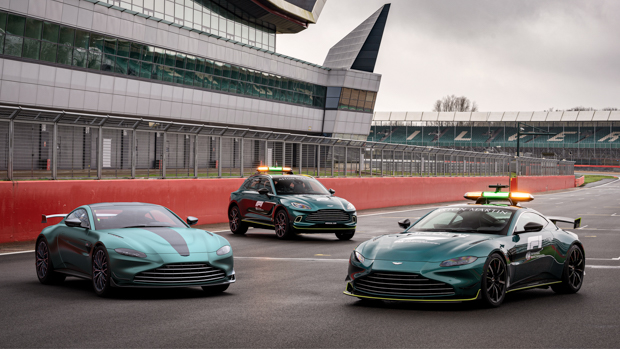 Sitting most prominently in this package is the large rear wing which feeds off air kicked up by the full-width front splitter, bumper and front dive planes with a whole suite of underbody aerodynamics channels keeping the Vantage glued to the ground.
Aston Martin has squeezed an extra 18kW of power out of the Mercedes-AMG sourced twin-turbo V8 petrol engine to generate a total of 394kW with the 685Nm of torque now spread out across a wider band.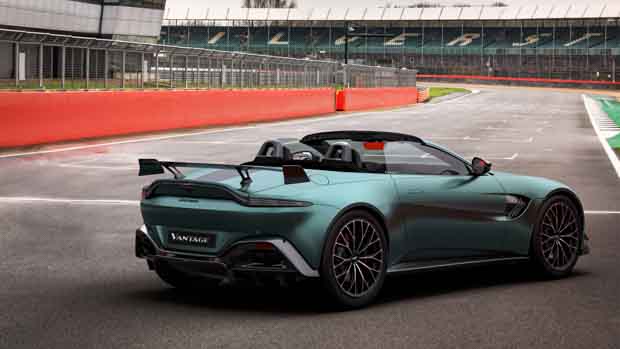 While the Vantage F1 Edition is not designed for drag racing, the power figures help it achieve a 0 to 100km/h time of just 3.6 seconds in the coupe or 3.7 in the convertible.
It feeds into a snappier eight-speed torque converter automatic transmission that channels the power out to the rear wheels. With the Vantage now wearing lower-profile 21-inch wheels that is said to improve driver feel to give progressive on-limit handling.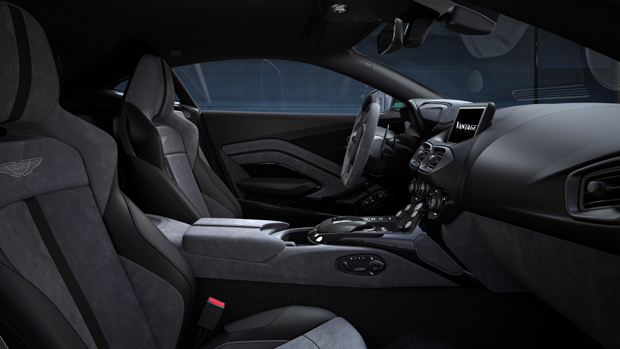 Refining the handling even further is additional underbody bracing in the front area of the Vantage F1 Edition to increase front rigidity, feel and response.
Aston Martin has also tuned the dampers to have a wider range of effectiveness when flying over bumps at high speed, which is matched with an increased rear spring rate to give the Vantage F1 Edition a sharper turn in.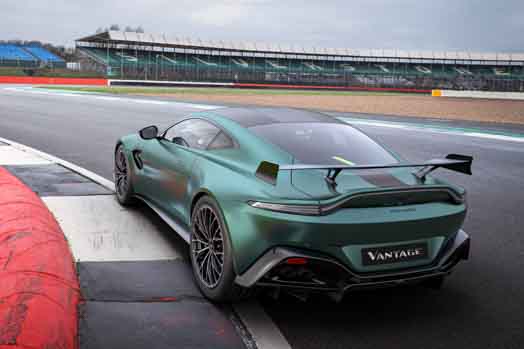 This all comes at a price however. While no Australian figures have been officially confirmed, expect it to cost significantly more than the base Vantage coupe that starts at $299,950 before on-road costs.
There will be no limit on the amount of Vantage F1 Editions available – with customers able to place their orders now with a delivery date in the fourth quarter of this year.
Aston Martin 2021: prices in Australia
All prices listed are before on-road costs.
Vantage Coupe: $299,950
Vantage F1 Edition: TBC