We're big fans of the Jaguar XE, and now the British brand has revealed its most powerful road legal car ever, dubbed the Jaguar XE SV Project 8, ahead of its first outing at the 2017 Goodwood Festival of Speed. Priced from £149,995 in the UK (AU$252,000 at the time of publishing), the XE SV Project 8 is one of the most exclusive performance sedans ever produced.
Limited to just 300 units worldwide, the Jaguar XE SV Project 8 is hand built by Jaguar Land Rover's SVO division, and is only available in left-hand drive, which rules it out for Australian consumption. Headlining the performance is an uprated version of Jaguar Land Rover's supercharged 5.0-litre V8, this time with 441kW of power.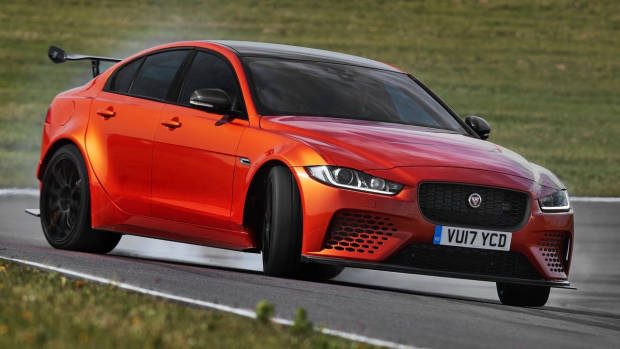 John Edwards, Jaguar Land Rover Special Operations Managing Director, said: "SVO's raison d'être is to produce halo vehicles that push the boundaries in terms of luxury, performance and all-terrain capability. Project 8 is a great example of what happens when enthusiastic designers, engineers and manufacturing specialists are given the opportunity to create an extreme performance sports car without compromise.
"Project 8 will be assembled by hand in the new SVO Technical Centre, and we're confident that our enthusiastic and demanding clients will love driving Project 8 as much we do!"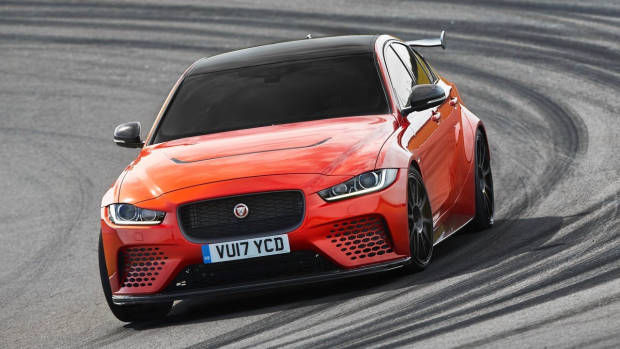 Centrepiece of the Jaguar XE SV Project 8 is the same 5.0-litre supercharged V8 engine that powers other models in the JLR stable, including various Range Rovers and the Jaguar XJ, this time with 441kW of power and 700Nm of torque – that's 600hp in the old money. Those figures are sent through an eight-speed automatic gearbox to all four wheels, allowing the XE SV Project 8 to sprint to 100km/h an hour in just 3.7 seconds and to hit a top speed of 200mph (322km/h).
Joining the Jaguar XE SV Project 8's added performance are a range of enhancements to lighten and strengthen the car, starting with the use of aluminium and carbon fibre exterior panels. Every single panel of the XE SV Project 8, aside from the front doors and the roof, has been altered from the standard XE. Specific changes include 55mm flared aluminium rear wing panels to accommodate 305-width rear tyres, restyled aluminium rear doors to add more visual muscle and a reprofiled boot floor to allow improved airflow to the rear diffuser.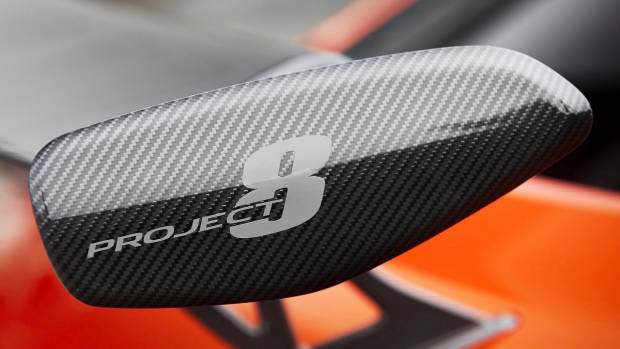 The use of carbon fibre helps keep the Project 8's weight as low as possible, resulting in a 1,745kg kerb weight – the lowest of any V8 Jaguar sedan. Carbon fibre is used significantly in the Jaguar XE SV Project 8, from the 19mm-flared front wings, the front bumper, a manually adjustable front splitter, the bonnet with an integrated air extraction duct, lower side skirts, the rear bumper with cut-away wheel arch trailing edges, a rear diffuser with quad titanium tailpipes and a manually adjustable two-stage rear spoiler, which combined with the rear diffuser, Jaguar claims can produce more than 122kg of downforce at 300km/h.
Debuting on the XE SV Project 8 are the first use of Jaguar's new Carbon Ceramic Matrix Braking system, and the first use of F1-style silicon nitride ceramic wheel bearings on a road car. The discs themselves are 400mm two-piece front discs with six-piston aluminium calipers and 396mm two-piece rear discs with single-piston sliding calipers. Jaguar says that the Carbon Ceramic Braking system offers lower unsprung mass, as well as the most consistent pedal feel, fade resistance and longevity.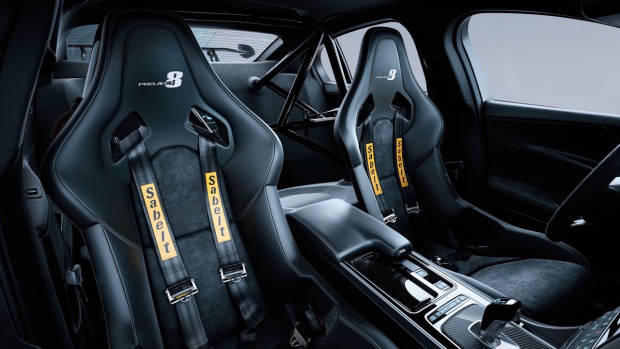 On the inside of the XE SV Project 8, a number of exclusive touches separate the Project 8 apart from lesser XE models, including more use of performance seats with half leather and alcantara suede trim, carbon fibre on the centre console and commission plaque, an Alcantara-covered dashboard to reduce reflections in the windscreen, Alcantara-covered door tops and the rim of the Project 8-branded steering wheel.
Project 8 buyers can make their car even more hardcore with the optional Track Pack, which saves 12.2kg from the car's kerb weight with the use of lightweight carbon fibre racing seats in the front, which are trimmed in leather and suede cloth, and also feature Project 8 branding on the headrests. The seats come with four-point harnesses, and a fire extinguisher is also fitted. Most significantly however, the Track Pack also removes the rear seats and replaces them with a Project 8-branded carpeted composite panel and a harness retention hoop. Those equipping their XE SV Project 8 will also receive a gloss black-painted roof and longitudinal Project 8 twin-stripe decals.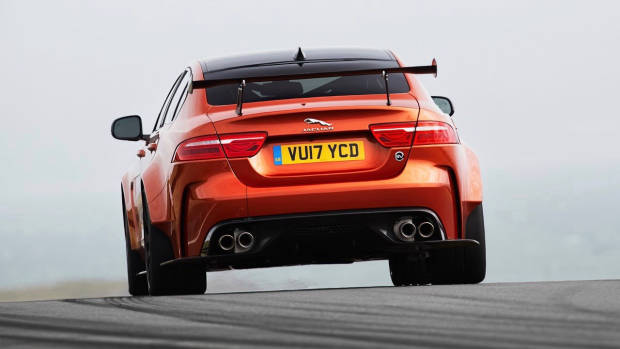 Unfortunately for Australians, all 300 units of the Jaguar XE SV Project 8 will be made solely in left-hand drive, ruling it out for our market for the time being. Jaguar is rumoured to be considering producing an XE R and even an XE SVR to compete with the BMW M3 and Mercedes-AMG C63, possibly using the same supercharged 5.0-litre V8 as the XE SV Project 8, within the next couple of years.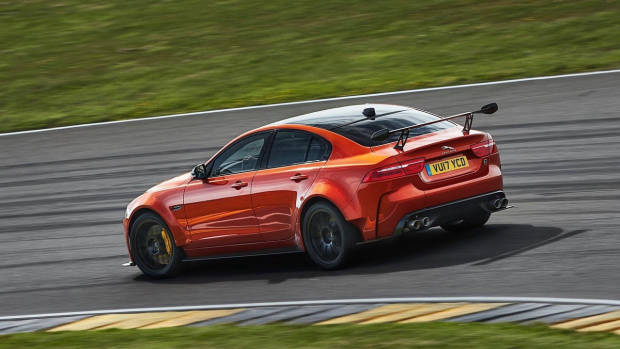 Stay tuned to Chasing Cars for any news and reviews regarding the Jaguar XE.