A new petrol V6, more generous equipment inclusions, and steady or reduced pricing are the highlight updates for Mercedes-Benz's svelte CLS-Class range for 2015.
The CLS, available as a four-door coupe-style sedan, or a more practical five-door Shooting Brake wagon, now features four engines: a 2.1-litre CLS250 CDI diesel ($114,900) and 4.7-litre CLS500 V8 petrol ($169,000) are available in both body styles. The coupe is exclusively offered with an additional three-litre biturbo V6 CLS400 option, producing 245kW and 480Nm ($139,900).
The Shooting Brake adds about $10,000 on top of the equivalent coupe.
Additionally, a halo CLS63 AMG sports the 5.5-litre biturbo V8 offering 430kW and 800Nm, sprinting to 100 in just 4.1 seconds. In 2014 this engine was offered on both CLS styles; in 2015, this shifts to a coupe-only motor. The CLS63 AMG falls by almost $14,000 to $249,000.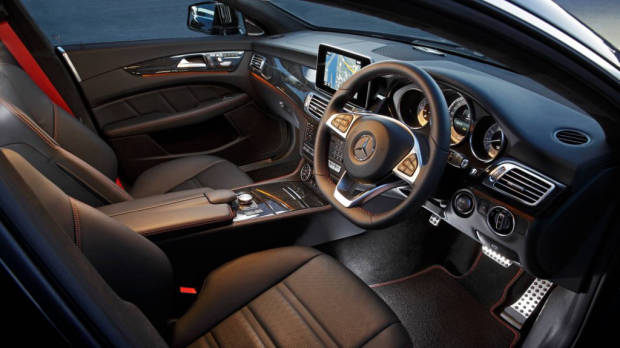 Equipment inclusions are more generous for the new year. All cars now sport a 360-degree monitor, illuminated sills, and LED headlamps. Shooting brakes gain the beautiful American cherry-wood luggage compartment floor that was a necessary option last year, as well as privacy glass and Easy-Pack systems.
The CLS400 adds Airmatic suspension with adjustable dampers, and multi-contour, nappa leather seats.
The CLS500 coupe sports ventilated seats, more 'exclusive' nappa leather, and a TV tuner, while the Shooting Brake kicks in the more appealing AMG Line as standard equipment.
An AMG Driver Pack is now standard for the CLS63 AMG S, which bumps the speed limiter to a huge 300 km/h.
The updated CLS has landed now.
2015 Mercedes-Benz CLS-Class range: pricing
All prices are RRP list prices, before on-road costs or options.
CLS Coupé
CLS250 CDI: $114,900
CLS400: $139,900
CLS500: $169,000
CLS63 AMG S: $249,000
CLS Shooting Brake
CLS250 CDI: $124,900
CLS500: $179,900