The size of the Toyota HiLux range will be doubled this month in Australia, with the addition of three new trims – two of which cost more than $60,000 and sit above the current SR5 range-topper. But Toyota Australia's vice president of sales and marketing, Sean Hanley, has told Chasing Cars as the launch of the HiLux Rogue, Rugged and Rugged X in Port Augusta that the brand's interest in higher-end HiLuxes does not stop at these three trims that are fitted with the same 130kW/450Nm 2.8-litre diesel four-cylinder as the existing SR and SR5 grades.
The Rugged and Rugged X are new off roading-focussed models based on the SR and SR5 respectively, while the SR5-based Rogue sports a more bluff front end, stylish alloy wheels and a hard tonneau cover on gas struts. But while the off-roading focussed models feature a swag of locally-fitted and built accessories, including rock rails, recovery hooks, a bash plate and beefy steel front and rear bars, there are few mechanical changes besides springs that are uprated to cope with the additional mass, which totals 207kg on the Rugged X.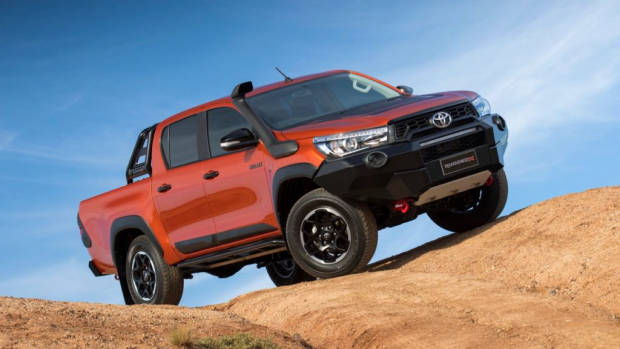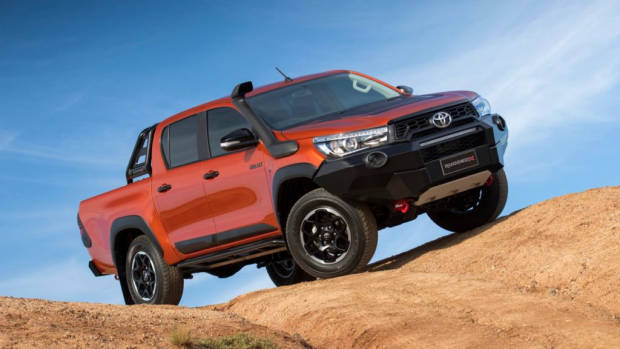 The new HiLux Rugged X.
Questioned about whether Toyota Australia would be interested in fitting a larger engine into the popular HiLux, Mr Hanley enthusiastically spoke of the "strong appetite in Australia for performance vehicles" that Toyota is "continuing to study".
Mr Hanley added that there is a growing focus on Toyota's own Gazoo Racing performance division globally and that "the opportunities [Gazoo] may afford us in future" with relation to the HiLux product. "We will certainly look forward to any product offering for a sport or performance car, whether it be [a HiLux] or another car in future," Hanley said.
If a high-performance HiLux was made available "certainly, Australia's hand would be held high", Mr Hanley emphasised. Toyota Australia's general manager of product planning and development, Rod Ferguson, added "we will see whether there is any scope to go down the path of…putting a big diesel engine in the HiLux."
That said, it is unclear what engine Toyota would use in a high-performance HiLux. With the retirement of the four-litre V6 petrol, it is more likely to be a "big diesel", as Mr Ferguson suggested, though at present the only such engine in the Toyota range is the 4.5-litre V8 diesel that sports a twin-turbo in the Land Cruiser 200, producing 190kW/620Nm. However, product planning executives were unsure whether the diesel V8 would physically fit within the HiLux engine bay.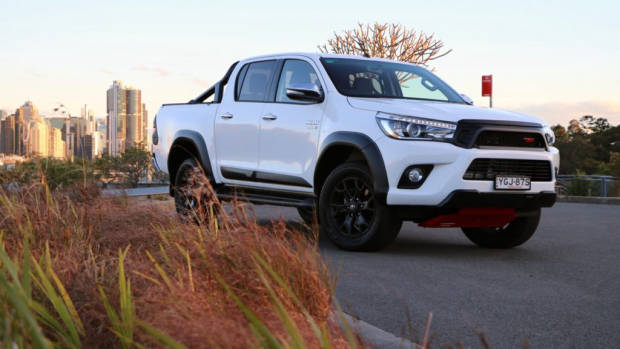 Last year's Toyota HiLux TRD, which used the standard 130kW engine.
At present, Toyota is without a common five- or six-cylinder diesel engine that could squarely compete with the outputs of performance utes such as the Ford Ranger Raptor (157kW/500Nm), or the Volkswagen Amarok V6 (165kW/550Nm) which will be available in a 180kW/580Nm tune by the end of the year.
Performance offerings are becoming a clear consideration for manufacturers in the dual-cab segment. The new Mercedes-Benz X-Class will soon be offered in V6 X350d form (190kW/550Nm), and this engine is being considered for use in the Nissan Navara, a ute that was offered with a Renault-sourced 550Nm V6 diesel in its previous generation.
A decade ago, Toyota offered a higher-performance HiLux in the form of the HiLux TRD, which used the formerly-available 4.0-litre V6 petrol, supercharged to produce 225kW/453Nm.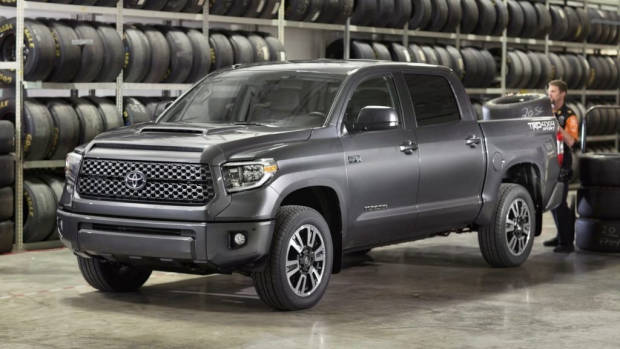 The US-market Toyota Tundra full-size truck, which uses a 284kW petrol V8.
In the United States, Toyota offers the full-sized Tundra to compete with vehicles like the Ford F-150 and Chevrolet Silverado. The Tundra uses the 5.7-litre V8 petrol also found in the Lexus LX570. In the Tundra it makes 284kW and 544Nm. But would Toyota Australia like a Tundra down under, using the Land Cruiser 200's 4.5-litre twin-turbo diesel V8? "We'd love to do [it]", said general manager of product planning and development Rod Ferguson. "Tundra is a different ball game as it is only made in left-hand-drive, in the United States. It is always a case of whether we can make a business case."
Though Mr Hanley made it clear plans for a higher-performance HiLux remain in the hypothetical stages for now, the movement of the market in this direction makes it more likely the current 130kW/450Nm donk will need to be supplemented in future.
Our review of the 2018 Toyota HiLux Rugged X, Rugged and Rogue will be available later this week.